I have a confession to make – I have personally been exploring more lower carbohydrate nutritional choices on a consistent basis. I will probably write a separate post explaining my experience, but the bottom line is that when I analyze how I feel physically and mentally after eating certain things, my body thrives with a focus on healthy fat and protein. Carbohydrates and sugar – even with some healthy, plant-based forms – can cause me to have digestive distress, brain fog, and intense cravings for more carbohydrates and sugar. I have studied the metabolic science behind blood sugar balance at length, so I know what is going on and have the knowledge to makes changes should I need to. I am human however, and sometimes instant gratification wins over feeling well longer-term. As humans, we are hard-wired to crave sweet food, it is written in our biology. This isn't something to fight against, but rather to work with. And yet, my sweet tooth has felt insatiable recently, and I don't like feeling like I "need" something sweet after both lunch and dinner. Therefore I am attempting to calm the cravings.
As I type this, I am well aware that it is statements like these that can cause a lot of confusion in the nutrition space. But I hope instead you take it as evidence for bio-individuality. Optimal nutrition falls on a spectrum, one that has probably gotten overly complicated. So I am simplifying things for myself. Clearing the excess. Turning inward. It is what I always preach; time to take my own advice.
All of this to say, I have been playing around with ways to make my Gratisfied Empower Bar baking mix even lower carbohydrate than it already is. Since the wet ingredients call for eggs, oil, and liquid sweetener, the tweaks need to happen with the latter. Lower sugar alternatives include:
Nut and seed butters
Lower sugar sweeteners (i.e. monk fruit and stevia).
Chia and flax "eggs"
Extracts
Vegetable purees (i.e. pumpkin)
Coconut yogurt
Avocado
Mashed banana
Melted grass-fed butter or ghee
As long as the ratios stay relatively the same, there is room to play around with any and all of the above. For example, if you wanted to omit the liquid sweetener all together, use a creamy nut butter instead. Your bars won't turn out very sweet (there is some monk fruit in the dry mix), but they will be very low sugar. Or you can reduce any liquid sweetener to 1/4 cup and use up to 1/4 cup of nut butter. See how this works?
I have gotten some questions about the type of liquid sweetener I am using for the baking mix as coconut nectar is more difficult to find (the Coconut Secret brand no longer exists. There is this option on Amazon.) I have been using both coconut nectar and maple syrup, but when I saw this keto-friendly syrup by Lakanto in Whole Foods the other day, I decided to give it a go.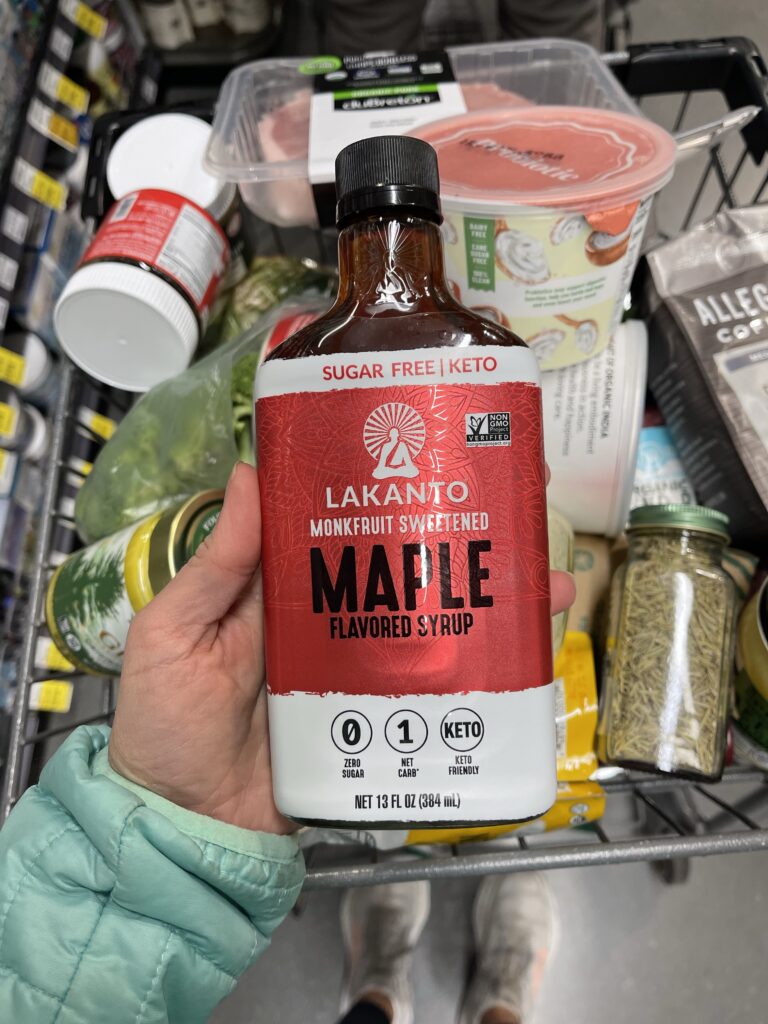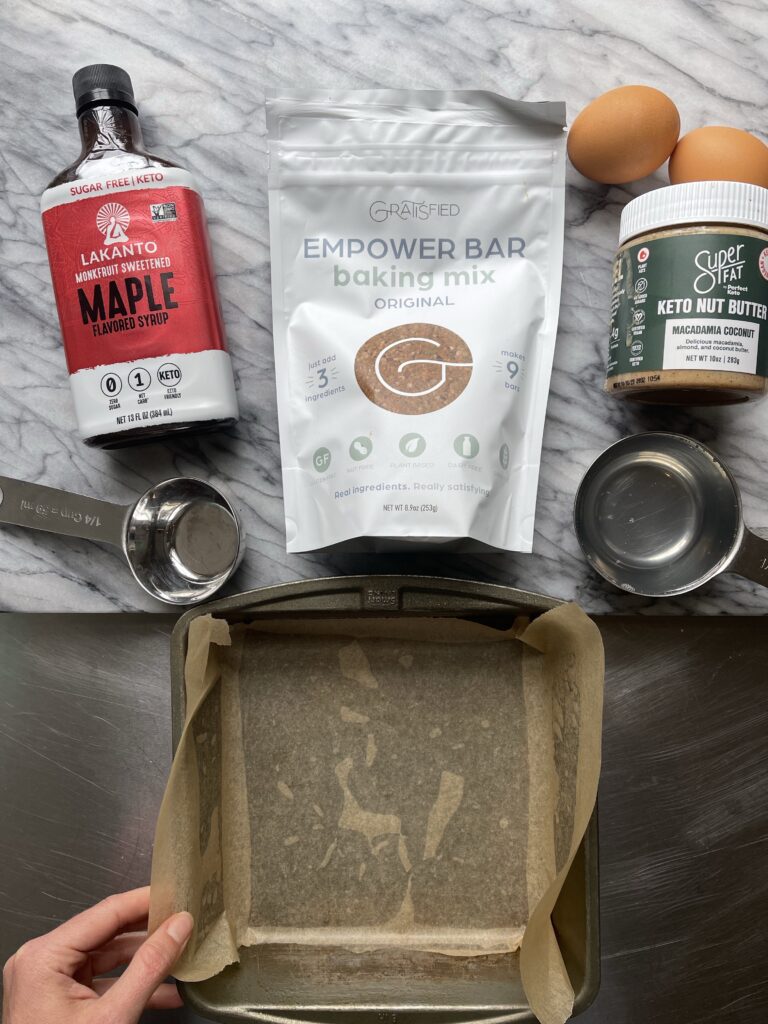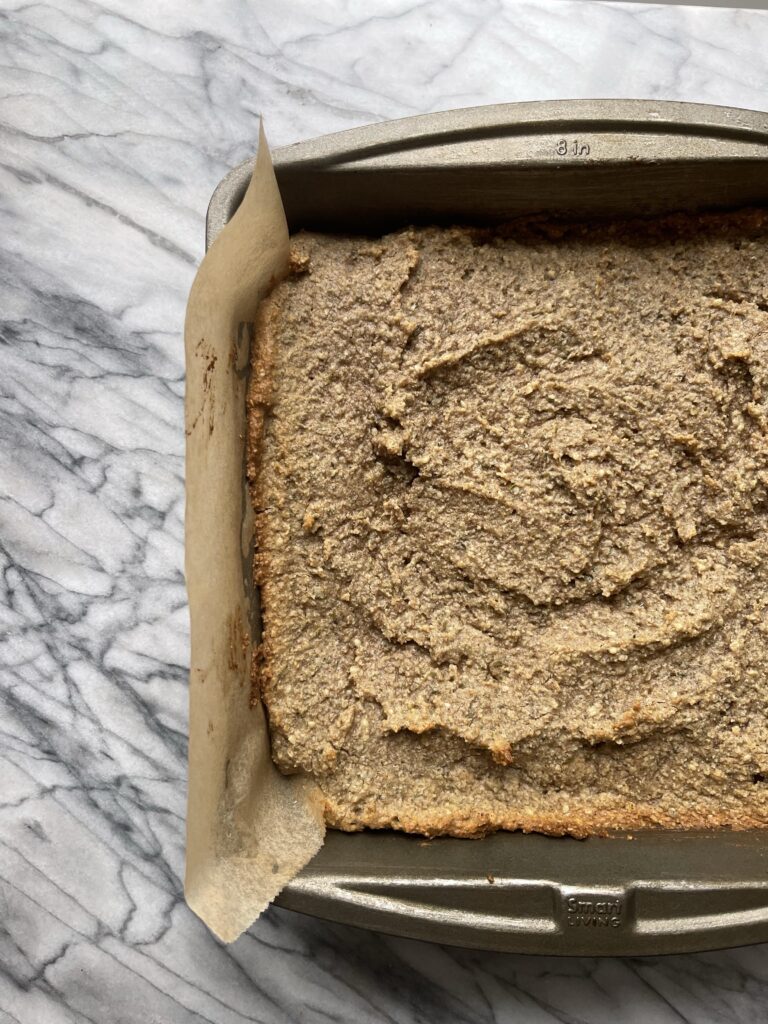 Upon the taste test, I was blown away! Tastes like a pancake without being overly sweet. I am a big fan!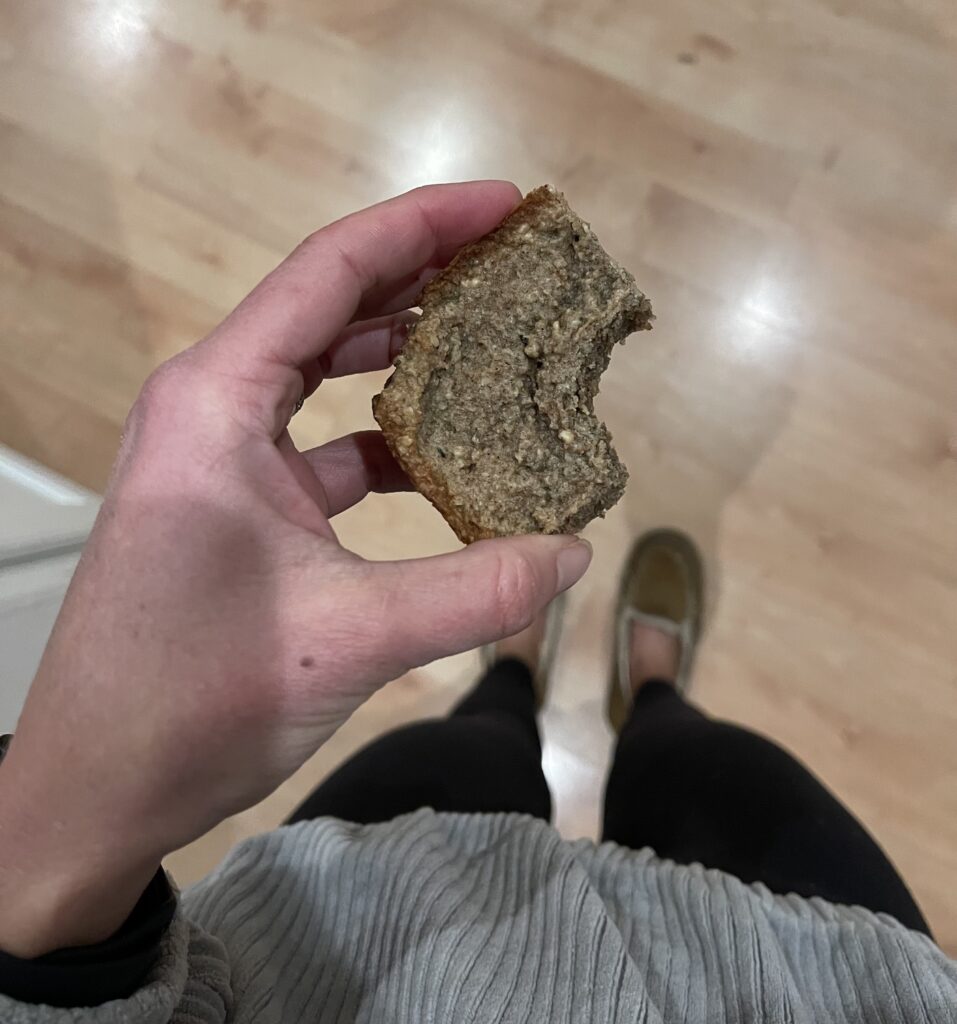 I even measured my blood sugar two hours after eating one, and was happy to see it was right where I wanted it.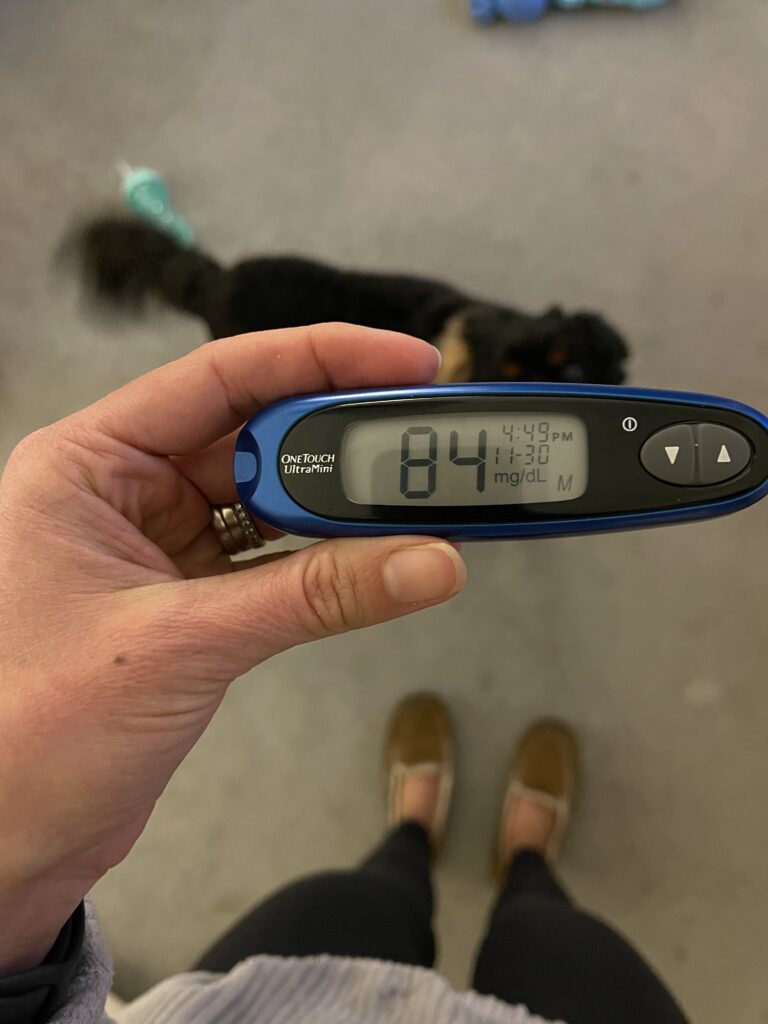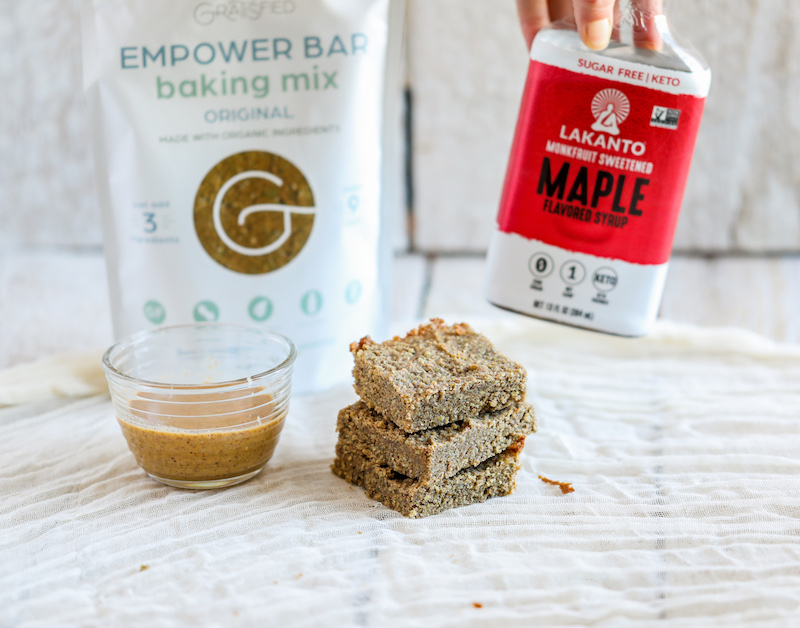 I only used 1/4 cup of the maple syrup and supplemented with 1/4 cup creamy almond butter to reduce the sweetness and add in some healthy fat for satiation.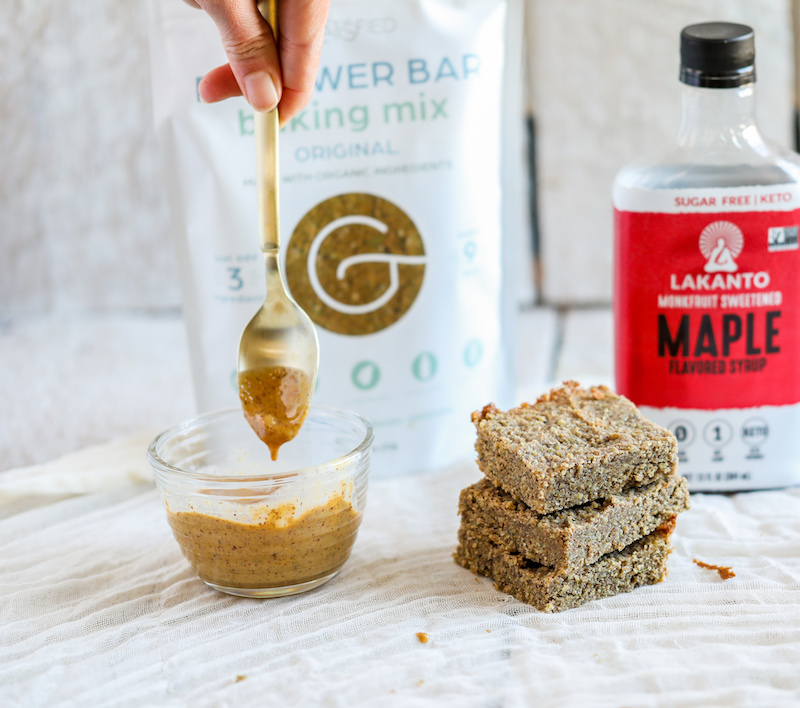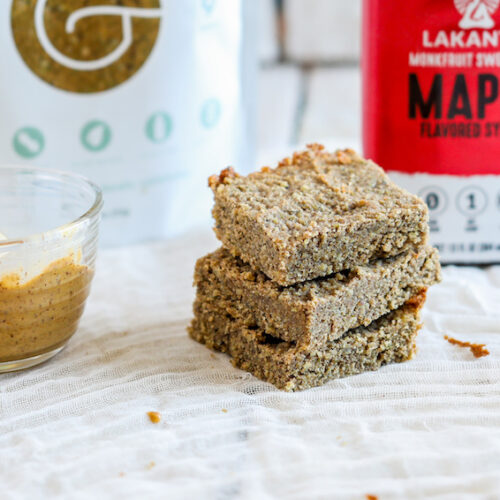 Empower Bars With Monk Fruit Maple Syrup
Lower the sugar in your Empower Bars even further with the use of Lakanto Monk Fruit Maple Syrup. Lower carbohydrate and keto-friendly. You can make them tree nut-free with a seed butter instead and fully plant-based with flax eggs.
Equipment
large mixing bowl

Baking tin
Ingredients
1

Empower Bar baking mix pouch

see note

2

eggs

beaten

1/2

cup

melted coconut oi

or oil of choice

1/4

cup

Lakanto Monk Fruit Maple Syrup

1/4

cup

Almond butter

or nut/seed butter of choice
Instructions
Preheat the oven to 350 degrees F. Line an 8×8 baking tin with parchment paper.

In a large mixing bowl, whisk together the eggs, oil, Lakanto maple syrup, and nut butter until creamy. Pour in the Empower Bar baking mix pouch and stir until everything is blended and a batter is formed.

Transfer the batter to the baking tin and smooth until evenly spread to all sides. Baking for 20 minutes or until edges are golden and toothpick inserted comes out clean. Allow it to cool for at least 30 minutes before removing from the baking tin and slicing into 9 squares.