One of my least favorite things about recipe writing is when something doesn't turn out. This happens more with baking than it does with cooking. While both could be considered "science," cooking is more conducive to throwing ingredients together with spices and sauces and seeing what sticks. You are more likely going to get something edible on the other side. With baking, there is less room for error. Tighter measurements and methods must come together in just the right way to yield what you are looking for. I love baking when the process goes as expected; not so much when it doesn't work out. Plus I really hate wasting food, especially dessert. What I do love is when you think a recipe isn't going to turn out, but you figure out a way to save it and still make something delicious. That is exactly how these donuts came to be.
I thought that I had messed up the recipe for the Empower Bar Cacao cottage cheese cookies by adding too much maple syrup. The dough became batter and was too thin for cookies. Instead of calling it a wash and throwing it away, I knew the batter could become something. Muffins or cupcakes could have worked as well, but I was in the mood for donuts. I am so happy I made that decision.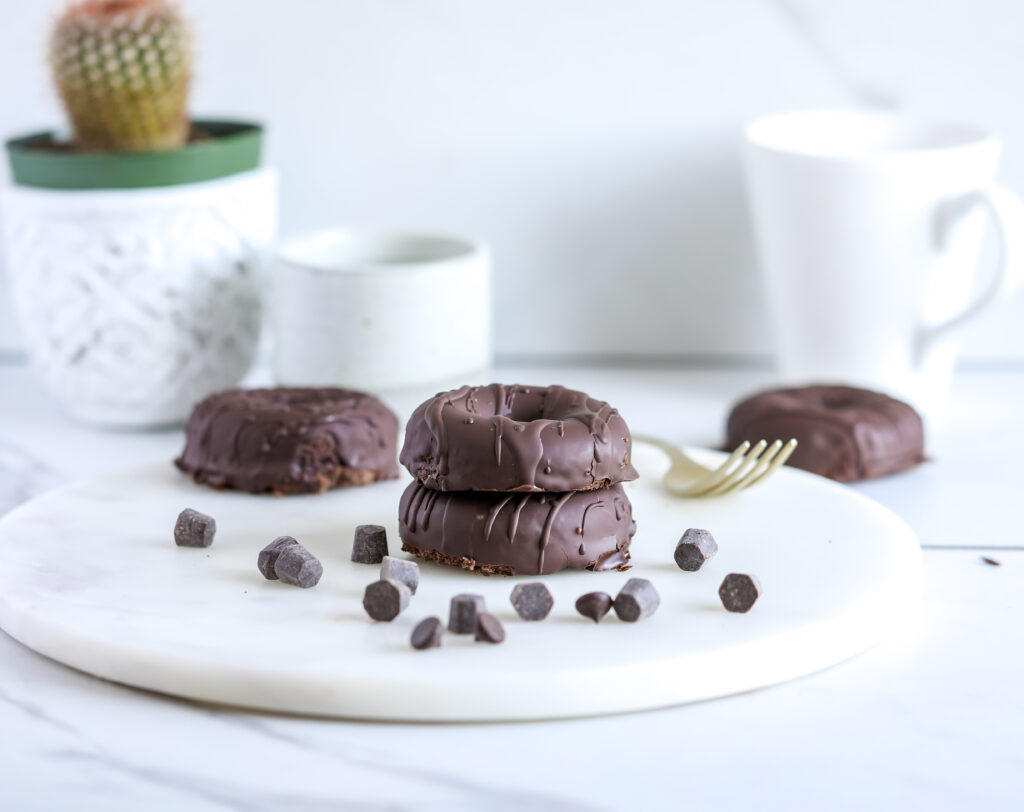 Planning and prep
Aside from ensuring you have your Empower Bar baking mix and other ingredients on hand, little planning needs to take place. If you don't have a silicone donut pan, I highly recommend getting one. Donuts are just a fun baked good to eat every now and then, and when you can make Healthified donuts at home, you won't experience a blood sugar spike and crash that is inevitable if eating the sugar-laden version.
After these donuts chilled in the refrigerator overnight, I decided to dip them in melted chocolate (because why not?). But these don't need the extra step, they are delicious and chocolatey as is. With the cottage cheese, they should be kept in the fridge, and I find they are much better when cold. I hope you love them as much as I do!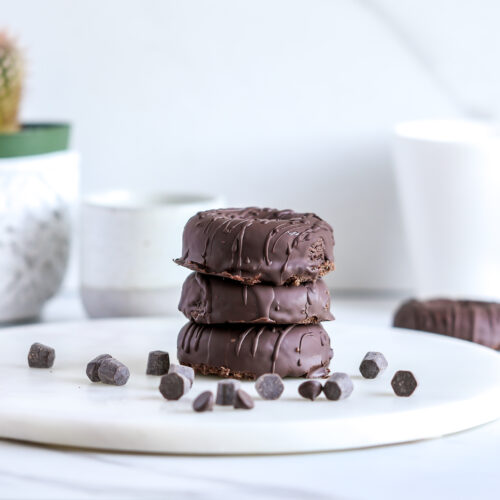 Gratisfied Empower Bar Cacao Cottage Cheese Donuts
Another cottage cheese recipe for the win! Fudgy and not overly sweet, these cottage cheese donuts are a healthier, higher protein option than traditional donuts. Grain-free.
Equipment
1 6-cavity donut pan

Blender
Ingredients
For the donuts
1

cup

cottage cheese

⅓

cup

maple syrup

1

teaspoon

vanilla extract

1

cup

Empower Bar Cacao baking mix

see note

2

tablespoons

melted coconut oil

⅓

cup

chocolate chips
For the chocolate coating (optional)
1

cup

dark chocolate chips or chopped dark chocolate

1

tablespoon

coconut oil

doesn't have to be melted
Instructions
Preheat oven to 350 degrees F. Spray a 6-cavity donut pan with cookie spray or use a silicone donut pan.

In a blender, combine the cottage cheese, maple syrup, and vanilla extract until creamy.

In a large mixing bowl, add the Empower Bar Cacao baking mix, melted coconut oil, and cottage cheese mixture. Stir to combine. Add the chocolate chips and stir again. Evenly spoon the batter into each cavity of the donut pan.

Bake 18 to 21 minutes or until a toothpick inserted comes out clean. Allow the donuts to completely cool (about 1 to 2 hours) before removing them from the donut pan. Keep them in the refrigerator. If coating them in chocolate (see next step), make sure they have chilled in the fridge for at least 2 hours before coating.

To make the chocolate coating, combine the dark chocolate and melted coconut oil in a microwavable safe bowl. Microwave for 1 minute, then stir until everything is creamy. Dip cooled donuts in the melted chocolate mixture and place on a plate or cutting board. The chocolate should set quickly, but you can place them back in the fridge for at least 15 minutes to completely set.