When someone recently messaged me on Instagram encouraging me to try the viral social media mug cake, I knew my Empower Bar baking mix was up to the task. In fact, when I was transitioning to more of a Paleo-esque way of eating almost a decade ago, I would make my own "english muffin" using almond flour and eggs in a similar fashion. I love how this version is almond flour-free, especially with how many people tell me they are allergic to nuts. My baking mixes are made from seed flours, coconut flour, hemp and pea protein, so both are much more allergen friendly compared to other baking mixes on the market. The chocolate variation of course contains cacao – my personal favorite.
This Gratisfied grain-free mug cake is so easy, and comes together in under 5 minutes. If a sweet tooth strikes and you want something delicious and more nutritious in no time, this recipe is your new best friend.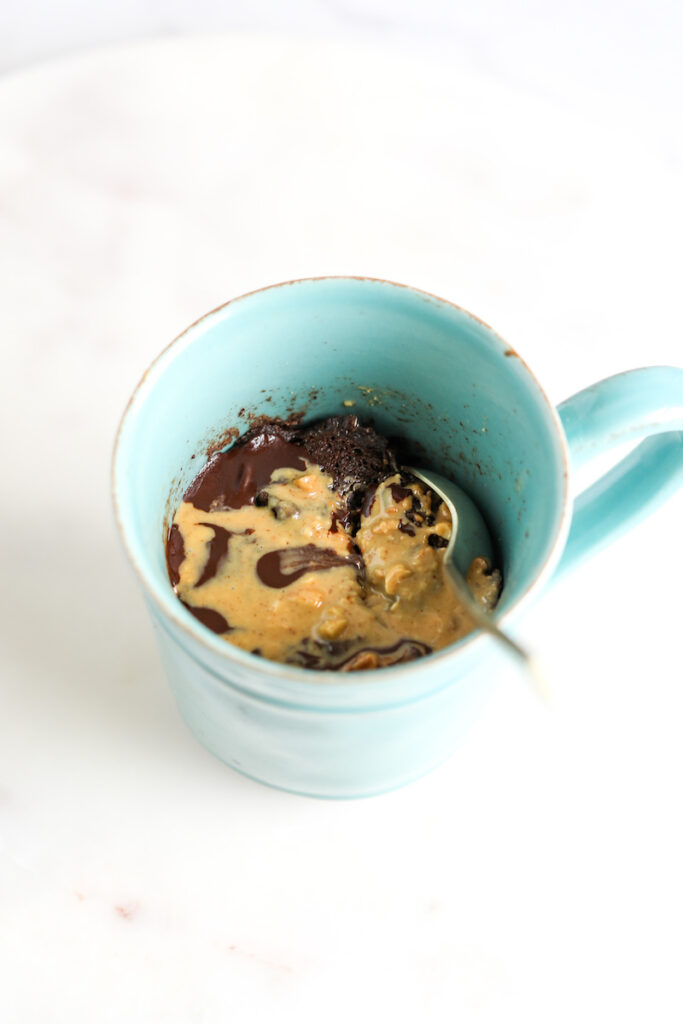 Planning and prep:
When I say this recipe takes very little time, I mean it. All you have to do is ensure you have your Gratisfied Empower Bar Cacao baking mix on hand, and you are good to go! Use the code HEALTHIFIED to save on your order.
Toppings:
I thought the subject of toppings deserved its own section. I drizzled creamy peanut butter and added extra chocolate chips, but here are some more ideas:
Vanilla ice cream and sprinkles (plant-based for dairy-free)
Coconut yogurt or coconut whipped cream and berries
Banana n'ice cream or even just frozen banana and melted chocolate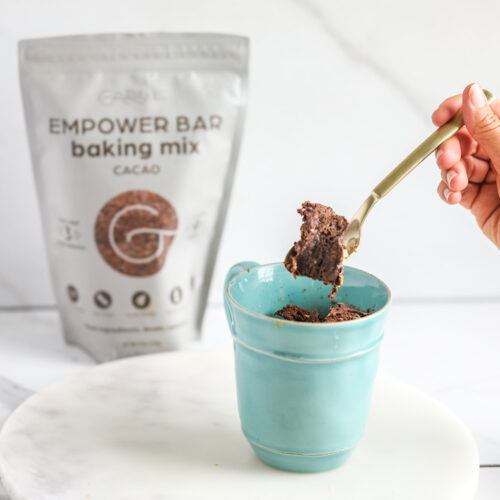 Gratisfied Grain-Free Mug Cake
Making a mug cake just got even easier with the Gratisfied Empower Bar Cacao baking mix! Whip up a more nutritious sweet treat in under 5 minutes. Add toppings of choice to round out the dessert
Ingredients
1

egg

1

tablespoon

melted coconut oil

1

tablespoon

maple syrup

1/2

teaspoon

vanilla extract

1/4

cup

Gratisfied Empower Bar Cacao baking mix

see note

1

pinch

baking powder

chocolate chips

optional
Instructions
In a mug, combine the egg, melted coconut oil, maple syrup, vanilla extract, baking mix, and baking powder. Stir until creamy. Add the chocolate chips and stir again.

Microwave on high for 1 1/2 minutes. Add toppings of choice. Enjoy immediately.