One of my favorite recipes that I have Healthified is the Oreo. I loved Oreos when I was a kid, and made it my mission to create a more nutritious version when I was writing my cookbook Gluten-free Vegan Baking for Every Occasion. While it is more labor intensive than buying the package off of store shelves, it is worth it. A homemade Healthified sandwich cookie is more satiating so you can eat just one (or two) and feel satisfied. With the processed kind, it's easy to eat a sleeve.
I had made some chocolate frosting for another recipe and had some leftover. I have always wanted to create a double chocolate sandwich cookie, so that is just what I did. I used my Gratisfied Empower Bar Cacao baking mix for more convenience, since this recipe requires extra steps compared to other cookie recipes. But again, it is worth it.
Planning and prep:
After making the dough, it needs to chill in the refrigerator for 30 minutes, so be sure to build that into your baking time. It also takes about 15 minutes to roll out the dough, cut the cookies, and continue to do this until the dough is used up. If you haven't made the frosting ahead of time, it can easily be made while the dough is chilling, but you will have had to bring the butter to room temperature, so just be sure to remove it from the refrigerator at least an hour before. Once the cookies bake, they will need to cool completely before frosting (at least an hour), otherwise the frosting will melt atop of a hot cookie and this recipe won't work. These cookies are best cold in my opinion, so once stuffed with the frosting, I highly recommend they chill in the refrigerator for at least 30 minutes before serving. Your total prep time should look something like this:
1 hour before: remove the butter from the refrigerator for the chocolate frosting
Chill the dough for 30 minutes after making
Cool the cookies after baking for at least an hour
Chill the frosting filled cookies in the refrigerator for at least 30 minutes
You should be eating and enjoying the cookies after a total time of 3 hours.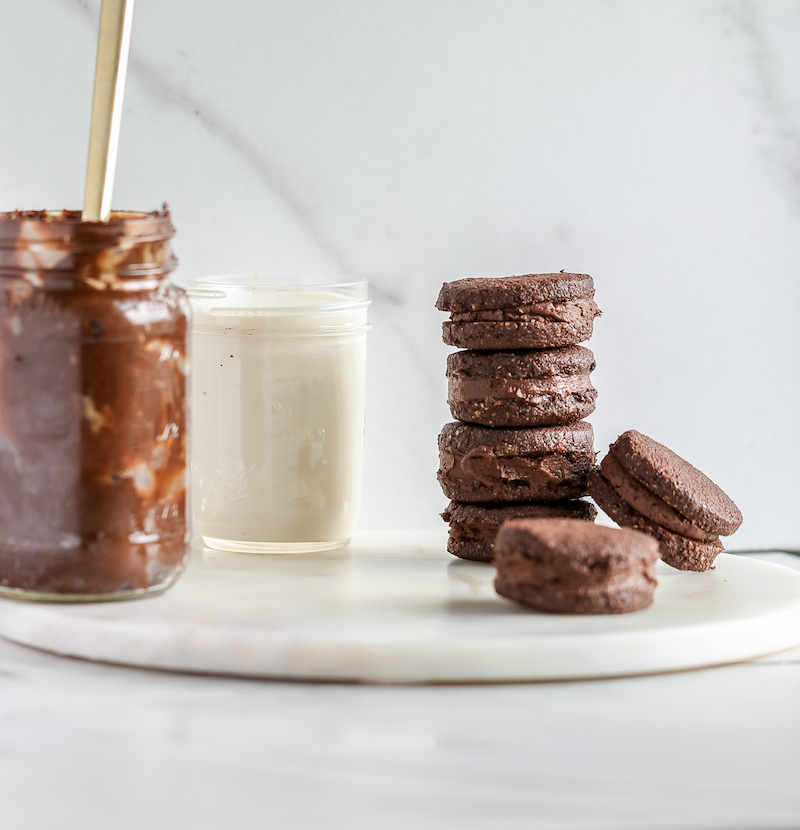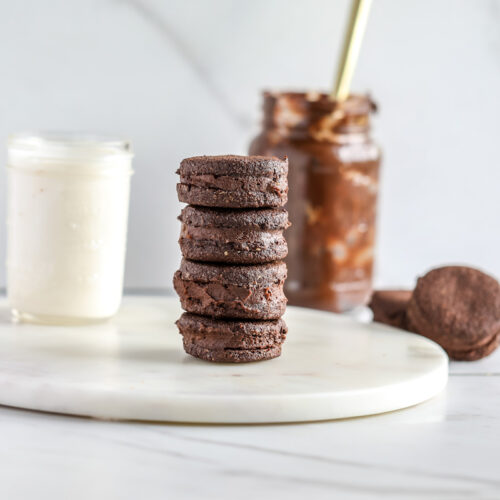 Double Chocolate Sandwich Cookies
The double stuffed chocolate version of a Healthified Oreo. Nostalgia and nutrition rolled into one cookie. The cookies come together more easily with the Gratisfied Empower Bar Cacao baking mix, resulting in a dessert that is grain-free and vegan optional.
Equipment
Circle cookie cutter

Rolling Pin
Ingredients
For the cookies
1

Gratisfied Empower Bar Cacao baking mix pouch

see note

1/3

cup

melted coconut oil

1/4

cup

maple syrup
For the chocolate frosting
1/2

cup

grass-fed butter, room temperature

or sub with vegan butter or palm oil shortening

1/2

cup

coconut oil, room temperature

1/3

cup

cacao powder or cocoa powder

1

cup

powdered monk fruit

or sub with regular powdered sugar
Instructions
Make the cookies. In a small bowl, whisk together the melted coconut oil and maple syrup until creamy. Transfer the Empower Bar Cacao baking mix to a large bowl. Pour in the wet ingredients and use a spatula to blend until a dough is formed and it becomes thick enough to handle with your hands (it might take some extra stirs with the spatula).

Use your hands to gather the dough into a ball and wrap it tightly in plastic wrap. Refrigerate the ball of dough for 30 minutes

Meanwhile, preheat the oven to 350 degrees F. Line two baking sheets with parchment paper.

Once chilled, place the ball of dough between two sheets of parchment paper. Use a rolling pin to roll out the dough until about 1/4-inch thick. If you don't have a rolling pin, you can use a wine bottle. Remove the top sheet of parchment paper.

Using a pre-greased 2-inch circle cookie cutter (or cookie cutter of desired shape and size) cut out cookies, and use a pre-greased spatula to place them gently on the baking sheets. Do this until all of the dough is used up. You should have at least 20 cookies which will make 10 sandwich cookies.

Bake the cookies for 10 minutes until they have started to firm (they might still be soft to the touch, but they will continue to firm as they cool). Allow the cookies to completely cool before filling (1-2 hours).

Make the filling. In a large bowl, combine the grass-fed butter and coconut oil. Using a whisk or a hand-blender or beater, cream together the butter and coconut oil until blended and fluffy, about 30 seconds. Add the cacao powder and powdered monk fruit and blend again. Use your spatula to give the filling mixture a stir.

Place 1-2 tablespoons of filling between two cookies and press them together until the filling reaches the edges of the cookies. Continue to do this until all of the cookies have been filled. Keep the cookies in the refrigerator.