Not only would I consider a tartlet is a perfectly portioned dessert, but they are so fun to serve. They look pretty on display as well as on people's plates. I was introduced to baking tarts when I was writing my cookbook, and I have gravitated towards them ever since. Tarts are similar to a pie, but they primarily differ in structure, which provides a denser texture and allows the flavor to shine through. Additionally, a tart crust is typically less pronounced, making the filling the star of the show. Tarts are also served chilled or at room temperature, whereas a pie is more likely to be served hot. Because a tart pan has a removable bottom, the end result is easier to remove and maintain its shape. I use this pan for tarts and these for tartlets. Whether you choose a tart or tartlet depends on the occasion, but either makes for a delicious dessert for yourself or others.
I was playing around with my avocado cacao mousse recipe recently, and I thought how it would make for an amazing tartlet filling. Healthified at its finest.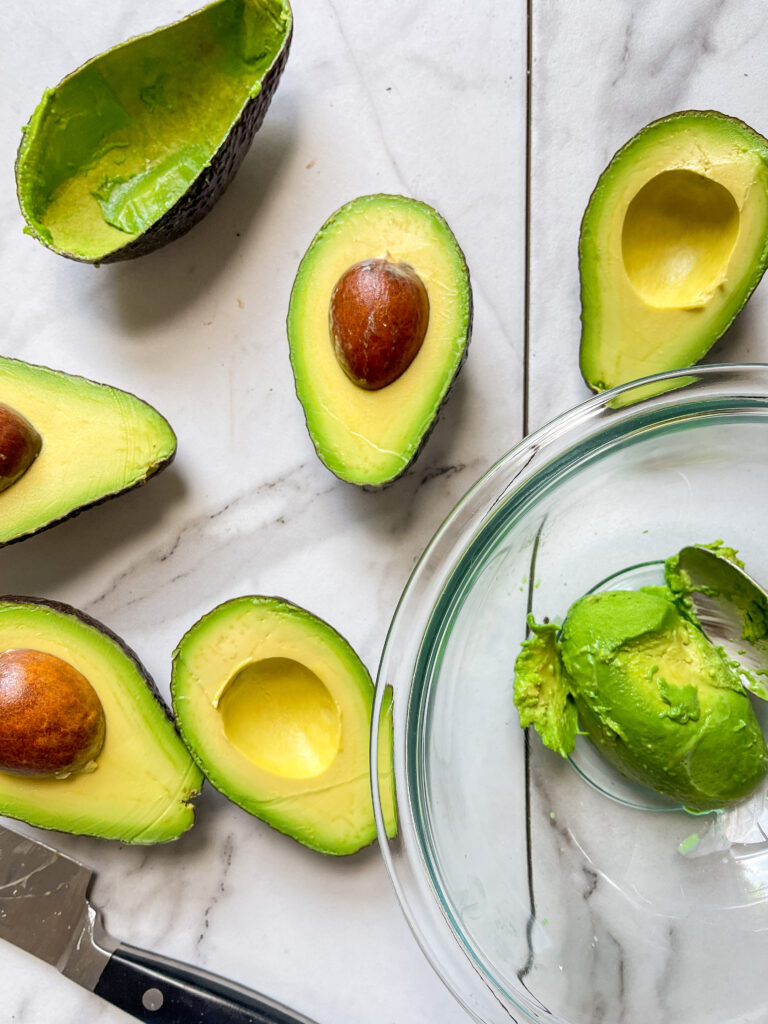 The crust is also made more convenient (and healthier of course!) using my Gratisfied Empower Bar Cacao baking mix. It only uses half the bag so you get more bang for your buck. Better yet, these tartlets don't have to be baked, making them an amazing option in the hot summer months. You can check out this reel for a visual on how easy they are to make, or read below and take my word for it.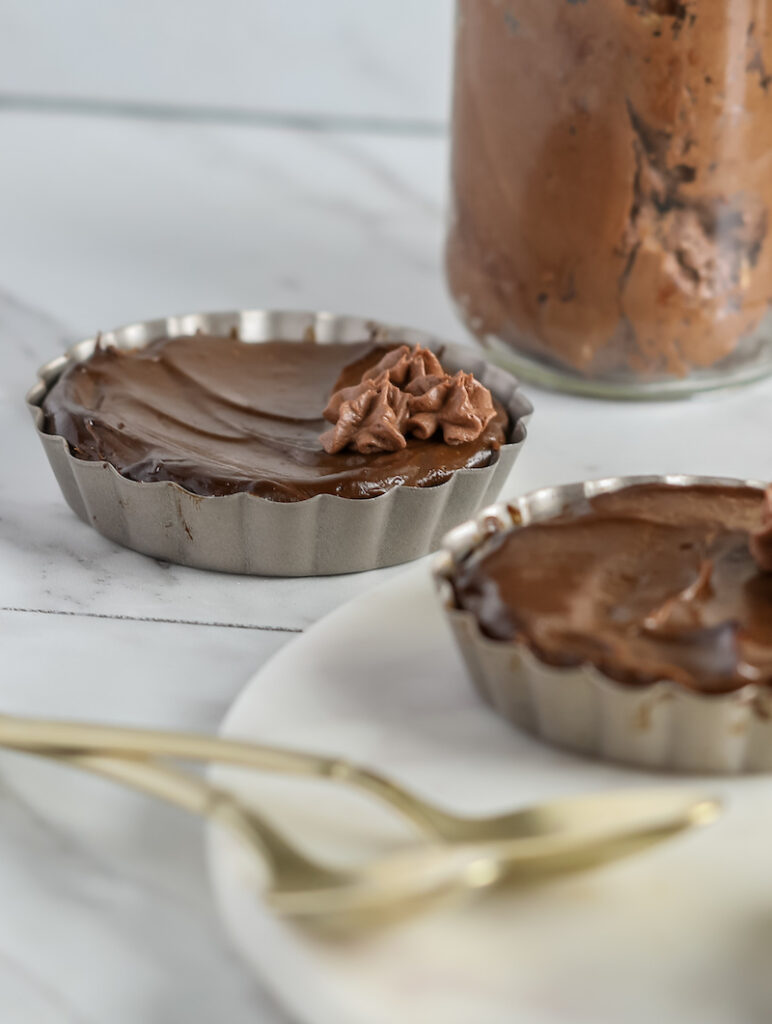 Planning and prep:
Make these tartlets at least a day before you plan to enjoy them. This will give the filling enough time to chill and set. It will still be slightly soft, but the coconut cream included in the filling acts as a natural solidifier. On that note, be sure to put a can of coconut milk or cream in the refrigerator the day before plan to make them.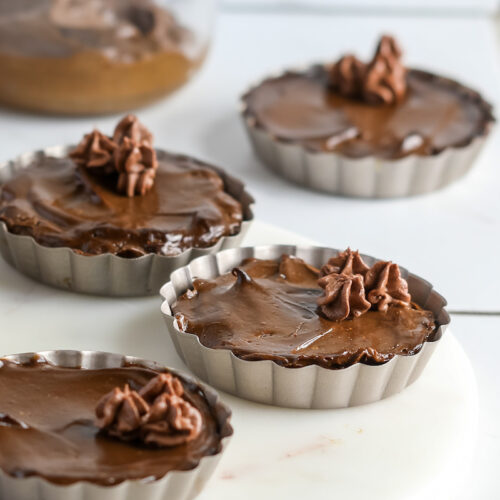 Chocolate Tartlets
A perfectly portioned no-bake dessert for fellow chocolate lovers. Enjoy a Gratisfied Empower Bar cacao crust filled with silky avocado mousse. Grain-free, dairy-free, delicious
Equipment
Food processor

High-speed Blender
Ingredients
For the crust
1 1/4

cup

Gratisfied Empower Bar Cacao baking mix

10-12

Medjool dates, pitted

1/4

cup

melted coconut oil
For the filling
Flesh from 3 ripe avocados

1/2

cup

maple syrup

1/3

cup

cacao powder or cocoa powder

1/4

cup

coconut cream

1

teaspoon

vanilla extract
Instructions
Make the crust. Place the Empower Bar Cacao baking mix, dates, and coconut oil in a food processor. Blend until a crumbly dough is formed. Use your hands to gather about 2 tablespoons of dough, and press it into the bottom of the tartlet pans. Do this until all of the dough is used up. Place the tartlet pans with the crust in the refrigerator until ready to use.

Make the filling. In a high-speed blender, combine the avocado, maple syrup, cacao powder or cocoa powder, coconut cream, and vanilla extract. Start blending on low, increasing the speed to high, using the tamper to get everything in the blender going. Continue to blend until the mixture is smooth and creamy.

Using a large spoon or spatula, evenly distribute the filling into the tartlet pans, filling each one to the top. You might have some filling leftover. Transfer it to a separate airtight container and store it in the fridge for up to 5 days.

Place the tartlets back into the refrigerator to chill and set, at least 8 hours or ideally overnight. These tartlets are even better the next day! When ready to serve, carefully remove the tartlets from the pan, or serve in the pan and eat them with a spoon.