The body is an amazing machine. When something is off, it sends you signals. You might notice imbalances or issues in what I call the "big five:" sleep, skin, digestion, mood, and energy. Women have an extra line of communication with regards to their monthly cycle. It has only been in the past year that I have tuned into mine for holistic health purposes (I know, crazy right?!), and I have realized that my hormones are a little haywire. Therefore, I decided to get back on the cycle syncing bandwagon, and while I am only a couple of weeks in, I can already tell a difference. I plan to do more extensive post on my favorite phase foods (starting with the follicular phase), but I wanted to go ahead and highlight this delicious chocolate mint smoothie I've been loving lately!
I have to give a shout out to Lauren of So Fresh N So Green. She is a hormonal health coach and her information has been invaluable. I have tried a few of her recipes and they are equally amazing. She even has a couple of e-books pertaining to hormonal balance and fertility. I highly recommend you check her out. The smoothie below was inspired by one of her follicular phase recipes, although I slightly tweaked it to fit my tastes and the ingredients that I had on hand at the time. Of course, I topped it off with my Gratisfied Cacao Granola Clusters and it was the best crunch at the end!
There are so many elements of this smoothie that makes this a beautiful blood sugar balancing choice for breakfast or a snack. It calls for a handful of leafy greens, so take your pick – I used a small handful of broccoli sprouts which are a tiny but mighty way to pack in nutrition. They fall into the cruciferous vegetable family, and not only are a good source of Vitamin C, but are a potent source of sulforaphane, which studies show fights oxidative stress and works to prevent multiple types of cancer. The combination of broccoli sprouts, zucchini, avocado and Brazil nut milk make this an amazing meal to incorporate into your follicular phase.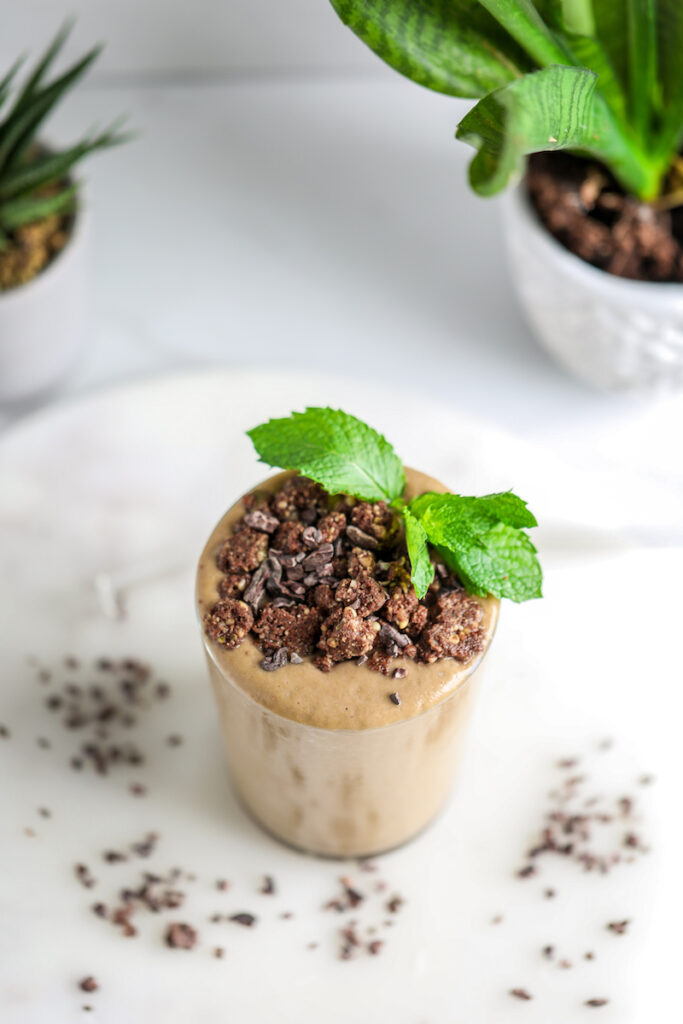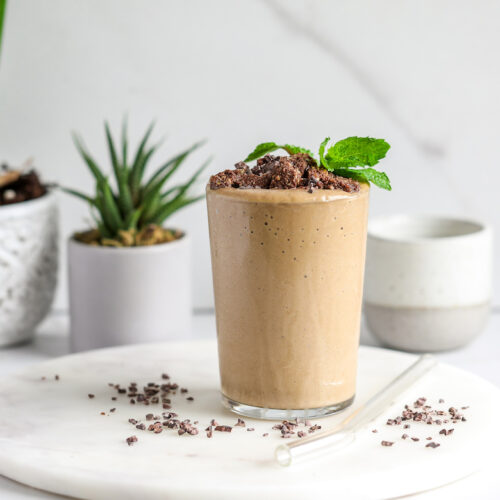 Chocolate Mint Smoothie with Cacao Clusters
A refreshing and hormonal balancing smoothie for your follicular phase in particular. If you love the chocolate and mint combination, you will love this concoction. Top with Cacao Clusters for a nice, nutritious crunch at the end.
Ingredients
1/2

cup

dairy-free milk of choice

I used homemade Brazil nut milk (see note)

1/2

cup

filtered water

or use 1 cup of milk

1

handful leafy greens

spinach, kale, microgreens

1

cup

frozen zucchini

1

small frozen banana

or 2/3 large banana

1/4

flesh of an avocado

1

scoop

chocolate protein powder

I use Be Well By Kelly brand

2

mint leaves

1/4

cup

Gratisfied Cacao Clusters

for topping (see note)
Instructions
Place all ingredients in a blender and process until creamy, about 1 minute. Pour into a glass and top with Cacao Clusters. Enjoy!