As I mentioned in this post, I have been delving into the subject of cycle syncing. I don't really feel the need to get into the nitty gritty details because Alisa Vitti's book In the Flo is the ultimate resource for anyone who is interested. I do find it interesting however, to explain the what and why behind the nuances of each phase. For example, I created this smoothie recipe for the follicular phase. The ingredients may not be perfectly aligned (i.e. I will always include frozen banana in a smoothie because it simply makes it creamier and more delicious, when technically "banana" is an optimal fruit for your Luteal Phase). As Vitti mentions in her book, the scientific research is limited for this subject because women – with their fluctuating hormones – are not ideal study candidates. Hopefully this changes, and in the meantime, I will do my best.
What is the follicular phase?
The follicular phase falls right after your menstrual phase when your body is preparing for the maturation of the egg in the ovary. The bottom line is that there is a lot going on hormonally, and certain foods can support this period in your cycle. While it is encouraged to eat lightly cooked food early in the follicular phase (think steaming and sautéing), as you get closer to your ovulatory phase, you can gradually transition to more raw food in the form of smoothies and salads.
I love a smoothie almost every day, but I will be honest – before I discovered cycle syncing, I would notice that sometimes drinking a smoothie would not make me feel my best. It almost felt as if my energy would decrease and my digestion would get worse, rather than the other way around. As I have started to implement various principles of cycle syncing, I have noticed a huge improvement, almost immediately!
My husband always tells me I am too in tune to my body, which I don't consider to be a bad thing. Intuitively, I know when something is off and I experiment until I can find ways to feel better. That is what health and nutrition are all about in my opinion. As women, we are never going to eat the same way every day for the rest of our lives. Having had a baby two years ago, my body is in a different stage of life than it was before I got pregnant. It makes even more sense that we should tailor our nutrition to our hormones. Eating, digestion, hunger, and blood sugar are all hormonal experiences!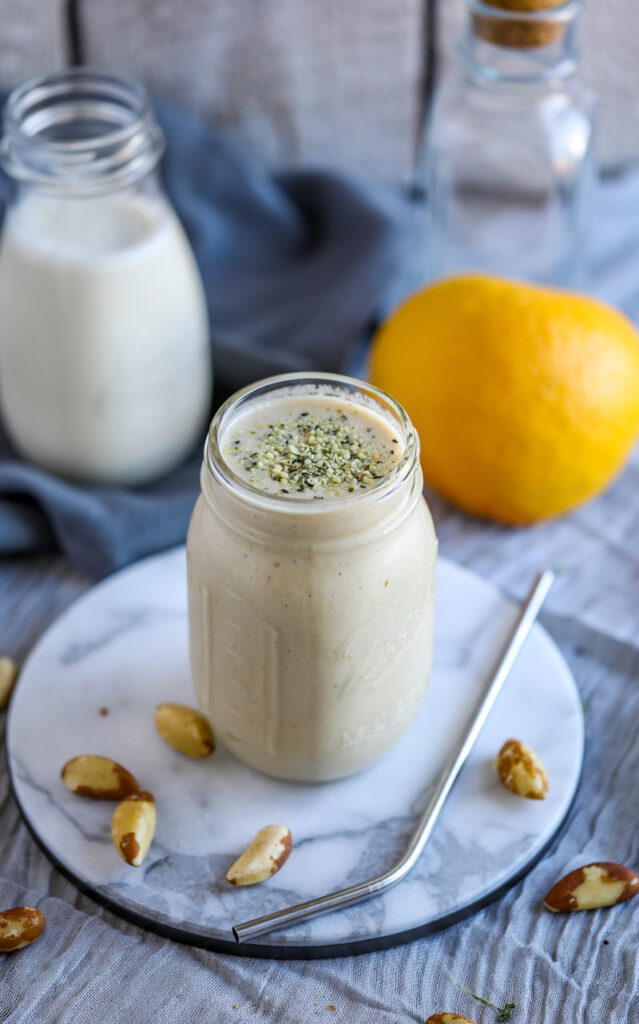 I have been incorporating grapefruit into my smoothies and absolutely love it. Here are my tips for using grapefruit in yours too:
I saw a container of pre-sliced grapefruit at my local Whole Foods the other day. Upon returning home, I transferred the slices into a plastic bag and threw it in my freezer.
Peel a whole grapefruit as you would an orange. Place the individual slices in a plastic bag or reusable container and put it in your freezer.
Freeze pure grapefruit juice in an ice cube tray or silicone molds. You can either freshly squeeze a grapefruit yourself, or buy it already juiced (just be sure there are no additives!).
Why grapefruit? Like all citrus fruits, it is high in vitamin C, a potent antioxidant that supports natural detoxification pathways and works to decrease inflammation. It is also known as a food that contains glutathione, also an antioxidant that has similar effects. As estrogen starts to rise in the follicular phase, (peaking in the ovulatory phase), it is important to eat foods that promote liver detoxification and decrease inflammation to avoid estrogen dominance. Your liver is not only your detoxification organ, but it also plays a major role in the metabolism of hormones. This is why eating foods to support the functions of your liver is important during this phase of your cycle. Raw cruciferous vegetables aid in natural detoxification as well, which is why I included cauliflower rice in this recipe.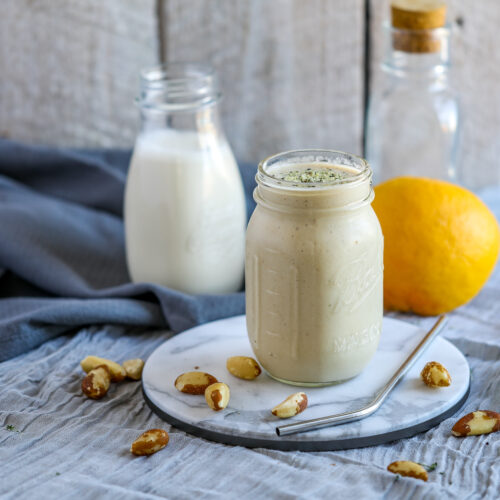 Refreshing Grapefuit Smoothie
Hints of citrus are blended with banana and vanilla protein to provide a refreshing and unique taste to this smoothie. Cruciferous cauliflower rice provides extra fiber, and the brazil nuts add healthy fat.
Ingredients
1.5-2

cups

almond milk or dairy-free milk of choice

3/4

cup

frozen cauliflower rice

1/2

frozen banana

1/4

cup

frozen grapefruit chunks or grapefruit juice

1

scoop

vanilla protein powder

I used Truvani

1

tablespoon

psyllium husk

or chia seeds or ground flax

1

teaspoon

maca powder

optional

2

brazil nuts

or a tablespoon of your favorite nut butter
Instructions
Place all of the ingredients in a high-speed blender and process until smooth and creamy, about 1 to 2 minutes. If you are using a Vitamix, use the tamper as you need to to get the ingredients going. If the contents are too thick, add more milk until desired consistency is reached.