During a recent vacation, I noticed my husband reading a book on his new kindle. The title? The Power of Fun by Catherine Price. Given that we were in Miami on our first family vacation, I found it appropriate, and would witness him highlighting certain sentences every now and then. It piqued my curiosity, so upon returning home, where I felt thrown back into our daily routine, I decided to (virtually) pick it up myself.
When something resonates with me, I always dig a little deeper. I'm not even a third through the book, yet have listened to multiple podcast episodes with Price sharing her message on how to break up with your phone and have more fun. I found each interview serendipitously, which I take as a sign it is a message I need to hear. In one of these episodes, she shares a daily practice she adopted during the writing process. In order to create more fun and joy in her life, she started to notice "daily delights," whether that was petting a puppy on the street, or getting the opportunity to play the guitar. I believe noticing joy has its place in health and wellness, but I thought it would be fun to put a Healthified spin on it. So I started noticing ways – both big and small – I felt Healthified.
To "healthify" implies an upgrade. In other words, where are you now, where would you like to be, what are the actions you need to take to get there. This is going to look and feel different for everyone. Real food nutrition and movement are an integral part of feeling my healthiest self, but they are also areas that come naturally to me; I crave both healthy food and movement, and would categorize both as established habits by now. Upgrading for me entails creating a more health-supportive environment and my mindset towards daily life. Here are ways in which in which I felt like I took my wellness up a notch this past weekend.
I started to keep a yoga mat in my living room.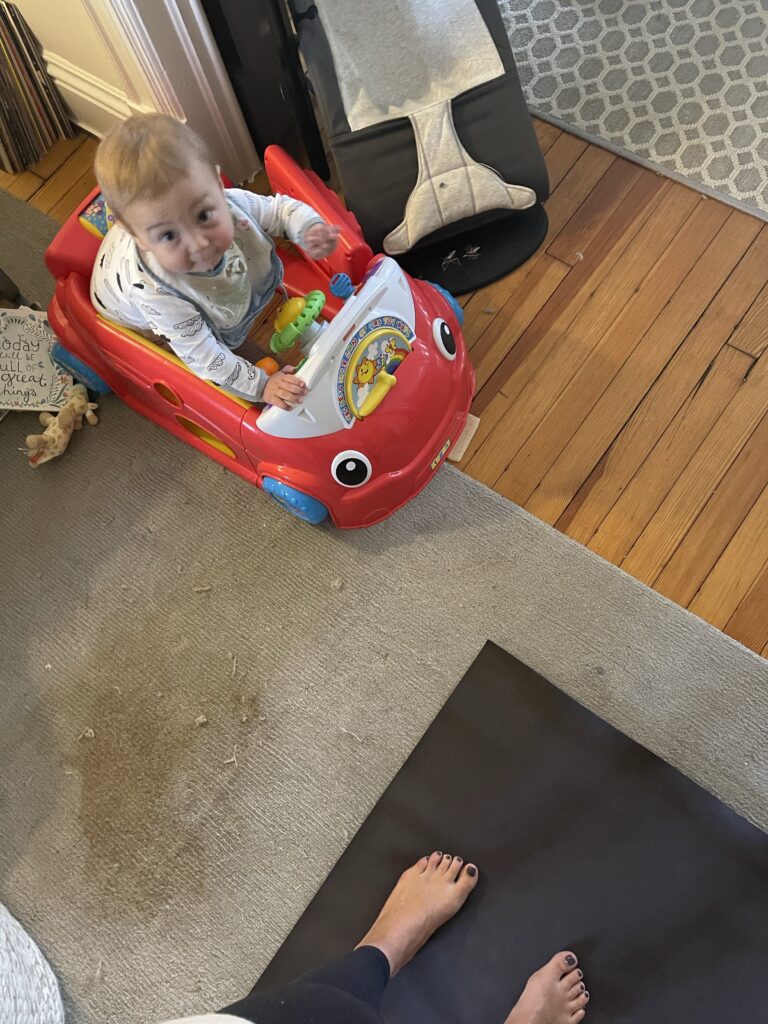 With Mason crawling, I spend a lot of time on my living room floor. The other day I realized that when I wasn't reaching for him or preventing him from falling (a workout in and of itself), I was just sitting there. These are moments I could be incorporating some functional movement into my day. I have started to keep a yoga mat in my living room so that I can stretch or flow through some sun salutations, which feels so good, especially in the early morning.
I organized a gathering at Brambly Park.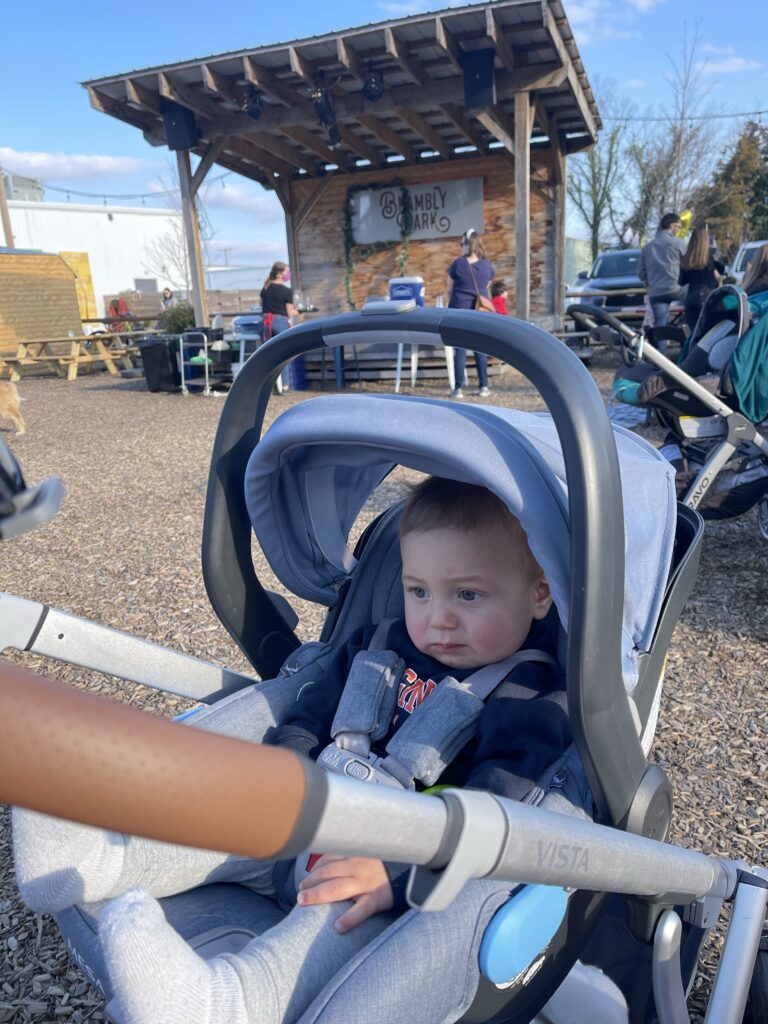 For those of you who don't know me personally, you are probably wondering why I included this item on my list. I am a self-proclaimed introvert who loves alone time. My husband was away this weekend, and in the past, I would have taken this as an opportunity to recharge my batteries. While I did do that to some extent, I knew by Saturday I would be ready to socialize. I believe having a baby has made me more gregarious because (a) I'm home so often and feel a need to get out of the house, and (b) alone time is not what it used to be (peace and quiet? What is that?). Don't get me wrong, I almost did not call my friends. It almost felt comfortable to stay stuck in my old ways. But I knew time with my girlfriends would make me feel good, so I broke out of my comfort zone and organized an outing. And I was right! I felt healthier and happier as a result.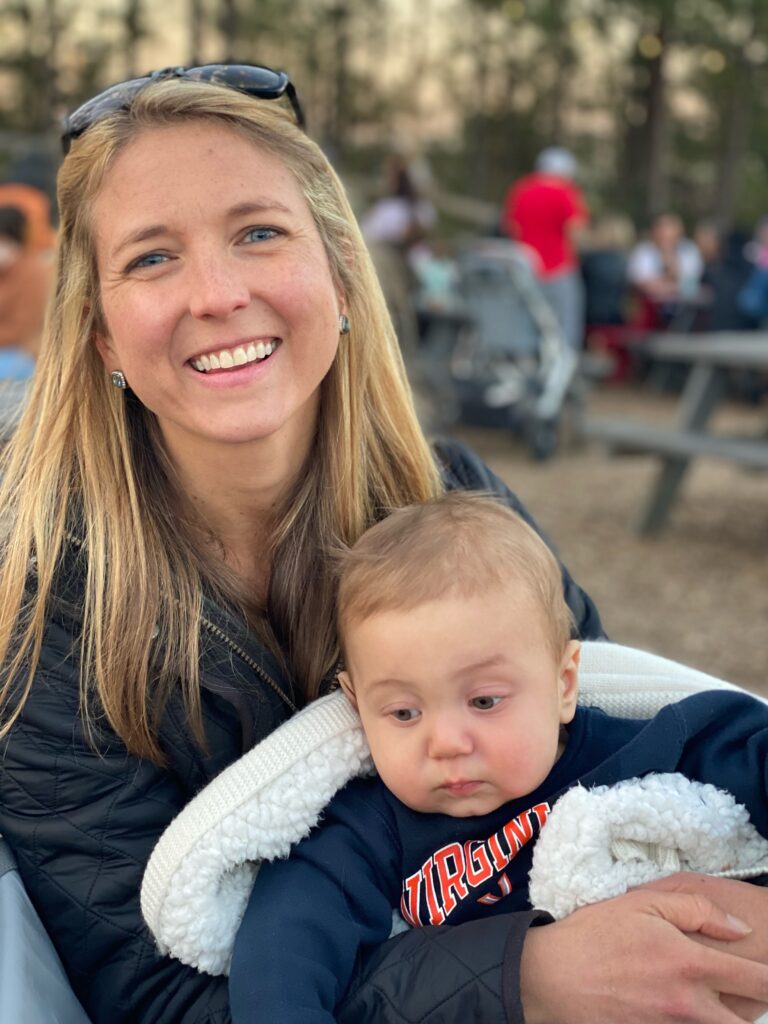 Sudoku instead of screen time.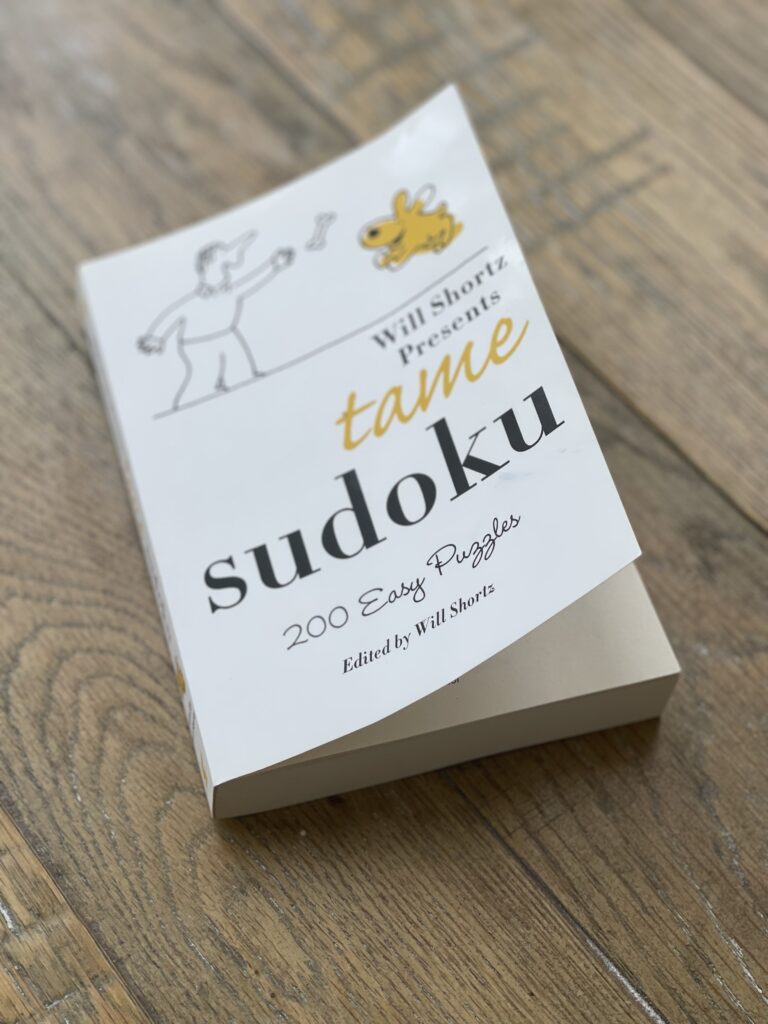 In Price's book The Power of Fun, she talks a lot about screen time and our relationship to our devices. Since reading, I have felt inspired to decrease the amount of time I spend on my phone. For the first few days, I noticed myself reaching for it even when it wasn't beside me. I decided to "crowd out" the habit with a new one. Months earlier, I bought a book of Sudoku puzzles, and while admitting this might make me sound like a huge nerd (spoiler alert: I am a huge nerd), I reach for that instead. Not only am I spending less time on Instagram or mindlessly checking my email, but I am working my brain to boot!
I started using facial toner.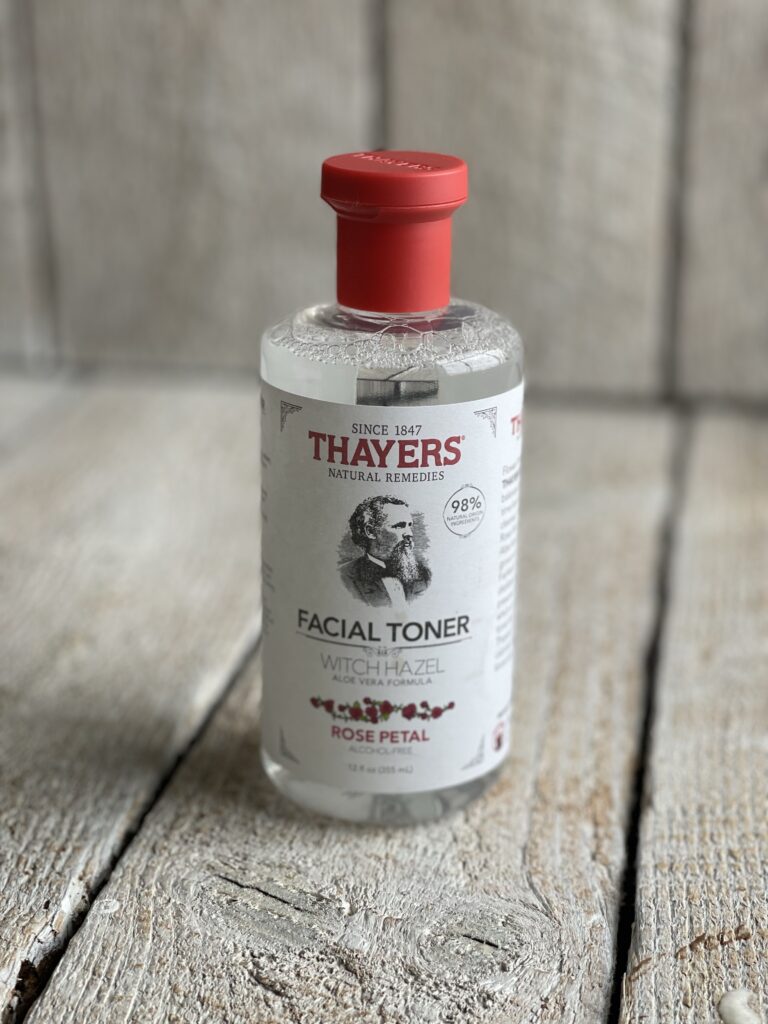 I recently did a Healthified Podcast interview with Cayla of Nutrition Preferred, and when I asked her ways she "healthifies" on a daily basis, she explained that every day she takes care of her skin. Whether it is eye cream or moisturizer, this one habit makes her feel better. She is a mom with two kids under two, and this makes sense to me. In the previous months, my skin care routine had gone out the window as well. It might sound so simple (a lot of healthy habits are!), but washing my face, applying toner, eye cream, and moisturizer sets my morning on a refreshing foot.
I took an impromptu coffee walk…without headphones.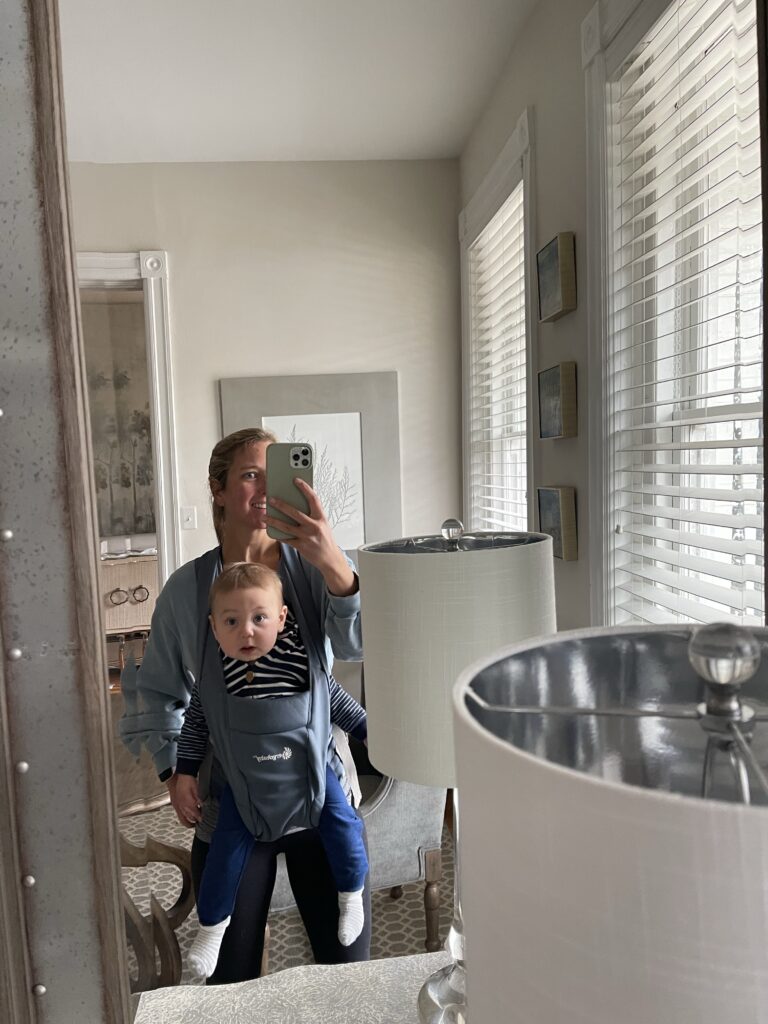 With Mason's eating and nap schedule, it is so easy to find myself in a routine rut. Bottle, breakfast, nap, repeat. I often put him in the stroller to walk while he naps, but rarely do I change it up between bottle and breakfast. As I stated above, you can usually find me with Mason my my living room floor. This past Sunday morning I really wanted to do things differently. I have been craving that feeling of flow and alignment, which was easier to find before motherhood. Getting out of routine always puts me in a more positive state of mind. With Mason in the Ergobaby, I poured a cup of coffee, and just walked, taking a different route than I normally do, noticing my neighborhood with more open eyes, with nothing but the sounds of my surroundings. For the rest of the day I felt lighter and more energized.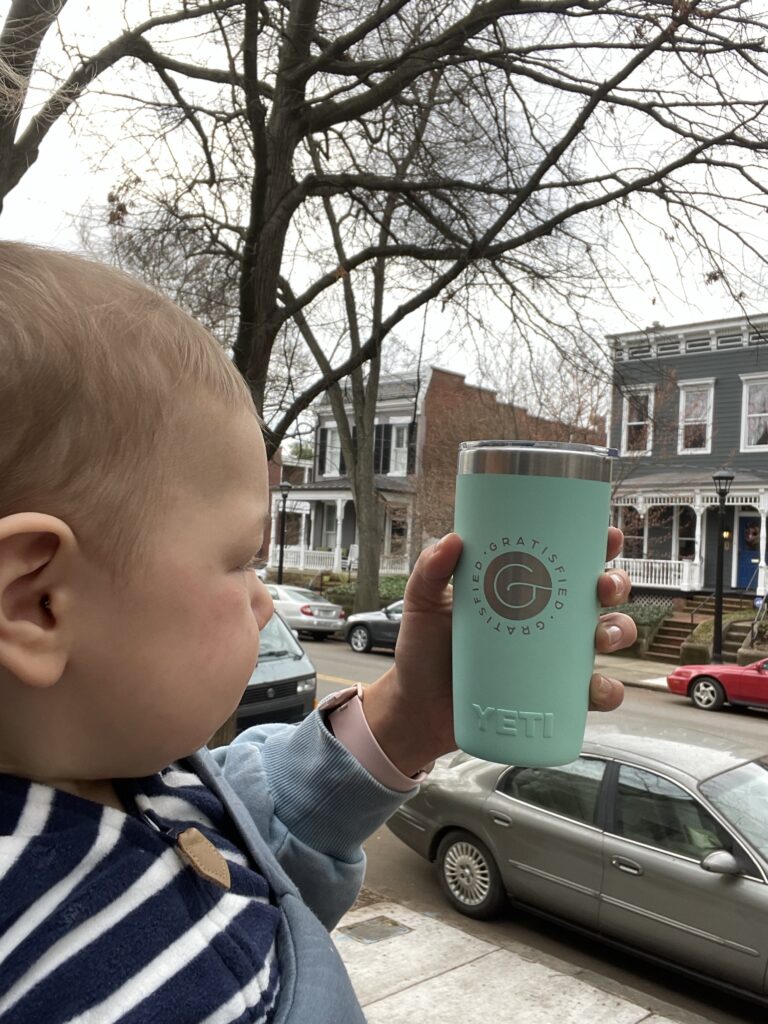 You Might Also Like: