My family and I recently spent four nights in Scottsdale, Arizona, and I wanted to post some highlights below. What a magical place! There is something about the energy in the desert. We even took a day trip to Sedona, and I will write a separate post about that experience because it deserves its own. My husband and I joke that every time we travel somewhere, we find ourselves saying I could live here. We have been saying it a lot less lately (probably because with a toddler, we really aren't traveling that much!), but there is a part of me that can't help but feel that way about Arizona. Maybe in another life.
Where we stayed
We arrived to Scottsdale on a Thursday evening, and I felt such peace as soon as we pulled into the Royal Palms Resort and Spa. The grounds were beautifully lit by golden hour, and upon check-in, we were greeted with a delicious glass of champagne. It was well-received after a 14-hour travel day with a two-year-old!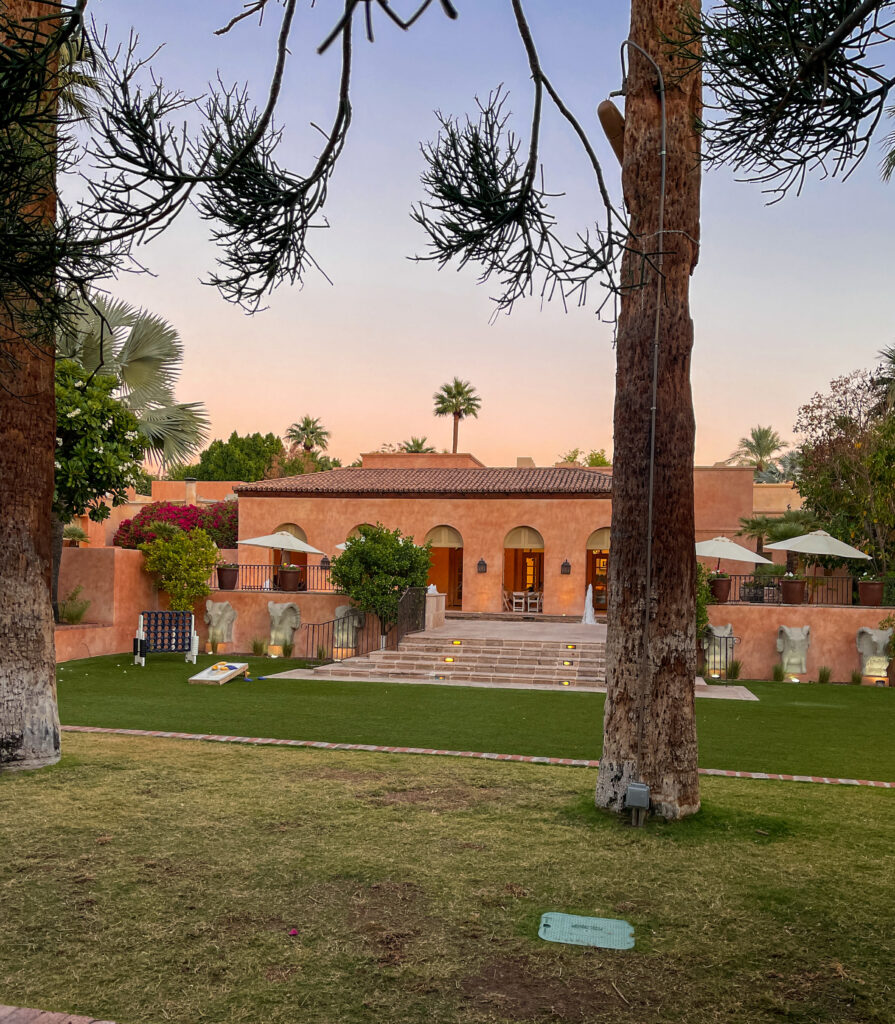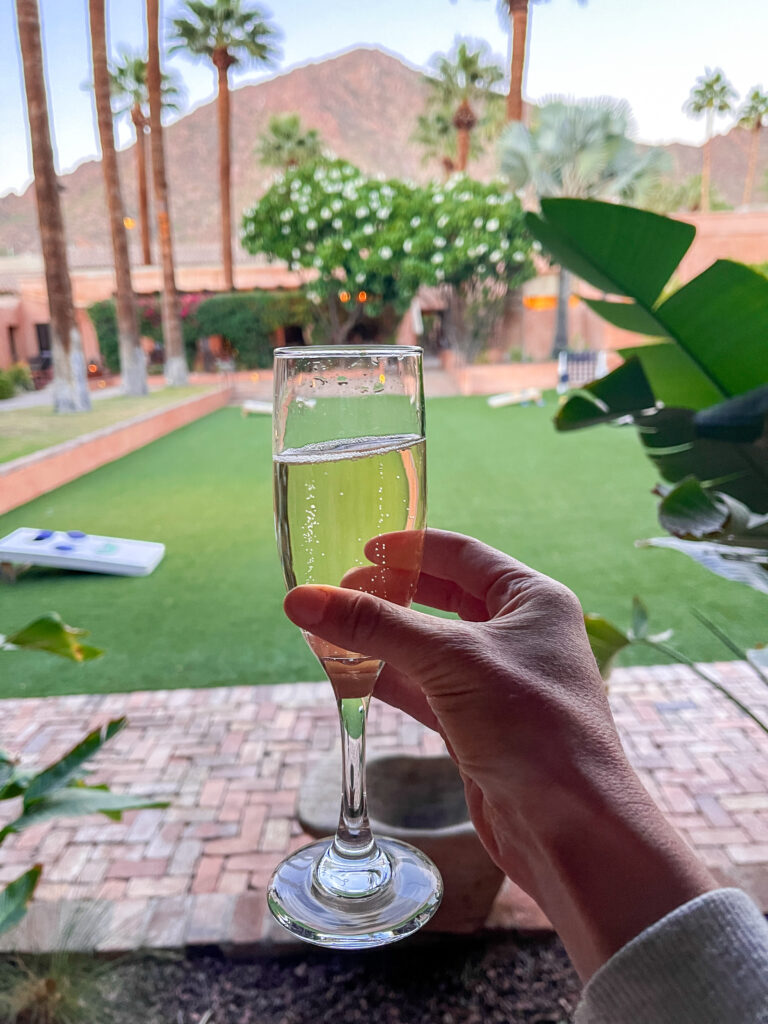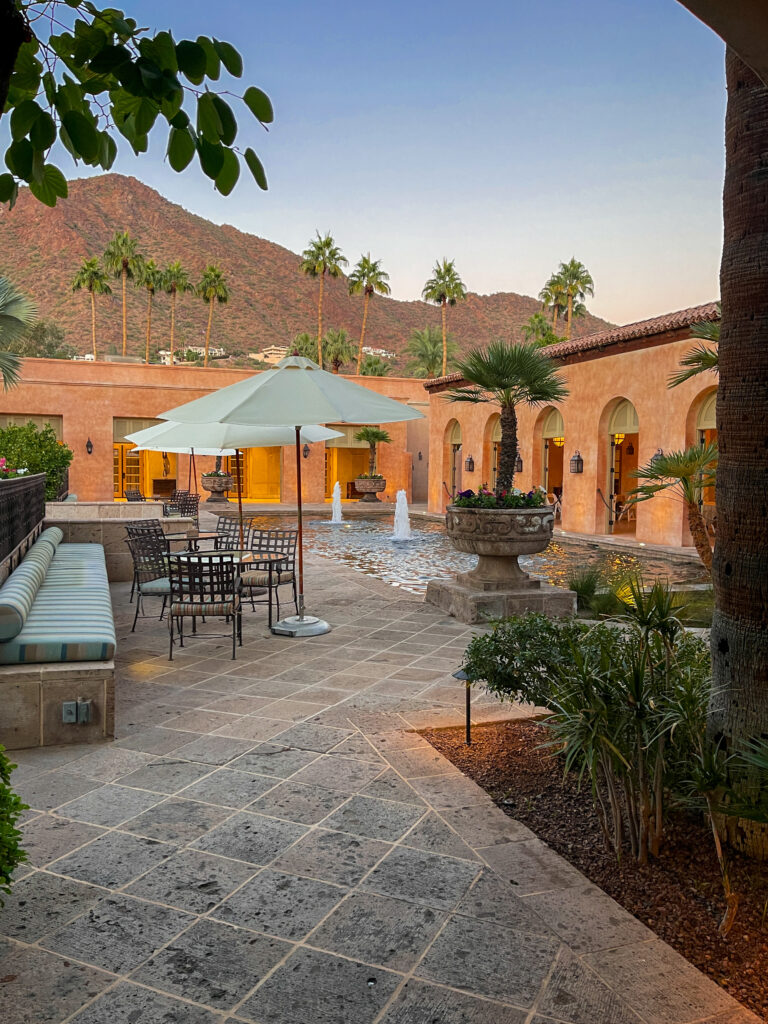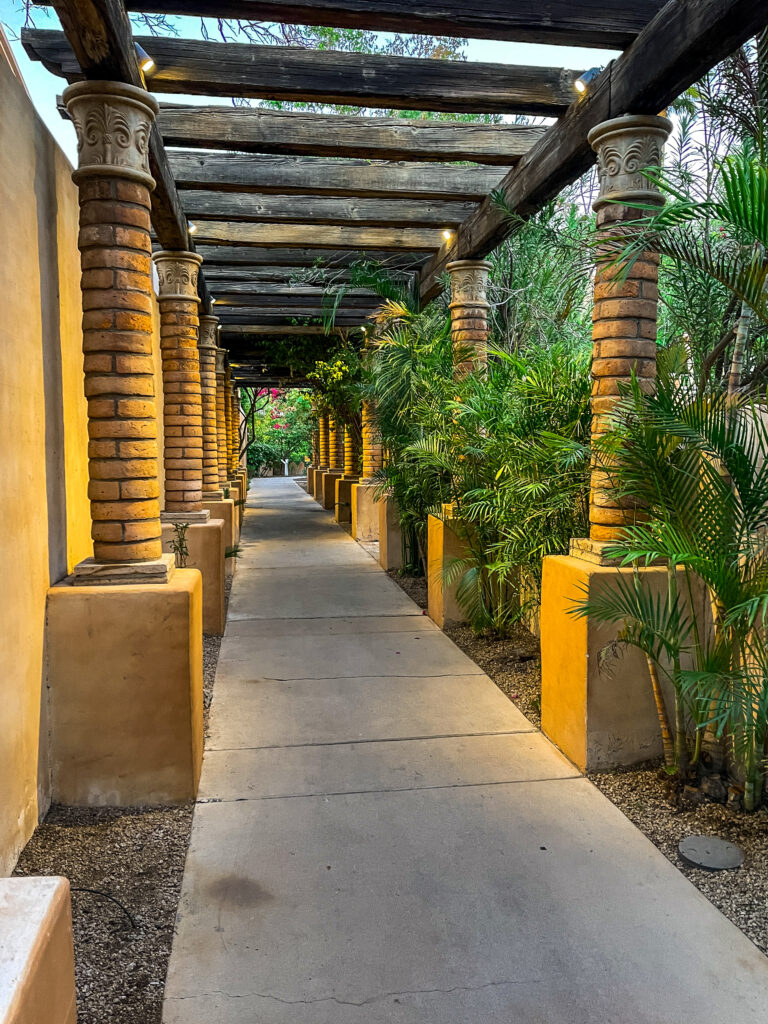 Where we ate
T. Cooks at the Royal Palms Resort.
As soon as we got to our room and changed, we turned right around and headed to the hotel restaurant T. Cooks for some dinner. I ordered the Branzino, which came with with grilled corn succotash, baby potatoes, celery, celery root puree, marinated artichokes, red bell pepper, chimichurri, frisee and charred lemon dressing. It was a perfect first meal! After traveling, I notice how much I crave healthy, high-quality protein, so this dish hit the spot.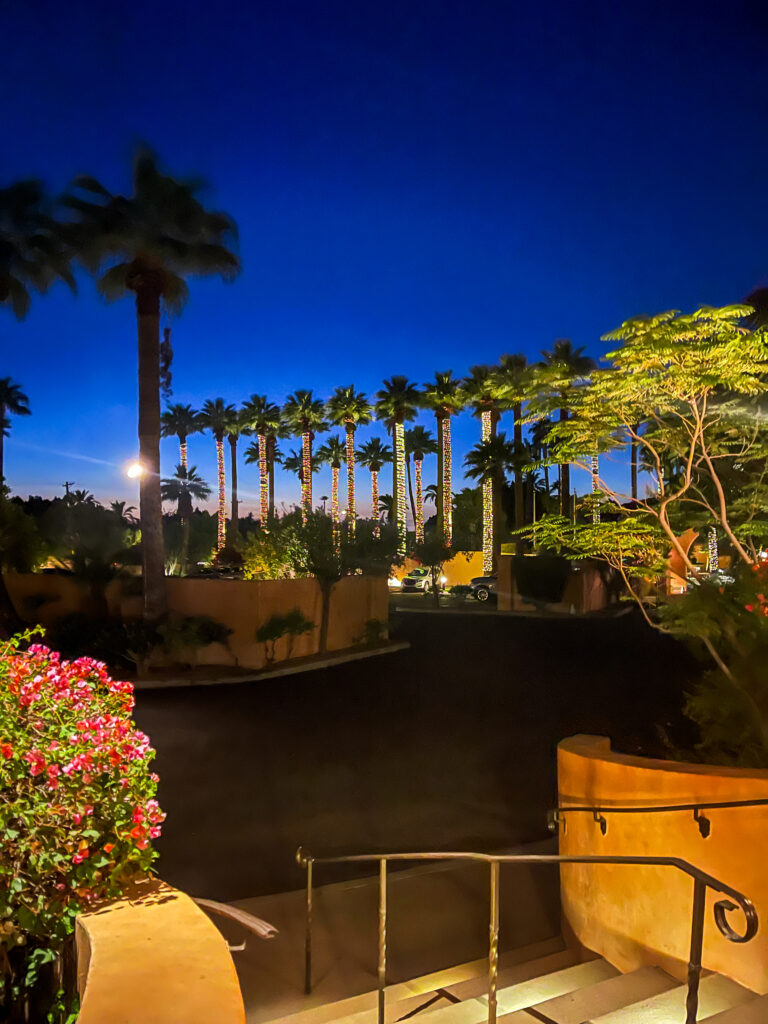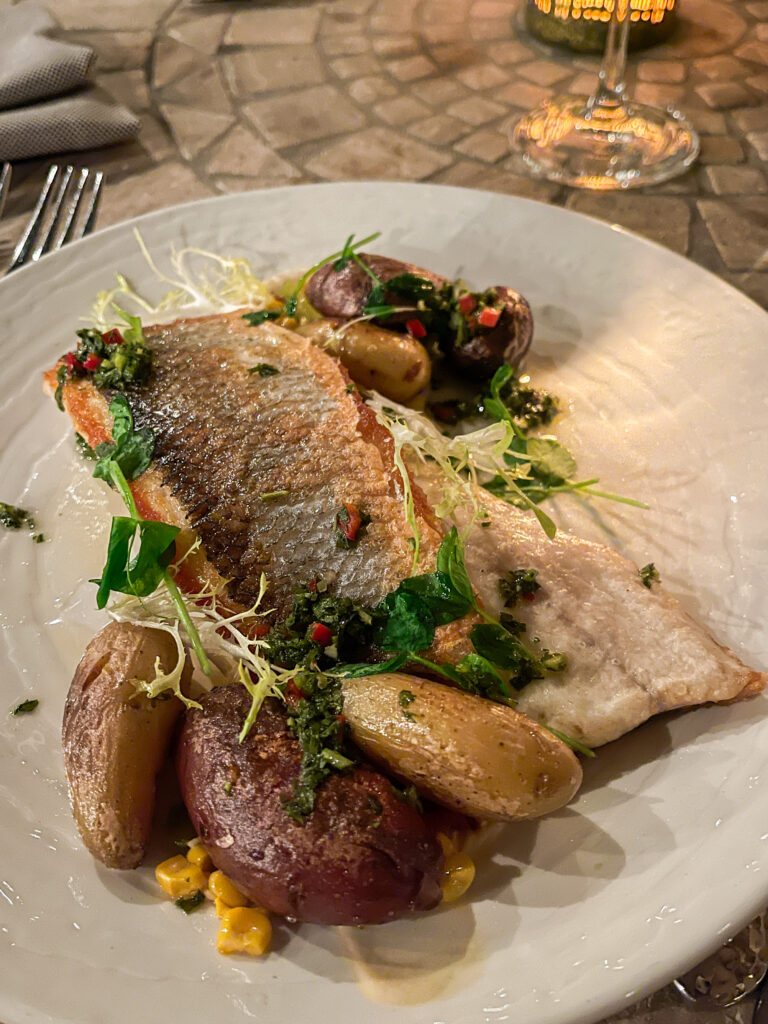 Kaleidoscop Juice
One of my favorite things to do for breakfast when we travel is find the local juice bars for bowls and smoothies. A quick Google search of juice bar near me normally does the trick. There were a few franchises around our hotel, and Kaleidoscope Juice's menu looked the best, so that is where we ate the next two mornings. On the first visit, I got "The Perfect Meal" smoothie; it was good, filling, and refreshing. The second time around, the "Mint Chip" Smoothie called my name, and I liked it even more! Both mornings I also started with 16 ounces of celery juice, and even though I didn't drink it on an empty stomach, it was just what I needed.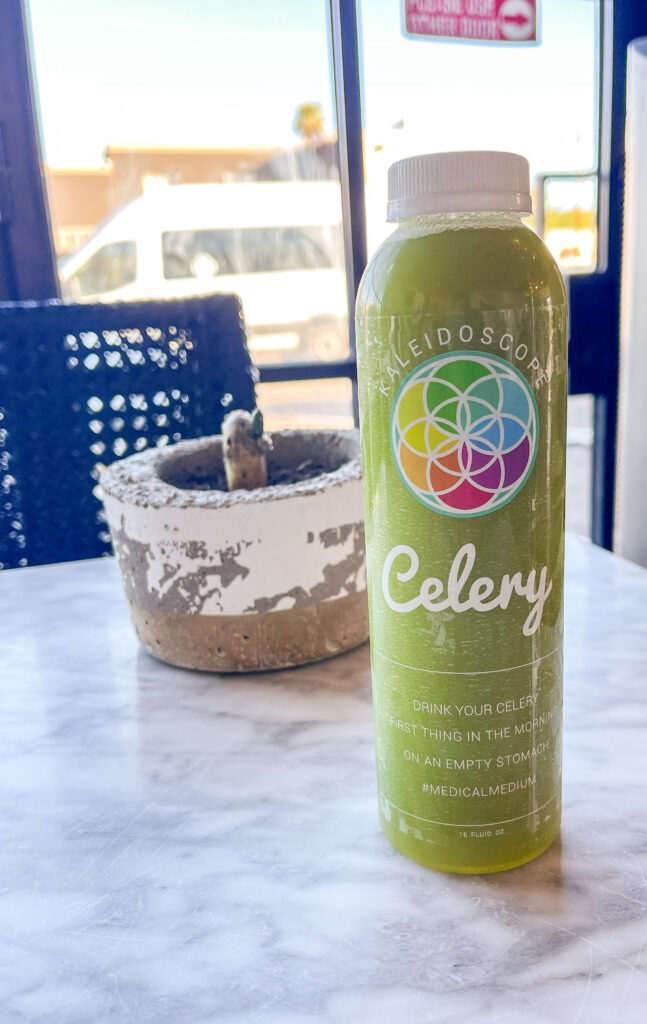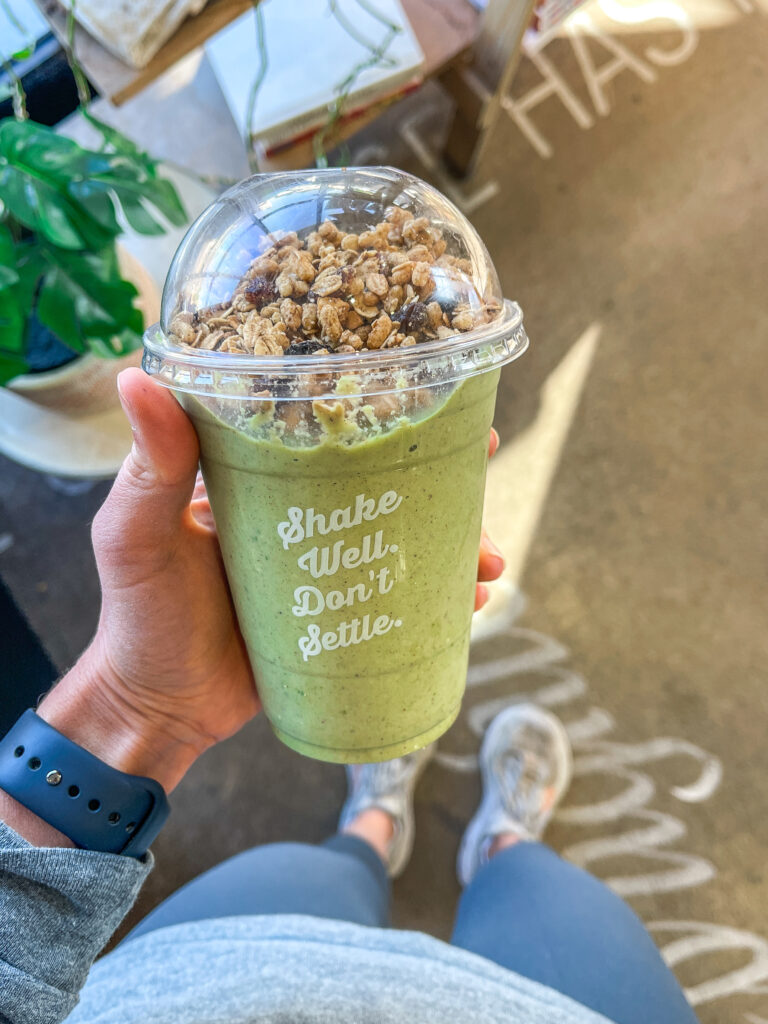 "The Perfect Meal:" Coconut + cauliflower blend, avocado, spinach, aloe vera, chlorophyll, almond butter, MCT oil, Crucial 4 (adaptogen mushrooms, herbs, algae blends, biotic extracts), Sprout living protein, unsweetened coconut milk, cinnamon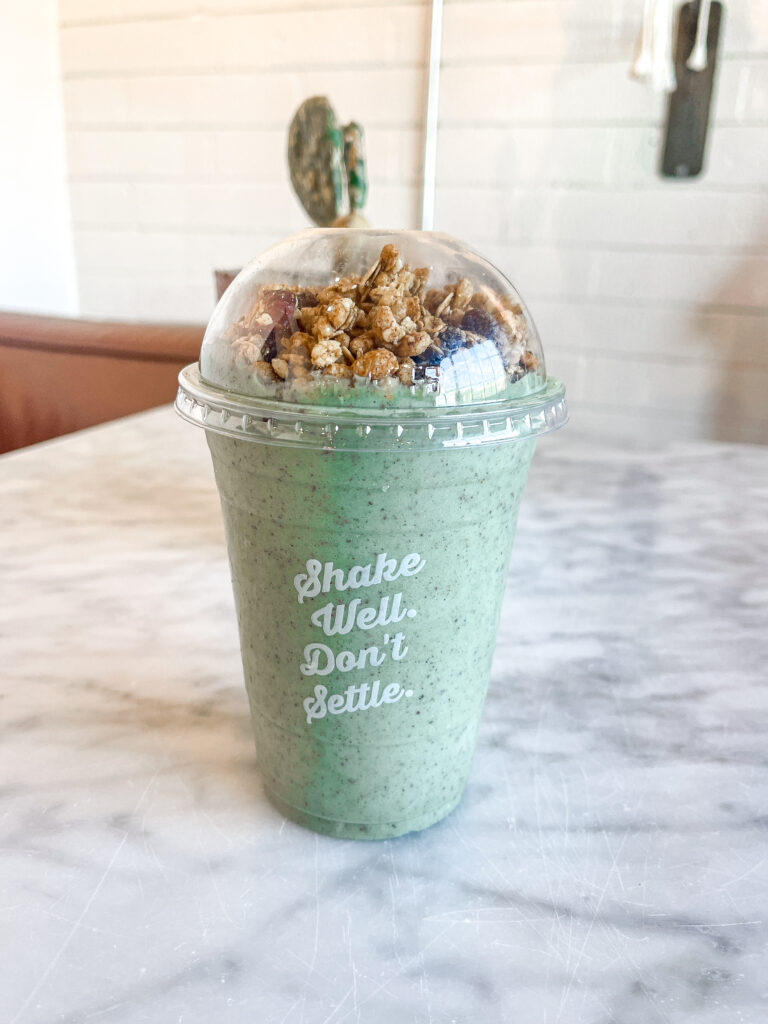 "Mint Chip:" Frozen banana, avocado, spirulina, almond butter, cacao nibs, peppermint essential oil, Sunwarrior Protein, and house-made almond milk
Cabana Cafe at the Royal Palms Resort
During lunch on our first full day, we were already at the pool, so we ordered from the Cabana Cafe. I got the "Baby Greens" salad with salmon; it was light, fresh, and healthy.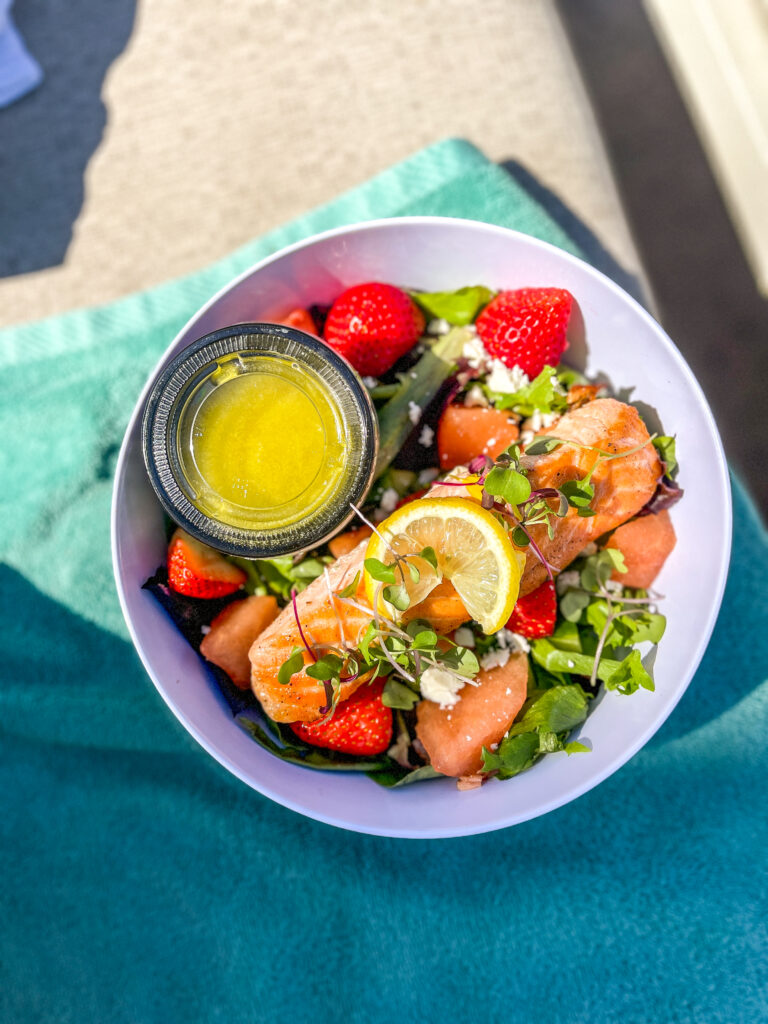 Francine
Sometimes when you are traveling with a toddler, you need to be nimble. It is funny – when I am writing these posts, the unfolding of a trip might not look like it would if I was traveling solo or with just my husband. But hopefully, it is what makes these recaps relatable. I could curate the most amazing retreat-like trips if it was just me, but with my family in tow, I have to go with the flow.
Our dinner at Francine is a prime example. We had reservations at The Henry for our second night (which we switched to our final night, see below), but the reservation wasn't until 7pm. Totally a normal dinner time, right? Well, with the time change and a two-year-old, we were ready to eat at like 5pm. With many restaurants already booked, we found an open table at Francine, which is located in the Scottsdale Fashion Square Mall (and if you like to shop, that is worth checking out as well!)
Francine is a fine dining, french-inspired restaurant serving Mediterranean cuisine. When I saw the description, I thought there was no way such an establishment would welcome our child. But it worked out (thank goodness for screens!), and it was early enough and not very crowded. I ordered a gem lettuce salad to start, followed by the grilled octopus.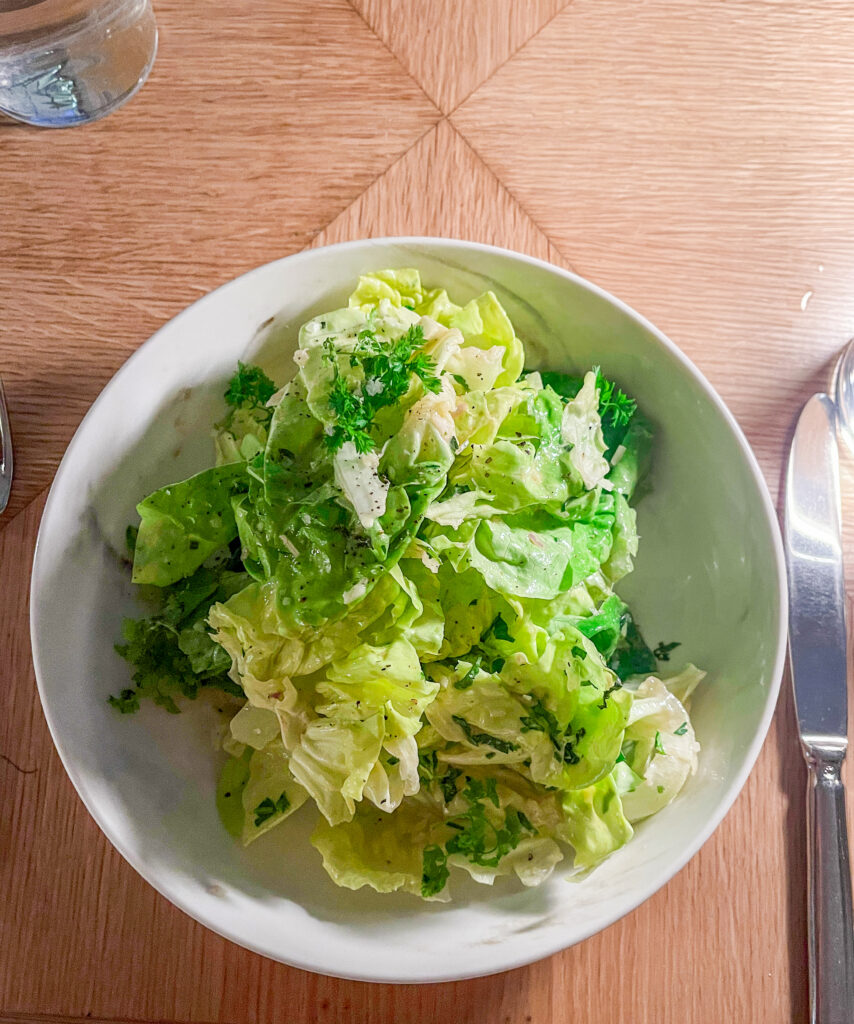 The Porch
On Saturday, we probably would have eaten lunch at the Cabana Cafe again, but alas, UVA was playing football and my husband wanted to watch the game. After a quick Google search of "family-friendly sports bar," The Porch popped up. With a lively and unique atmosphere, I went with it, ordered a couple of glasses of rose, a salmon salad, and had a great time (despite a big UVA loss).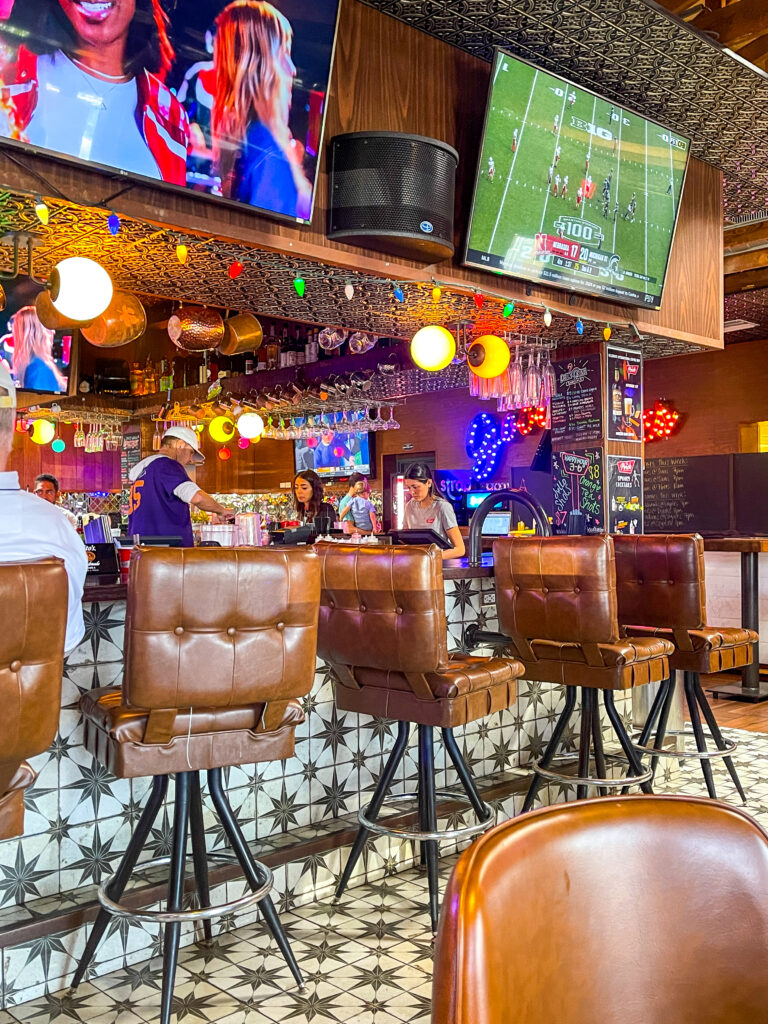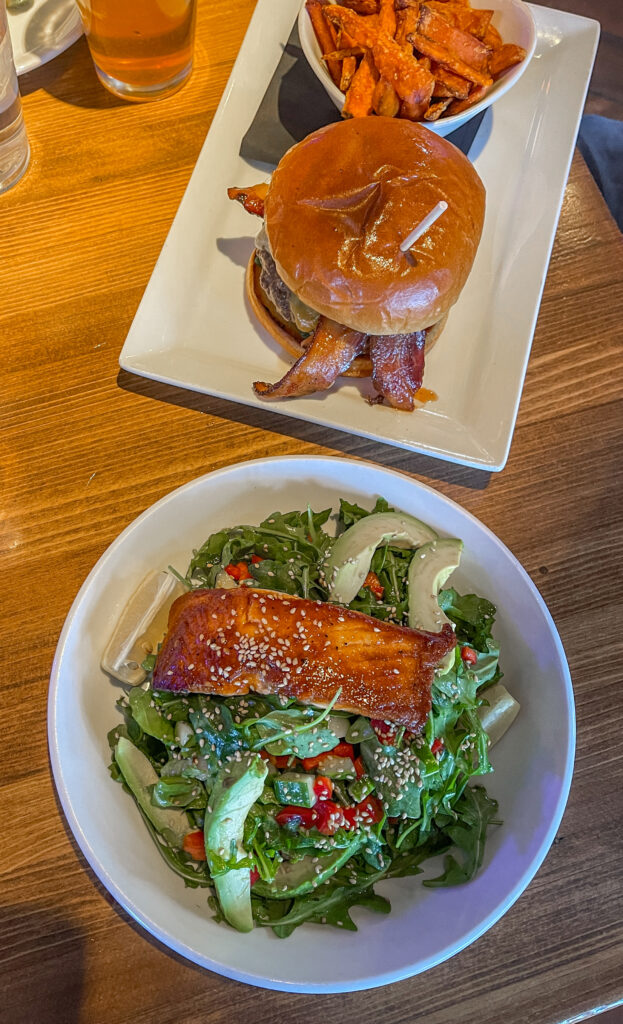 The Henry
We finally made it to The Henry on our last night, and I loved everything about it. The outdoor dining option was elegant yet comfortable, our service was wonderful, and the food was delicious. For a starter, I was originally eyeing the shrimp, Brussels sprouts, or guacamole, but our waiter talked us into the spicy tuna and short rib potstickers, so that is what we got. Both were delicious. For my main meal, having filled up on appetizers, I ordered the Sprouts and Squash salad with salmon. It was amazing, and I walked away with the desire to recreate the dish at home. It came with roasted brussels, maple glazed butternut, kale, farro, cauliflower, quinoa, golden raisin, fig, pumpkin seed, candied pecan, pecorino, all in a mustard vinaigrette.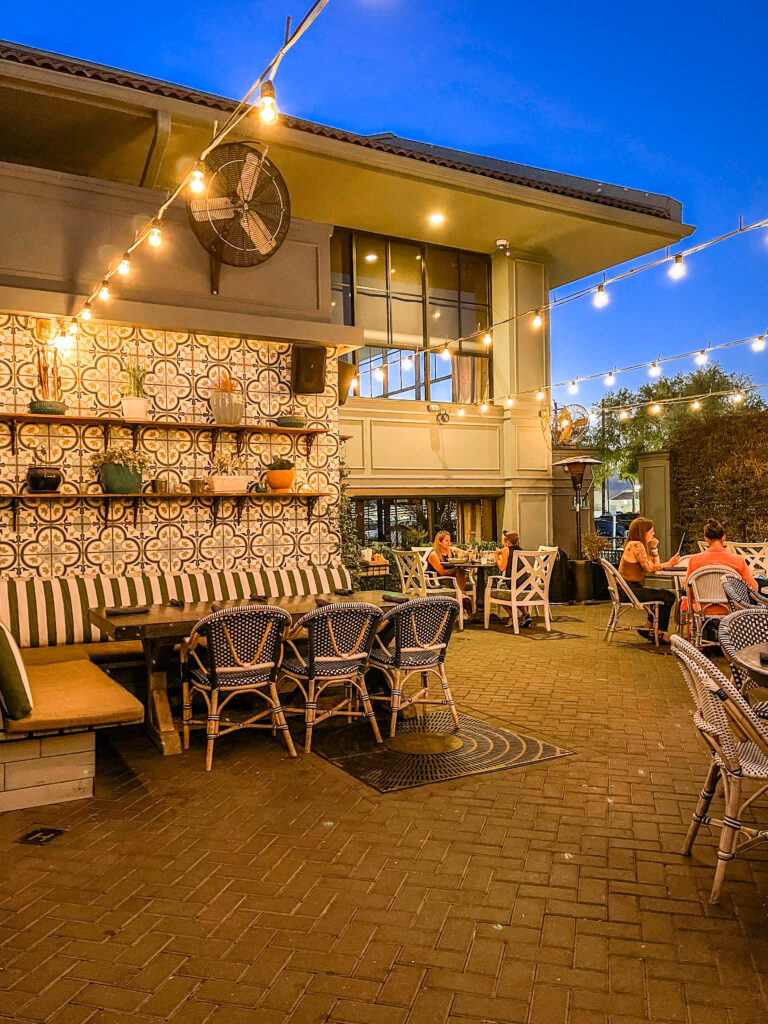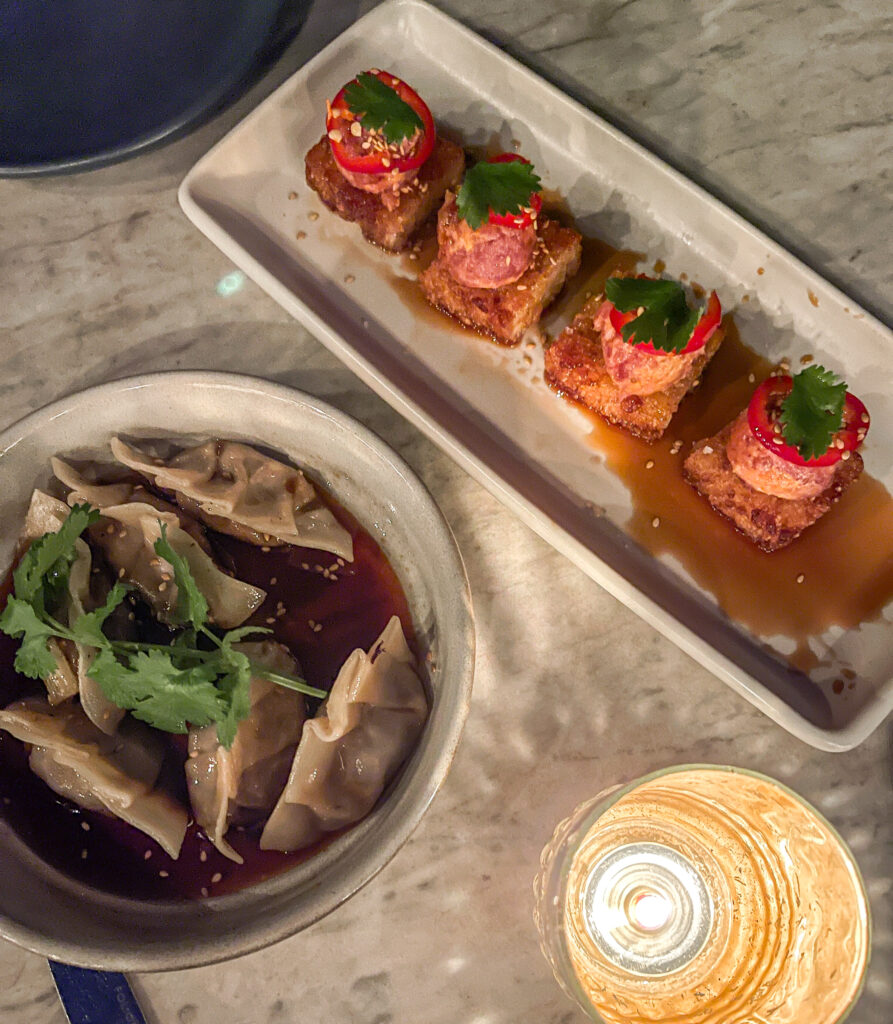 What We Did
Papago Park
Hiking is one of my favorite ways to move. Again, with a two-year-old, it limits what we can do, but otherwise, traveling to Arizona is a hiker's dream. On the first morning, I called down to the front desk and asked for a recommendation for a kid-friendly hiking trail, and she suggested Papago Park near the botanical garden. It was the perfect place to take Mason to run around, and I still felt like I got a good walk in.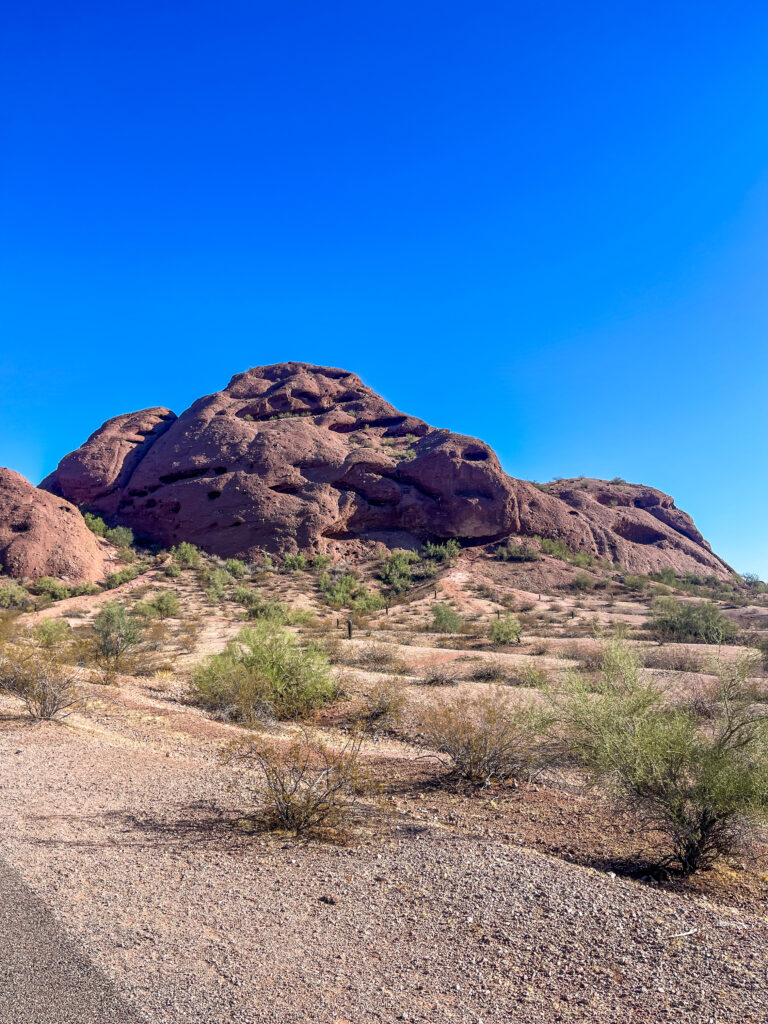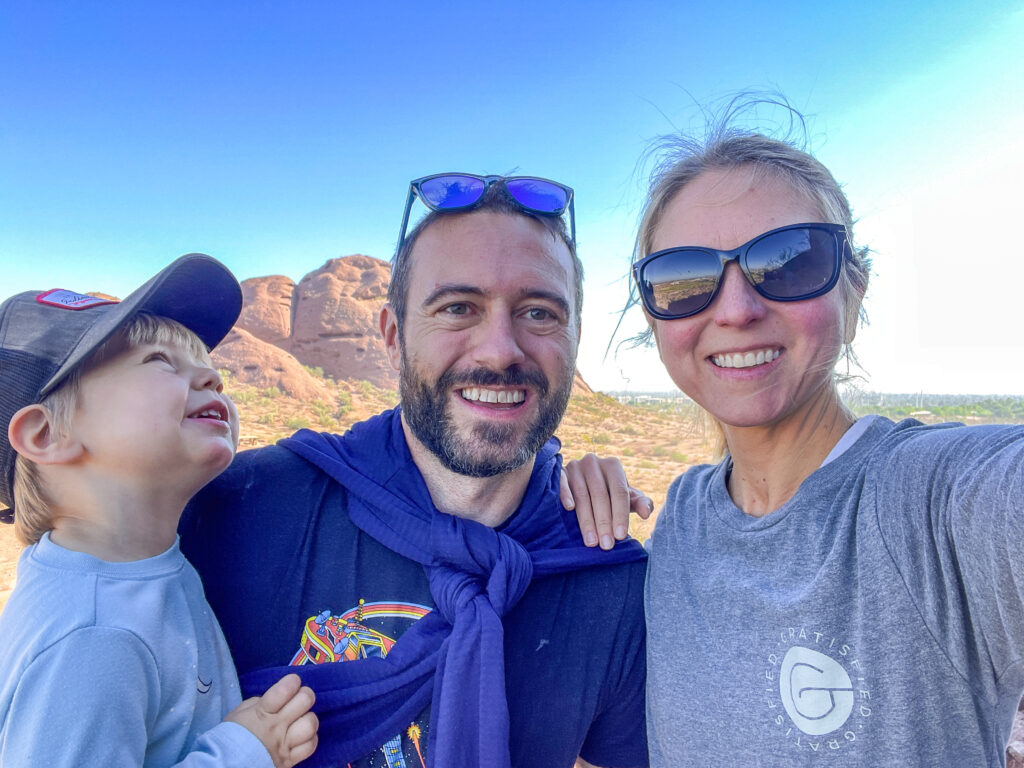 Camelback Mountain Cholla Trail
As soon as we arrived at the Camelback Mountain Cholla Trailhead on our second day, I could tell right away it is a hike that draws tourists and locals alike. It is a popular attraction, and while rather short, the steep climb brings you to a summit that offers 360-degree views of the city. Alex definitely got his exercise in with this one, as Mason was asleep the entire time. He carried our 35-pound child up most of the mountain!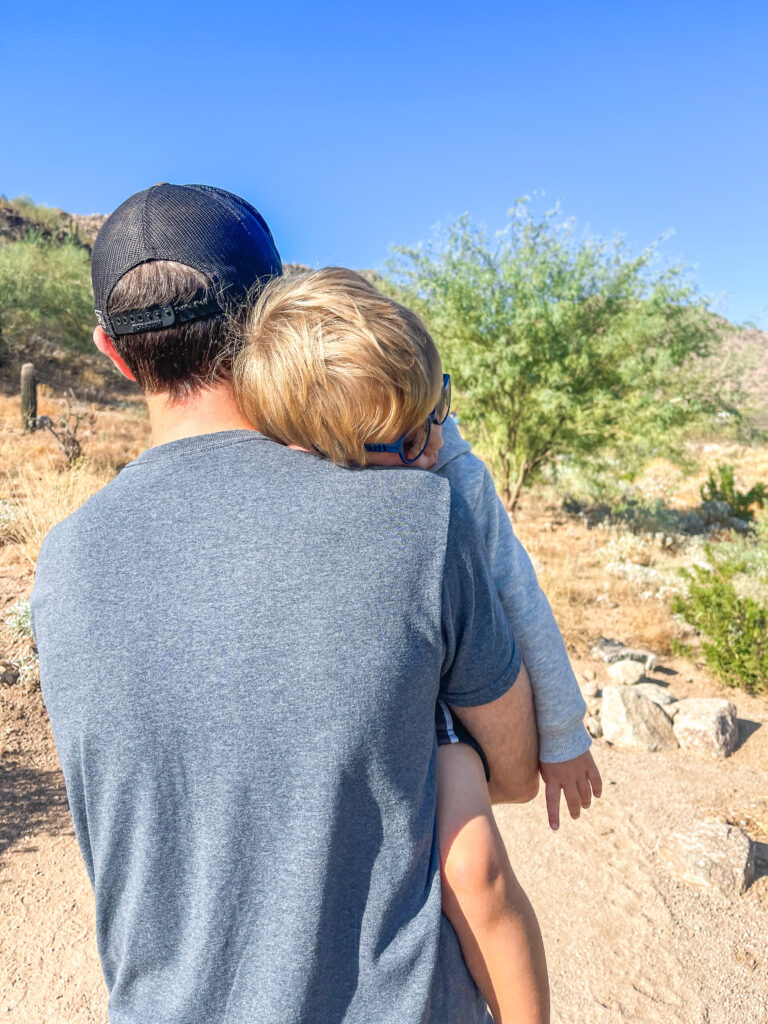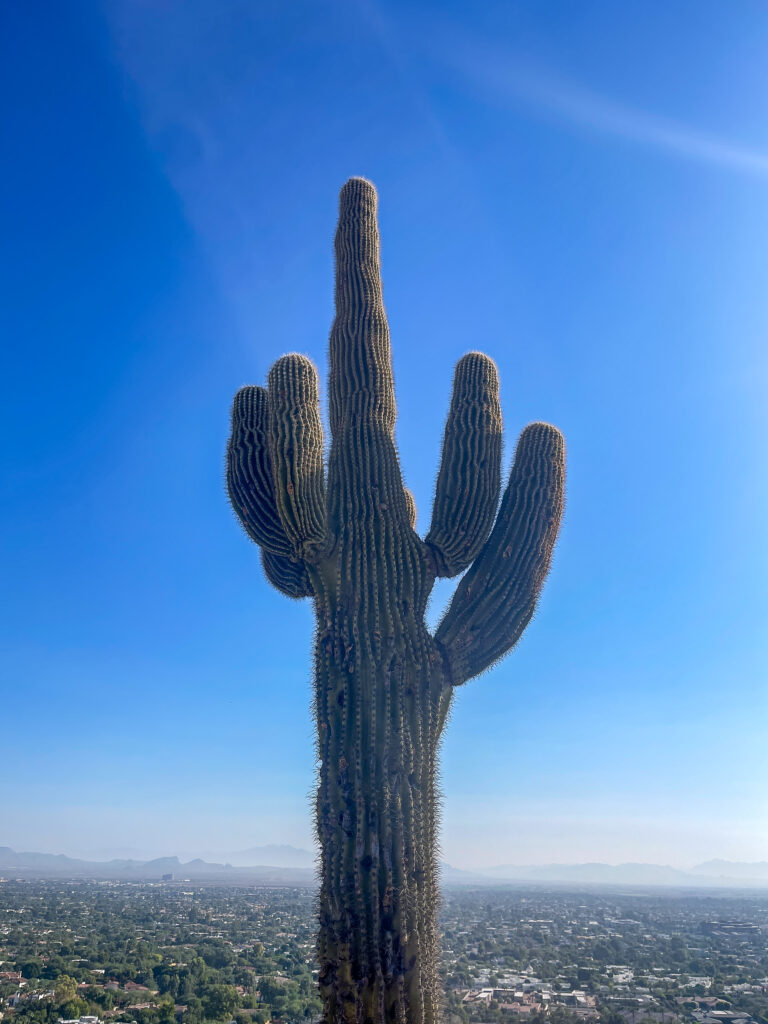 Sedona
Our final day was spent in Sedona. It is a two hour drive from Scottsdale, and we were originally going to spend our entire trip there, but when we realized we would still have to drive two hours after the flight, we changed our plans. I am so happy we decided on the day trip as it is an amazing destination! I hope to spend more time there in the future.