Oh how I love blood sugar balancing smoothies, especially after five days away (which means five days away from my blender). When I travel, I do enjoy visiting local juice bars for smoothies and smoothie bowls, but it is never quite the same. I might be in the minority when I say I actually like making my own meals rather than getting them elsewhere. Plus, when I peruse a juice bar menu, the items are loaded with sugar, which just sends me on that spike and crash for the rest of the day. No one wants that when they travel! I will preface this next statement and say I am not vilifying fruit, but put too much in a smoothie or smoothie bowl and it will send your blood sugar soaring (and then subsequently dropping), leaving you "hangrier" in less time than if you were to eat something focused more on protein and healthy fat. It is true that if you pair protein and fat with fruit, it will lessen the blow, but in my experience (and as witnessed on my glucose monitor), lots of fruit in any sense will create a spike.
Enter the blood sugar balancing smoothie!
Kelly Leveque is queen of this concoction, so I can't take too much credit. Her Fab 4 smoothie formula was the inspiration behind this recipe. I bought a couple of bags of her vanilla protein powder (my current favorite!) for Black Friday, and got access to her smoothie course, which I am excited to check out. Of course I have read her book, so I know the basics. Her Instagram is a great resource as well.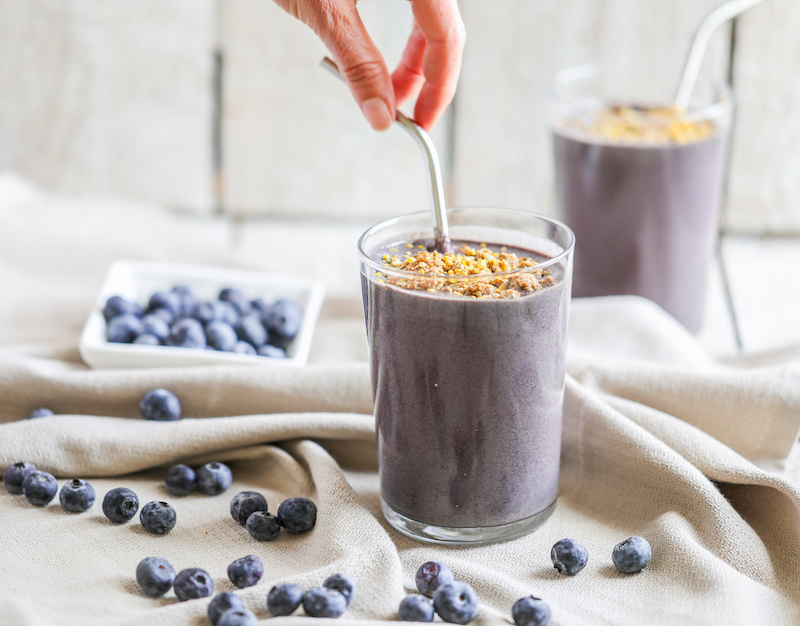 This Blueberry Vanilla smoothie hit the spot after the Thanksgiving holiday; it is lower sugar and very refreshing, and I could tell a difference in my energy and mental clarity after consuming it. The cherry on top (or should I say Clusters on top!) was my Gratisfied Granola, which I paired with bee pollen. It was a nice crunch at the end! Sip with a straw then eat the rest with a spoon. So delicious!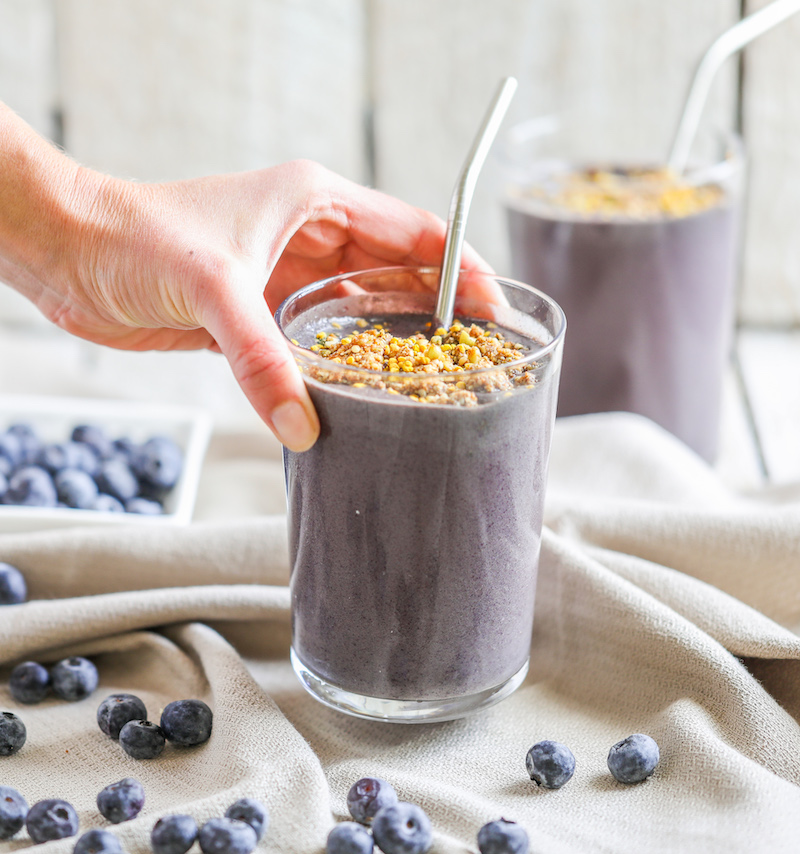 Here are the brands of some of the ingredients I used. Aside from Gratisfied being my company, I am not affiliated with any of the below brands, I just like the share the health!
Super Fat Macadamia Coconut nut butter
Be Well by Kelly Vanilla Protein
Gratisfied Granola Clusters Original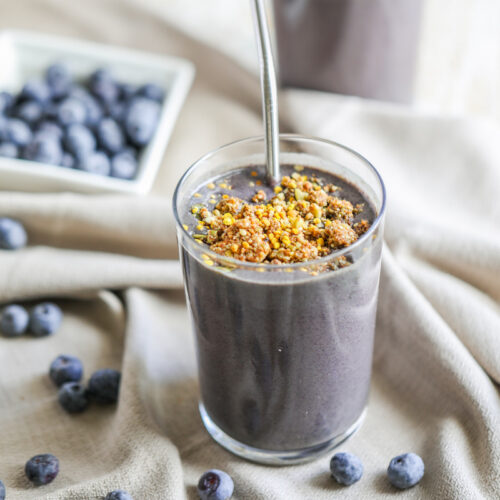 Blueberry Vanilla Smoothie
A lower sugar and refreshing morning meal. The combination of healthy fat, fiber, and protein will balance your blood sugar while making you feel energized and satiated. Make it vegan with a plant-based protein powder.
Ingredients
1 1/2

cups

dairy-free milk

2

cups

leafy greens

I used spinach

1

cup

frozen blueberries

1

cup

frozen cauliflower florets or cauliflower rice

1

tablespoon

nut butter of choice

1

tablespoon

psyllium husk or chia seeds

1

scoop

vanilla protein

I used Be Well by Kelly
For the toppings (optional)
1/4

cup

Gratisfied Original Granola Clusters

see note

sprinkle of bee pollen
Instructions
Place all of the ingredients in a high-speed blender. I like to layer them starting with the liquid, leafy greens, frozen fruit/veggies, then protein powder and anything else.

Blend on high until smooth and creamy. Pour into glasses and top with Granola Clusters and bee pollen