My husband and I wanted to do something low-key and unconventional for Thanksgiving this year, so we rented an Airbnb in Asheville, NC for the three of us. In the days leading up to it, we excitedly planned our menu, researched how to cook a Turkey, and hoped for the best. We chose a mountain getaway with an amazing view but with also promises of being close to downtown. It definitely delivered and was the perfect place for our four-night stay.
Wednesday
We arrived around dinner time, and headed straight to Whole Foods to get our Turkey and other fixin's for the week. With Thanksgiving the next day, we wanted something easy for dinner, especially since we had just spent six hours in the car with a toddler. We decided on fish tacos because those could come together quickly thanks to store-bought salsa and guacamole.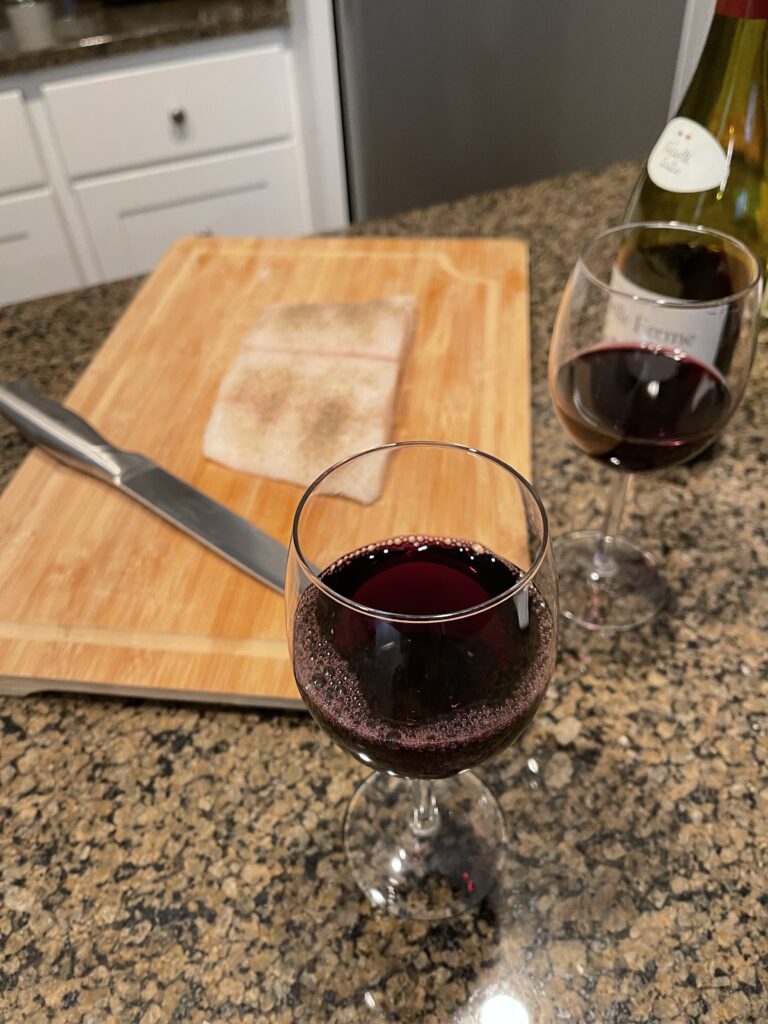 I ended up finding these wraps which intrigued me, so I decided to give them a try. I really liked them, especially since they were light and could allow what was inside the taco to shine through.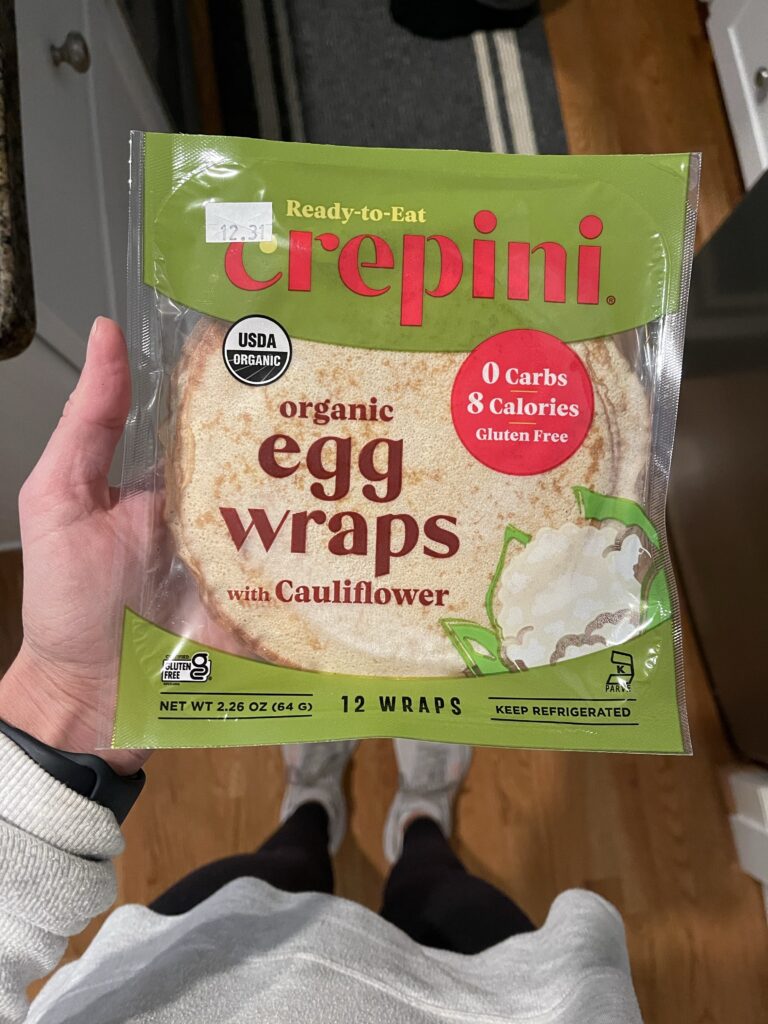 Siete Foods tortilla chips are always a taco night staple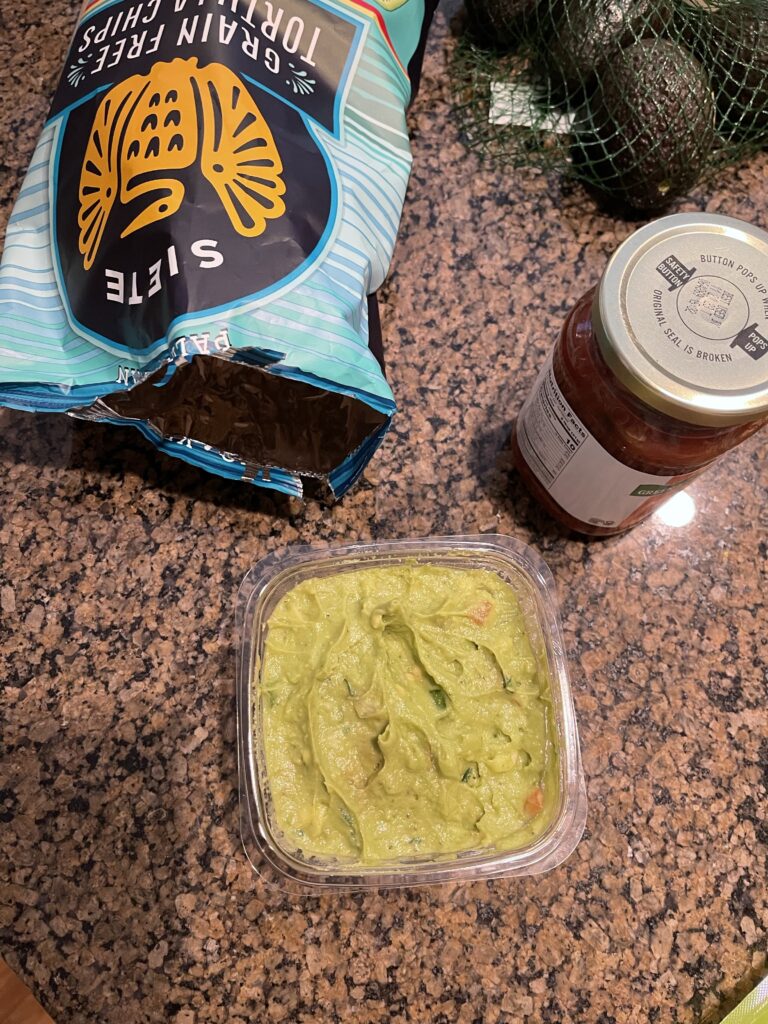 This is my idea of a great plate! I had one fish taco on a bed of lettuce since I always try to incorporate something green.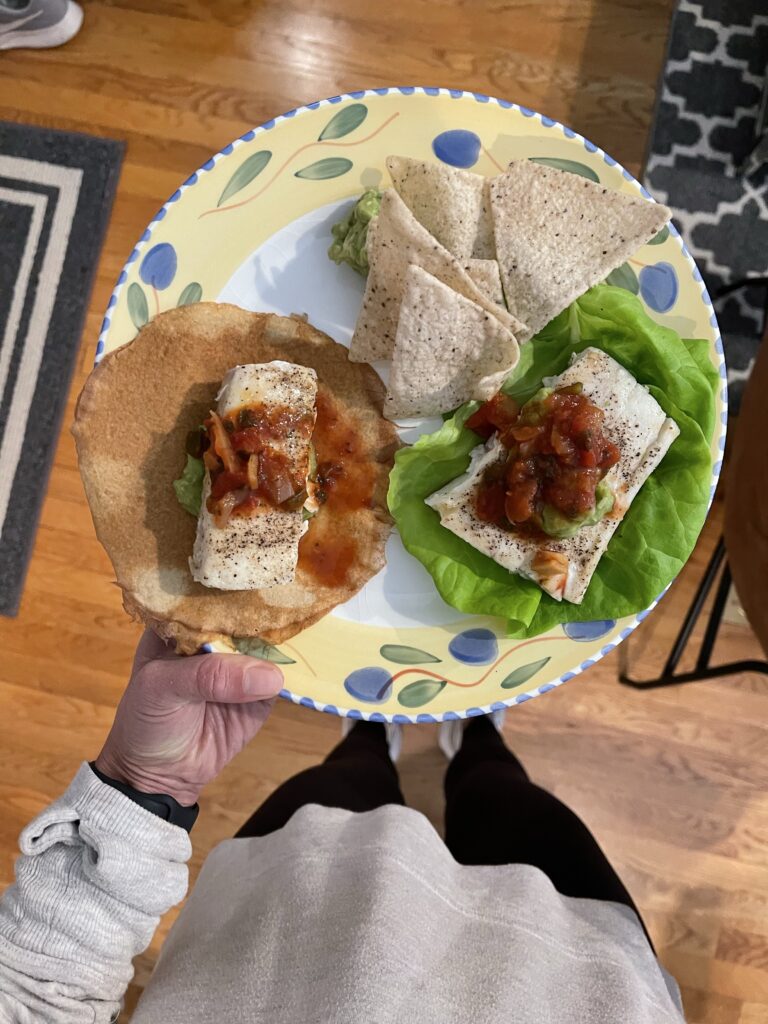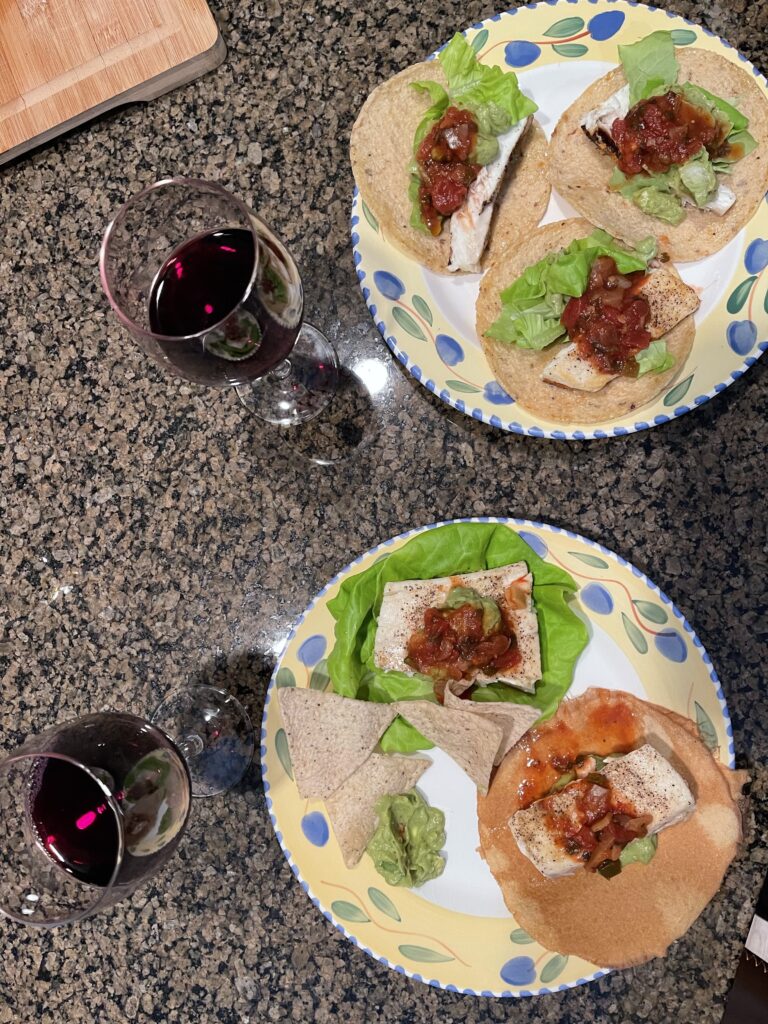 Of course I had to break into the Pumpkin Cheesecake with an Empower Bar Cacao crust a night early! I think this is one of my favorite fall desserts.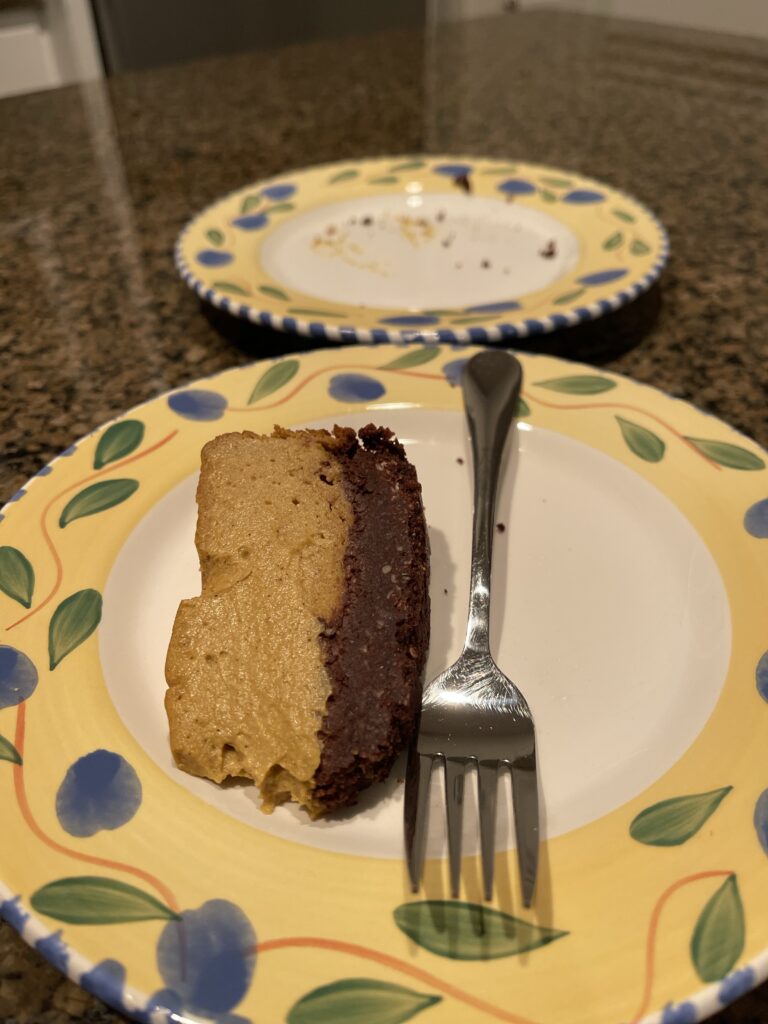 Thursday
The next morning I woke up before everyone else, which enabled my usual morning routine of meditation, coffee, journaling, and reading. To be journaling with the rise of the sun is something special. The view from our balcony was too.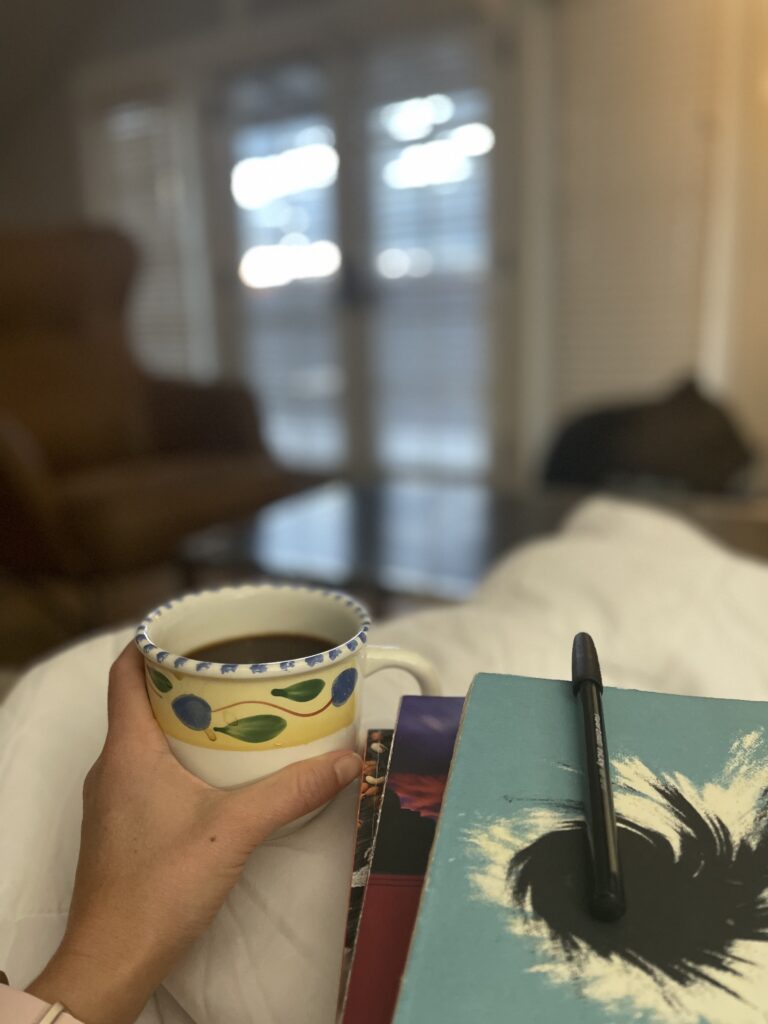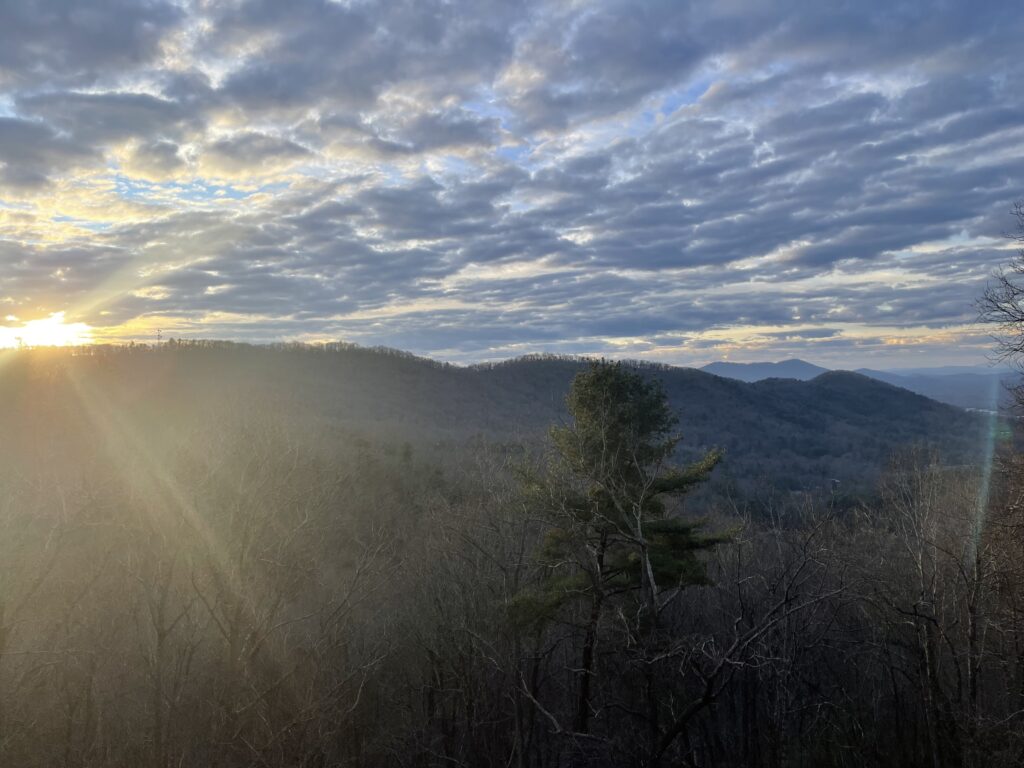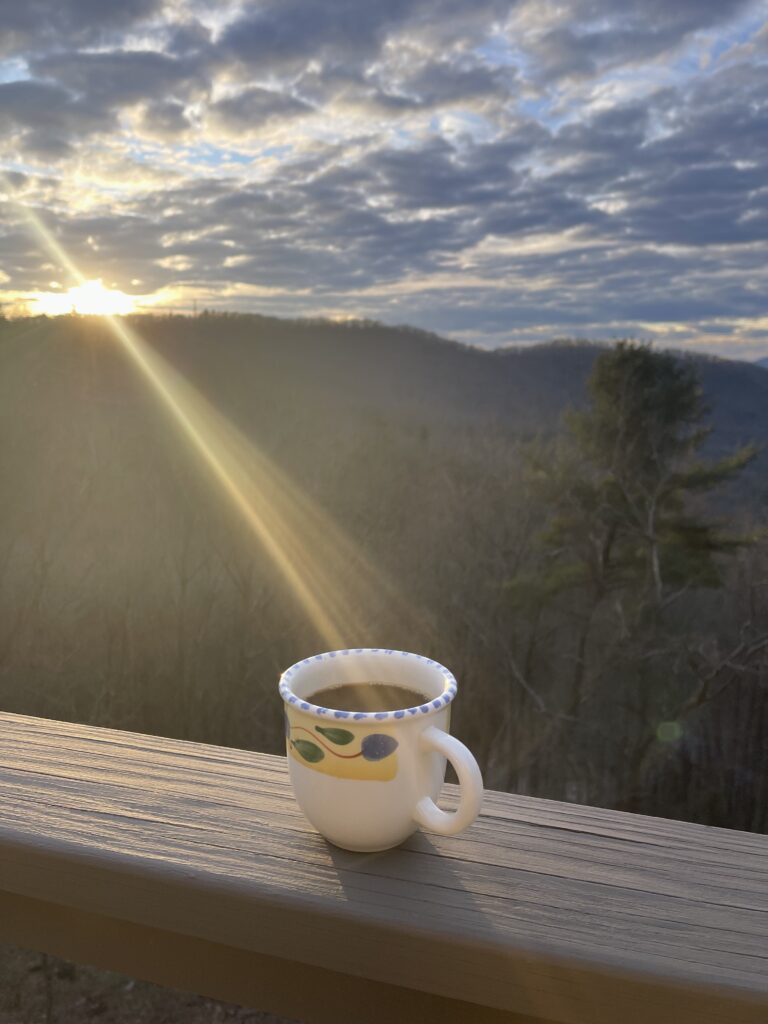 When Alex and Mason woke up, we hung out around the house reading (us), watching cartoons (Mason), and making breakfast.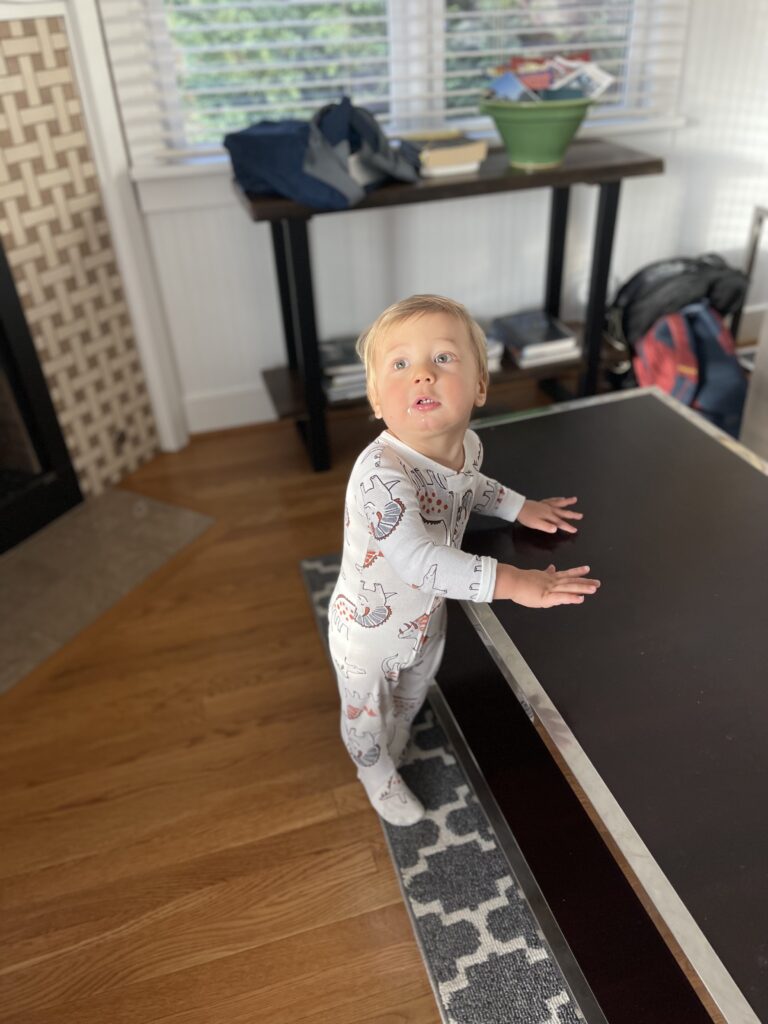 I always travel with Gratisfied products, which I usually incorporate into breakfast in some way shape or form. I had made a batch of plant-based Empower Bars before we left, using the recipe below, that we all enjoyed as well:
2 flax eggs (directions are on the back of the bag)
1/2 cup melted coconut oil
1/4 cup creamy peanut butter
1/4 cup maple syrup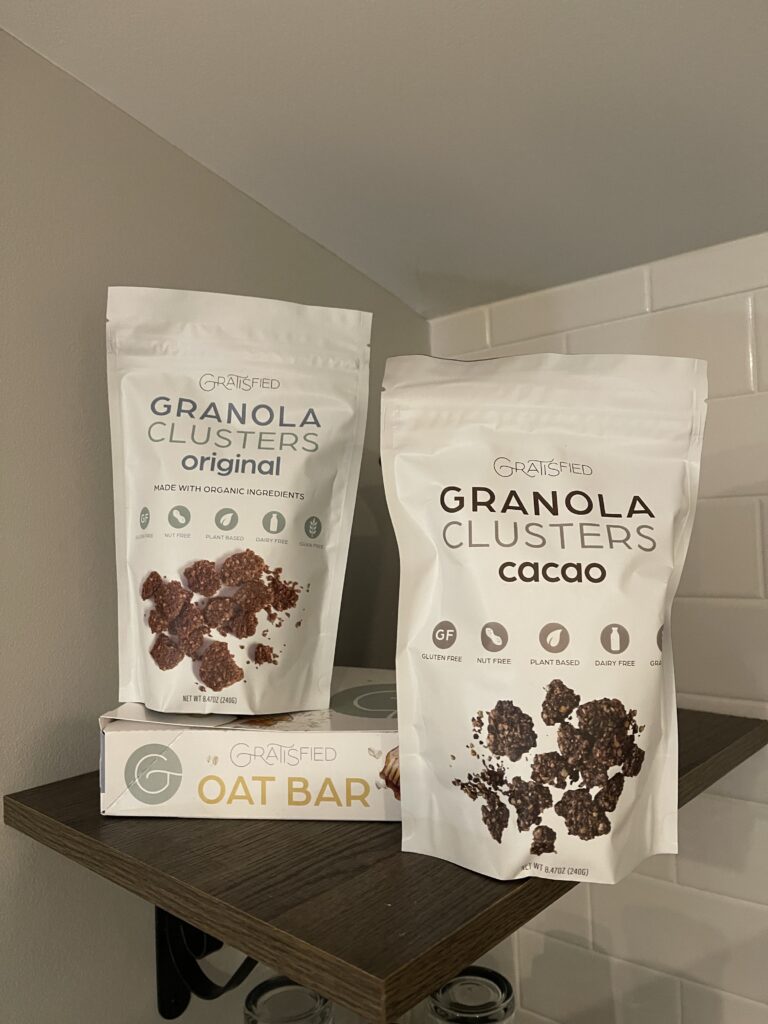 I was wanting something savory and sweet, so in addition to some scrambled eggs and bacon, I had a small side of Culina coconut yogurt, EnergyBits, Empower Bar, and Granola Clusters.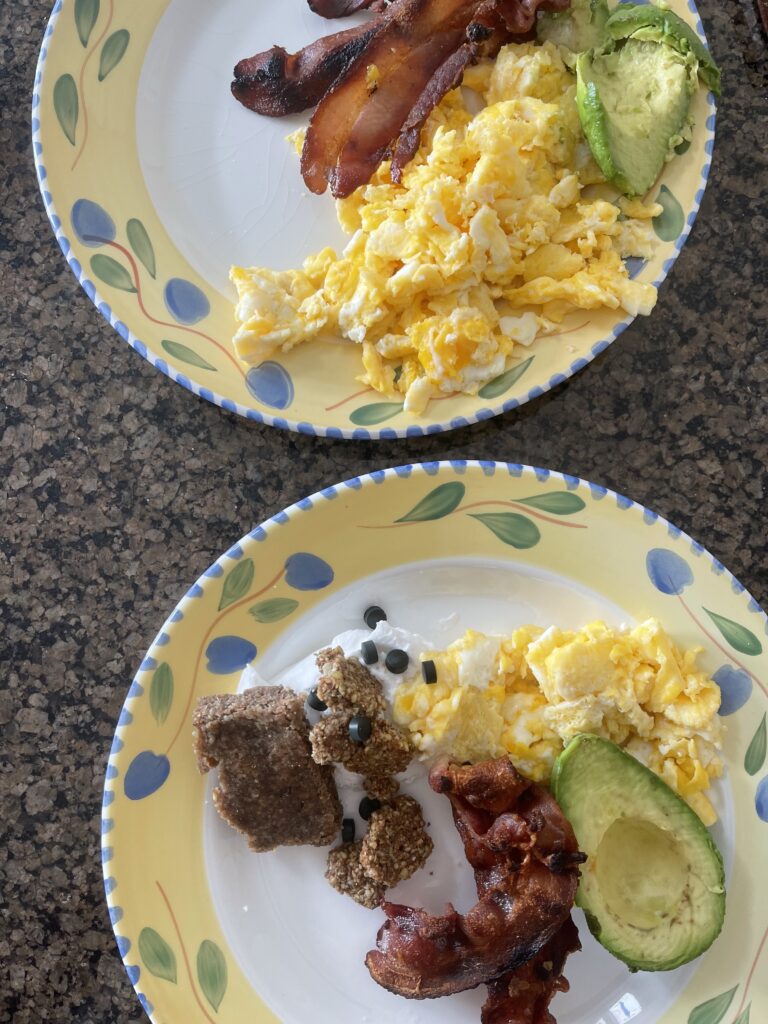 By the time we finished breakfast, we were ready to move! Normally we would find a mountainous hike, but with a stroller, it is a bit tricky. With a quick Google search, we found a nearby bird sanctuary surrounding a lake with a walking trail. It was perfect.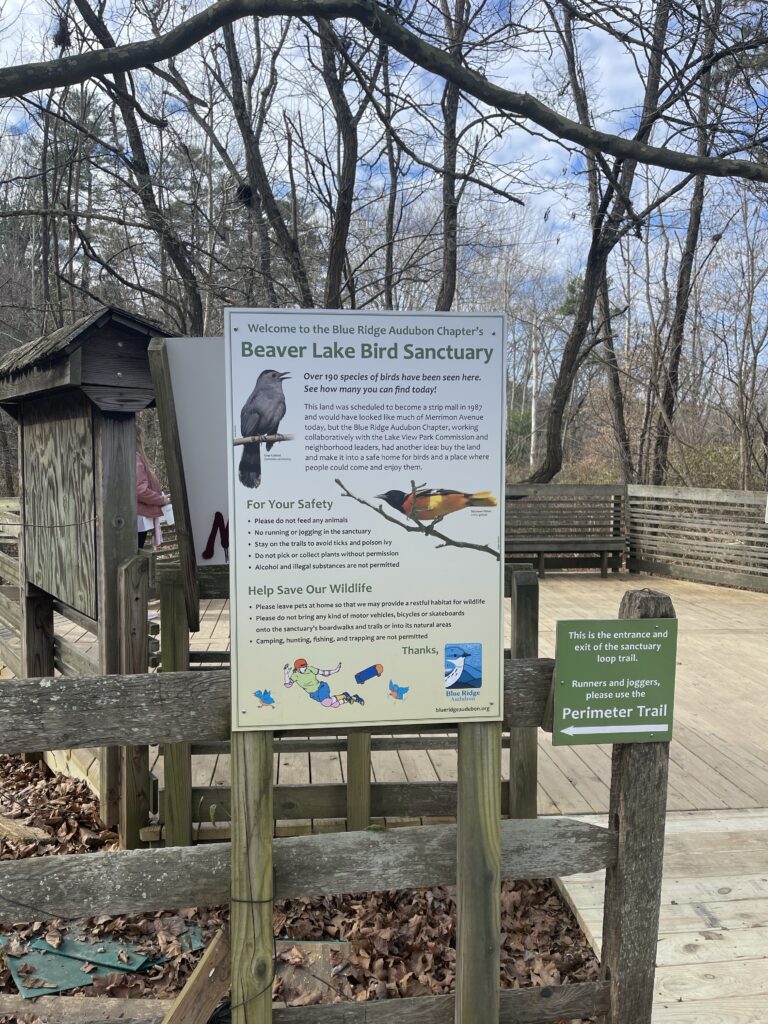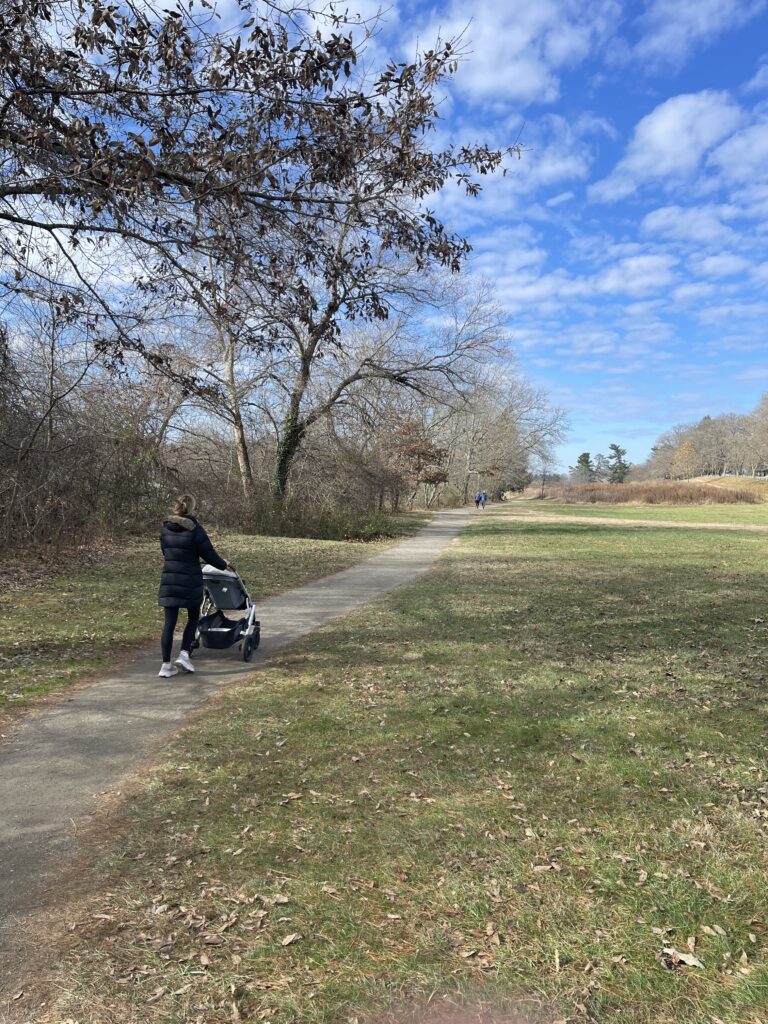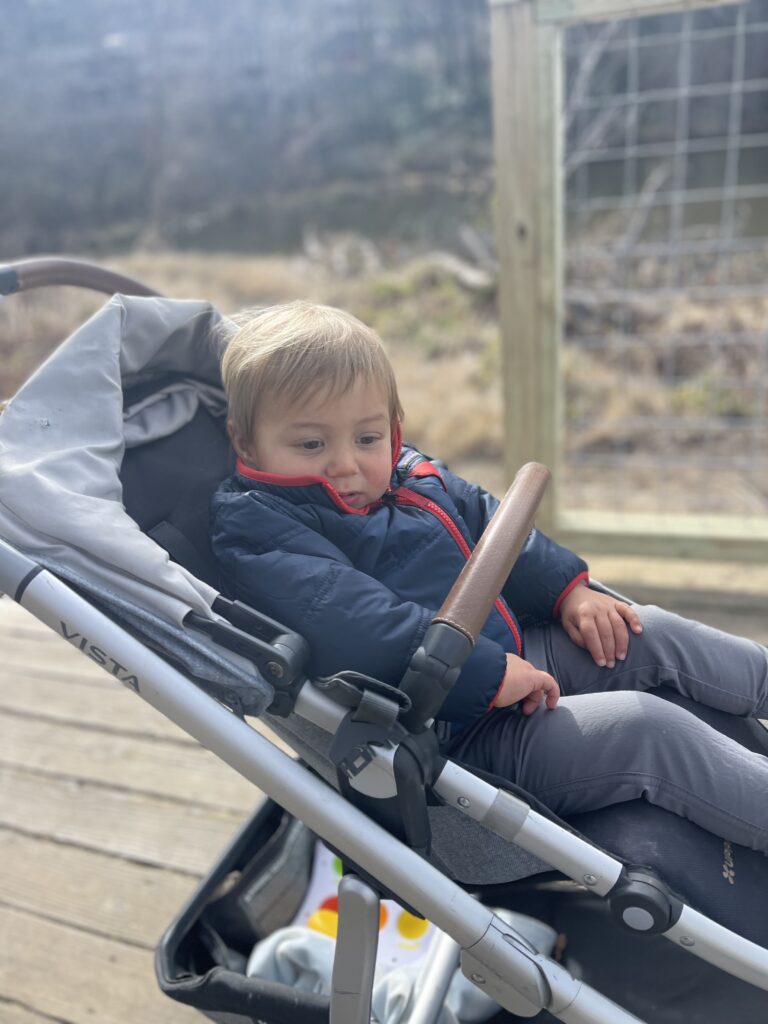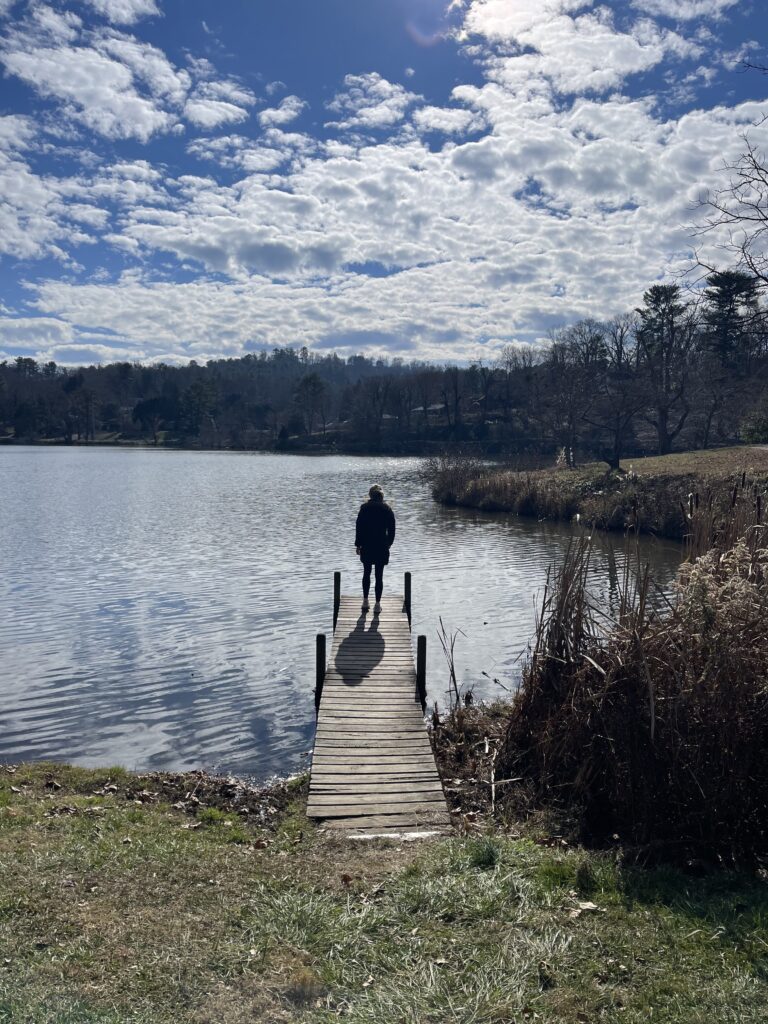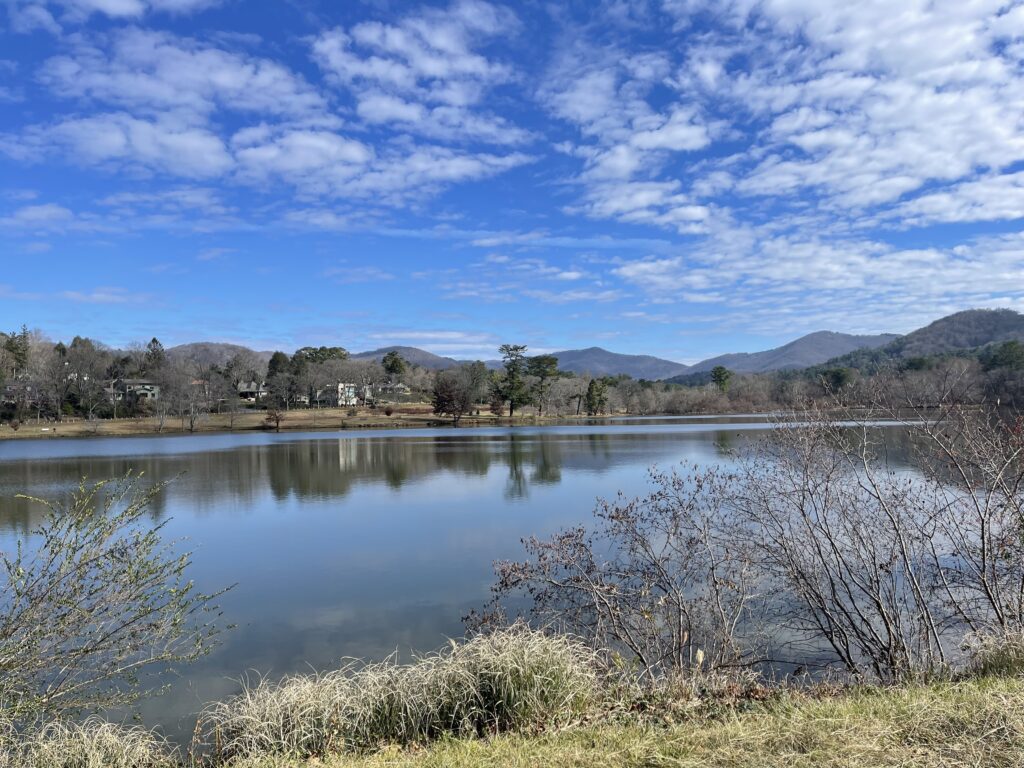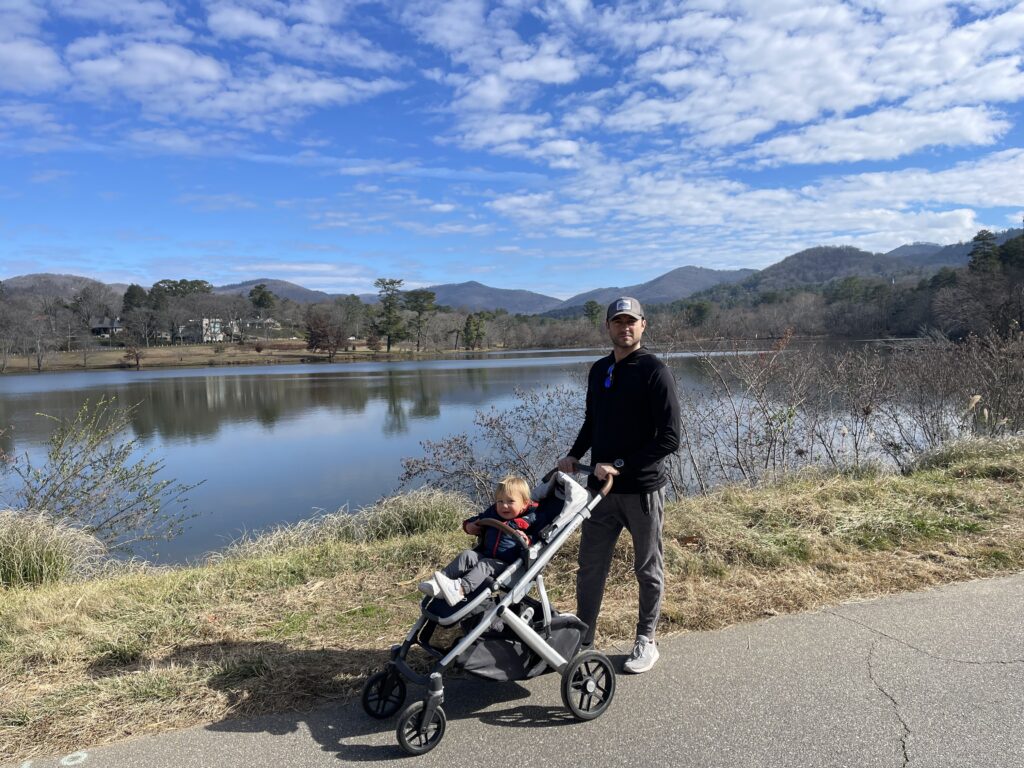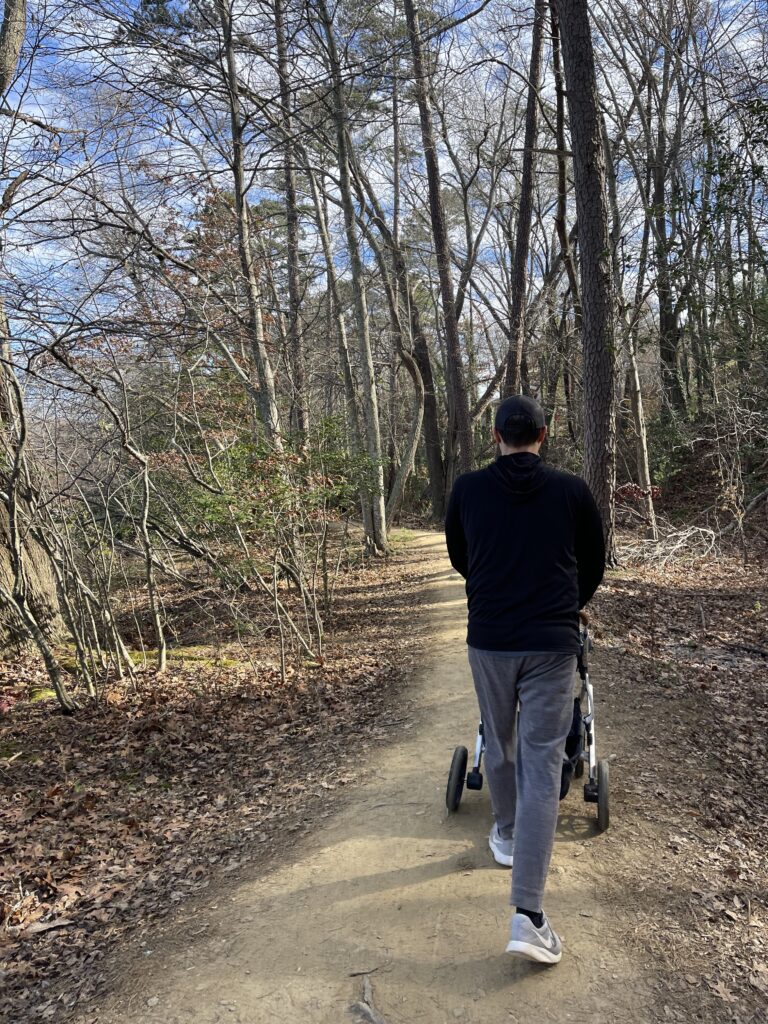 At the end of our walk was a field, which was great for letting Mason run around. He is at an age where he really needs to move, so this is something we look out for when planning activities (both at home and on the road!).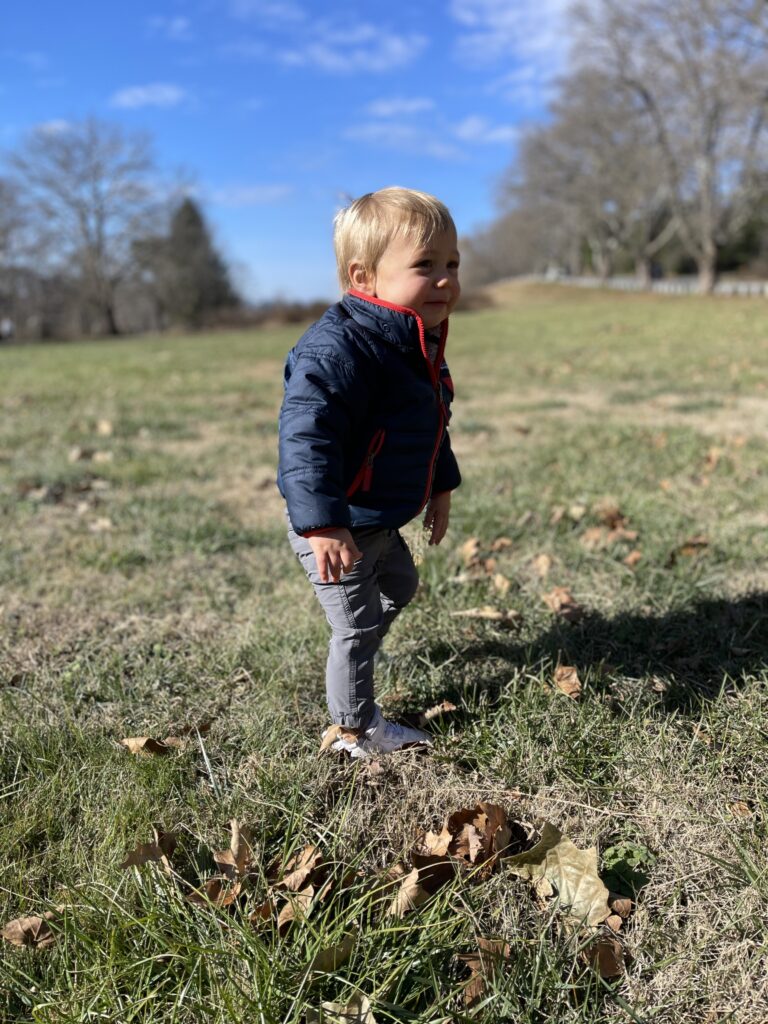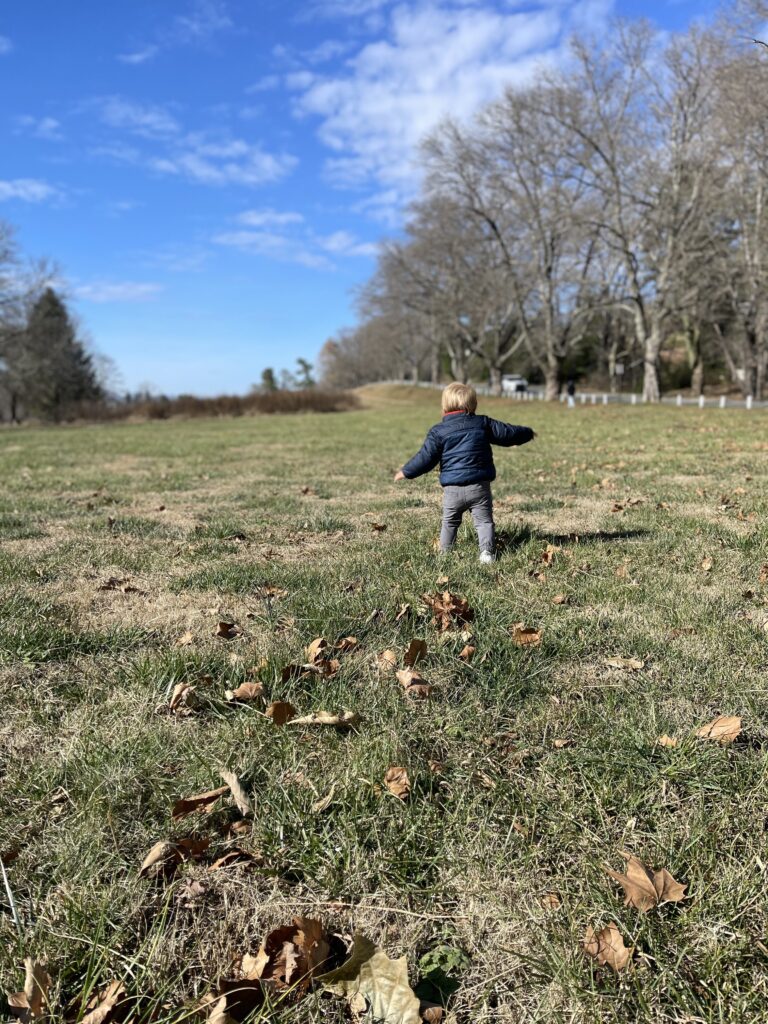 We were planning to eat on the earlier side, so I fixed myself a small plate for lunch, focusing on healthy fat and protein: leftover halibut, guacamole, olives, greens.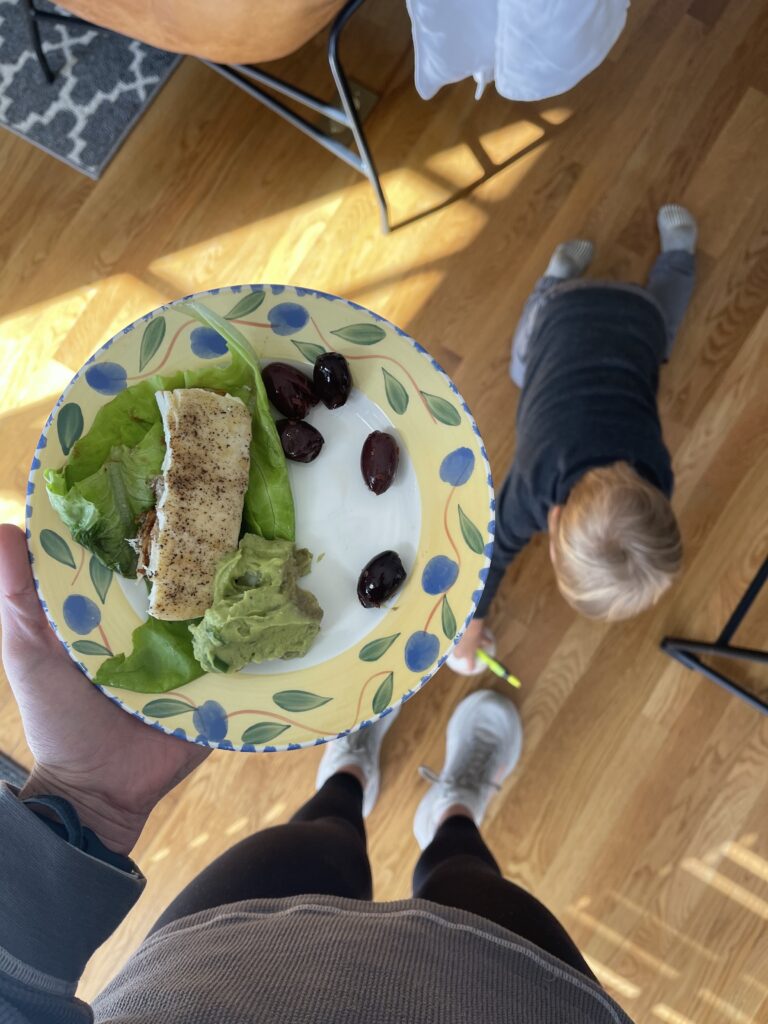 Eventually it was time for the festivities to begin! There is nothing I love more than wine + a fire + football on in the background.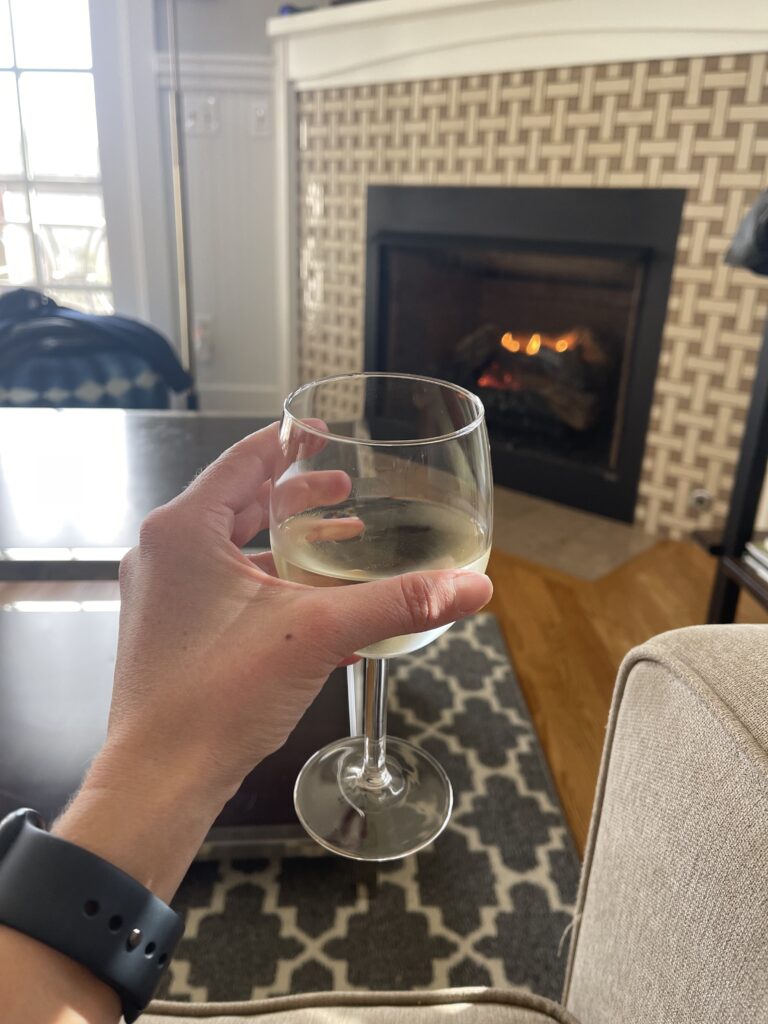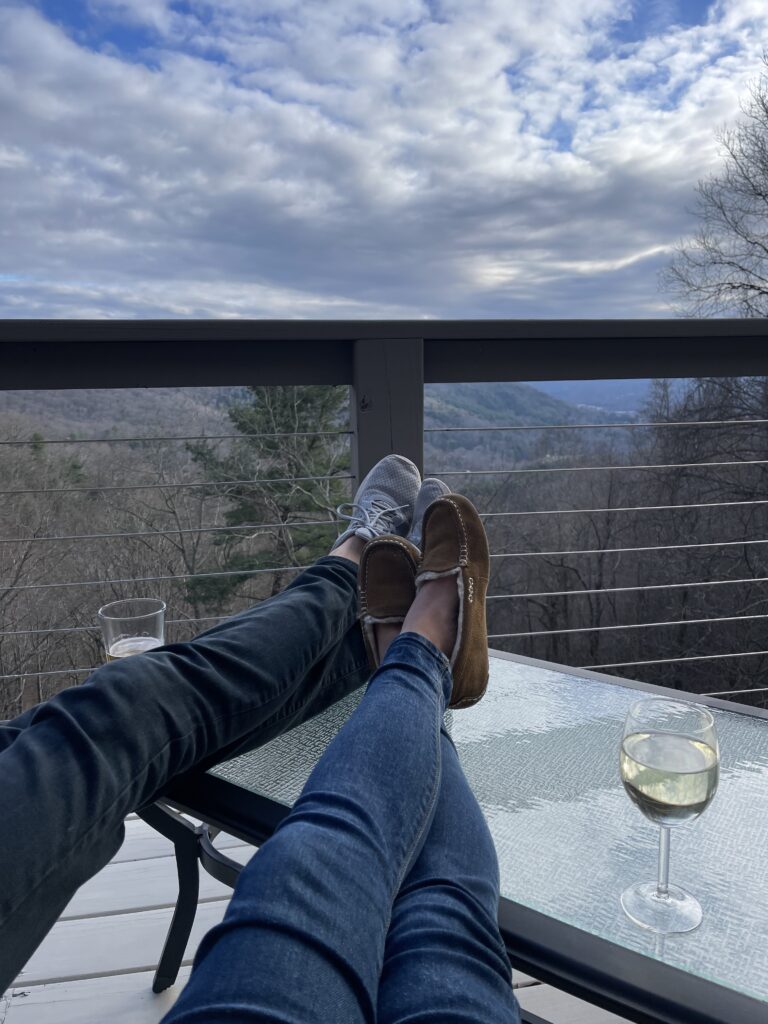 When it came to our Thanksgiving menu, Alex took charge of cooking the Turkey. We also didn't go crazy with casseroles or elaborate sides by any means since we were staying in an Airbnb. I made a leafy green salad with apples, figs, pecans and goat cheese. We also roasted some asparagus, mashed some sweet potatoes, baked up some stuffing and rolls.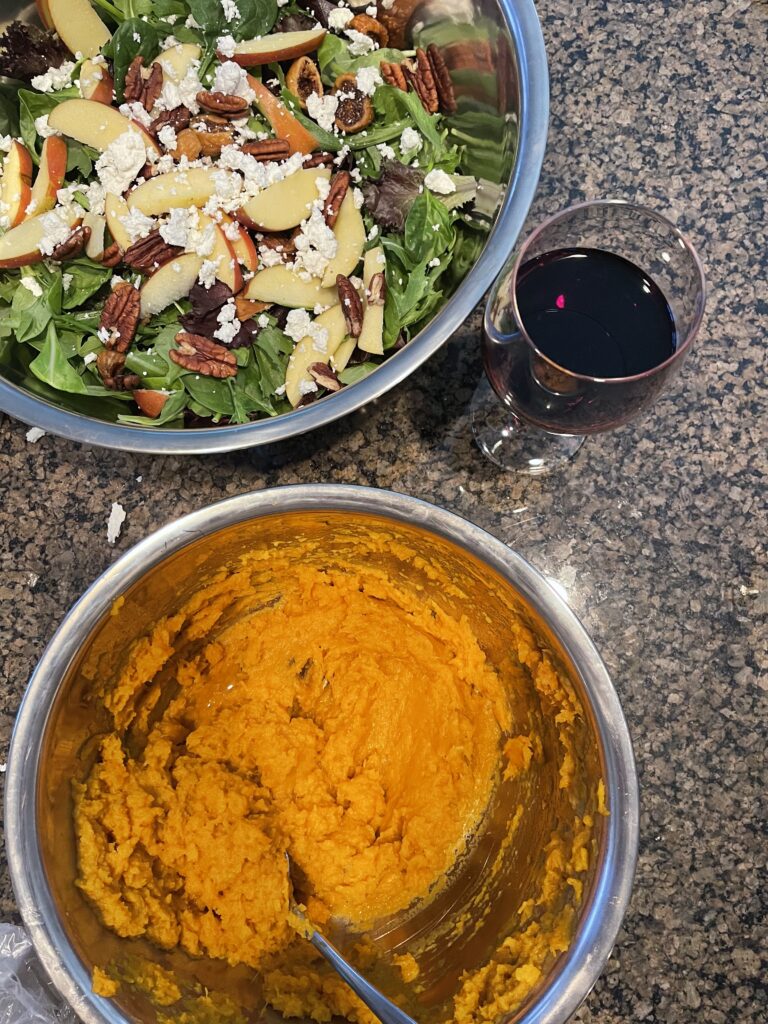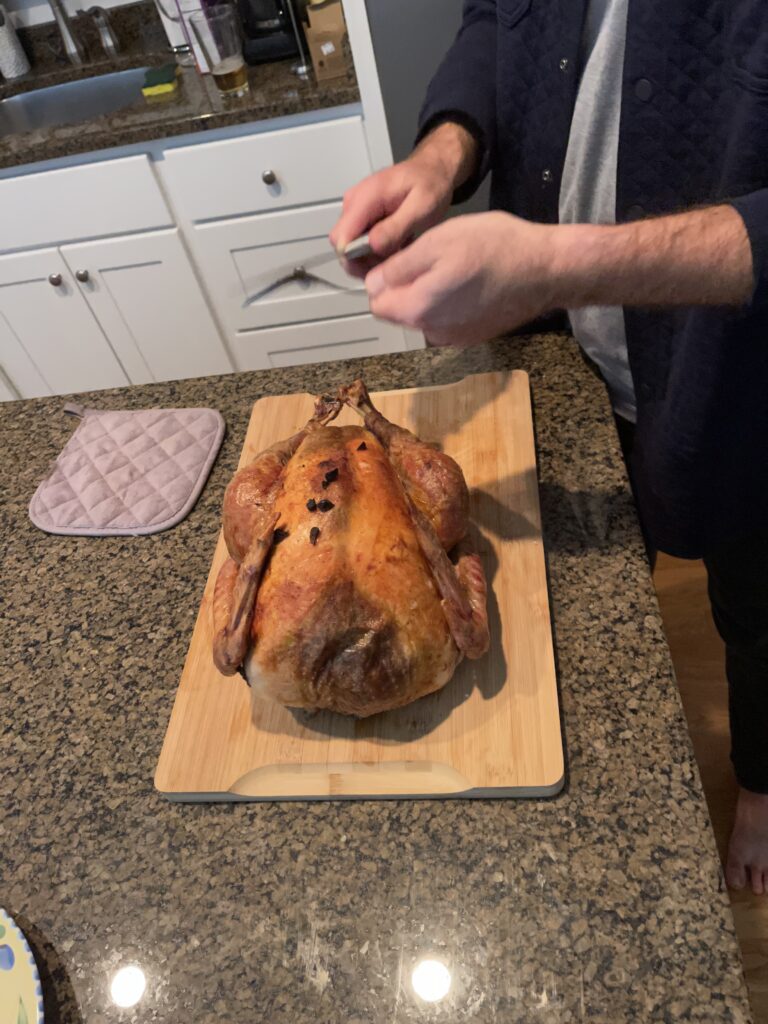 I loaded up on protein and greens, plus some sweet potatoes on the side.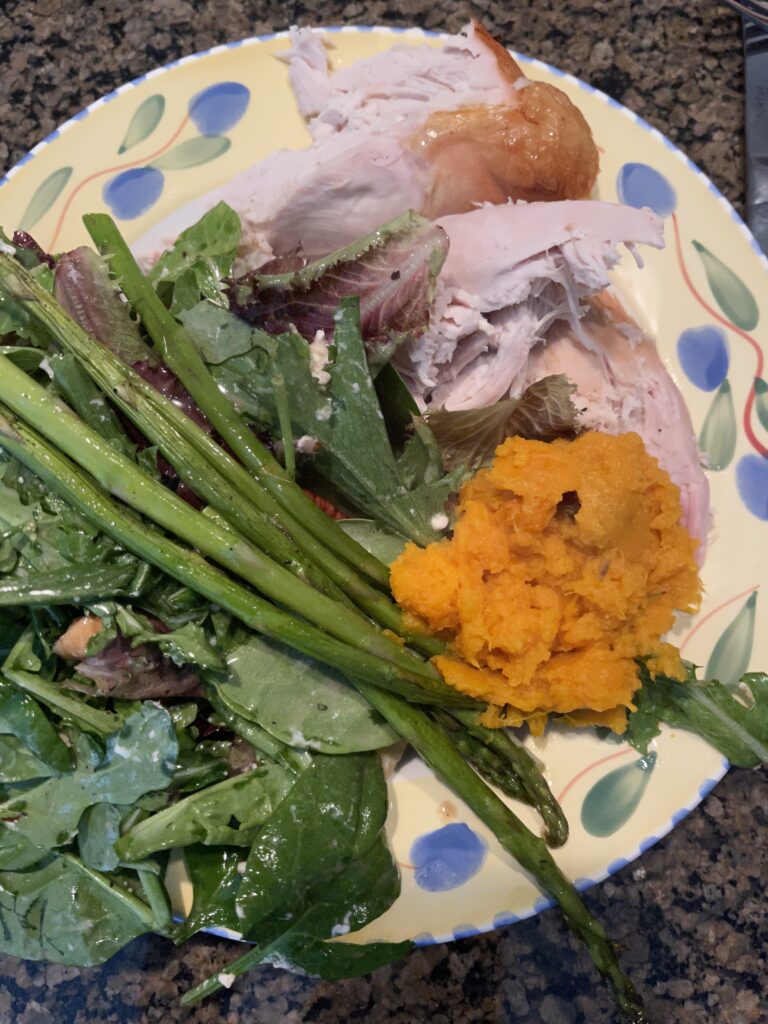 As I mentioned in this post, I don't enjoy eating to the feeling of discomfort, even on Thanksgiving. I always save room for dessert, so I happily ate my slice of cheesecake and called it a night!
Friday
Leading up to it, we really had no plans for Friday. One of sites to see is the Biltmore, which is America's largest house built by George Vanderbilt. Alex and I had both gone growing up, so we decided last minute to make it our Friday activity. Being the day after Thanksgiving, we knew it would be decorated for Christmas, which made it very festive. We also walked close to ten thousand steps during our tour alone, so it was also our movement for the day!
I fixed a quick coconut yogurt bowl with Empower Bar and Clusters before we left.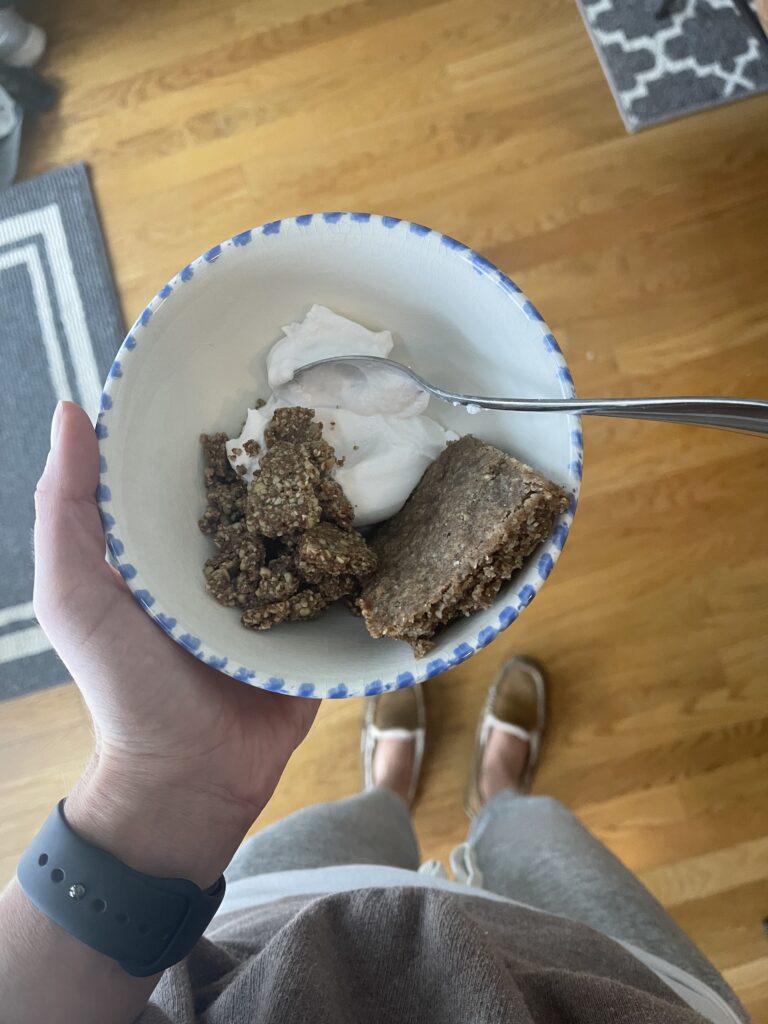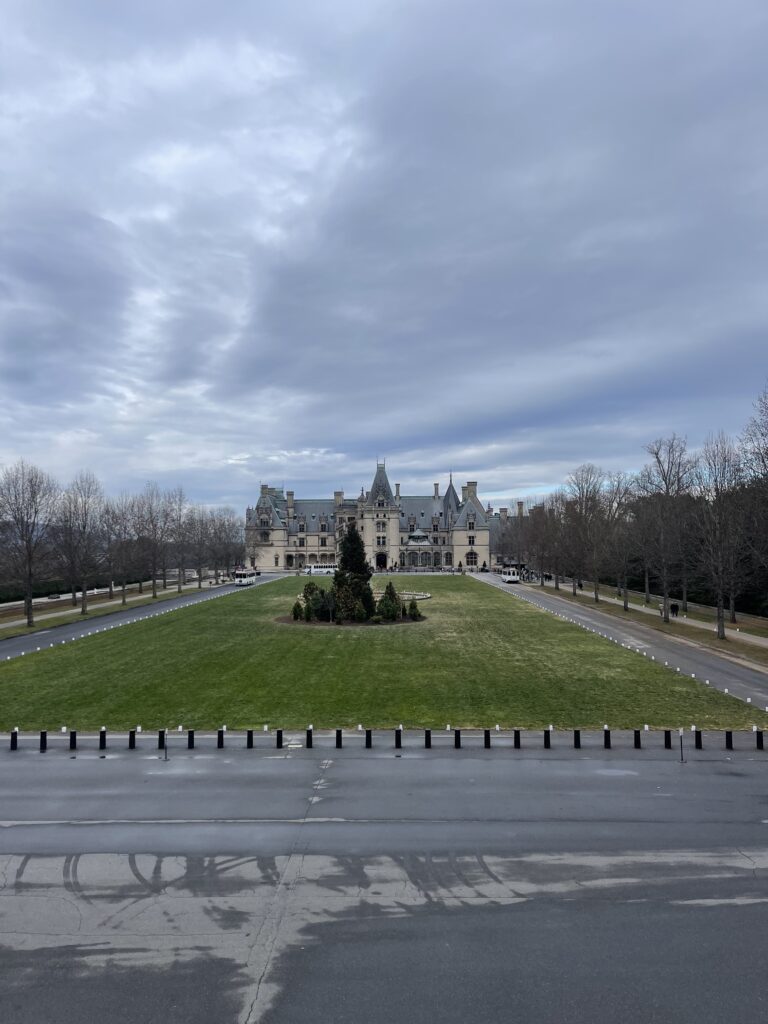 We got our Christmas card photo, so can check that off of our list!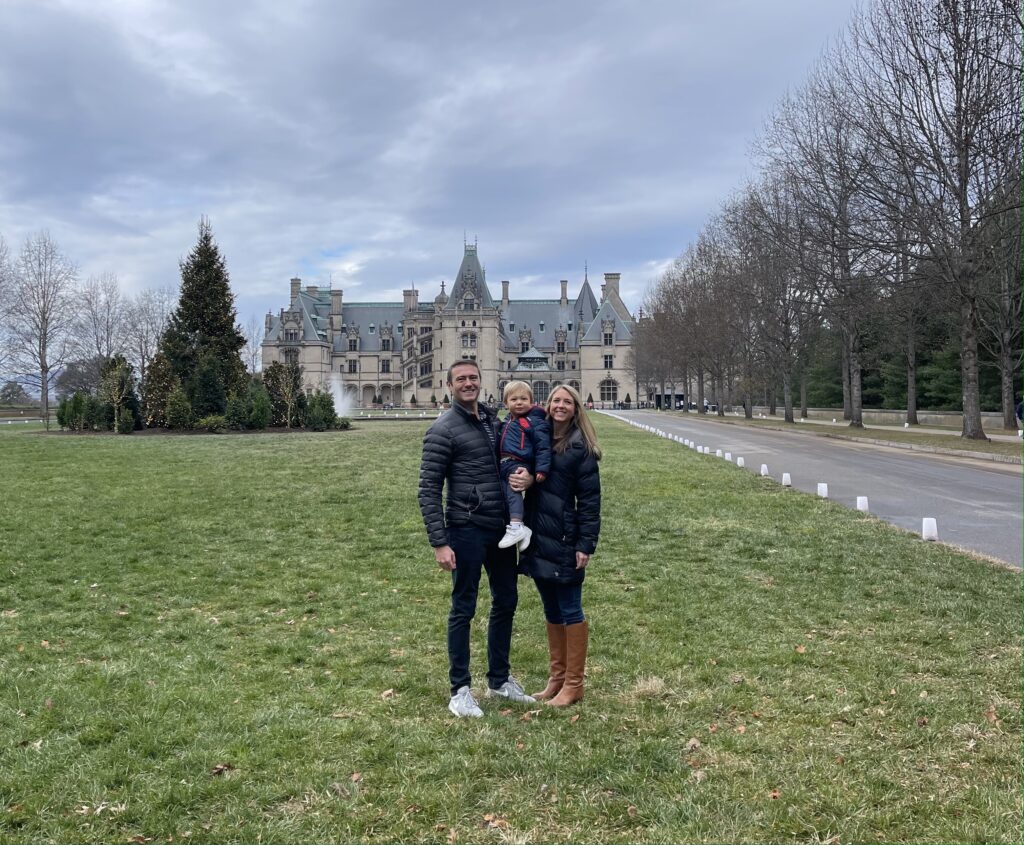 Another opportunity for Mason to get out and run around.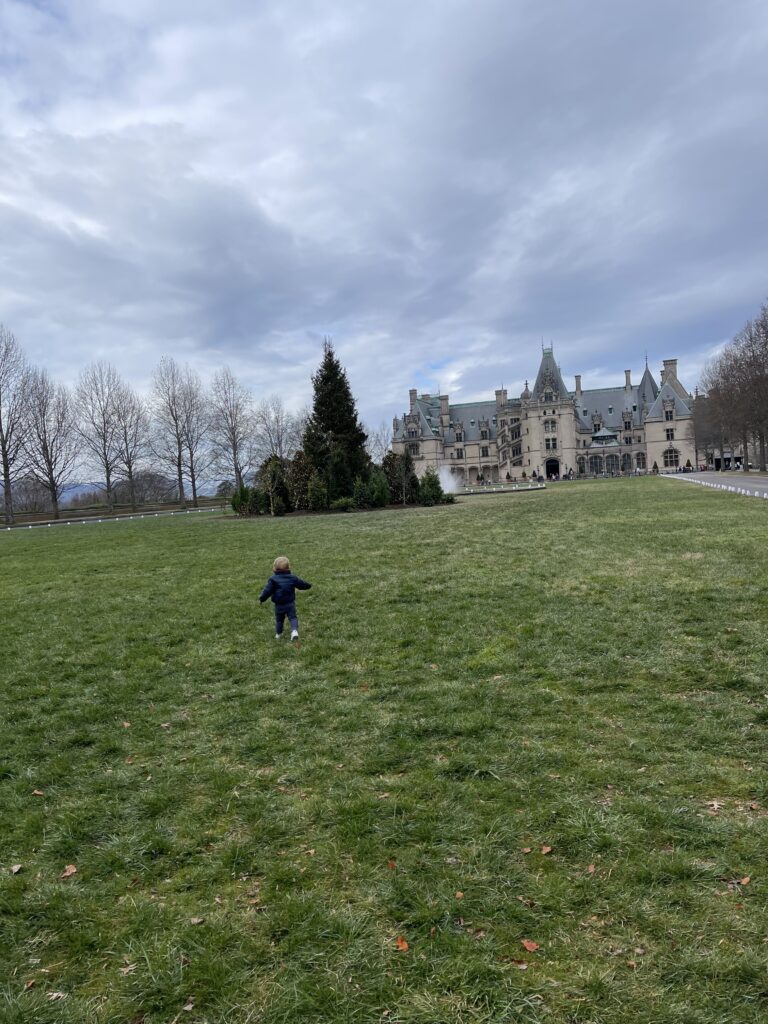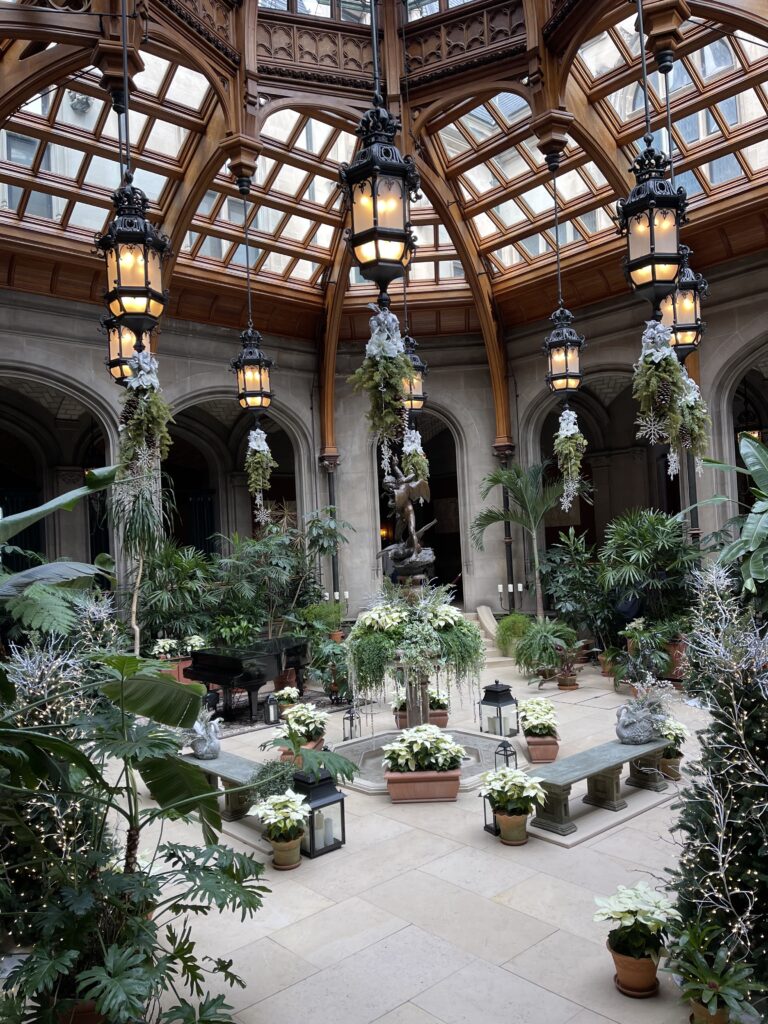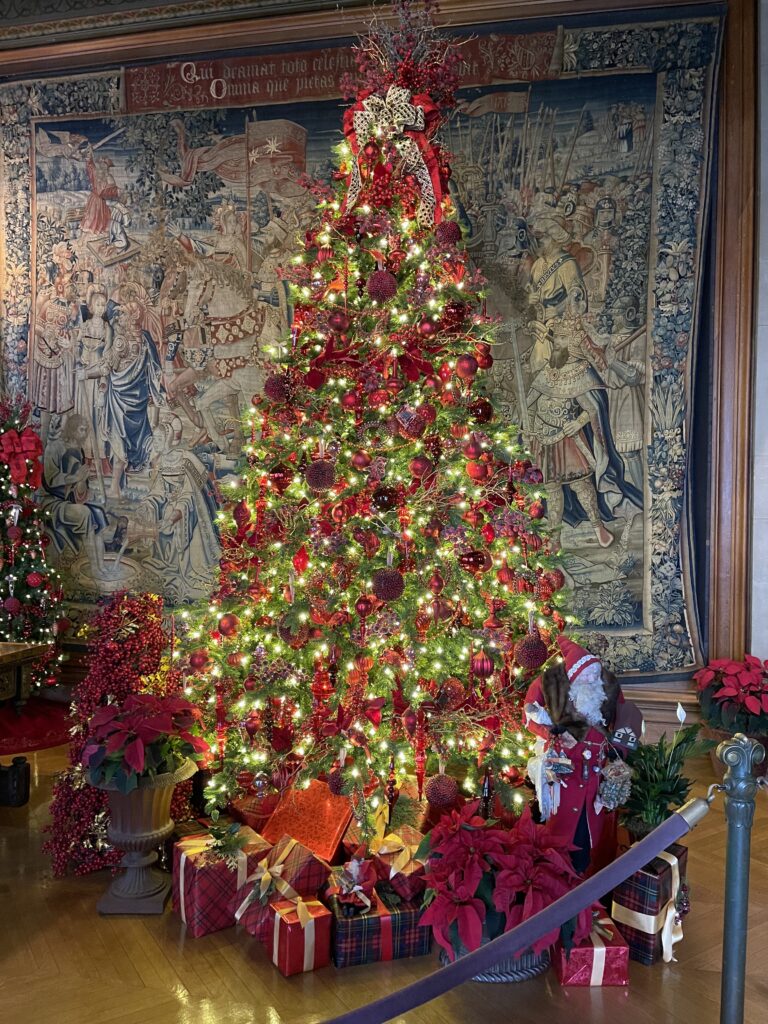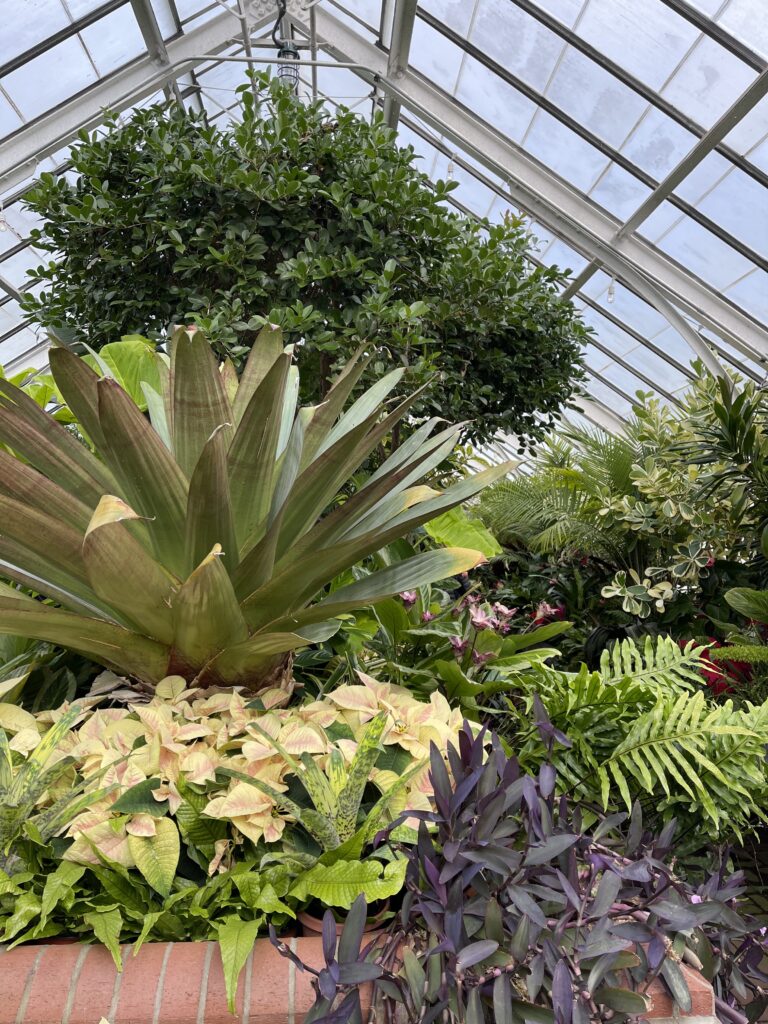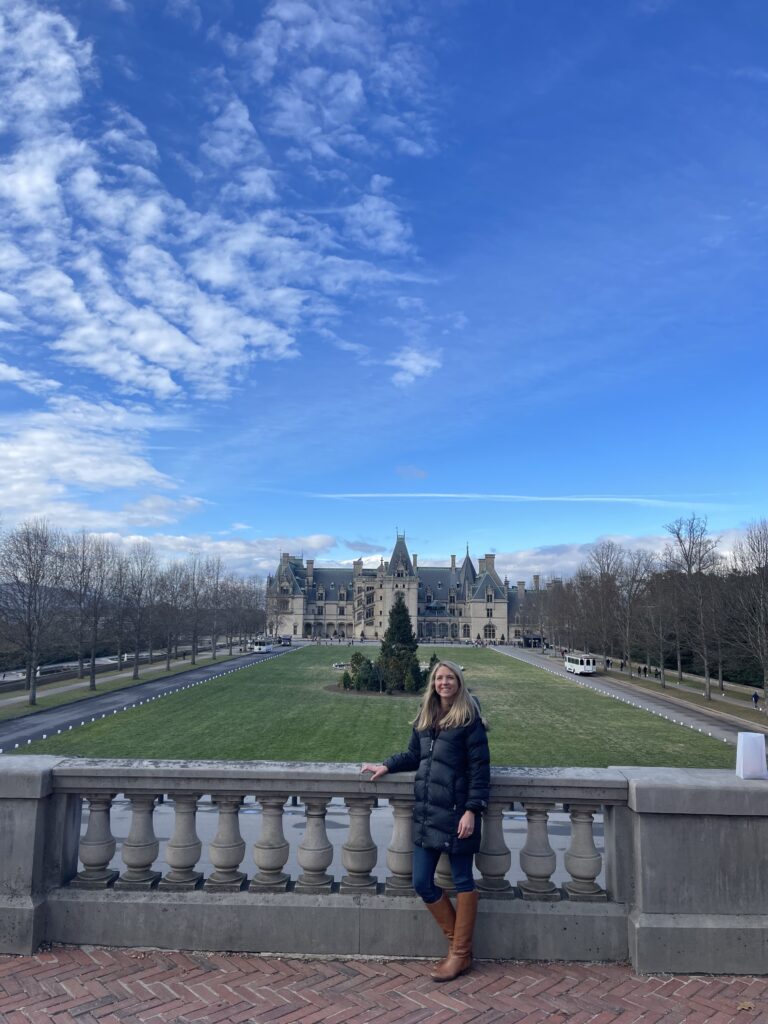 We had worked up quite the appetite, so after we saw all that we could see, we headed downtown to get some lunch. Because it was Black Friday, the crowds were out! There are so many great restaurants. I have been to – and particularly love – both Green Sage to The Laughing Seed Cafe (more suggestions at the end of the post!). Many restaurants are vegetarian and vegan with a lot of healthy plant-based options. Everything was so crowded that afternoon, and with a antsy toddler, we had to prioritize availability. We came across Isa's, which only had a ten minute wait.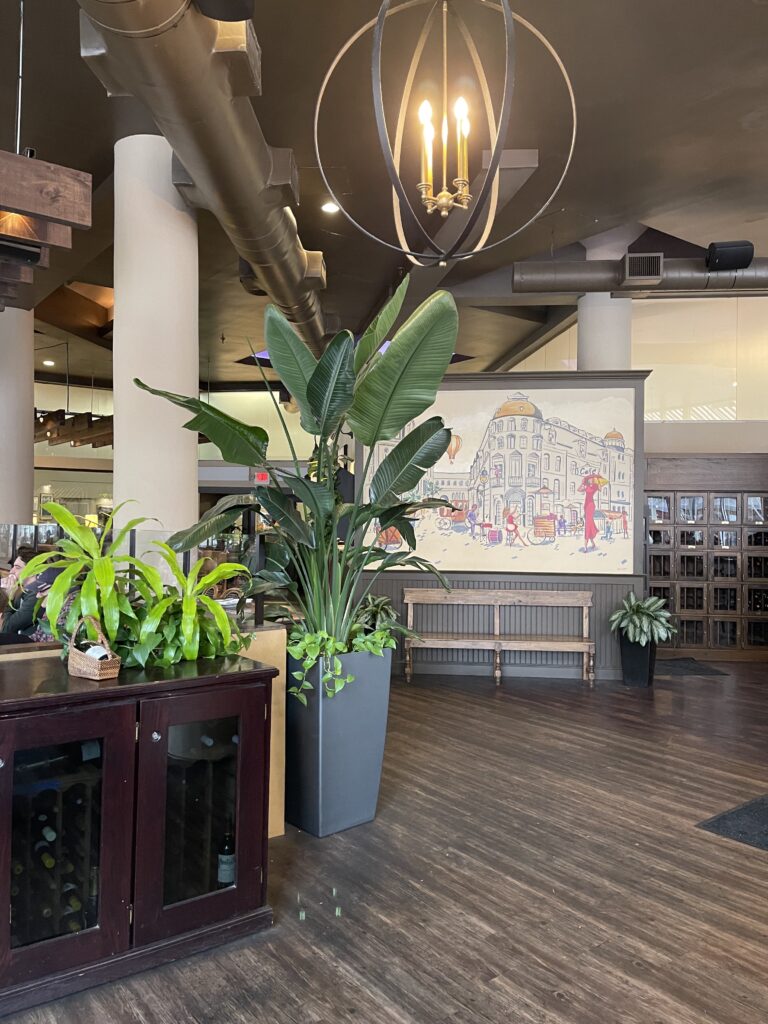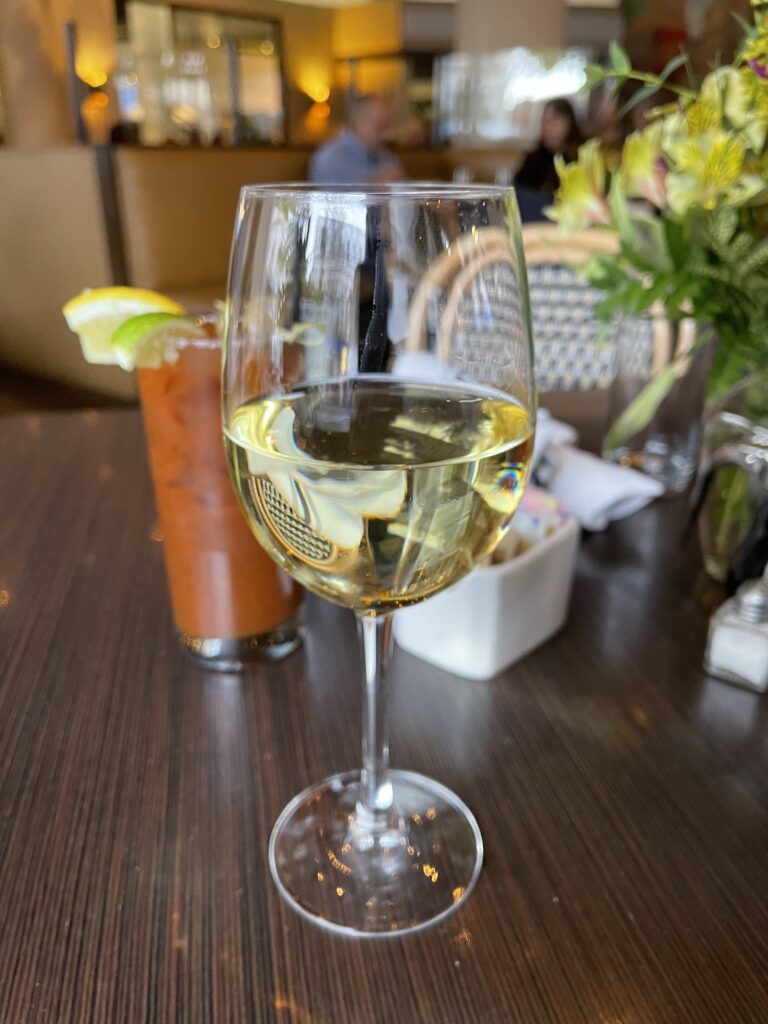 I got the kale and quinoa salad with salmon. It came with the most delicious smoked pecan vinaigrette. I could tell it was made with a lot of sugar, so I definitely want to try and recreate a Healthified version!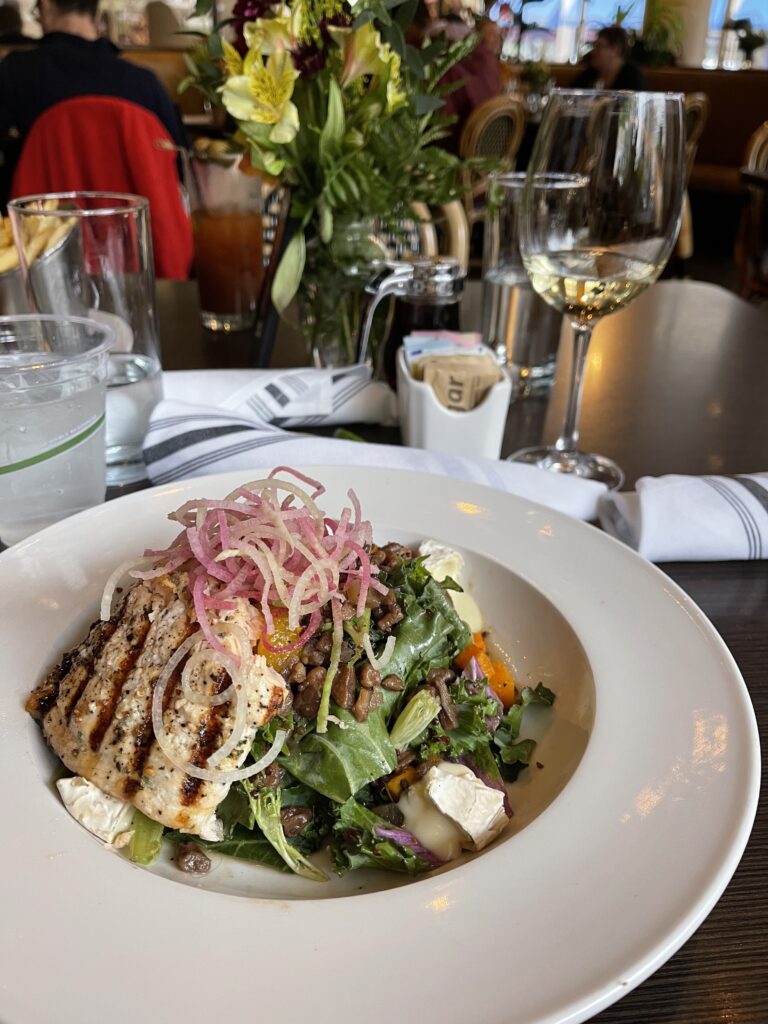 We went home right after lunch as Mason was melting down throughout (almost) the entirety of our lunch. Eating out at a restaurant with a 17-month-old is no picnic! But once we got back to our Airbnb, and with a smoothie in hand, he quickly became a happy camper.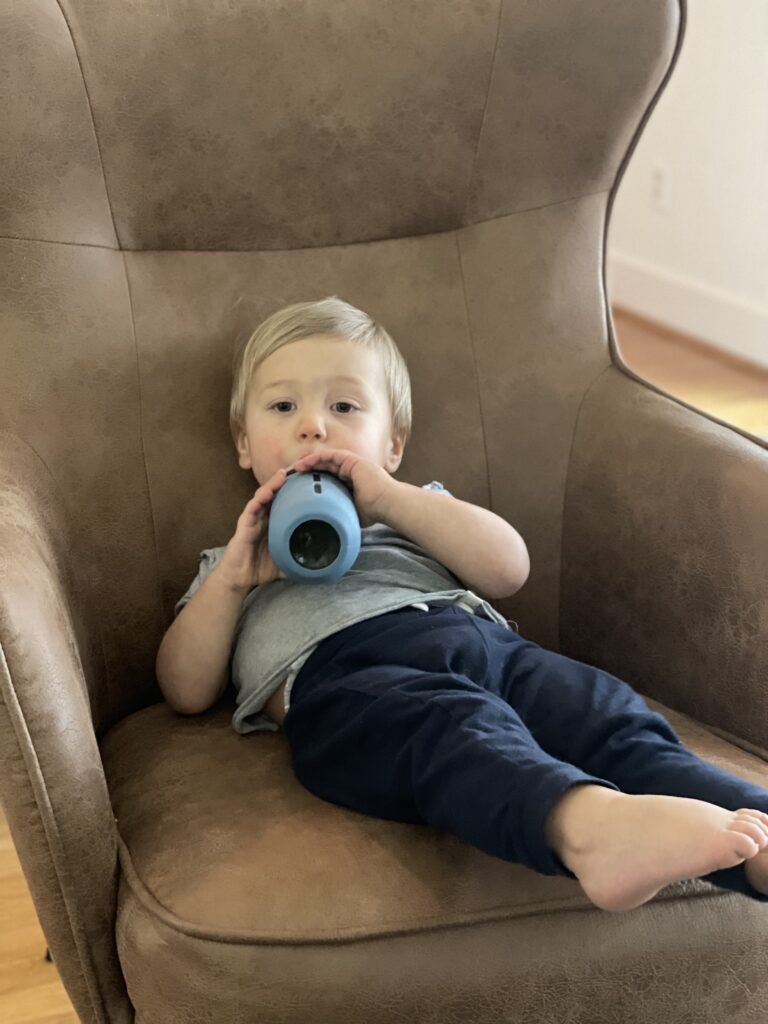 We laid low that evening, made leftovers (which I turned into a salad), watched a movie, and went to bed early.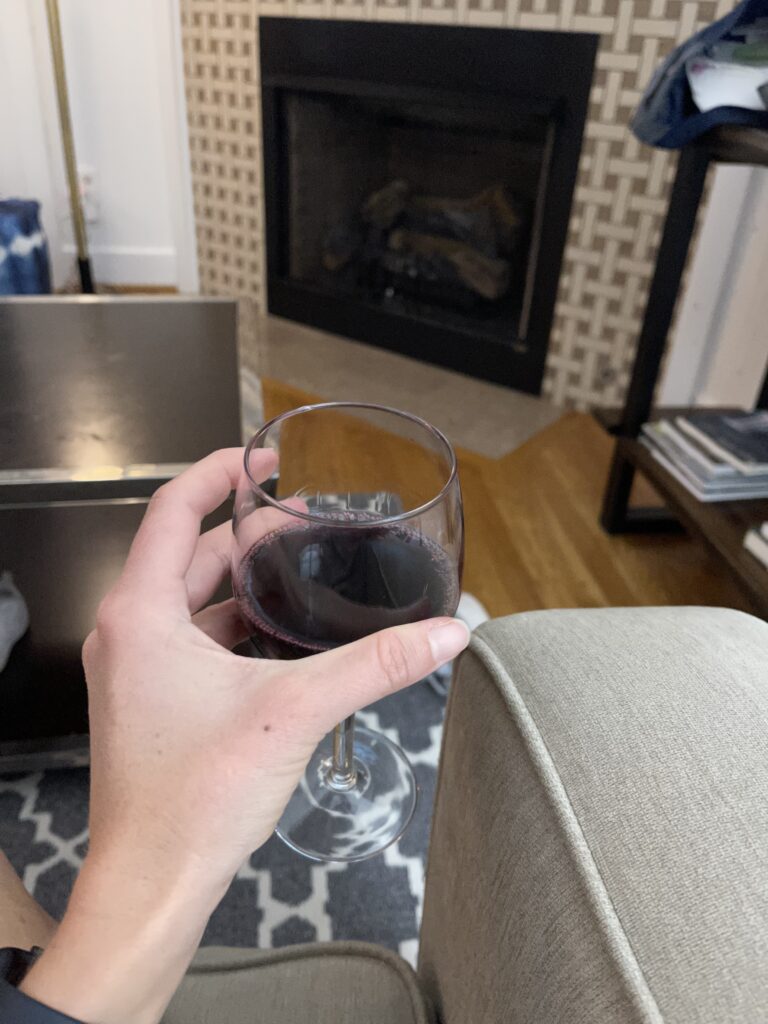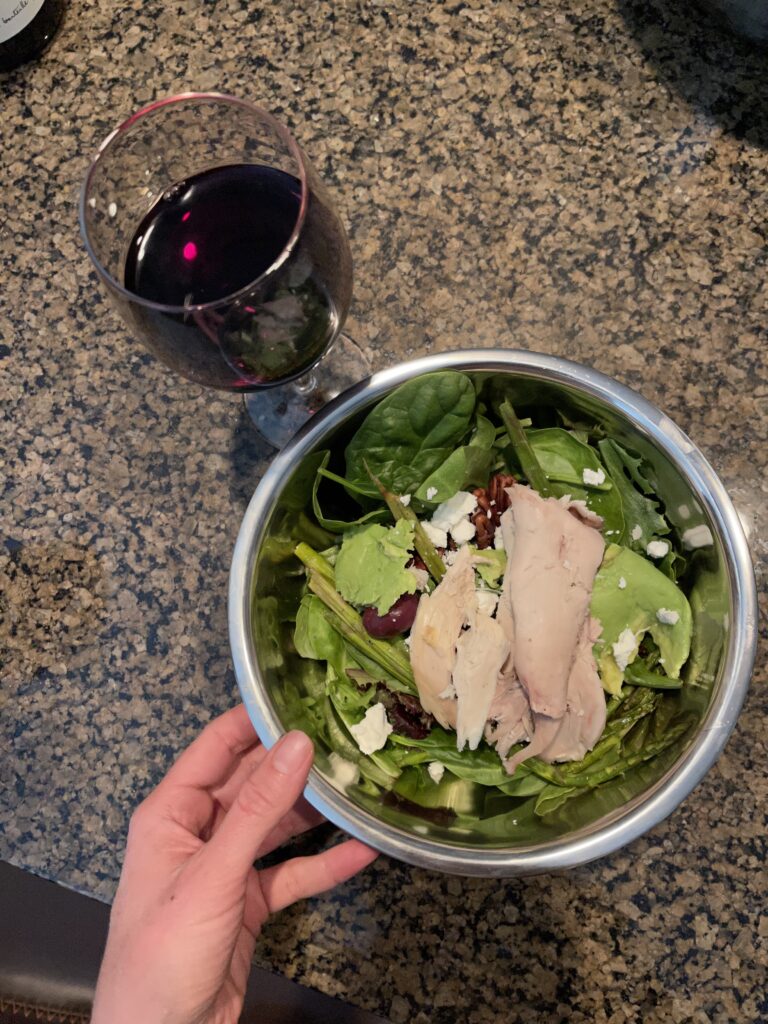 A slice of cheesecake to end the night.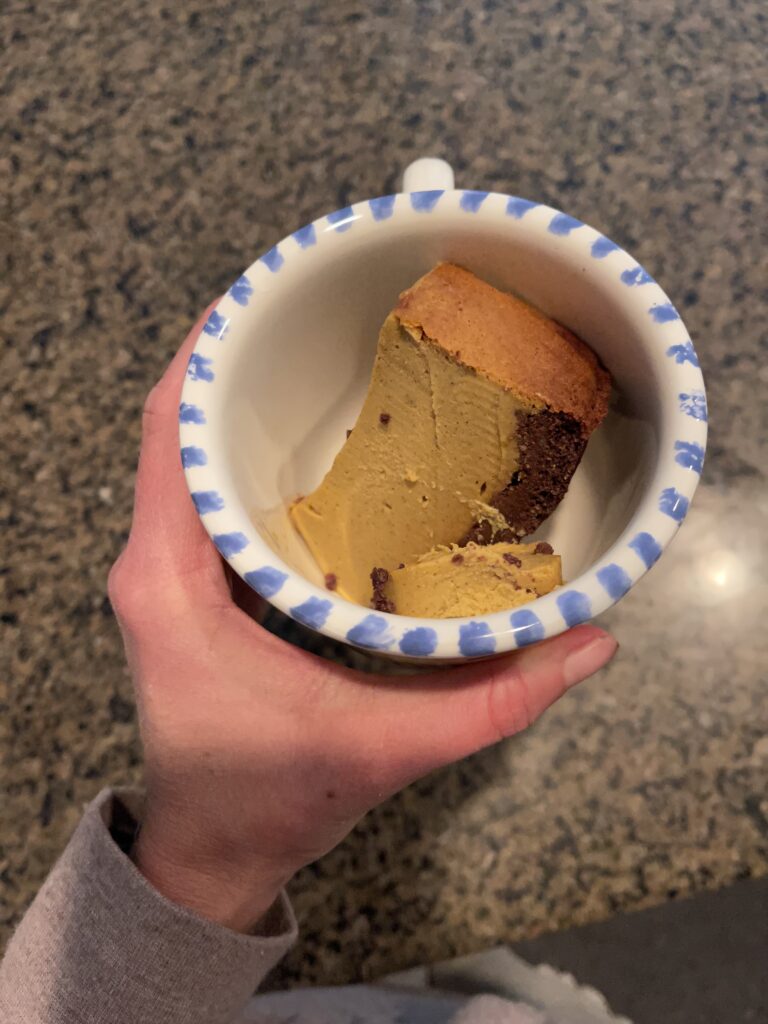 Saturday
We woke up on Saturday morning to the most beautiful sunrise! Taking a photo with your iPhone of course doesn't do it justice. Speaking of, I always notice how fast I want to take a picture when witnessing a beautiful sunrise or sunset. I try to notice this urge and wait a few moments to be present in it before trying to capture it. As soon as you whip out your phone, you are out of the present! Just some food for thought.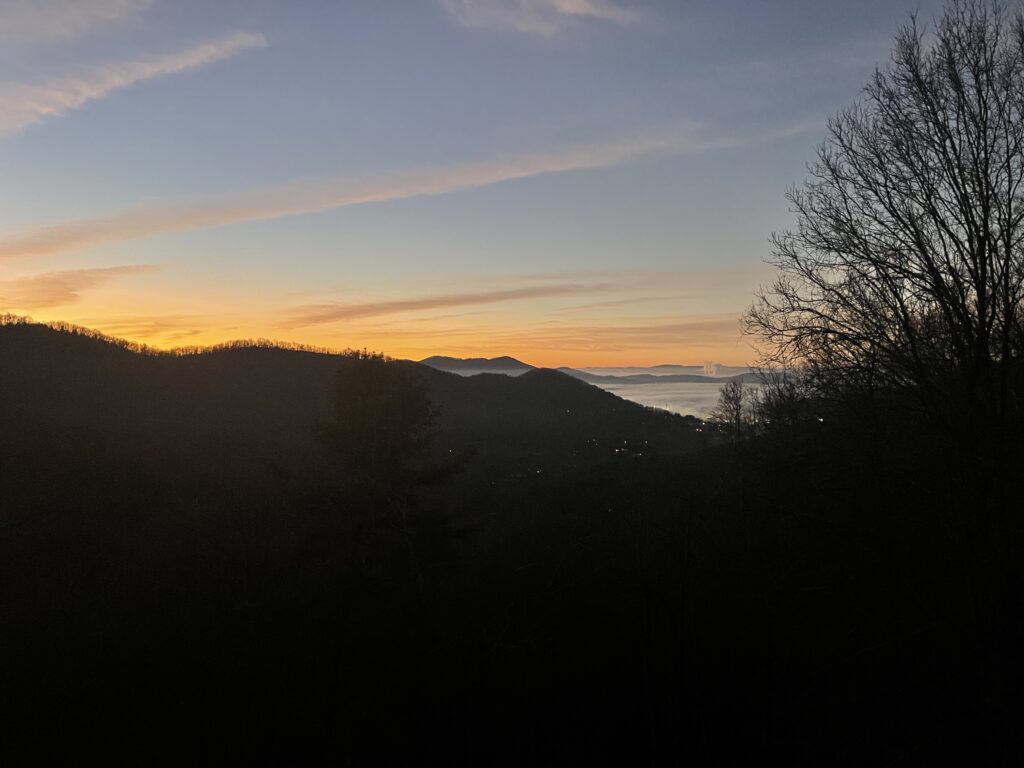 Breakfast was another sweet and savory combination. I also discovered the amazing technique of cooking bacon in a skillet, and then cooking your eggs in the same skillet with the bacon grease. So good, satiating, and full of satisfying fat!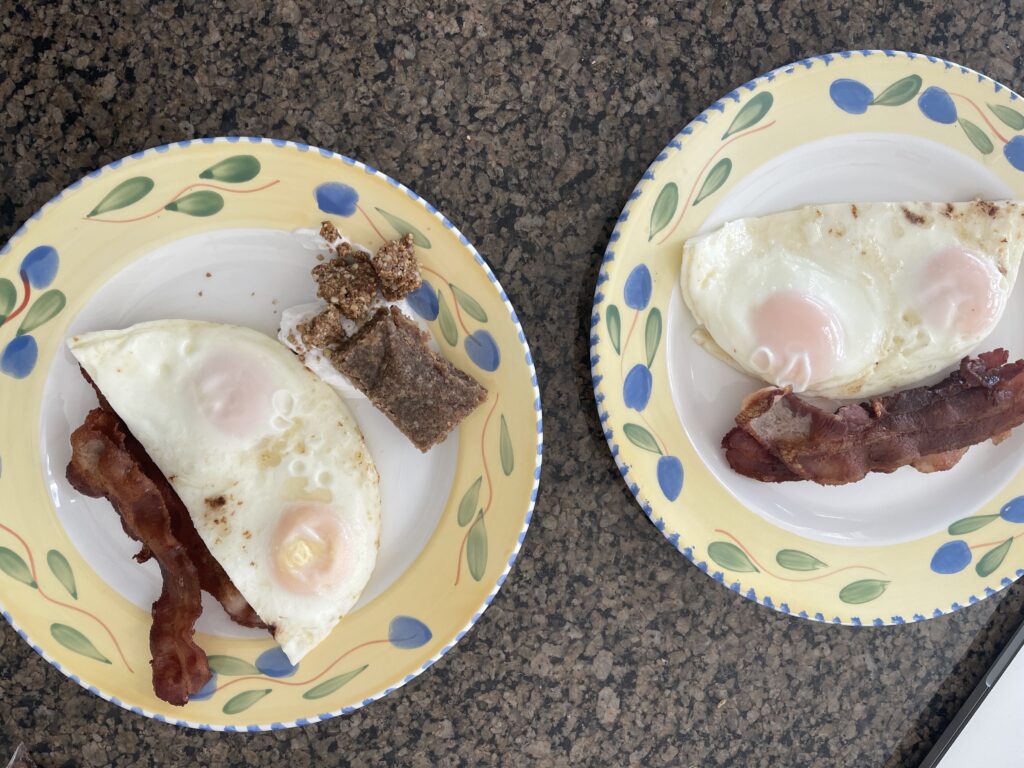 Wanting to get some movement in shortly thereafter, another Google search led us to Reed Creek Greenway – a walk/run/bike path that eventually takes you to UNC Asheville.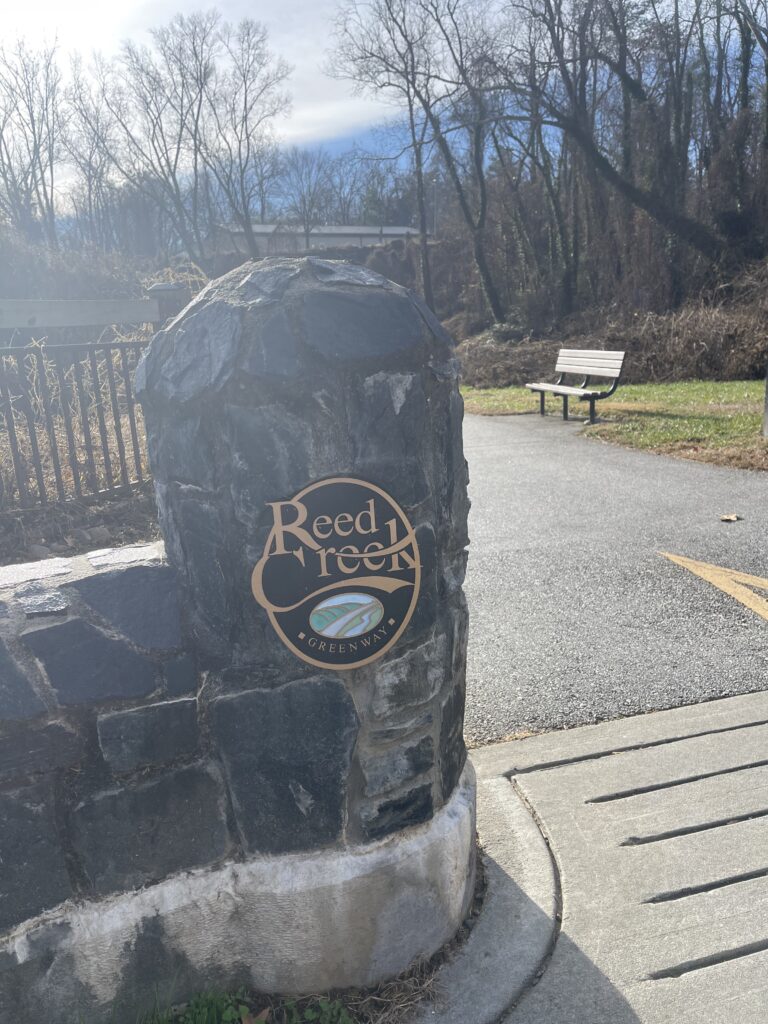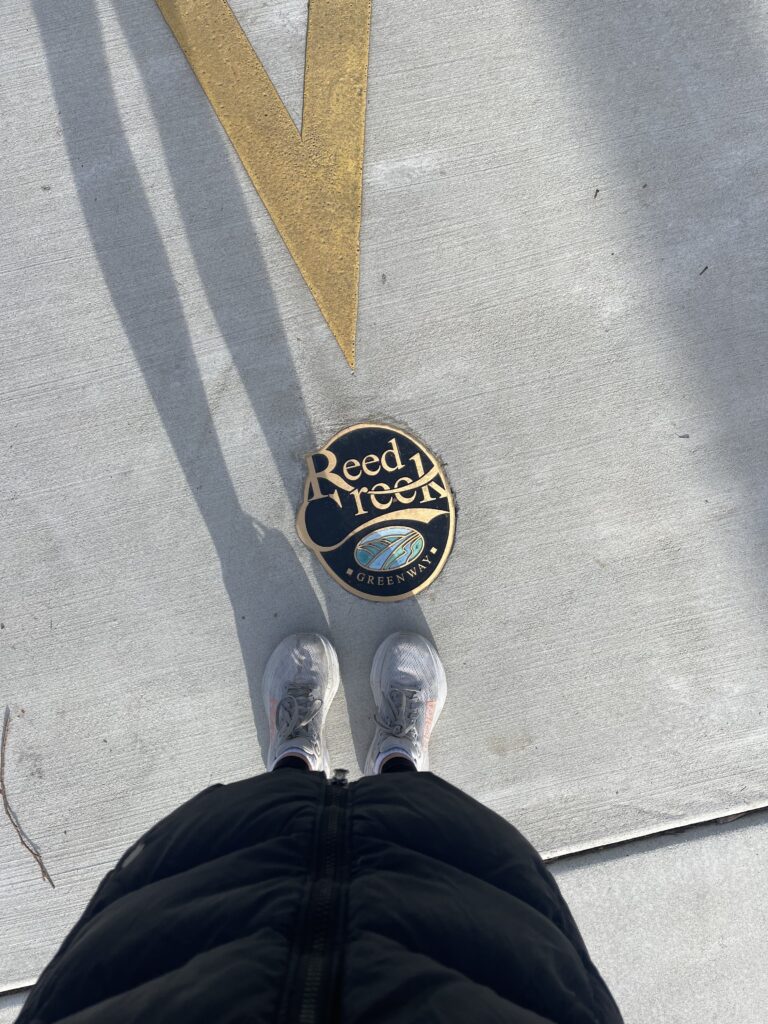 It was another beautiful morning and it was nice not to have an agenda.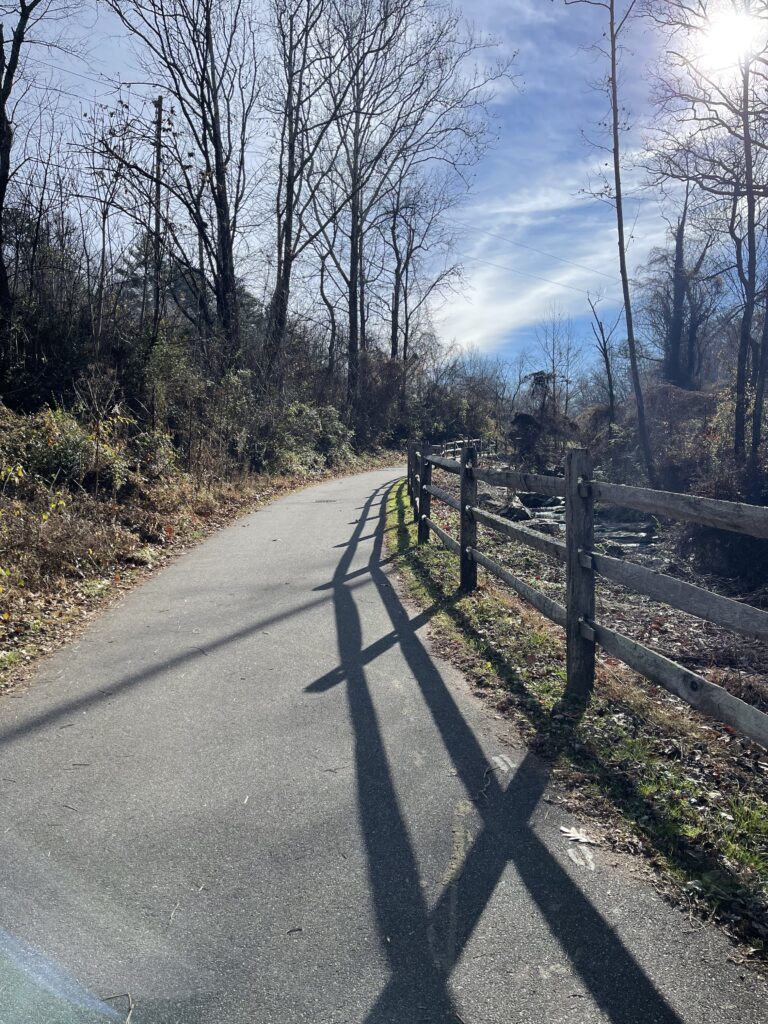 After about 40 minutes, Mason was getting so restless in the stroller. We tried to find a park, but got a little lost and eventually came across some green space near the college.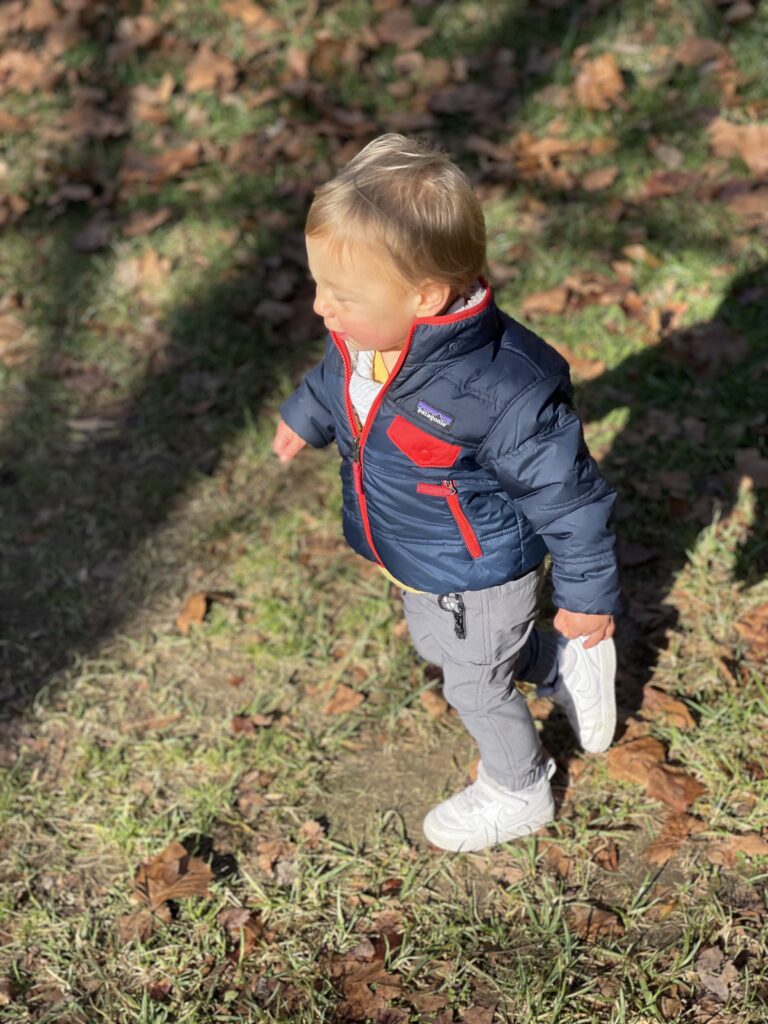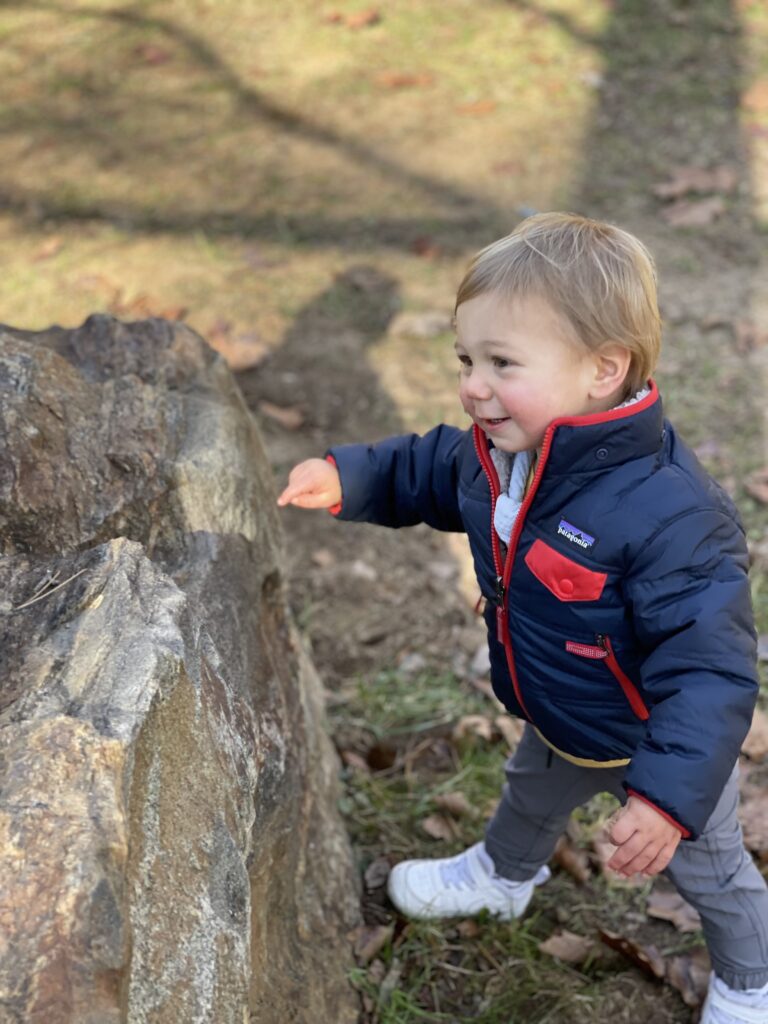 We walked around campus for a bit, and came across a farmers market. It was fun to just be in the flow to see where our walk would take us!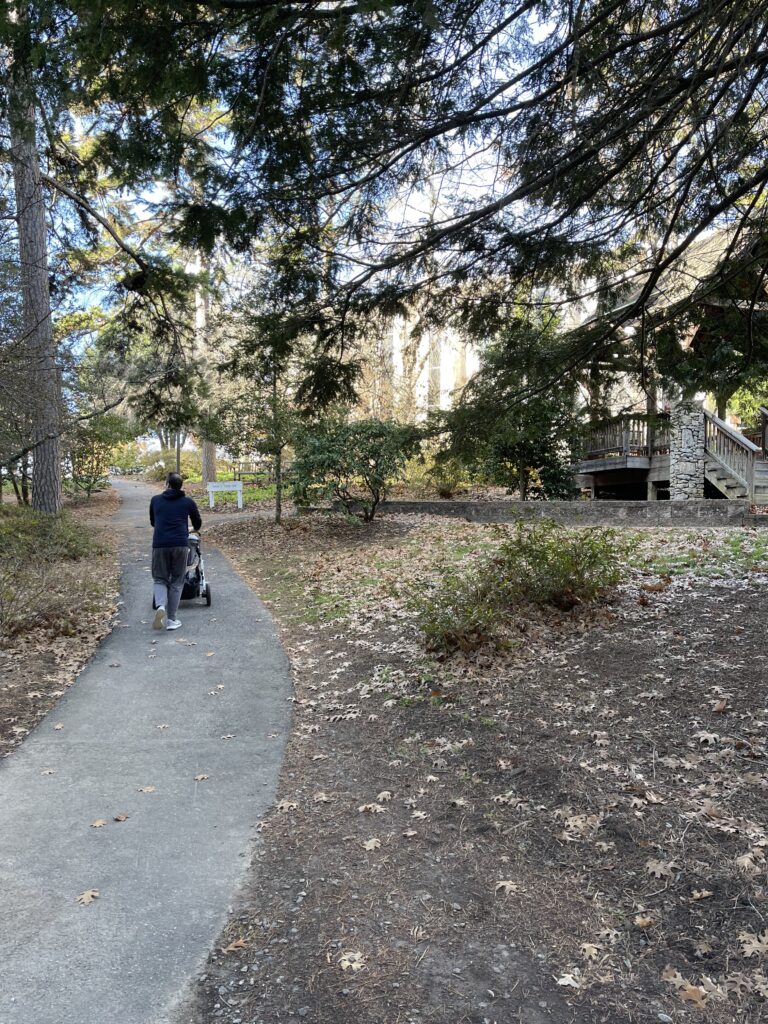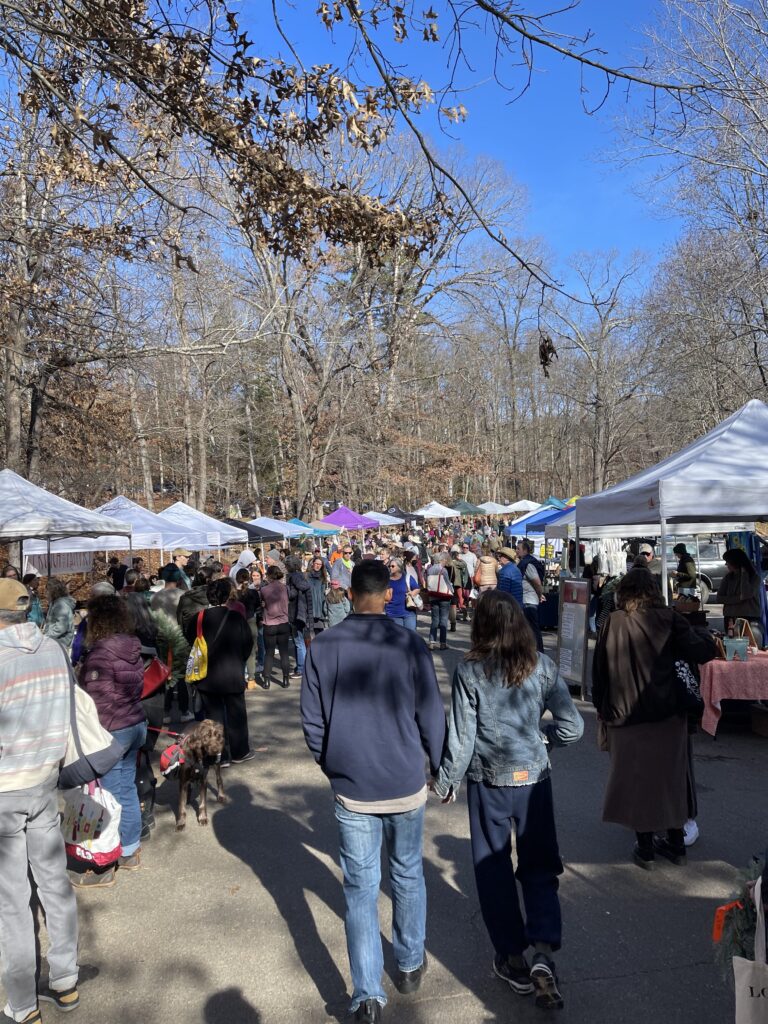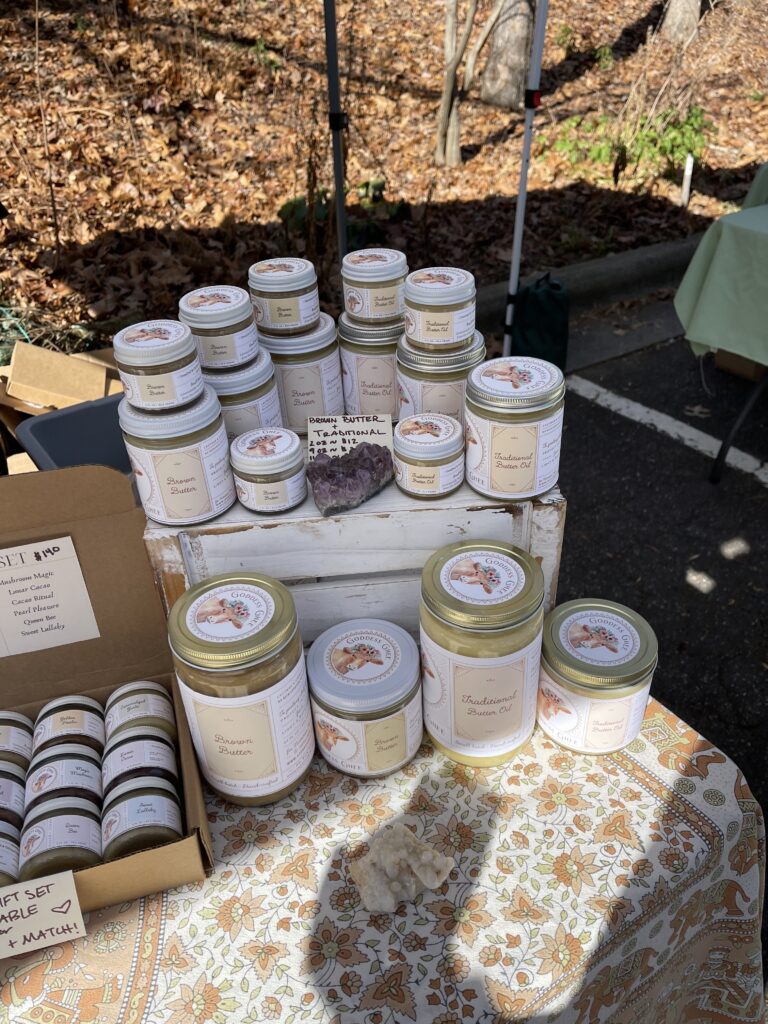 We were traveling, so I couldn't take much advantage apart from looking around. A vendor that did catch my eye was Goddess Ghee, so I bought a small container of her original ghee. It is some of the best ghee I have had!
After exploring a little more, and logging over ten thousand steps, we headed downtown to peruse Malaprops Bookstore, a must stop shop when you are in Asheville if you love books. I bought The Gospel of Wellness which I started once I returned home.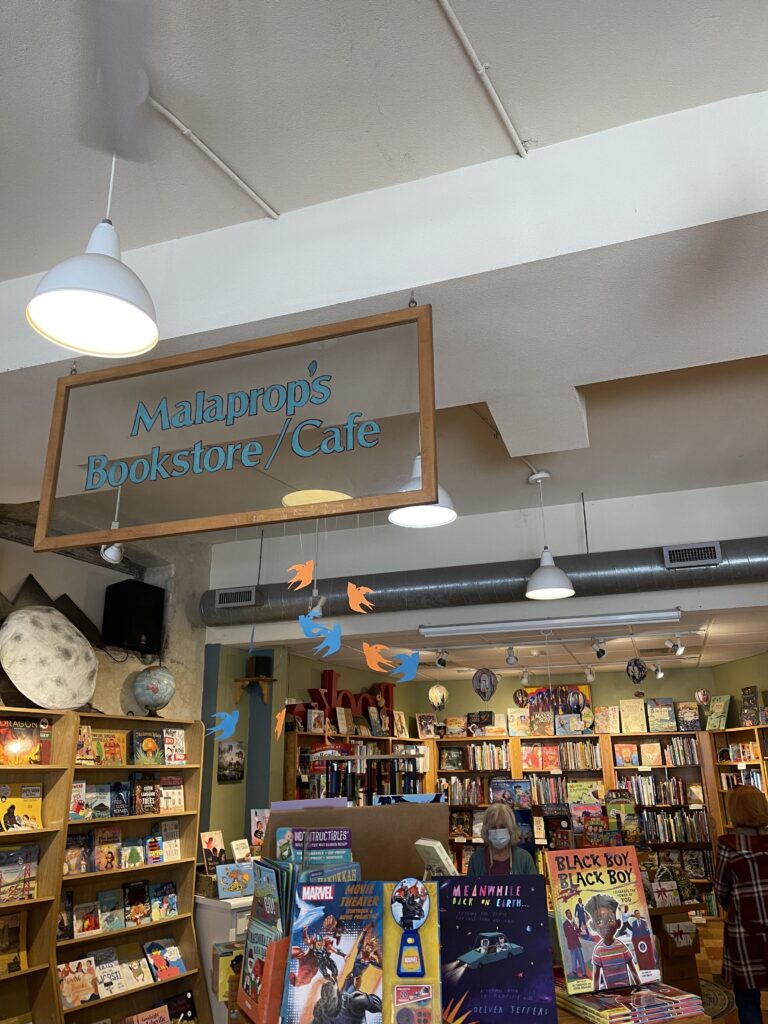 Lunch was more Thanksgiving leftovers.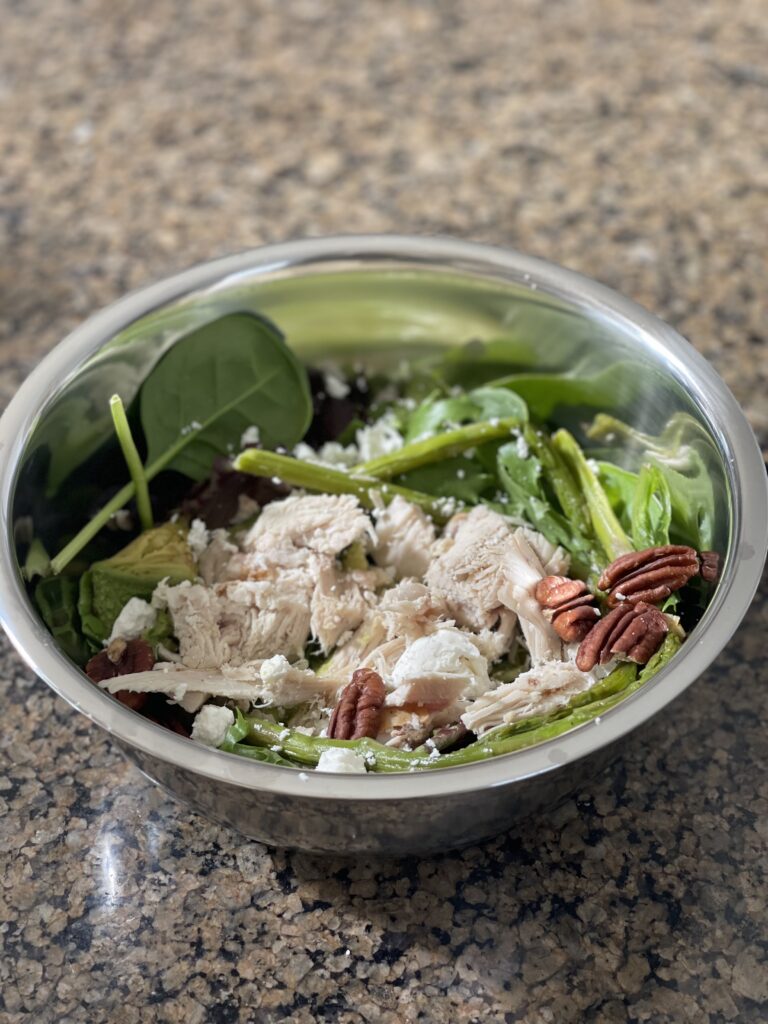 I craved something sweet a couple of hours later so enjoyed some Cacao Granola Clusters with peanut butter.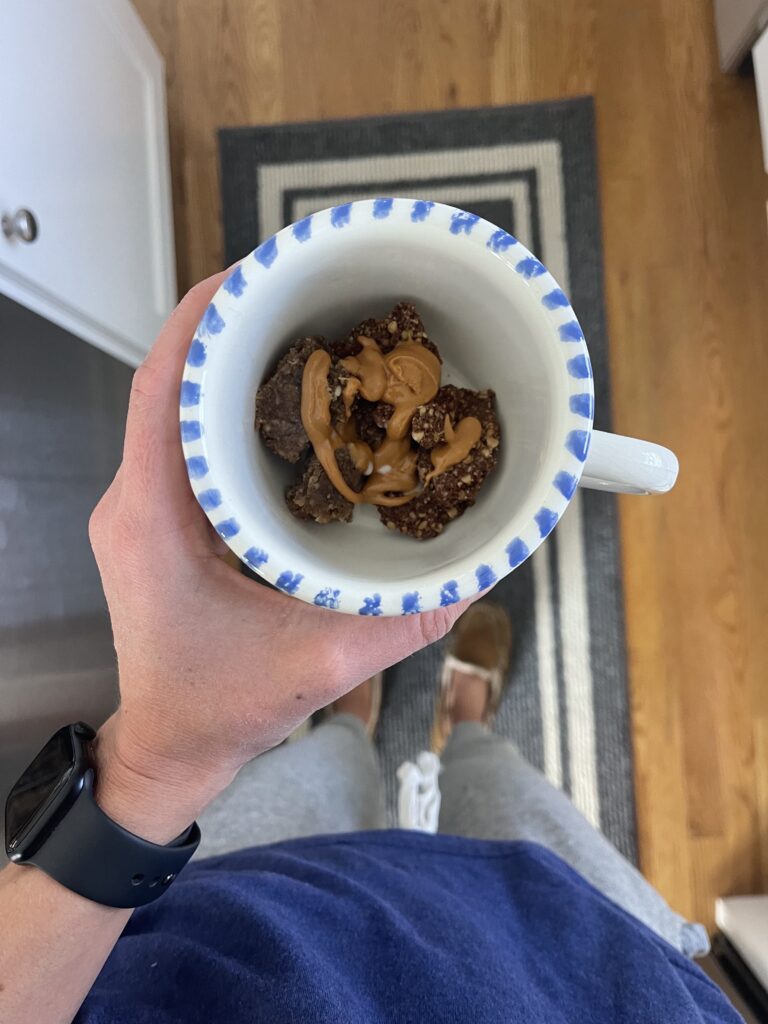 We had made reservations at Tupelo Honey earlier in the day, and I will be honest – I was reluctant to go. After our dining experience the previous day, where one of us had to walk Mason around an adjoining hotel lobby until our food arrived, I felt jaded about eating out. Additionally, he didn't really nap that afternoon. But we braved it, and I am glad we did. He ended up behaving a bit better (emphasis on the bit – there was a point when I was Googling parenting articles about taking a toddler out to eat), and we had a nice meal. The wine also helped.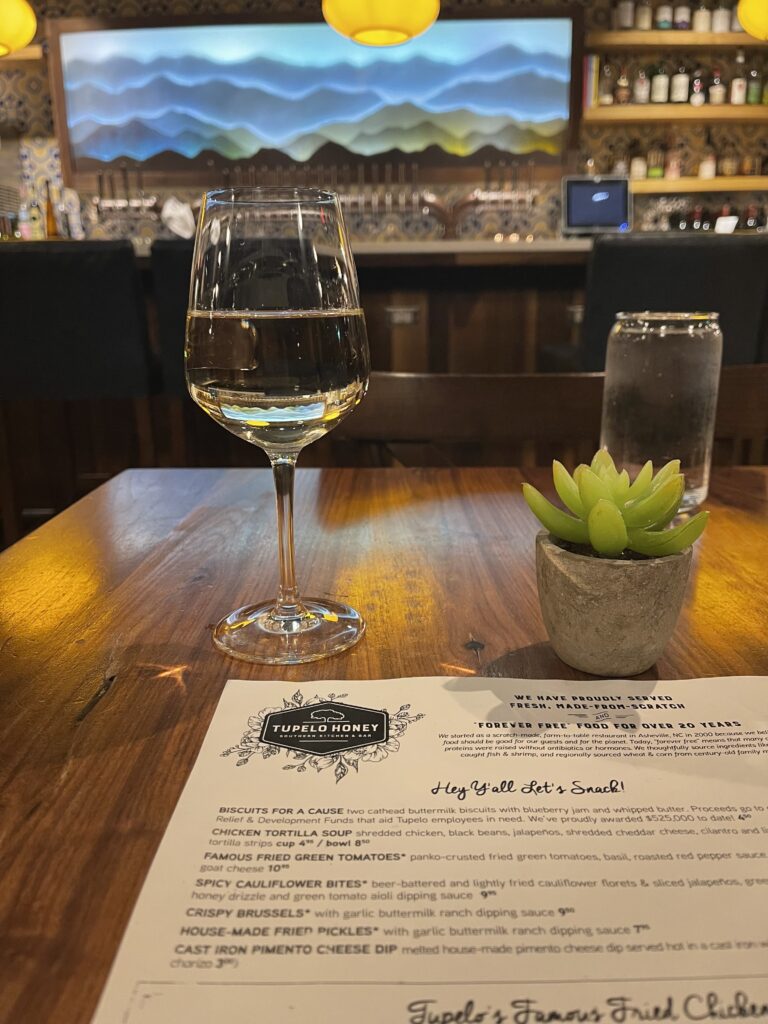 And so did Mason's french fries. These calmed him down in down in no time as he happily ate them. I realize my last few sentences won't earn me any mom awards, but I'm just keeping it real.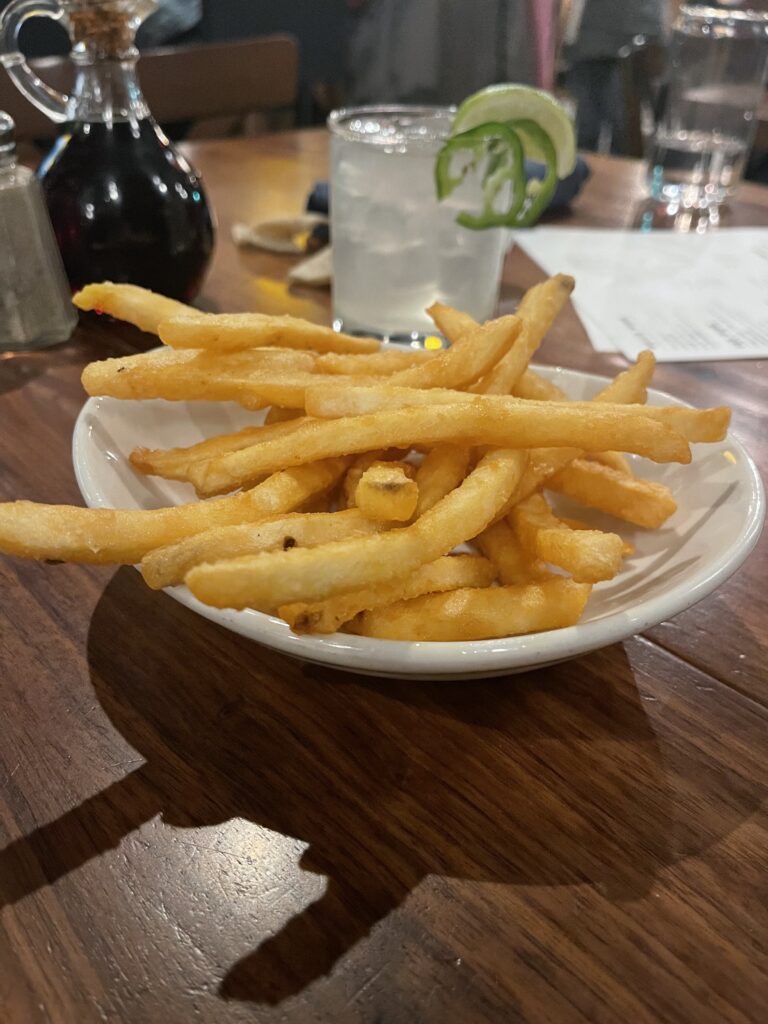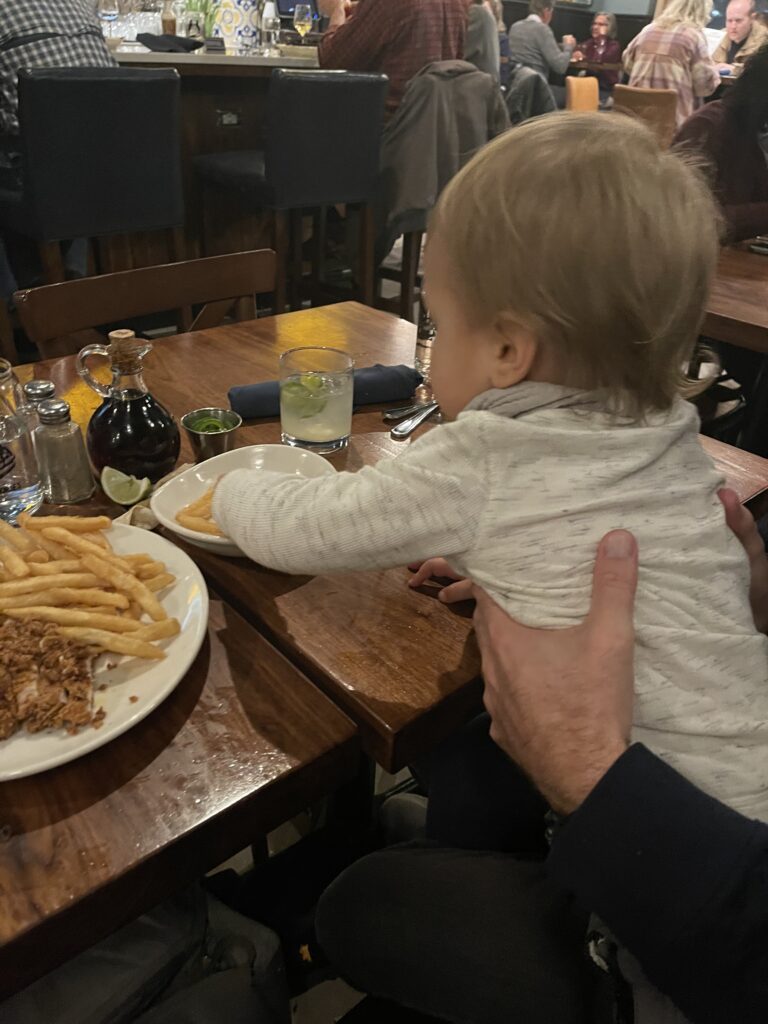 I ordered the Mahi-Mahi with the crispy Brussels sprouts an a side salad.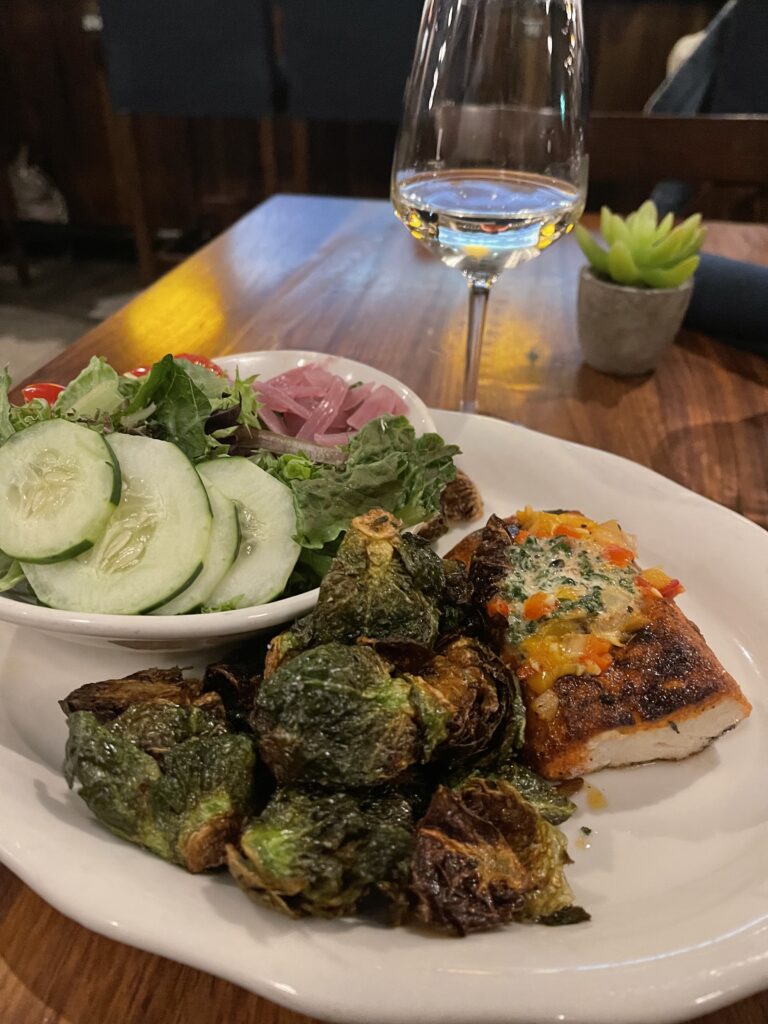 Alex ordered the filet. Both were delicious!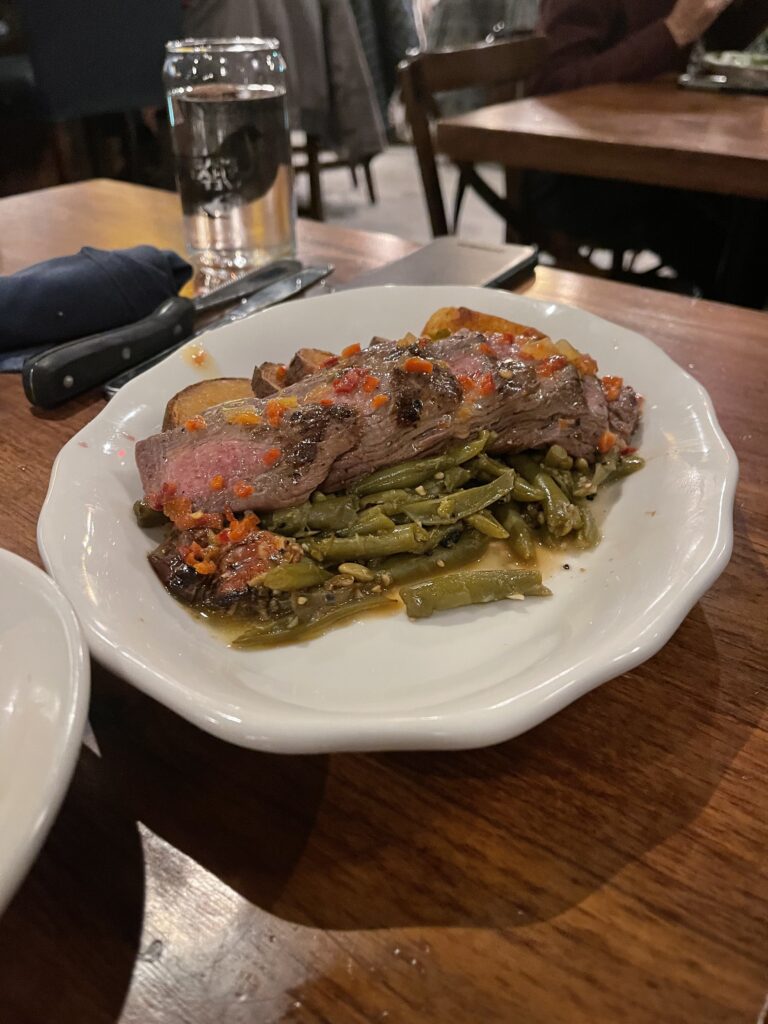 After dinner, we passed by a Ben and Jerry's and Alex was craving an ice cream cone. He ended up sharing it with Mason. I knew I had my Healthified cheesecake at home, so I easily passed, but it sure was cute watching him enjoy it.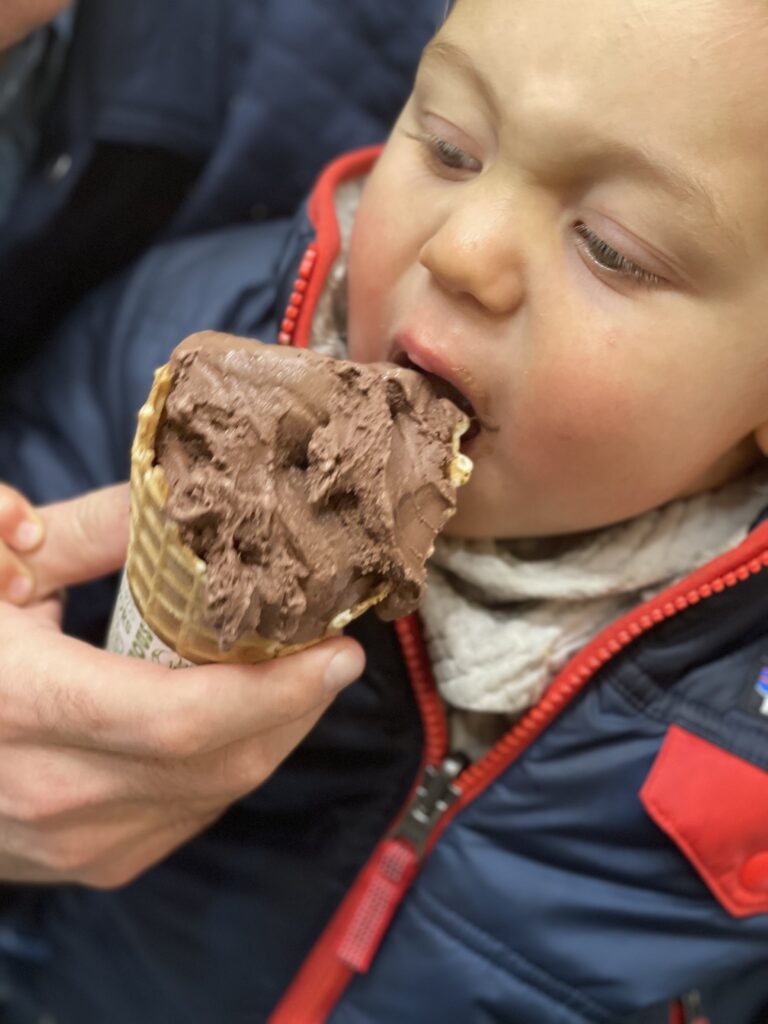 A small slice of cheesecake, glass of wine, and holiday movie when we got back to the Airbnb.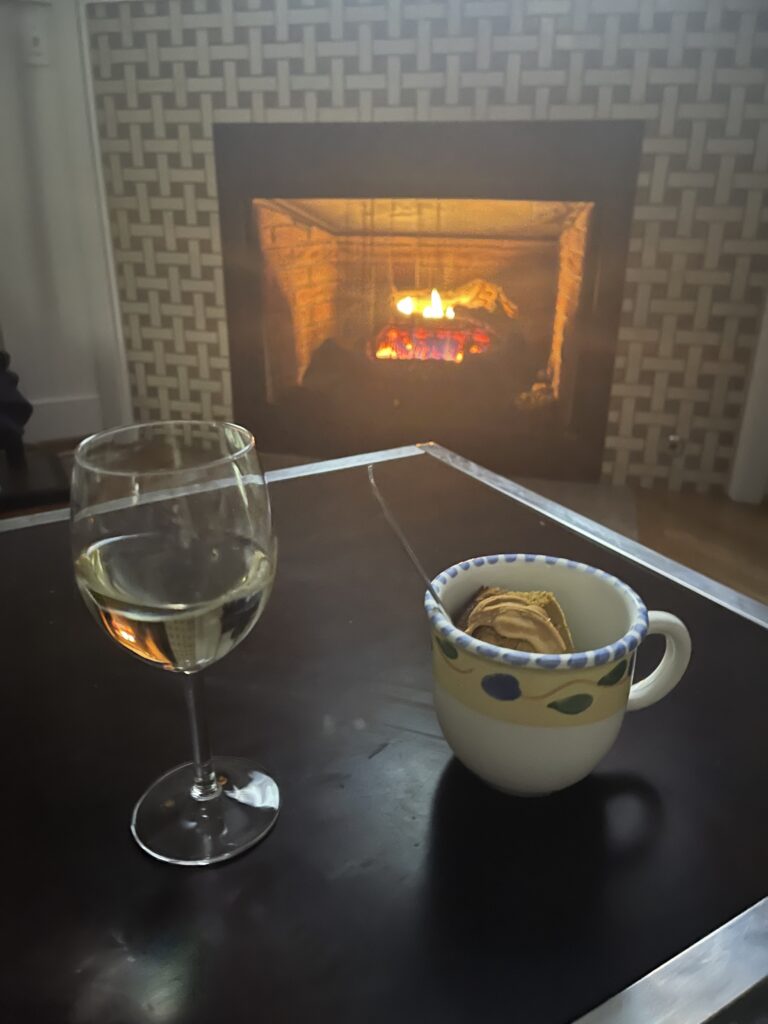 Sunday
We eased into the morning, but didn't stick around long. With the amount of traffic we hit on the way down, we decided to hit the road early.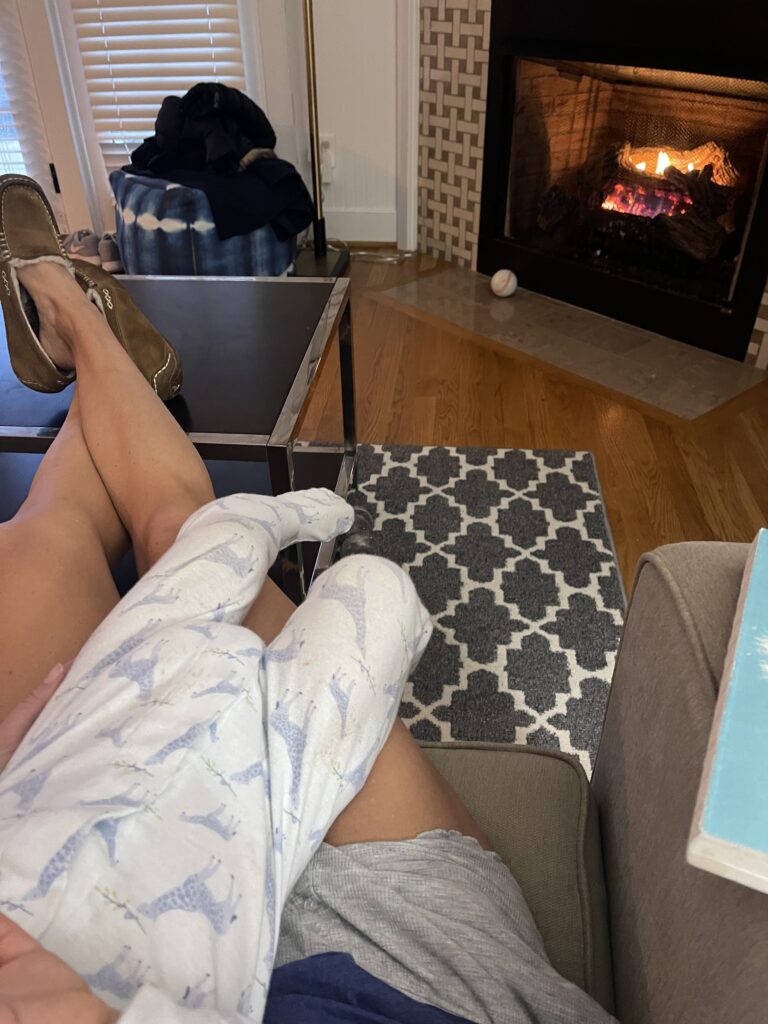 I packed a Culina coconut yogurt and an Oat Bar for the road.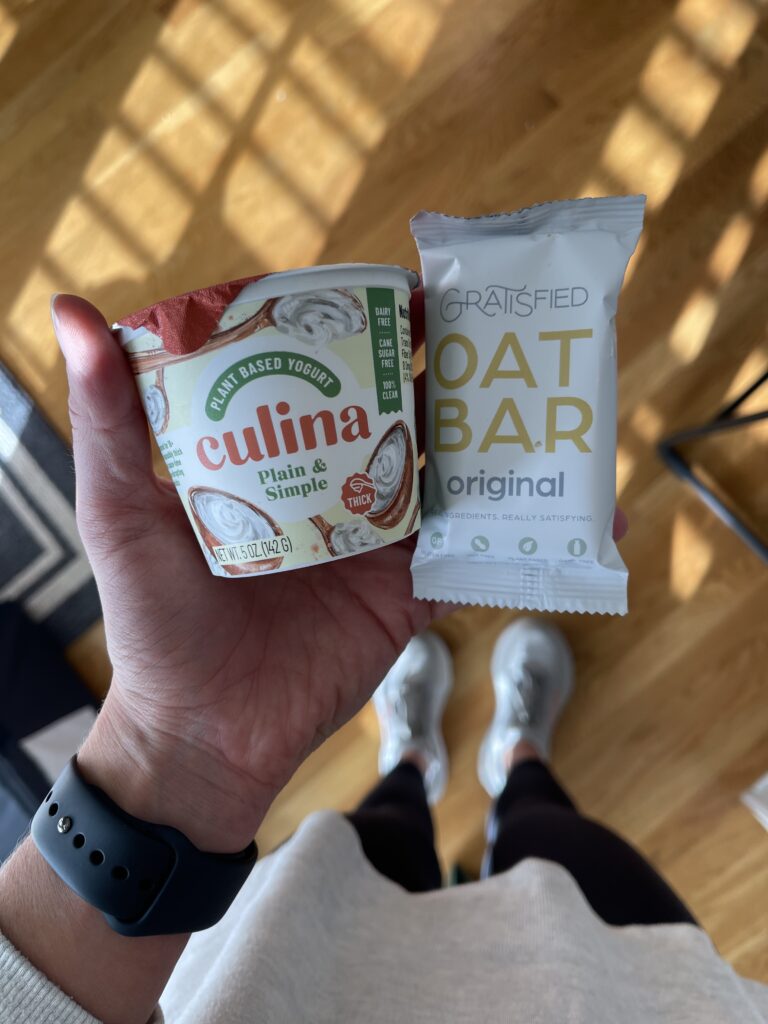 It was a great trip! I have included some Healthified resources for Asheville below. It is an easy place to sprinkle in some wellness while away!
Resources
Healthy Restaurants
Yoga
Coffee Shops
Double D's Coffee {a double-decker bus!}
Hiking Trails
Miscellaneous Wellness