When I initially dreamed up the idea for this cherry smoothie, it had nothing to do with "after exercise" or "workout recovery." In fact, I had just read Alisa Vitti's book In the Flo, and being in my follicular phase, cherries fall in the fruit category. If you are a woman and you have not read this book (or her other book Woman Code), I highly recommend it! I will admit, whenever I learn something new in the world of wellness, I tend to get attached. If I find the information highly applicable to my life, I go all in, experimenting to see if what the author is trying to encourage will work for me. Sometimes this strategy serves me, sometimes it doesn't, but the information in Vitti's book simply makes so much sense. It even left me wondering why this information wasn't taught to me sooner? Like a lot of things, it is another example of why it is important to take your health into your own hands. But I digress.
Thankfully, I had a bag of frozen cherries in my freezer, and then I thought of the tart cherry juice still sitting in my pantry from a previous Purium cleanse. And because I am a nerd about nutritional science, I dug into some research studies about the fruit's many benefits. One study shows consuming cherries or cherry juice after exercise can prevent or reduce inflammation related to muscle damage. Furthermore, cherries have also shown to expedite post-workout recovery. Not only that, but if exhaustive exercise negatively interferes with stress levels and sleep, cherries can help with that too. I had just gone to a hot power yoga class before drinking it, so I was happy to be providing my body with these extra benefits.
But the benefits don't stop there. I stumbled on multiple articles praising cherry, cherry juice, and cherry extract for their ability to fight inflammation, calm oxidative stress, improve sleep, and prevent disease. All of these advantages can be largely attributed to cherries' high levels of antioxidants, polyphenols, and Vitamin C.
You can reap the benefits whether you are enjoying cherries in the whole fruit form, or drinking pure cherry juice. Find both in the smoothie recipe below! Don't have tart cherry juice? Leave it out and you will still walk away healthier. This smoothie also contains healthy fat, fiber, and protein for optimal blood sugar balance.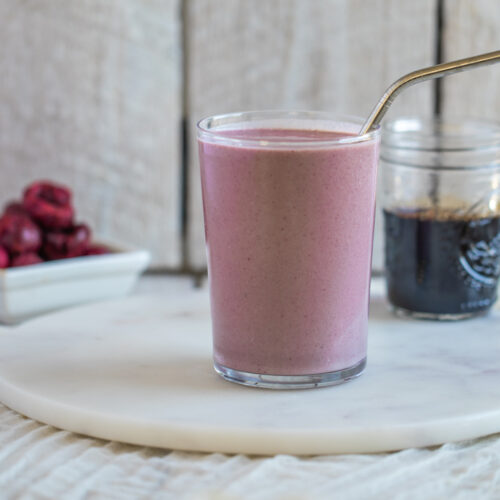 Post-Workout Cherry Smoothie
Drink this smoothie post-workout to reap the recovery benefits of cherries. Both frozen dark sweet cherries and tart cherry juice are complemented with vanilla protein and peanut butter for the perfect meal or snack after exercise.
Ingredients
1.5 – 2

cups

almond milk

or dairy-free milk of choice

1

teaspoon

tart cherry juice

optional

1/2

cup

frozen dark sweet cherries

1/2

frozen banana

1

cup

frozen cauliflower or cauliflower rice

1

scoop

vanilla protein powder

I used Truvani

1

tablespoon

all-natural peanut butter

1

tablespoon

psyllium husk, chia seeds, or ground flax

1

teaspoon

maca powder

optional
Instructions
Place all ingredients in a high-speed blender and blend until smooth and creamy, about 1 to 2 minutes. Pour into a glass and serve.