When I was little, my favorite dish at any eating establishment that had them was chicken fingers and fries. When it comes to nutrition and health, sometimes food nostalgia kicks in, and you just want to eat something that reminds you of childhood. This is where "healthifying" childhood favorites comes in to play! By upgrading ingredients, you can make most recipes more nutritious.
I love baking with cassava flour for this reason, so when it came time to choose the "breading" for this recipe, it was what I turned to. Cassava is a root vegetable native to South America, so it's naturally grain-free, and therefore a wonderful option for those who need nut-free as well. In the paleo world especially, you will find a lot of almond flour, so I decided to do something different. Seven simple ingredients and an oh-so-easy cooking process results in a dinner that will come together in less than 30 minutes. It's an entree your kids (and your inner child!) will love, and is sure to be on your weekly recipe rotation. Pair with Primal Kitchen ketchup, or make your own aioli with paleo mayo and mustard. Enjoy sweet potato fries or a leafy green salad on the side.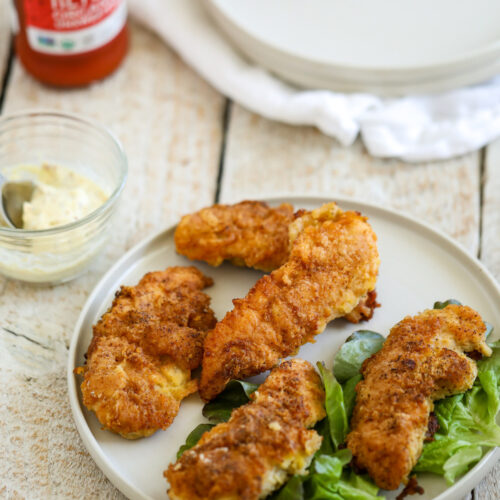 Grain-Free Chicken Tenders
Ingredients
1

lb

organic chicken breast tenderloins

1

egg

beaten

1/3

cup

cassava flour

1/2

teaspoon

garlic powder

1/2

teaspoon

onion powder

1/2

teaspoon

paprika

1/4

teaspoon

sea salt

avocado oil or olive oil for cooking
Instructions
Heat oil a large skillet over medium-high heat. Make sure the oil completely coats the bottom of the pan.

Add the beaten egg to a small bowl. In a separate medium bowl, combine the cassava flour, garlic powder, onion powder, paprika, and sea salt. Stir to blend.

One-by-one, drench chicken tenders in the egg wash and coat in the cassava mixture. Transfer to the pan.

When all tenders are coated and in the pan, cook 8 minutes. Flip and cook 6 more minutes, or until browned on the outside and internal temperature has reached 165 degrees. Transfer to plates to serve.
You Might Also Like: