This recipe has to be one of my favorite and most flavorful side dishes! Using nutritional yeast and chickpea miso provides a unique umami.
Nutritional yeast: an inactive yeast that stems from sugarcane and beet molasses. Interestingly, it provides a similar "umami" to cheese, providing a unique flavor and mouthfeel.
Chickpea miso: a soy-free miso that uses chickpeas as its base. It is a traditional asian condiment that is fermented, also making it a gut-friendly food. I recommend this brand.
Both of these ingredients are great to have on hand for savory dishes!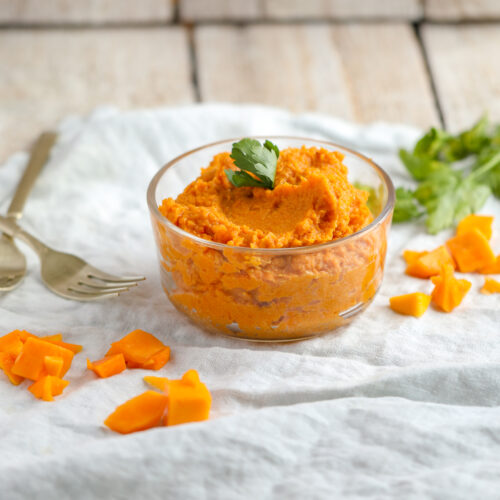 Flavorful Butternut Mash
Nutritional yeast and chickpea miso make this butternut mash an extra flavorful side dish. Pair with a protein of choice and a leafy green salad you have yourself a nutritious and colorful meal!
Equipment
Immersion blender, potato masher, or food processor
Ingredients
3-4

cups

butternut squash

cut into 1-inch cubes

1/4

cup

nutritional yeast

2

tablespoons

chickpea miso

2

teaspoons

dijon mustard

1/2

teaspoon

garlic powder

1/2

teaspoon

onion powder

1/2

teaspoon

sea salt

plus more to taste

black pepper to taste
Instructions
Preheat the oven to 400 degrees. Line a baking sheet with parchment paper. Spread cubed squash evenly on the baking sheet and roast 25 to 30 minutes or until fork tender.

In a large mixing bowl*, combine the roasted squash, nutritional yeast, chickpea miso, dijon mustard, garlic powder, onion powder, sea salt, and black pepper. Blend or mash until all ingredients are combined and consistency is mostly creamy (there might still be some squash chunks). Give everything a good stir with a spatula or wooden spoon. Serve warm.
Notes
*You can also make the mash in a food processor scraping down the sides as you need to until consistency is reached. 
You Might Also Like: