Don't get me wrong, I love traditional chilis with beans, but if they cause you bloat, this is a great option. Feel free to add a can of your favorite kind to the crockpot (I suggest red kidney beans) or make this recipe as is. I made this on a Friday afternoon, and after throwing everything into the crockpot, it was so nice to be able to walk away and have a ready-to-eat meal by dinner time, with leftovers throughout the weekend. And if you're like me, a piece of cornbread is a necessary side, so find my favorite gluten-free vegan recipe below as well!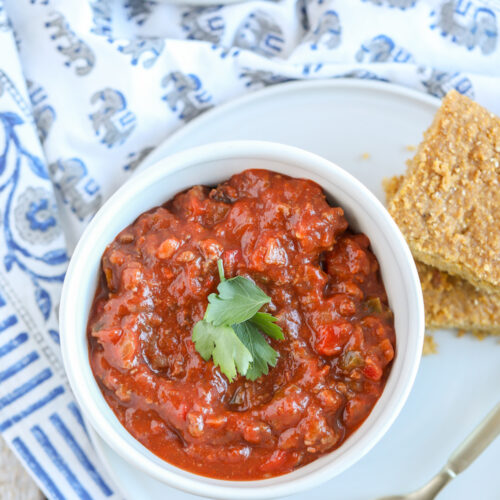 Beanless Chili
This is definitely my go-to chili recipe! Just as delicious and comforting as traditional chili, yet without the beans (i.e. bloat!). Hearty, flavorful, nutritious. You can make it in the crockpot or large pot if you don't have one. Pair with a side of gluten-free vegan cornbread to round out the meal.
Equipment
Large skillet

Crockpot or large pot
Ingredients
Olive oil or avocado oil for cooking

1 1/2

pounds

grass-fed ground beef or bison

2

cloves garlic

minced

2

bell peppers

diced

1

white onion

diced

1

28-ounce

can of organic crushed tomatoes

1

tablespoon

tomato paste

optional

1 1/2

tablespoons

chili powder

1

teaspoon

cumin

1/2

teaspoon

oregano

1/2

teaspoon

sea salt

plus more to taste
Instructions
Heat cooking oil in a large skillet over medium high heat. Add grass-fed beef or bison and minced garlic. Cook 5 to 7 minutes or until browned.

To the same skillet, add the onion and bell pepper and a dash of sea salt, stirring to combine. Cook 5 to 7 more minutes or until onions are translucent and bell peppers are soft. Transfer everything to the crockpot.

To the crockpot, also add the crushed tomatoes, tomato paste if using, chili powder, cumin, oregano, and sea salt. Set crockpot to high for 4 hours or low for 8 hours*. Serve when ready and enjoy!
Notes
*If you don't have a crockpot, you can make everything in a large soup pot or Dutch oven. Once you add the crushed tomatoes and spices, bring everything to a boil, stirring frequently. Reduce heat to a simmer and cook 30 minutes. Serve and enjoy!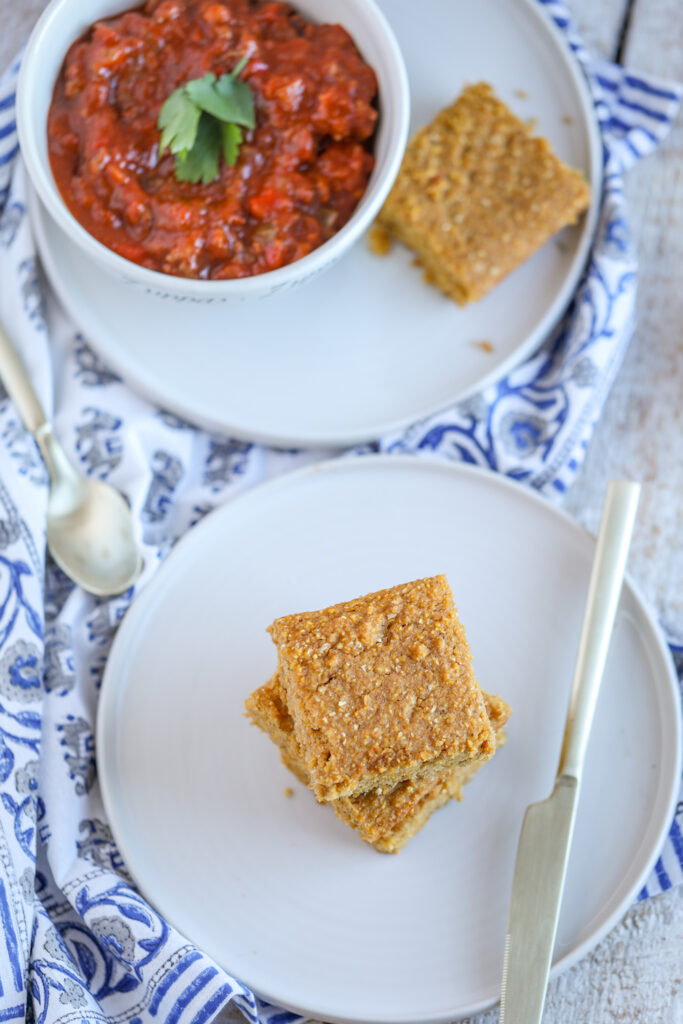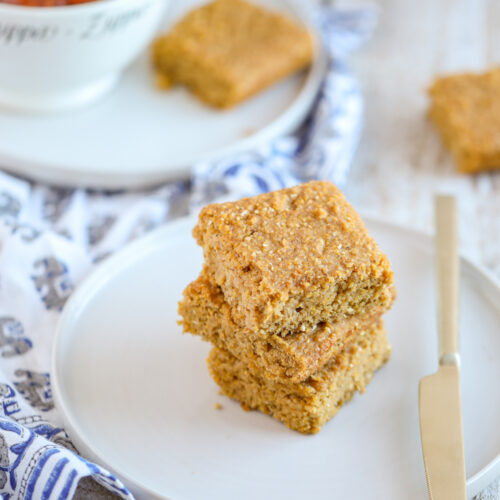 Gluten-Free Vegan Cornbread
Cornmeal and almond flour make the base of this cornbread with coconut sugar for sweetness. If you like your cornbread on the sweeter side, this recipe is for you! Pairs perfectly with the beanless chili, or any winter soup or stew. It can also be served as an appetizer for any southern-style meal. Eat plain or with a pat of vegan butter.
Equipment
8×8 baking dish

small bowl

medium bowl

large bowl
Ingredients
2

flax eggs

2 tablespoons ground flax plus 4 tablespoons of water

3/4

cup

dairy-free milk of choice

1

teaspoon

apple cider vinegar

1

cup

cornmeal

1

cup

almond flour

1/3

cup

coconut sugar

1 1/2

teaspoons

baking powder

1/2

teaspoon

baking soda

1/4

teaspoon

sea salt

2

tablespoons

coconut nectar or maple syrup
Instructions
Preheat the oven to 350°F. Line an 8-by-8-inch baking dish with parchment paper.

In a small bowl, prepare the flax eggs by whisking together the ground flax and water. Set aside for at least 10 minutes.

In a separate medium bowl, combine the coconut milk and vinegar. Whisk and set aside.

In a large bowl or stand mixer, mix the cornmeal, almond flour, coconut sugar, baking powder, baking soda, and salt. Stir to combine.

To the bowl with the coconut milk and vinegar, add the flax eggs, and coconut nectar or maple syrup. Whisk until creamy.

Pour the wet ingredients into the bowl with the flour mixture and beat until a batter is formed. Transfer the batter to the baking dish.

Bake for 27 to 30 minutes or until golden brown and toothpick inserted in its center comes out clean. Allow the cornbread to completely cool in the baking dish for at least 1 hour.
Notes
Storage:

Cover with aluminum foil and store at room temperature for up to 3 days or in the refrigerator for 5 days.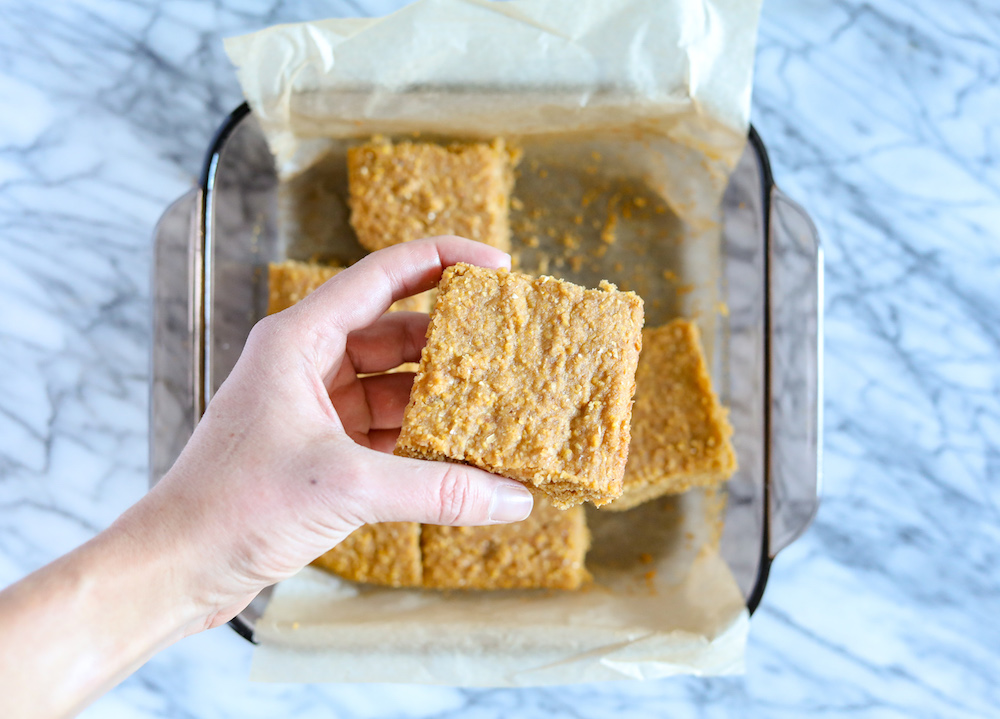 You Might Also Like: