We love celebrating holidays around here. Any holiday is a good excuse to make a Healthified dessert in our opinion. So with St. Patrick's Day right around the corner, we came up with a festive plant-based cheesecake to help you celebrate too. No food dye needed! The use of the superfood spirulina gives the recipe its green hue.
What is spirulina? It is blue-green algae that comes with a host of nutritional benefits. Not only is it a great source of plant-based protein, but it is full of essential vitamins and minerals necessary for good health: copper, iron, magnesium, manganese, potassium, calcium, and zinc (to name a few!). Spirulina is also known as an antimicrobial agent, immune booster, and energy enhancer.
This recipe also incorporates Almond Butter Bars as its crust, which not only makes it super easy, but blood sugar balancing, allowing you to eat it for breakfast or dessert (we do both!).
Healthified St. Patrick's Day No-Bake Plant-Based Cheesecake
Grain-free, gluten-free, dairy-free, soy-free, refined sugar free
Ingredients:
For the crust:
For the cheesecake filling
1½ cups raw cashews, soaked in water 4-6 hours

1 ripe avocado

¼ cup coconut nectar or maple syrup

¼ cup coconut cream (from one 5.4oz can)

1 tablespoon coconut oil

1 teaspoon vanilla extract

⅛ teaspoon sea salt

1 teaspoon spirulina powder
Directions:
Spray a 6-inch spring form pan with cooking spray.
Make the crust. Break Almond Butter Bars into pieces and place them in a food processor. Blend until the consistency of course sand. Add the coconut oil and process again. Mixture should hold together when  you squeeze it. Press the crust mixture into the bottom of the pan until even and compact. Place in the refrigerator until ready to use. 
Make the filling. In a high-speed blender, combine the soaked cashews, avocado, coconut nectar or maple syrup, coconut cream, coconut oil, vanilla extract, and sea salt. Blend until thick and creamy, using the tamper as you need to get everything going. Once a smoother consistency, add the spirulina powder and blend again until completely creamy and everything is blended together. Transfer the filling mixture into the pan with the crust. Refrigerate for at least 8 hours (or ideally overnight) to set.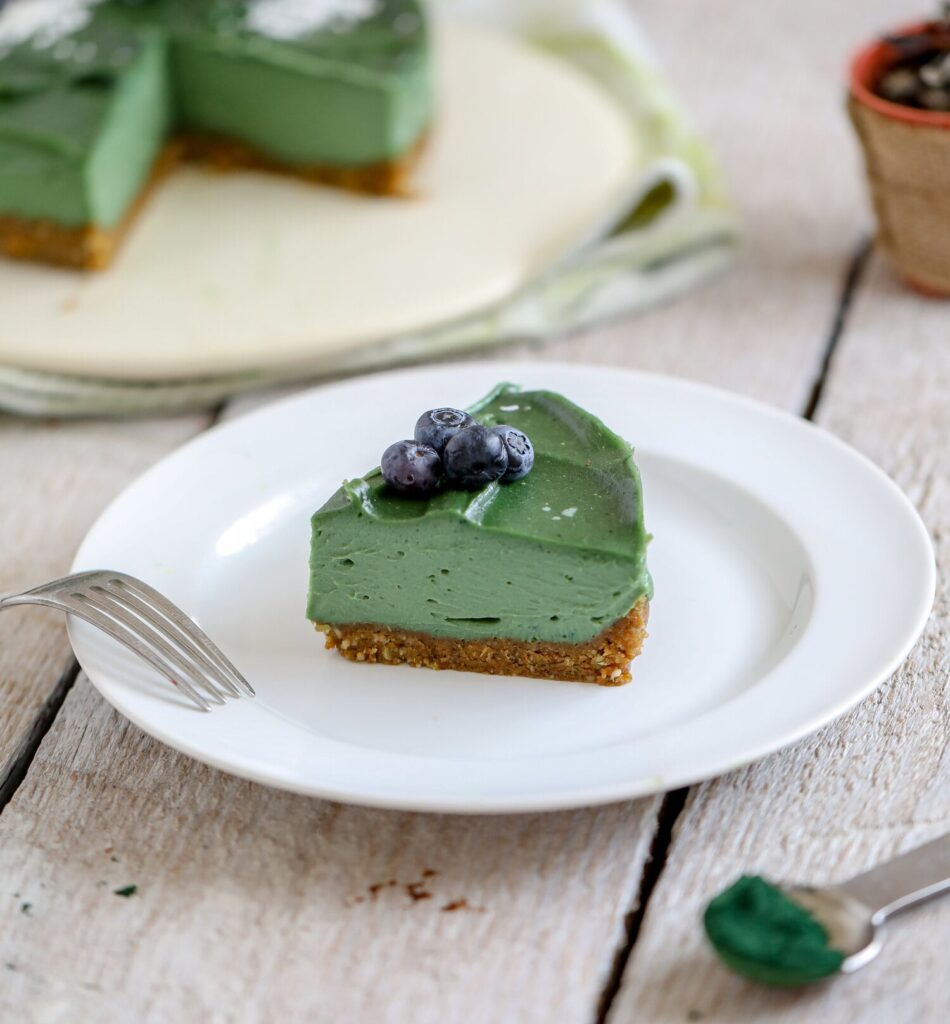 You Might Also Like: