It's that time of year, and you might not need another pumpkin muffin recipe. There are a lot of them out there. Even though I have a few that I have created myself (both in my cookbook, and from memory), I am even more curious these days about how stuff works, pumpkin muffins included. What I mean is that I really want to make a taller gluten-free and vegan pumpkin muffin. When you make a muffin free of gluten, dairy, and eggs, you might not get that muffin shape we all know and love. After last week's experiment, I am getting closer.
You can learn so much more about leavening agents and acidity in this post, but for right now, here are the basics of this single experiment:
Variables: the amount of baking powder (double-acting, aluminum free) and baking soda used; whether the muffins are baked immediately, after the batter has rested, or after chilling the batter overnight.
Constant: DIY homemade "buttermilk" (full-fat coconut milk + 1 teaspoon of white vinegar)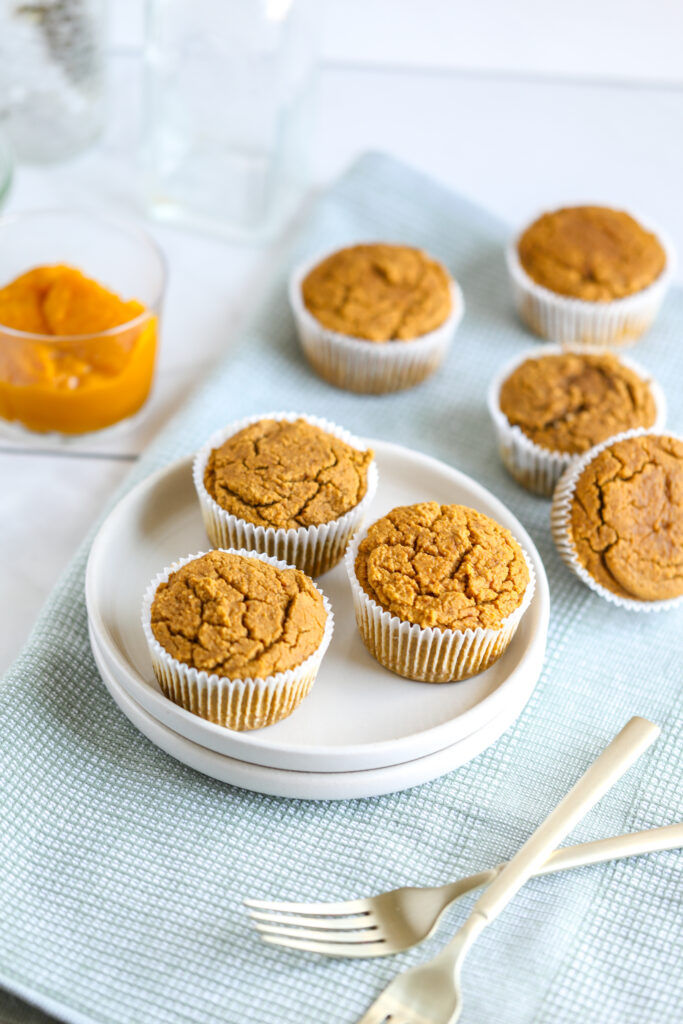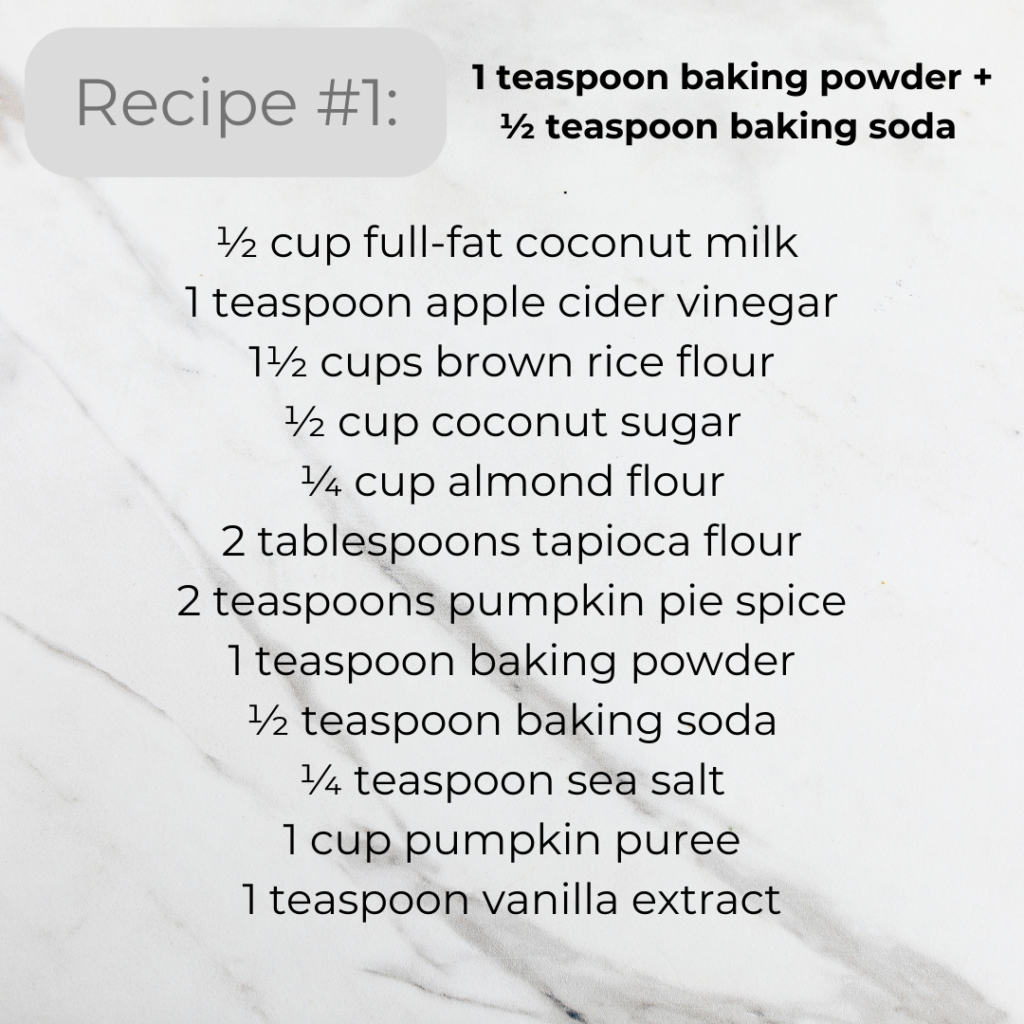 Method
Bake both recipes immediately.
Bake both recipes after letting the batter rest at room temperature for 30 minutes.
Bake both recipes after letting the batter rest at room temperature for 1 hour.
Bake both recipes after letting the batter chill in the refrigerator overnight (24 hours).
Observations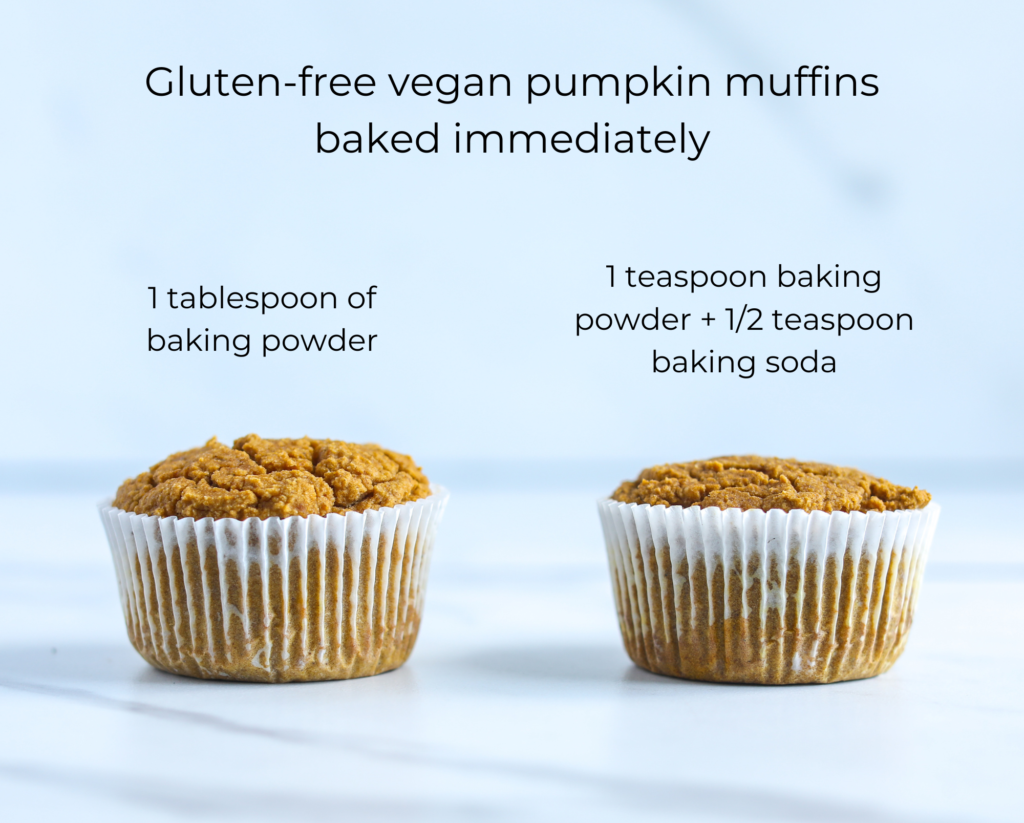 Rise, size, and shape: Before I talk about the rise, size, and shape of these muffins across the various categories, I think it is important to first discuss the baking powder in more detail.
As I mentioned above, I use a double-acting, aluminum free baking powder. Some baking powders are not double-acting, and some do contain aluminum, so you want to clarify what you have on hand. If you have yet to buy baking powder, I would get both a double-acting and aluminum-free brand (Bob's Red Mill or Argo). Avid bakers out there would suggest you use a baking powder with aluminum (such as Clabber Girl), as it better reacts with the heat and leads to more rise. But when I put on my health coaching hat, I can't in good conscious encourage you to consume aluminum. It's a heavy metal. Enough said. Just make sure your baking powder denotes double-acting and you should be good to go.
I have used both Rumford and Bob's Red Mill baking powder. According to a disclaimer on Rumford's baking powder website:
Double acting baking powder means that the baking powder reacts twice: 70% once in the mixing bowl and 30% in the oven.
This means that as soon as heat is applied, the leavening agent takes effect. When using aluminum-free, baking the batter immediately will yield the most rise. Waiting too long, or chilling the batter overnight will lessen the properties of the baking powder. You can see in the photos above that the muffins with the most rise are the baking powder only and when either baked right away, or after 30 minutes. The rise in the hour rested and overnight batters show a decrease in rise. I think because these muffins are gluten-free, and resting the batter helps with rise of gluten-free baked goods, the 30 minutes actually supports shape and rise, rather than the other way around. When considering rise alone, I would choose the baking powder only recipe (recipe #2) and either bake this recipe immediately, or let the batter rest 20 to 30 minutes. I would not chill the batter overnight, as their is not much rise in either muffin. Baking soda loses it's leavening properties the longer it rests or when chilled in the fridge for too long. Again, 20 to 30 minutes looks like it would be sweet spot for recipe #1 as well.
Another interesting thing I noticed was that the longer the batter rested, the smoother the top of the muffin. While this makes sense from a a pure height perspective (the taller the rise, the more cracks at the top), this matters only for muffin vanity. People like to have their muffins have that smooth, dome shape on top. Without gluten present to offer elasticity, or eggs to bind, the consistency will be different. If you plan on frosting or glazing the top of the muffins, it shouldn't really matter at all. Do with this information what you will. Just some food for thought!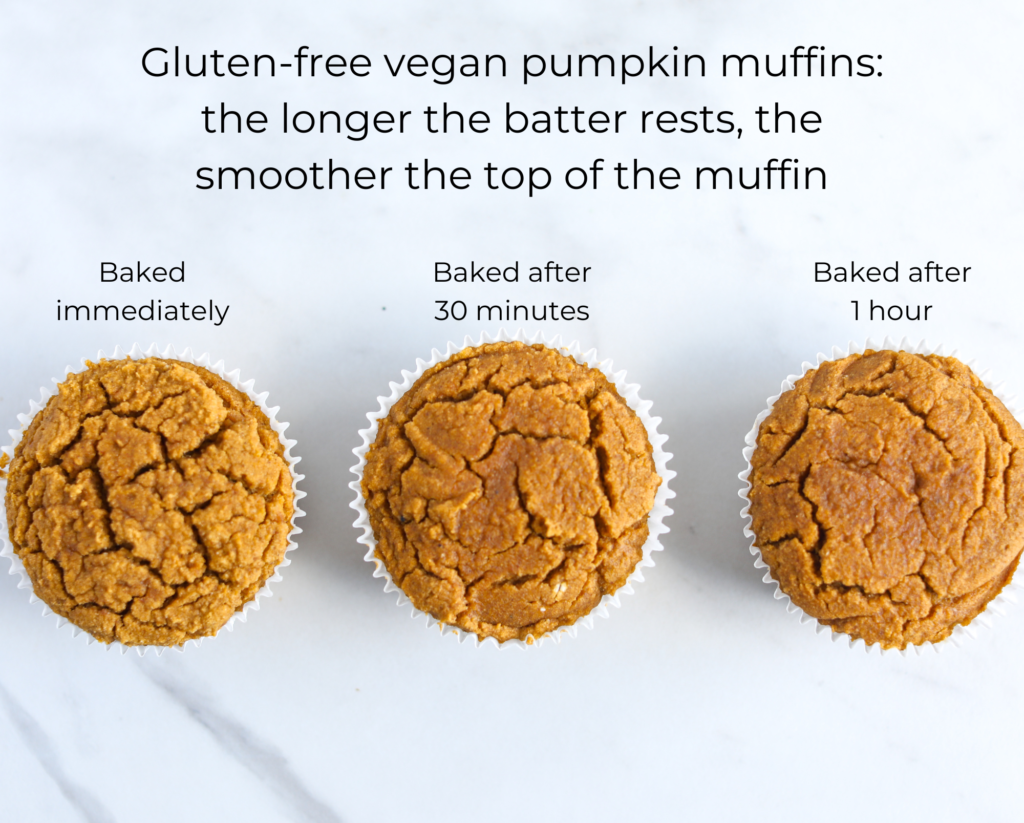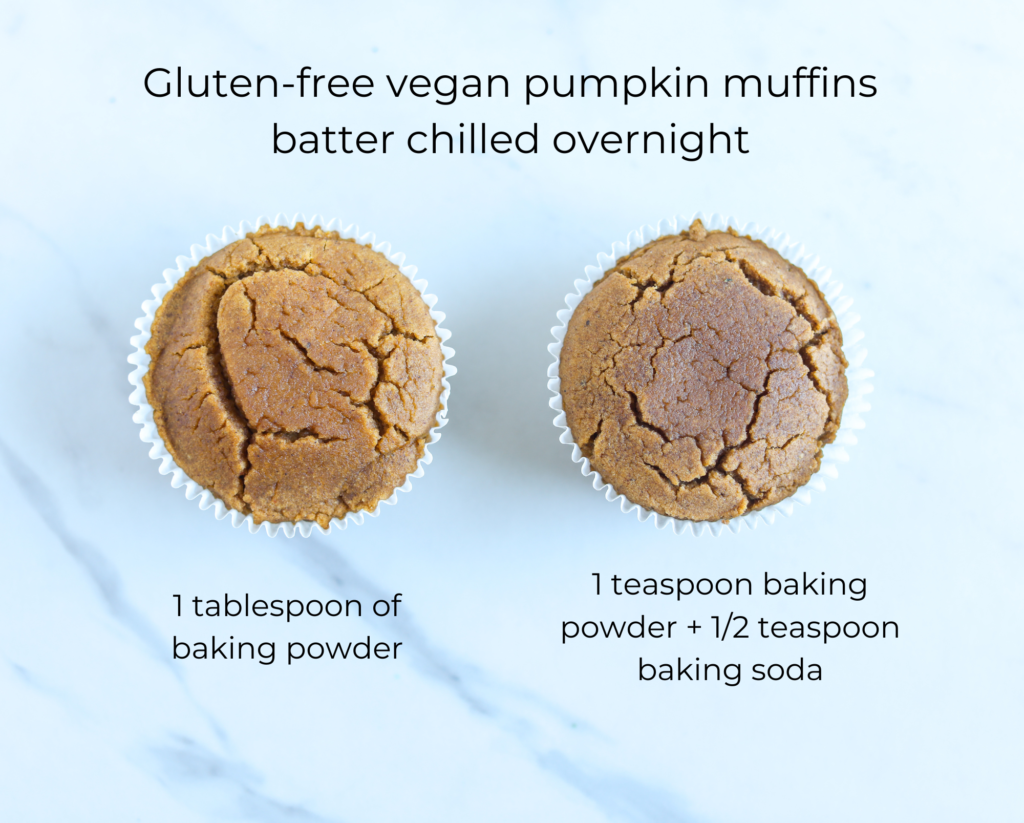 Taste and texture. With the absence of egg and gluten in these muffins, taste and texture will be different from traditional pumpkin muffins. There lacks that airy lightness you might get from taking a bite, without the familiar muffin mouthfeel of sinking your teeth into a moist, bakery-style muffin. Without the richness of egg yolks, and lift that eggs provide in general, you would likely describe a gluten-free vegan muffin as being more dense, but that doesn't mean it can't taste good. Quite the opposite. And if you are like your baked goods to taste on the healthier side, or are open to training your tastebuds to prefer Healthified baked goods, you are in luck.
The biggest difference I notice between the two recipes is the flavor forwardness. What I mean is how much the pumpkin spice shines through. It is more apparent in recipe #1 (1 teaspoon of baking powder + 1/2 teaspoon of baking soda). Recipe #2 is a touch less flavorful and more fluffy. The more leavening agent, the more air bubbles, which creates less density and a spreading of flavor so to speak. Interestingly, the flavor comes through more in the muffins when the batter is chilled overnight, probably because this method decreases the effects of the leavening agent in both recipes. Additionally, both recipes are not overly sweet, which I like. I only used granulated coconut sugar in these muffins; to increase the sweetness I would probably incorporate maple syrup as well. Stay tuned!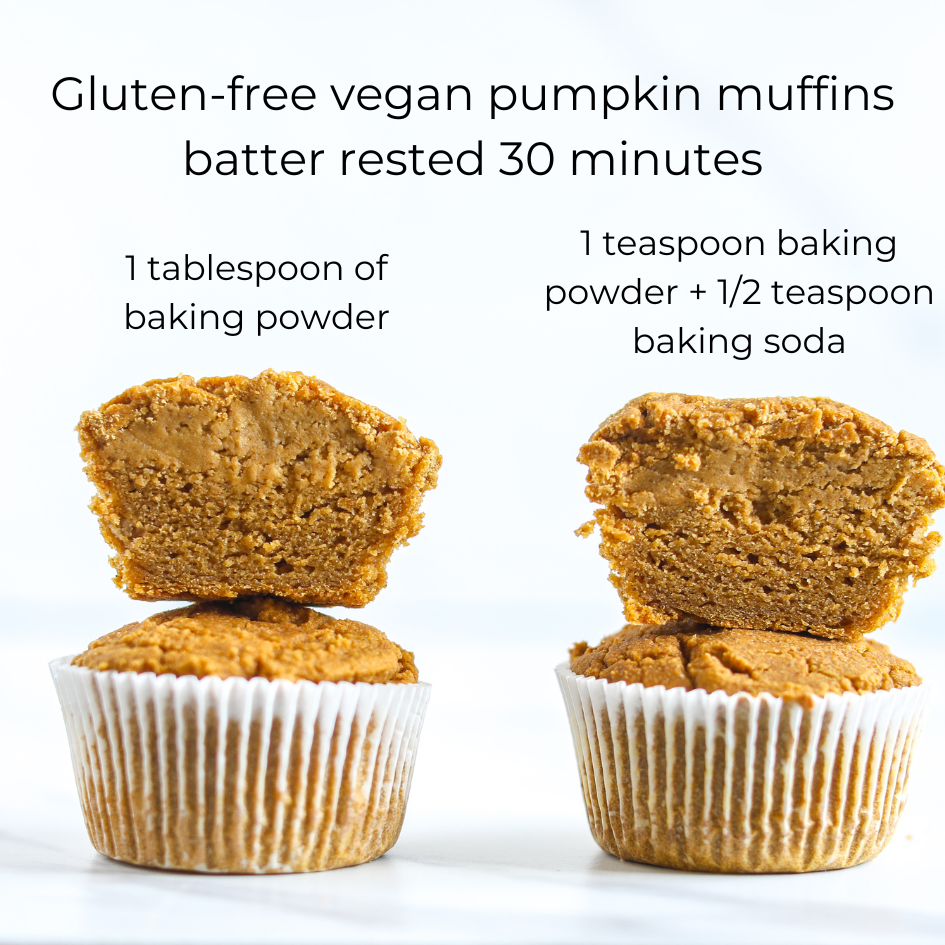 Conclusion
All of this being said, which recipe, and with which method do I believe turned out best? Between the two, I would choose recipe #1 (1 teaspoon of baking powder + 1/2 teaspoon of baking soda) and let the batter rest 20 to 30 minutes. You still get some rise and shape and the most flavor across any of the other categories. There is still a lot of fall left to play around with other iterations of gluten-free vegan pumpkin muffins, but if you want an easy, nutritious and still delicious recipe, this is the one to go with!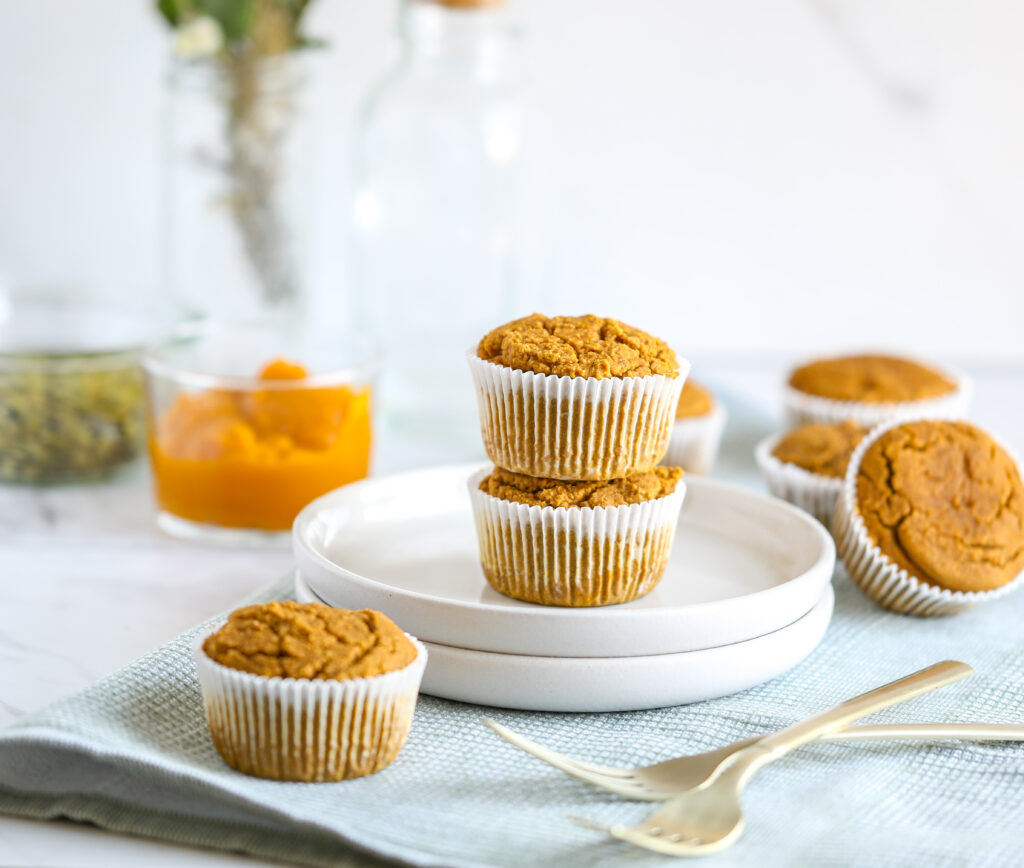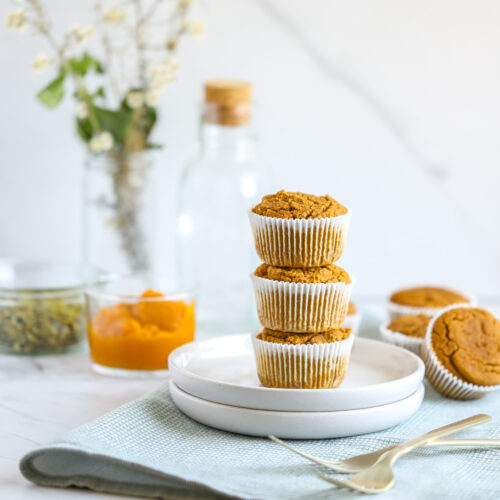 Simple Gluten-Free Vegan Pumpkin Muffins
Simple and not overly sweet with everyone's fall favorite spice shining through in every bite. These pumpkin muffins are a comforting and nutritious breakfast or snack. Gluten-free and vegan.
Equipment
Mixing bowls

Whisk and spatula
Ingredients
½

cup

full-fat coconut milk or unsweetened almond milk

1

teaspoon

apple cider vinegar

1 1/2

cups

brown rice flour

½

cup

coconut sugar

1/4

cup

almond flour

2

tablespoons

tapioca flour

2

teaspoons

pumpkin pie spice

see note

1

teaspoon

baking powder

½

teaspoon

baking soda

¼

teaspoon

sea salt

1

cup

pumpkin puree

1

teaspoon

vanilla extract
Instructions
Preheat the oven to 350°F. Line a muffin tin with muffin liners.

In a medium bowl, combine the coconut milk and vinegar. Whisk and set aside for 10 minutes.

In a separate large mixing bowl, add the brown rice flour, coconut sugar, almond flour, tapioca flour, pumpkin pie spice, baking powder, baking soda, and salt. Stir to blend.

To the mixing bowl with the coconut milk and vinegar, add the pumpkin puree, and vanilla. Whisk until creamy.

Pour the wet ingredients into the flour mixture, and using a large spatula or hand beater, stir or beat until a batter is formed. Let the batter rest for 20 to 30 minutes at room temperature. Then, spoon the batter into the muffin liners, filling each one to the top.

Bake for 22 to 25 minutes or until the tops are golden brown and a toothpick inserted in the center comes out clean. Allow the muffins to slightly cool, about 5 minutes, before transferring them to a wire rack to cool completely, about 30 minutes to 1 hour.
Notes
If you don't have pumpkin pie spice, use

1 teaspoon ground cinnamon, ¼ teaspoon ground allspice, ¼ teaspoon ground cloves
Summary