'Tis the season for baking! Nutrition goals shouldn't stand in the way of you enjoying an occasional cookie or two. There is a way to upgrade ingredients!
Peanut Butter Blossoms always remind me of this time of year, and with a few simple swaps, this recipe is grain-free and more blood sugar balancing. There is even a way to make your own Healthified chocolate "kiss" with this silicone mold, but feel free to use the real deal, or substitute with a piece of high-quality dark chocolate.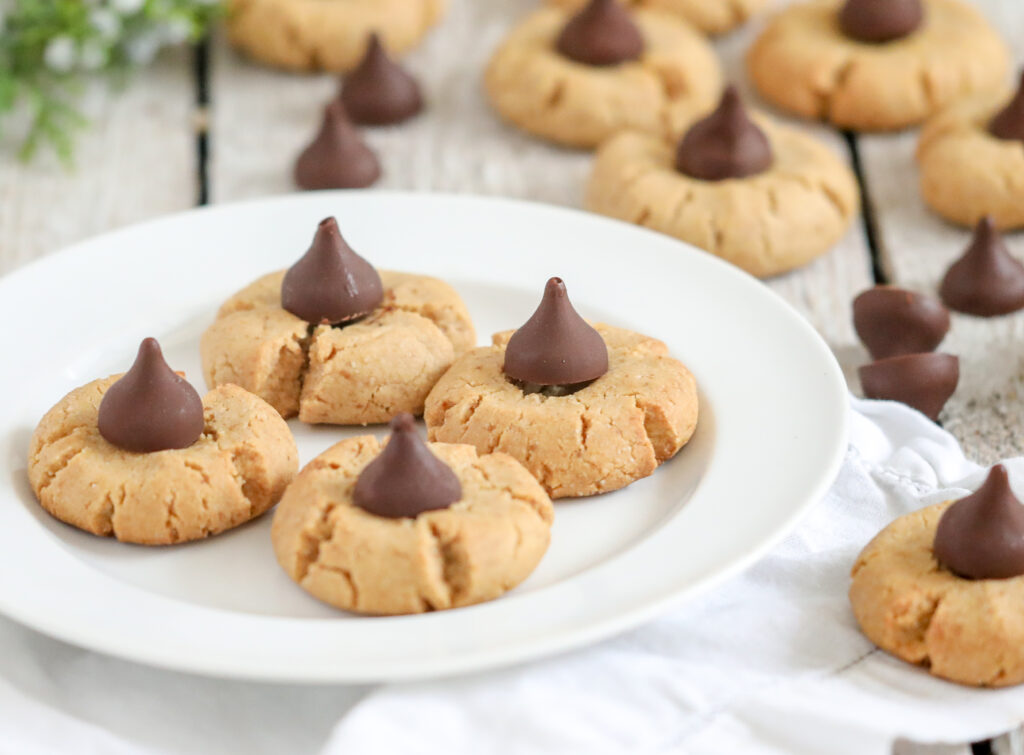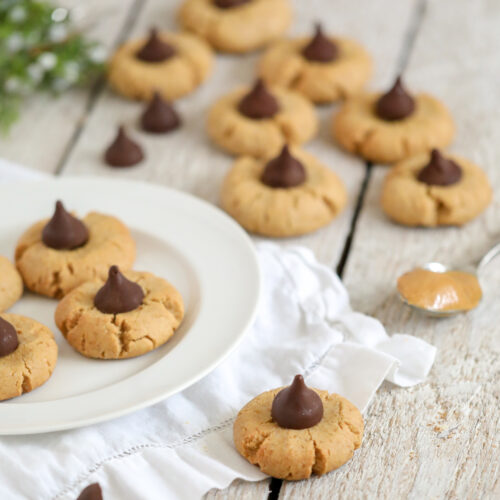 Grain-Free Peanut Butter Blossoms
Tap into your holiday nostalgia with this upgraded version of the beloved peanut butter blossoms. Grain-free, vegan, and more blood sugar balancing with an option to make your own Healthified chocolate kiss!
Equipment
Chocolate kiss silicone mold (optional)
Ingredients
For the chocolate kiss
1

cup

dairy-free chocolate chips or chopped dark chocolate

2

tablespoons

coconut oil
For the cookies
2

cups

almond flour

2

tablespoons

coconut flour

2

tablespoons

coconut sugar

1/2

teaspoon

baking soda

1/4

teaspoon

sea salt

1/3

cup

maple syrup or coconut nectar

1/4

cup

coconut oil

softened to room temperature

1/4

cup

creamy peanut butter

1

teaspoon

vanilla extract
Instructions
Make the chocolate kisses. In a small saucepan over medium-low heat, combine the chopped dark chocolate and 1 tablespoon of coconut oil. Stir frequently until melted, about 5 minutes, making sure to keep an eye out so the chocolate mixture does not burn. Pour the mixture into a silicone "kiss" mold. Place in the freezer for at least 1 hour to set.

Make the cookies. In a medium bowl, stir together the almond flour, coconut flour, coconut sugar, baking soda, and sea salt. Set aside.In a large bowl using a hand-mixer or a stand mixer, cream together the peanut butter, coconut oil, maple syrup or coconut nectar, and vanilla extract until smooth. Add in the dry ingredients and beat again until a sticky dough is formed. Chill the dough in the refrigerator for at least 15 minutes.

Meanwhile, preheat the oven to 350°F. Line two baking sheets with parchment paper. Gather about 1½ to 2 tablespoons of the dough and use your hands to roll the dough into a ball. Slightly flatten to form cookies, and using your thumb or a small spoon, make a shallow well in the center of the cookies. Place the cookies on the baking sheets, spacing them about 2 inches apart. Bake for 10 to 12 minutes until cookies are starting to firm and turn golden brown. If needed, carefully press into the well in the center where the chocolate kisses will be placed.

Allow the cookies to slightly cool on the baking sheet for a few minutes, and then place a chocolate kiss in the center. Allow the cookies to continue cooling on the baking sheet, about 10 minutes, before transferring to a wire rack to cool for at least 20 more minutes before serving.
Notes
If you don't have a silicone kiss mold, melt 1 cup dairy-free chocolate chips with 2 tablespoons of coconut oil in a small saucepan over medium heat (about 3 to 5 minutes) . Remove saucepan from heat. Add in 1 to 2 teaspoons of maple syrup, and stir (mixture will thicken) . Spoon chocolate mixture in center of each cookie
You Might Also Like: