Did you know your tastebuds change? As in, if you are someone who craves certain foods (let's call them less nutritious foods) and you want to eat healthier, the more you incorporate whole, real food into your diet, the more your tastebuds adapt to then crave the nutritious foods instead. I thought of that as I was taking a big bite out of one of these oat buckwheat blueberry muffins. I couldn't help but think Oh, I really love these. But the reason I thought that is because they are not overly sweet and taste healthy. Like you are doing something good for yourself by eating one.
Don't let that scare you away. I made them hearty and low sugar for a reason. I have been blessed with the pickiest toddler on the planet, who, when he sees something colorful on his plate, immediately runs away or throws it on the floor. This is coming from someone who has literally written a book called Counting Colors (not yet published). Colorful food is my nutritional philosophy. Thank goodness he loves Gratisfied products and smoothies, but aside from that, he would design his food pyramid around brown, refined carbohydrates, cheddar bunnies and other air snacks.
Baked goods are a great way to hide fruits and and vegetables. He won't touch a blueberry on its own, but he will eat them in muffins. That is a win in my book. I always bake with blood sugar balance in mind, so decreasing the sugar content as much as I can, while still making the end result delicious and satisfying is my M-O. It is also a goal of mine to get more fiber into his diet as well (because we all know cheddar bunnies don't have much), so I wanted to make these with oat flour and buckwheat flour. I love this combination for breakfast baked goods. It's grounding and energizing, which is perfect for a good food in the morning in my opinion.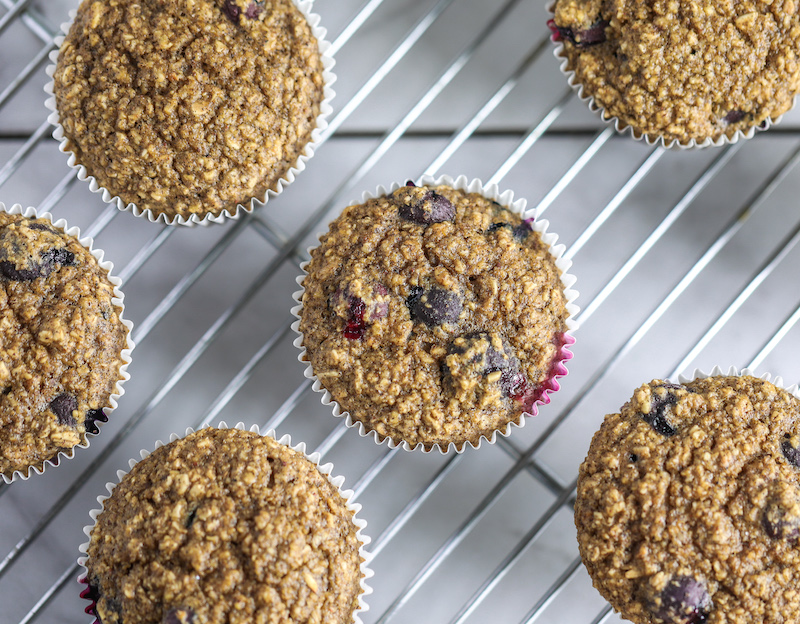 Planning and prep:
There really isn't much you have to think about in terms of planning and prep for this recipe, aside from ensuring you have the ingredients on hand. You can buy oat flour, or I made these by grinding gluten-free rolled oats in my food processor (only because I didn't have any on hand). I feel like because it wasn't a fine flour, it made the muffins more dense, and I prefer them that way. Lastly, I could tell after whipping up the batter that it needed to rest. This is an extra step I learned while writing my gluten-free vegan baking cookbook. Without the the presence of gluten, allowing the batter to rest for 10 to 15 minutes before baking will create a natural "hold" if you will, positively influencing the final result and shape of your baked goods. The batter naturally thickens when it has some time to absorb the moisture before going in the oven.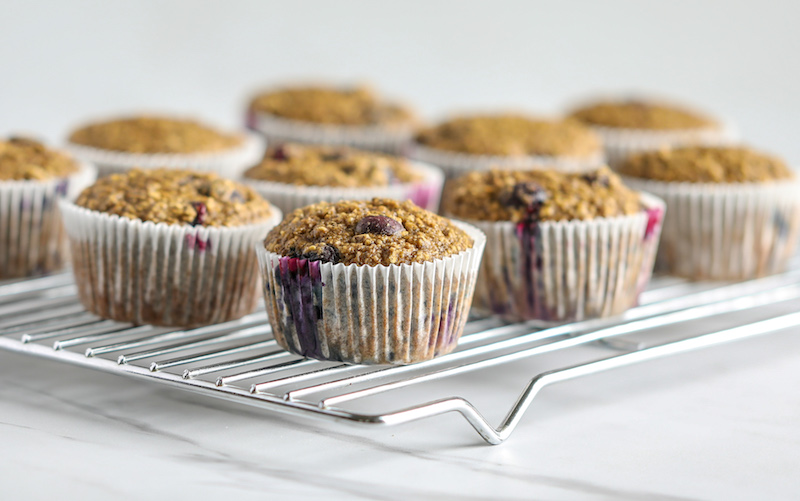 I just ate one of these muffins while writing this post. I paired it with some greek yogurt and drizzled some peanut butter on top. It was delicious! Mason ate one for an afternoon snack yesterday, and his nanny packed one in his lunch for today. Those are some real life examples of when to eat one in case you needed it.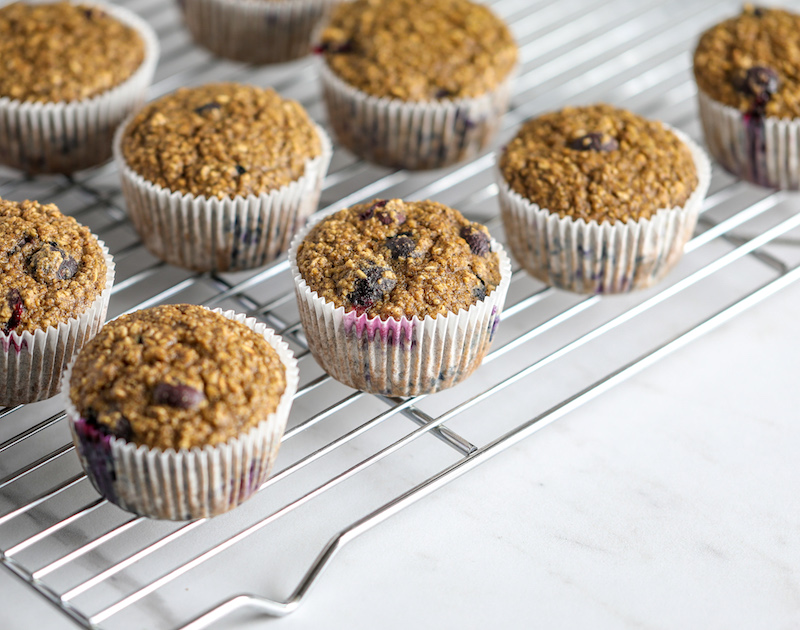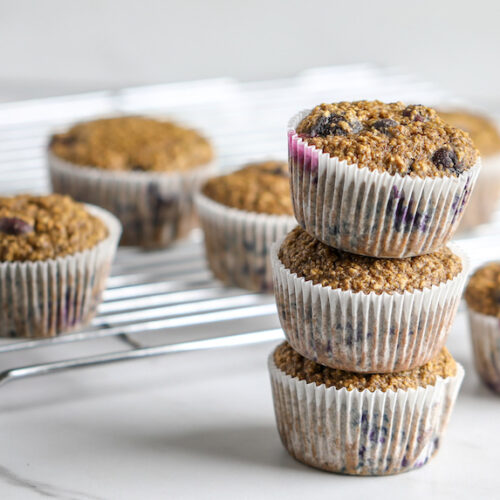 Oat Buckwheat Blueberry Muffins
Meet your new favorite breakfast baked good. Blueberries, buckwheat flour, and oat flour come together to provide you with a nutritious, fiber-filled muffin. Gluten-free and dairy-free.
Equipment
Hand beater or stand mixer or whisk
Ingredients
1/2

cup

unsweetened almond milk

or dairy-free milk of choice

1

teaspoon

apple cider vinegar

1 3/4

cup

oat flour

1/4

cup

buckwheat flour

1

teaspoon

cinnamon

1

teaspoon

baking powder

1/2

teaspoon

baking soda

1/4

teaspoon

sea salt

2

eggs, beaten

1/2

cup

unsweetened applesauce

1/4

cup

maple syrup

1

teaspoon

vanilla extract

1

cup

fresh blueberries
Instructions
Preheat the oven to 350 degrees F. Line a muffin tin with muffin liners.

In a small bowl, whisk together the almond milk and apple cider vinegar. Set aside.

In a large bowl or stand mixer, combine the oat flour, buckwheat flour, cinnamon, baking powder, baking soda, and sea salt. Stir until blended.

In a separate medium bowl, combine the almond milk and vinegar mixture, eggs, applesauce, maple syrup and vanilla extract. Whisk until creamy.

Pour the wet ingredients into the bowl with the flour mixture. Beat until a batter is formed. You can also whisk by hand. Fold in the blueberries, and give the batter a good stir. Allow it to rest for 10 to 15 minutes.

Evenly distribute the batter to the muffin tin, filling each liner about 3/4 of the way to the top. Bake for 20 to 22 minutes until a toothpick inserted comes out clean. Allow the muffins to completely cool in the muffin tin, about 1 hour.