There is this idea about willpower, that it is like a muscle. A limited resource. If used over and over again, it eventually fatigues, and you no longer have the ability to resist temptation. But it takes zero willpower not to choose something that you don't want, or refrain from something that you don't do.
Let's take smoking for example. I am not a smoker, nor would I ever want to be, so when faced with the choice to have a cigarette, it takes zero willpower to say no. Someone who is currently trying to quit smoking would have a much more difficult time. This is also an example of using a simple mindset shift of disassociating the object of temptation from your identity. "I am not a smoker" is more powerful than "I don't smoke." It becomes who you are (or who you are not), and making a choice from that place is more empowering.
What does this all have to do with thin mint cookies? I was recently visiting with someone who had just recently bought multiple boxes of Girl Scout cookies to support a friend's niece. They were sitting in a bag by her kitchen table, and she explained the amount of willpower it took to not eat them the night before. She asked if I knew anyone who would want them, to take them out of her house. I told her I would gladly take them off of her hands, that I won't eat them, and I could probably find someone who would.
Let me insert a disclaimer here – I am not calling Girl Scout cookies "bad," or saying that you shouldn't eat them. For me personally, I love my Healthified sweet treats. My palate prefers them. This means that when I had those Girl Scout cookies sitting on my dining room table for days, I didn't think twice about them. I know that if my sweet tooth strikes, I have my upgraded treats to turn to. Sure, this might be less convenient than buying something at the store, as it mostly entails making something yourself. But think of the time it takes as an investment. I also think it is important to compare the list of ingredients. Here is what is in a traditional Thin Mint:
Ingredients: ENRICHED WHEAT FLOUR (FLOUR, NIACIN, REDUCED IRON, THIAMINE MONONITRATE, RIBOFLAVIN, FOLIC ACID), SUGAR, VEGETABLE OIL SHORTENING (PALM AND PALM KERNEL OILS), COCOA (PROCESSED WITH ALKALI), CARAMEL COLOR, INVERT SUGAR, SALT, BAKING SODA, SOY LECITHIN, NATURAL AND ARTIFICIAL FLAVOR.
You will see the list below is much shorter with everything you would have in your own baking pantry, or at least you would know what it is.
The above experience with the Girl Scout cookies inspired me to create Healthified thin mint cookies! I know these are people's favorite, so I wanted to tackle it first. They are so good, and I know you will love them too!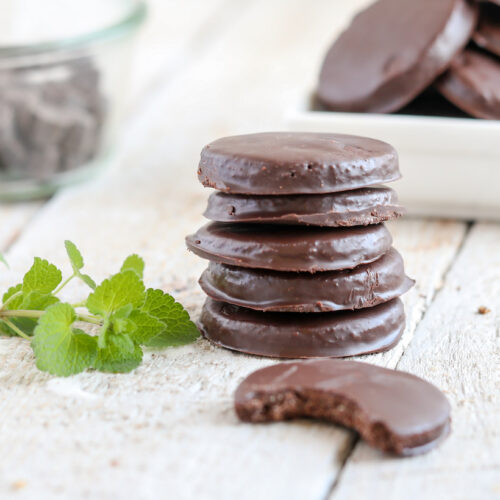 Healthified Thin Mint Cookies
An upgraded version of everyone's favorite girl scout cookie! Grain-free, vegan, lower sugar and with all ingredients you can read and understand.
Equipment
Baking sheets

hand mixer or stand mixer

2-inch cookie cutter

parchment paper

Rolling Pin
Ingredients
For the cookies
1 1/4

cup

almond flour

1/2

cup

unsweetened cocoa powder or raw cacao powder

1/4

cup

coconut sugar

2

tablespoons

tapioca starch or arrowroot starch

1/4

cup

melted coconut oil

1/4

cup

maple syrup or coconut nectar

1 1/2

teaspoons

peppermint extract
For the chocolate coating
1

cup

dairy-free chocolate chips

I used Hu Kitchen gems

2

tablespoons

coconut oil

room temperature

1

teaspoon

peppermint extract
Instructions
In a large bowl or stand mixer, mix the almond flour, cocoa powder or cacao powder, coconut sugar, and starch. Stir until blended, using your fingers or the back of a wooden spoon to break up any clumps as you need to.

In a separate small bowl, whisk together melted coconut oil, maple syrup or coconut nectar, and peppermint extract.

Pour the wet ingredients into the flour mixture and beat until dough is formed. Use your hands to gather the dough into a ball, wrap tightly in plastic wrap, and refrigerate for 30 minutes.

Meanwhile, preheat the oven to 350°F. Line two baking sheets with parchment paper.

Place the ball of dough between two sheets of parchment paper. Using a rolling pin, roll the ball of dough until ¼-inch thick. Use a 2-inch cookie cutter to form cookies. Use a greased spatula to carefully place each one on the baking sheets at least an inch apart. Continue to do this until all of the dough is used up.

Bake for 10 to 12 minutes, or until the edges have started to crisp and cookies are slightly firm to the touch. Allow the cookies to cool completely, about 1 hour. Once cooled, place in the refrigerator for 1 hour to chill, or in the freezer for 20 to 30 minutes.

To make the chocolate coating, place the chocolate chips and coconut oil in a small, microwaveable safe bowl. Microwave for about 1 minute or until melted. Add the peppermint extract and whisk vigorously until all ingredients are blended.

One at a time, dip the chilled cookies in the chocolate coating, shaking off the excess. Place each one back on the parchment paper lined baking sheet. Once all cookies have been dipped, place the baking sheet in the refrigerator to set, at least 10 minutes.
Notes
Store cookies in the refrigerator for up to 10 days.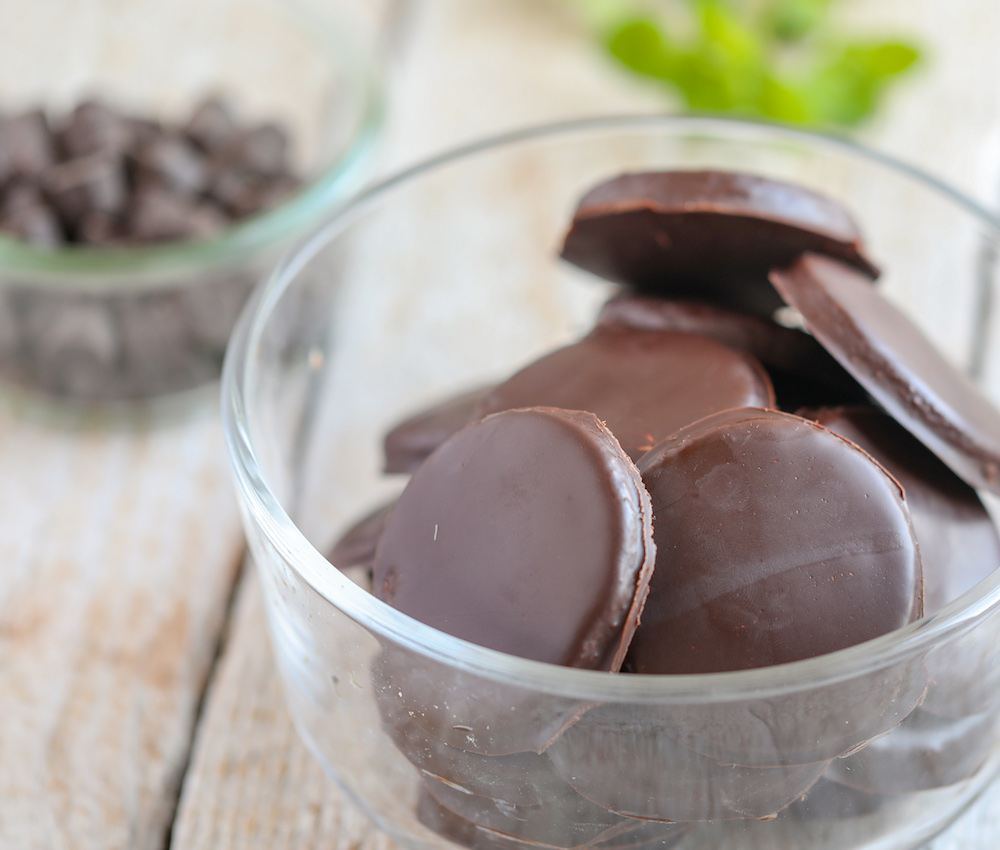 You Might Also Like: