Ferrero Rochers always remind me of the holidays. My best friend's mom displayed a bowl of them every December, and I remember grabbing one each time I walked by. So when it comes to holiday recipes to "healthify," these were on the top of my list. There is something about the nutty taste of hazelnuts and chocolate. And I'm not talking about Nutella, but rather the more nutritious, real foods way of enjoying the flavor combination. These truffles are a testament to that!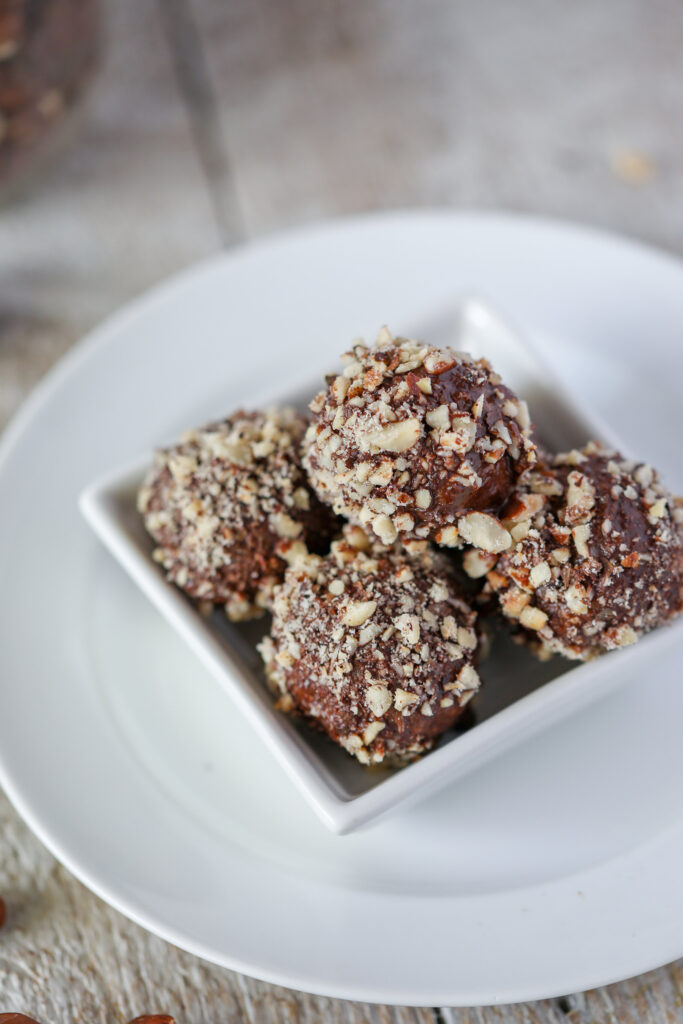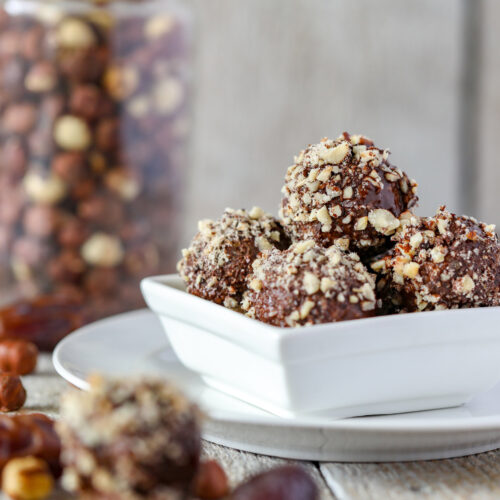 Hazelnut Chocolate Truffles
Real hazelnuts, juicy dates, and chopped dark chocolate come together in this healthified truffle recipe. A more nutritious, real foods way to enjoy the delicious flavor combination.
Ingredients
2 1/2

cups

raw hazelnuts

15

Medjool dates, pitted

4

tablespoons

coconut oil, divided

3/4

cup

chopped dark chocolate or dairy-free chocolate chips
Instructions
Preheat the oven to 350 degrees. Place hazelnuts on a baking sheet lined with parchment paper. Bake 12 minutes until fragrant and slightly golden brown. Remove from the oven to slightly cool, about 15 minutes.

After the nuts have slightly cooled, place 1/2 cup of hazelnuts in food processor until coarsely chopped. Transfer to a shallow dish and set aside. Place the remaining 2 cups of the hazelnuts in the food processor. Grind for about 20 seconds, until the consistency is like that of course sand. Add dates and process again, slowly adding 3 tablespoons of melted coconut oil until sticky dough is formed. Roll dough into bite-sized balls. Do this until all dough is used up, placing back on baking sheet. Refrigerate for at least 1 hour. 

Once the balls have cooled, make the chocolate coating. In a small saucepan over medum-low heat, combine the chopped dark chocolate and 1 tablespoon of coconut oil. Stir frequently until melted, about 5 minutes, making sure to keep an eye out so the chocolate mixture does not burn.

Dip cooled hazelnut/date balls in melted chocolate mixture and roll in the hazelnut pieces. Place back on parchment paper lined baking sheet and back in the refrigerator for at least 30 minutes to set.
You Might Also Like: