Certain sweeteners and spices often contribute to granola's flavor, but when you are simultaneously wanting to decrease the sugar content, some recipes can still come out a bit bland. Then I discovered using ghee as an ingredient, and the batch turned out buttery and delicious! It has been one of my go-to's ever since.
I first learned about ghee when I started studying nutrition. I was trying to incorporate more fat into my diet, while simultaneously decreasing my dairy consumption. Ghee is a clarified butter that originated in ancient India, and has been used in Ayurveda for centuries. Because the casein (a protein) and lactose (a sugar) have been removed, those with a dairy sensitivity tend to tolerate it. Furthermore, ghee contains a compound called butyrate, a short-chain fatty acid known to reduce inflammation, prevent cancer, and increase healthy bacteria in the gut.Lastly, what makes ghee a great fat to cook and bake with, is its ability to withstand high heat (other examples include coconut oil and avocado oil). This recipe is an amazing option if you want to give ghee a go!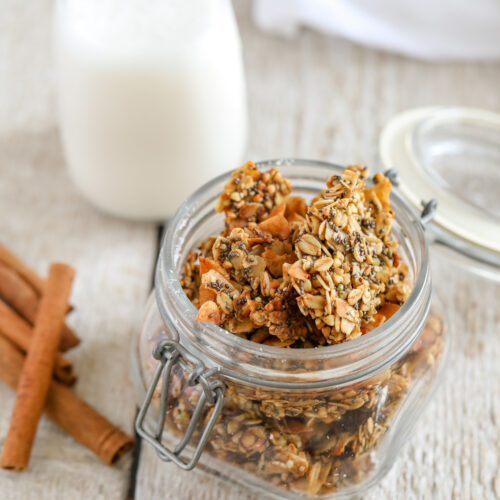 "Buttery" Gluten-Free Lower Sugar Granola
Ingredients
2 1/2

cups

gluten-free rolled oats

1/2

cup

buckwheat groats

1/2

cup

unsweetened coconut flakes

1/4

cup

chia seeds

1

tablespoon

cinnamon

1/3

cup

melted ghee

(use coconut oil for dairy-free)

1/3

cup

coconut nectar or maple syrup

1

teaspoon

vanilla extract
Instructions
Preheat the oven to 350°F. Line a baking sheet with parchment paper.

In a large mixing bowl, combine the oats, buckwheat groats, coconut flakes, chia seeds, and cinnamon. Stir to blend.

In a separate medium mixing bowl, whisk together the melted ghee, coconut nectar or maple syrup, and vanilla extract.

Pour the wet ingredients into the oat mixture. Use a spatula to mix until the dry ingredients are fully coated.

Transfer the granola mixture to the baking sheet and spread evenly, flattening with the back of the spatula.

Bake for 10 minutes. Remove the baking sheet from the oven and press again with back of the spatula. Rotate the baking sheet to ensure even cooking. Bake 7 to 10 more minutes until the granola has turned slightly golden brown. Allow the granola to completely cool on the baking sheet for at least 1 to 2 hours before breaking it up into clumps (the longer it cools, the more clumps you get!).
You Might Also Like: