Ever since I began playing around with the Empower Bar baking mix recipes, I've had a feeling it would make grain-free pancakes. This past weekend proved me right! Not only were they delicious and enjoyed by my whole family, but they are now the only grain-free pancake "mix" that doesn't spike my blood sugar. A while back when I was wearing my Levels continuous glucose monitor, I tested my blood sugar against the Birch Bender's Paleo Pancake mix. There was an immediate spike after eating them (see below), which goes to show that just because something is marketed to be "healthy" doesn't mean it is healthy for you. Granted, this was probably less of a spike than if I had traditional wheat-based pancakes, but I knew I could do better. I love being able to see the blood sugar balancing benefits of my Gratisfied products in real time!
The below graph shows my blood sugar curve after eating the Empower Bar pancakes (I enjoyed two with a slice of bacon and full-fat greek yogurt with nut butter on the side).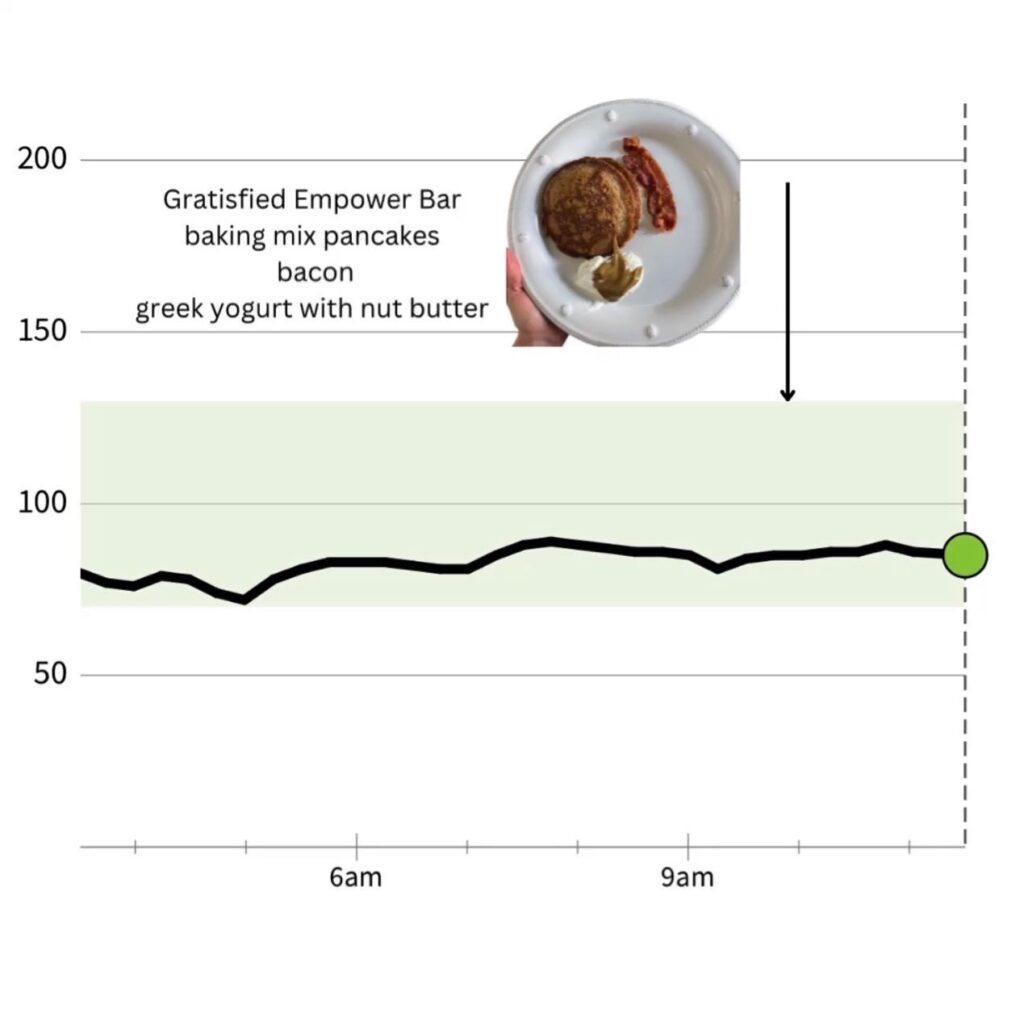 This graph shows my blood sugar spike after eating the Birch Benders paleo pancakes (May 2021)
After witnessing the above almost two years ago, I have shied away from eating pancakes for breakfast knowing the effects they had on my blood sugar and energy. Not only did I see a spike, but I would always feel more lethargic, and the spike explains why. In fact, for a couple of Sundays, my husband and I moved "pancake Sunday" to dinner knowing we would be going to bed in a couple of hours anyway. It is so gratisfying to be able to enjoy pancake Sunday in the morning once again! When you have the Empower Bar baking mix, these are so easy to make. The other ingredients I used were:
melted coconut oil
almond butter
almond milk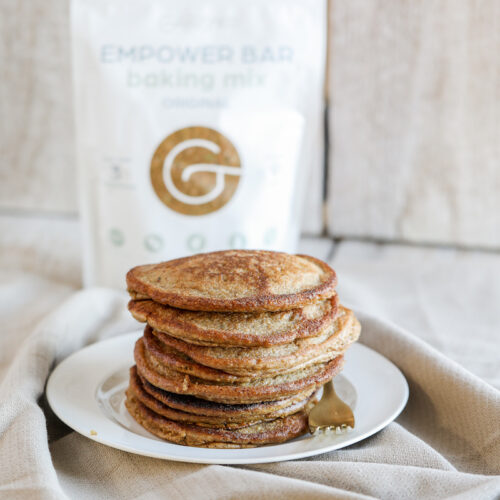 Grain-Free Empower Bar Pancakes
Grain-free and fluffy pancakes that will support a blood sugar balancing lifestyle. Half of the recipe is already made for you with the Empower Bar baking mix. Enjoy a stack on a cozy morning, and still have energy for the rest of your day
Equipment
Mixing bowls

Large skillet

whisk
Ingredients
2

large eggs

beaten

1/2

cup

almond milk

or dairy-free milk of choice

2

tablespoons

melted coconut oil

or melted grass-fed butter, plus more for cooking

2

tablespoons

creamy nut butter

I use almond butter

1

tablespoon

liquid sweetener

monk fruit maple syrup, maple syrup, honey

2

teaspoons

vanilla extract

1 1/4

cup

Empower Bar Baking Mix

about 1/2 the package. See note

1

tablespoon

baking powder
Instructions
In a medium mixing bowl, whisk together the eggs, almond milk, melted coconut oil, nut butter, liquid sweetener, and vanilla extract until creamy.

Add the Empower Bar baking mix and baking powder. Whisk again until a batter is formed. The batter will be runny and similar to cake batter. If it is too thin, add a tablespoon of baking mix one at a time until consistency is reached.

Heat a tablespoon or two of coconut oil in a large skillet over medium heat. Using a 1/4 cup measuring cup or a large spoon, spoon the pancake batter onto the skillet to form the pancakes of desired size. Cook 3-4 minutes until the edges start to firm and bubbles form in the pancakes. Flip. Cook 2-3 more minutes until golden brown and cooked through. Transfer finished pancakes to a plate and continue to cook until all of the batter is used up. Serve warm.
Notes
Empower Bar Baking Mix 
Storage: Keep pancakes in an airtight container or wrapped in foil in the fridge for 3-4 days. They can also be individually wrapped in plastic wrap and frozen for 6 months.