Many cookie recipes call for a combination of granulated white sugar and granulated brown sugar. So I thought: when Healthifying a cookie recipe, why not pair coconut sugar with another type blood sugar balancing granulated sweetener with a finer consistency? What I mean is, coconut sugar is brown in color and has a coarser texture, more closely resembling it's traditional brown sugar counterpart; allulose, erythritol and monk fruit are granulated sweeteners that could be a stand-in for white sugar. I've paired granulated monk fruit with coconut sugar in the past (like with my Gratisfied products), but never in a cookie. I started with these gluten-free chocolate chip cookies, and while it took a couple of tests, I learned so much about baking with allulose, and I know those lessons will stick with me for future recipe writing.
There are a couple of things to know. Allulose is 70% as sweet as sucrose (white sugar), so pairing it with another granulated sweetener becomes important when wanting a more traditional flavor. As I have said before, your tastebuds adapt, and you will learn to love Healthified desserts that are not overly sweet.
In many traditional cookie recipes, you will find an equal ratio of white sugar to brown sugar (1/2 cup and 1/2 cup respectively, for example). So for my first attempt, that is what I tried. There was a full cup of granulated sweetener, equal parts coconut sugar and allulose. However, when I took them out of the oven, they had spread too thin. Upon cooling, they tasted amazing, but were too thin and crispy for my taste. I love my cookies soft and chewy (and after polling people on Instagram, it seems as if the majority of others do too), so I wanted to give the recipe another go. I knew the spreading snafu had to do with the hygroscopic nature of granulated sugar, so I looked into it a bit further and adjusted from there.
Hygroscopic is the term used to describe sugar's ability to attract and hold moisture. If a granulated sweetener is more hygroscopic, it holds on to surrounding water molecules and will result in less spread. Coconut sugar is more hygroscopic than allulose, so I decreased the allulose by 1/4 cup the second time around, while keeping the coconut sugar the same. That did the trick!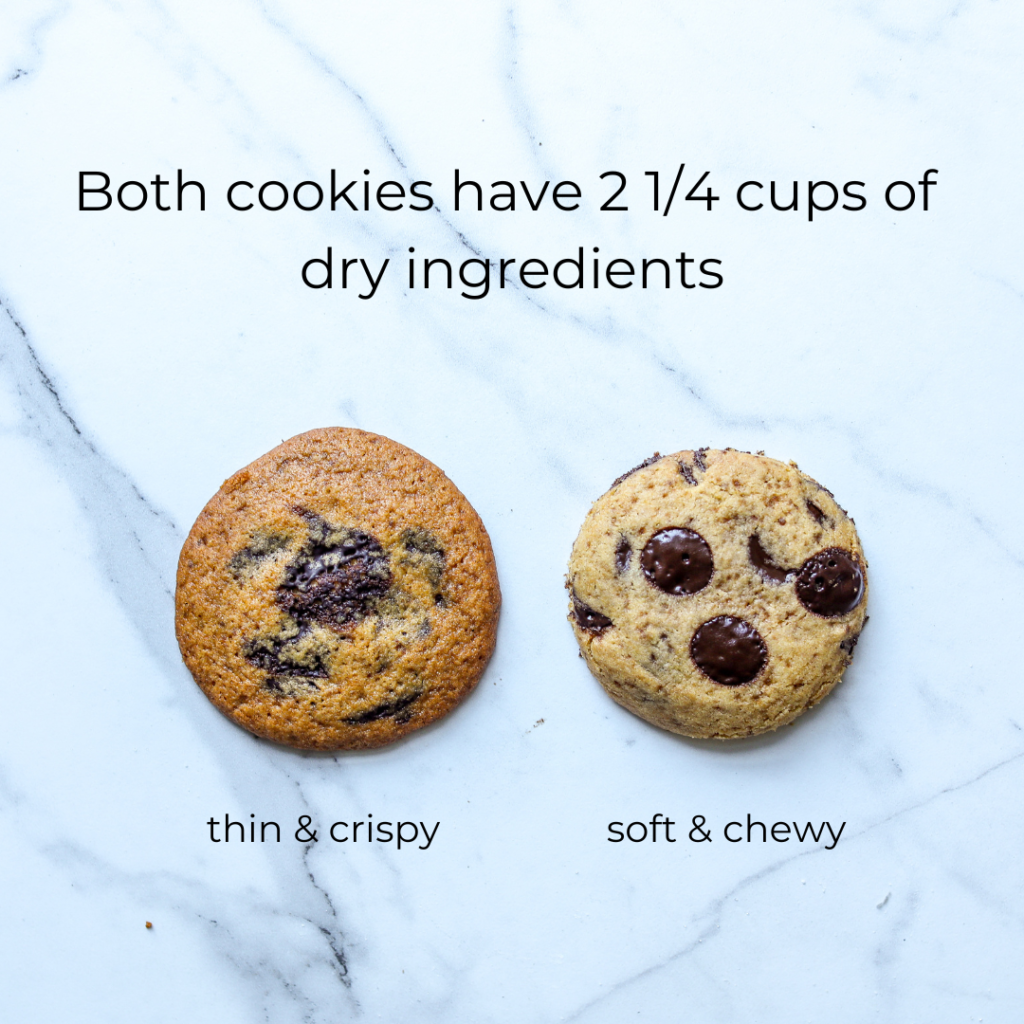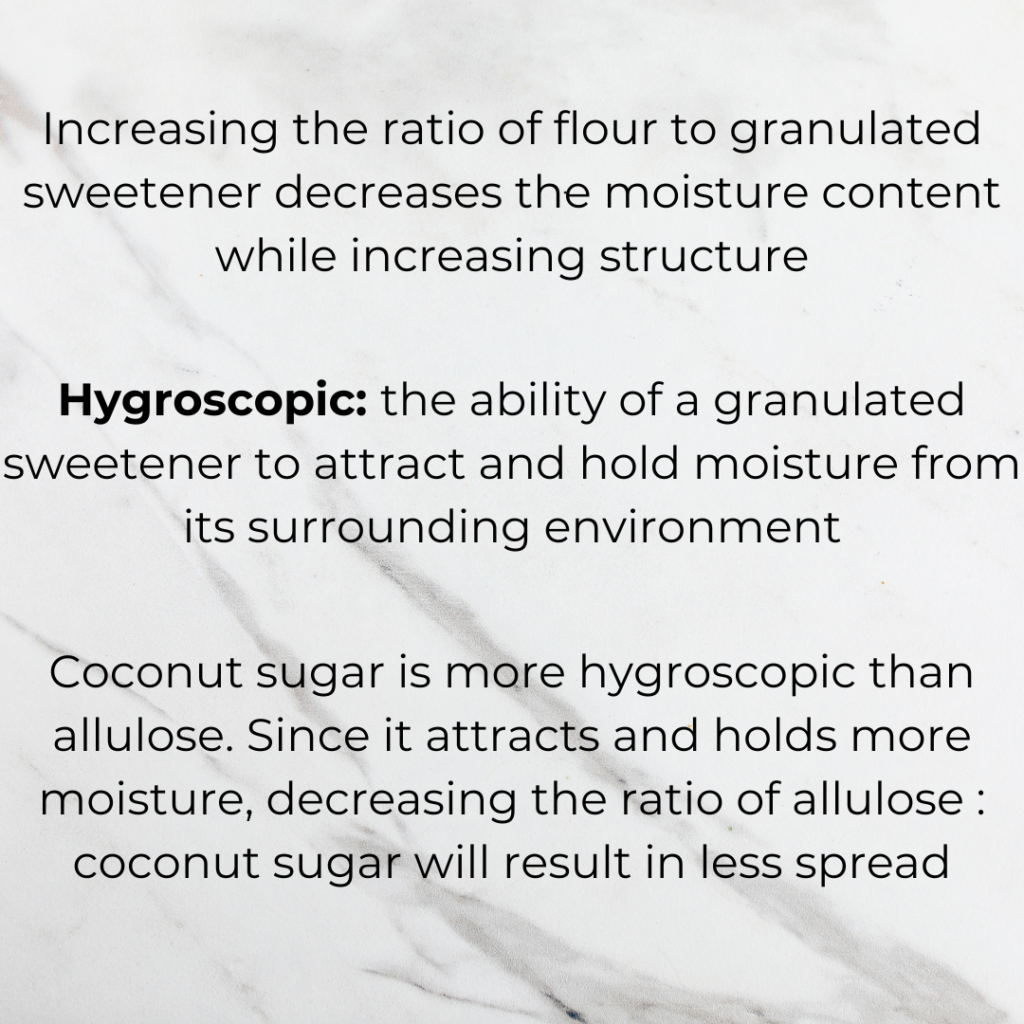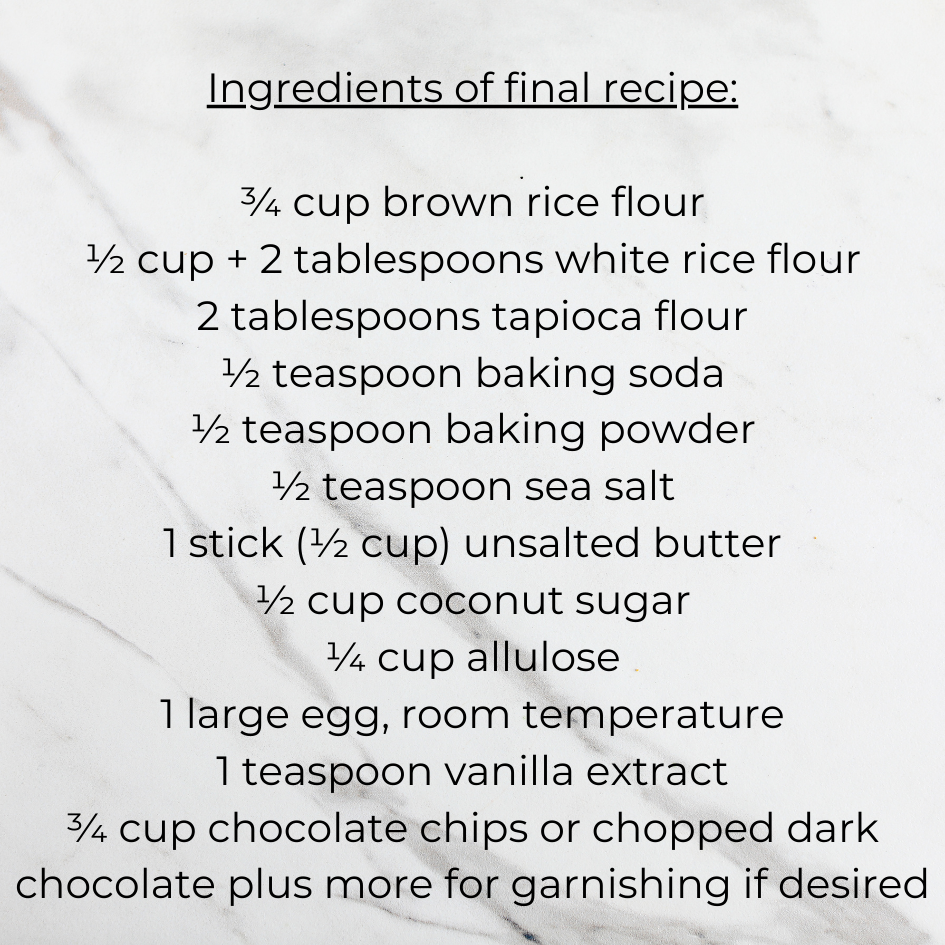 These have quickly become a new favorite cookie recipe! I love the fact that both allulose and coconut sugar are in them, because I know I am doing my blood sugar a favor. Additionally, I think almond flour can be a bit overdone in gluten-free and grain-free baking, so I wanted to try something different. If you are intolerant to tree nuts, this is the gluten-free chocolate chip cookie recipe for you!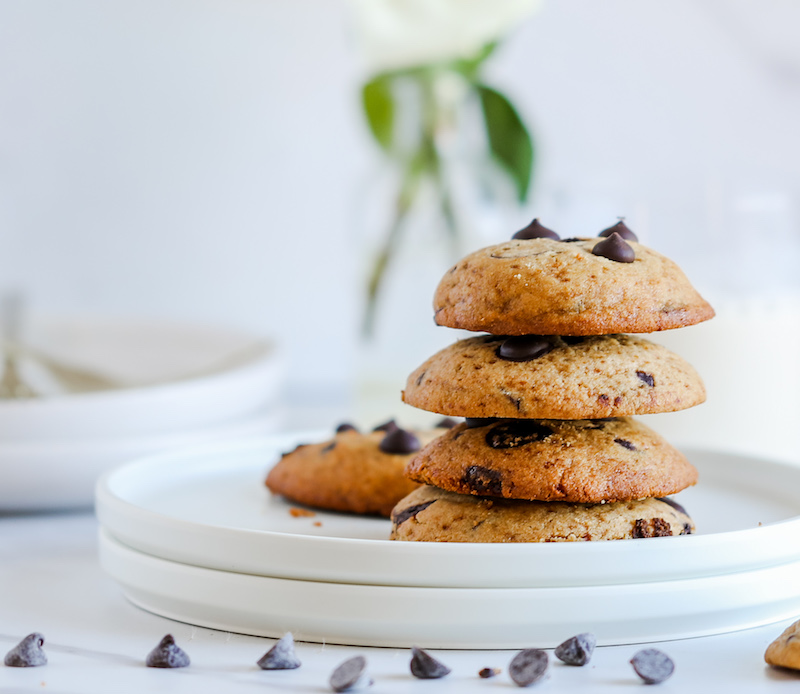 Planning and prep
The egg and butter should be at cold room temperature (65 to 67 degrees F), so remove them from your refrigerator an hour before baking. I have even started to test my butter with my digital thermometer to make sure the temperature falls within range, as baking with butter that is too warm could also result in too much spread.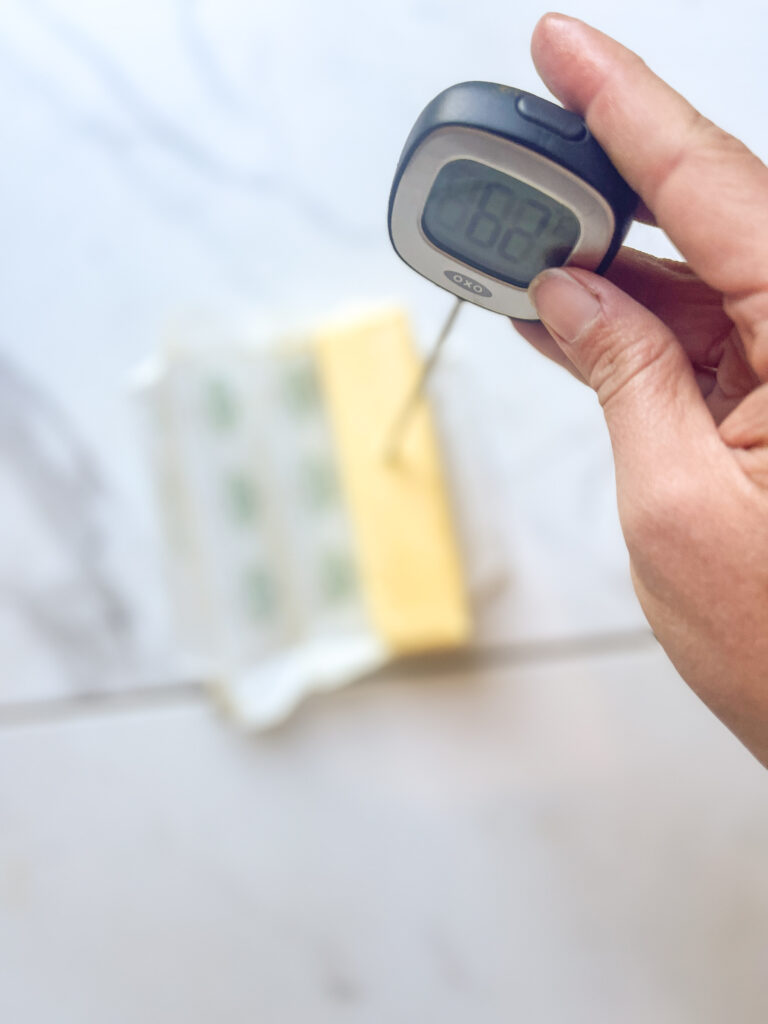 With this recipe, I both baked right away, and chilled the dough for 20 minutes. I didn't notice that much of a difference, so you can do either one. I would suggest rolling each ball of dough and slightly flattening them with your fingers to yield a perfect cookie shape. I denote this in the directions.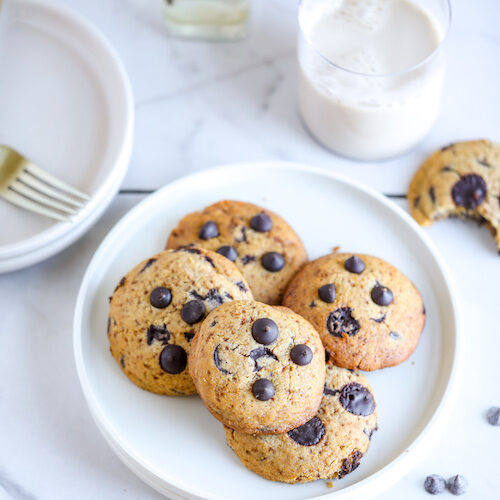 Gluten-Free Chocolate Chip Cookies With Coconut Sugar + Allulose
Soft and chewy chocolate chip cookies are baked with two blood sugar balancing sweeteners. The ultimate Healthified recipe!
Equipment
Mixing bowls

Hand beater or stand mixer

whisk

Baking sheets
Ingredients
¾

cup

brown rice flour

½

cup

+ 2 tablespoons white rice flour

2

tablespoons

tapioca flour

½

teaspoon

baking powder

½

teaspoon

baking soda

½

teaspoon

sea salt

1

stick

(½ cup) unsalted butter

cold room temperature

½

cup

coconut sugar

¼

cup

allulose

1

large egg

room temperature

1

teaspoon

vanilla extract

¾

cup

chocolate chips or chopped dark chocolate

plus more for garnishing if desired
Instructions
Preheat the oven to 350 degrees F. Line baking sheets with parchment paper.

In a medium bowl, combine the brown rice flour, white rice flour, tapioca flour, baking powder, baking soda, and sea salt. Stir to blend.

In a separate large bowl or bowl of a stand mixer, cream together the butter, coconut sugar and allulose until fluffy and creamy, 2 minutes. Beat in the egg and vanilla extract. Slowly add the flour mixture while still beating until everything is incorporated together. Be careful not to over-beat.

Use your hands or a cookie scoop to gather 1½ tablespoons of dough and roll it into balls, placing the balls of dough at least 2 inches apart on the baking sheets. You can leave as is, or I suggest slightly flattening the top of the ball of dough with your fingers to form a disc. Bake for 10 to 12 minutes until the edges have started to turn golden brown. Allow the cookies to cool for 10 minutes on the baking sheet, before transferring them to a wire rack to cool completely.