I love using fruit and vegetable purees in my recipes, and with pumpkin having its seasonal moment, I thought why not incorporate the ingredient into something chocolate? Sure, it might not taste like pumpkin spice, but I realize not everyone prefers the flavor profile, even this time of year. These muffins offer the best of both worlds: bake with pumpkin, and get something fudgy and delicious on the other side. If you're not a pumpkin spice person, I bet you are a chocolate person.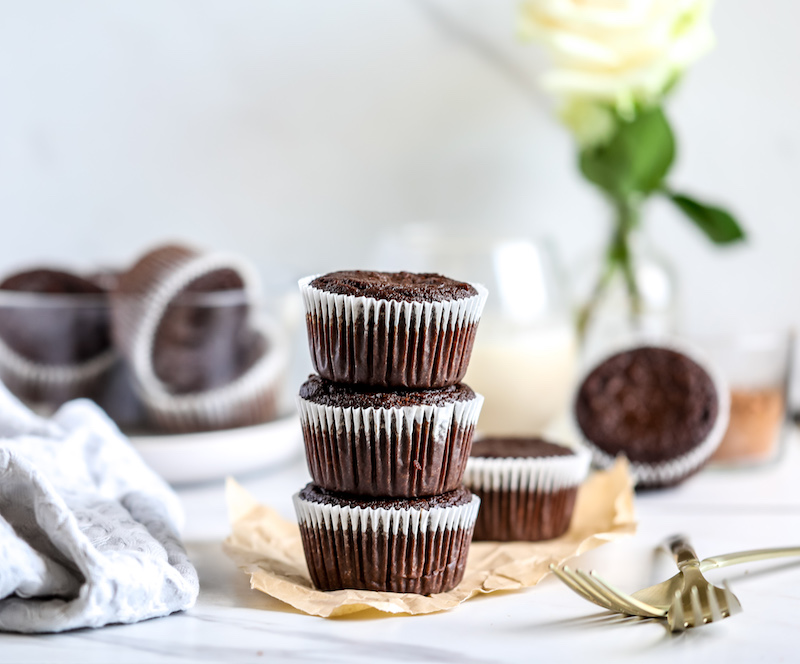 There was quite the evolution of writing this recipe. I have found that "the third time's the charm" is often the case. I don't know if you know this about me, but I am not a professionally trained baker, so I am learning the science of gluten-free, grain-free and primarily plant-based baking as I go. I learned so much while writing my cookbook, and I learn something new every day. It can be so humbling to admit you are always a student, especially when it comes to your creativity and craft. But I digress. Lucky for you, my standards are high and I love what I do, so I promise to deliver the best recipes that I can. These chocolate muffins are a testament to that. Here, you can see all of the ways I tweaked the ingredients.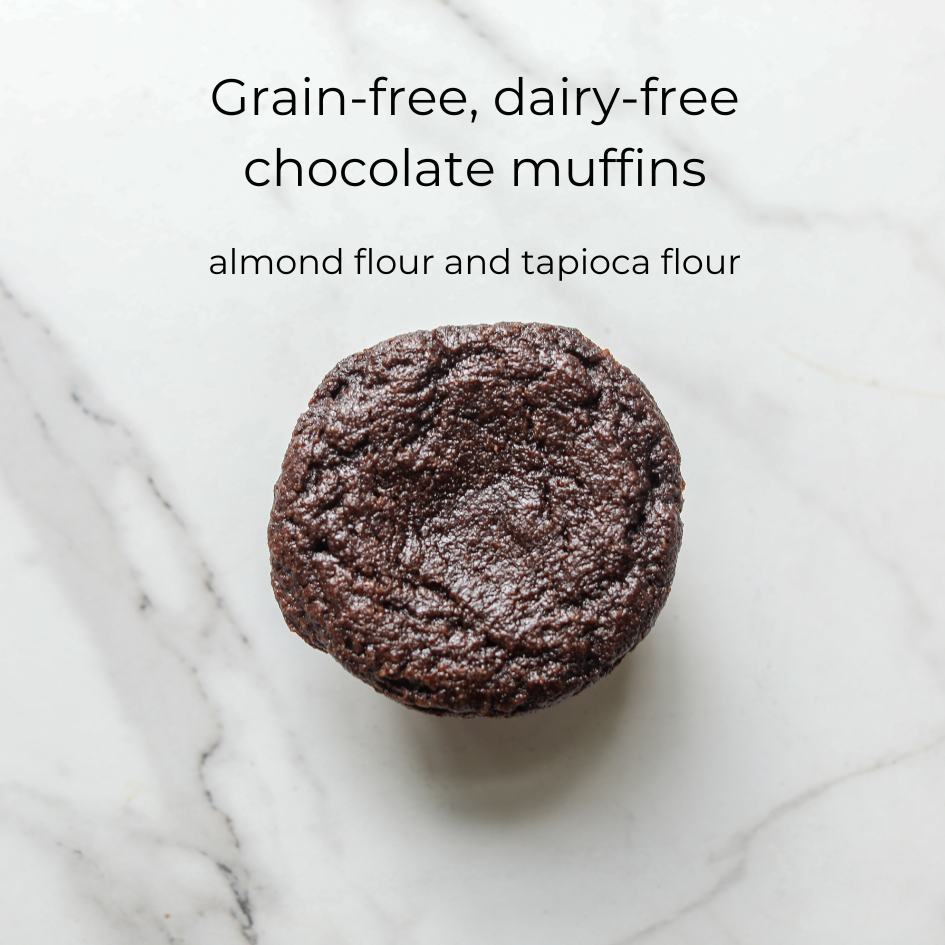 I knew I was looking for a certain rise and shape, and the moisture of the pumpkin puree needs to be offset by grain-free flours that soak up some of that moisture and provide structure in the absence of gluten. For the final recipe, I added more cacao powder rather than more flour, because the acidity of the cacao powder reacts with the baking soda to provide that rise I was going for. Isn't it fascinating?
Planning and prep
The directions call for using eggs at room temperature, so setting them on your kitchen counter an hour ahead of time should do the trick. This extra step is a bit more necessary if you use the full-fat coconut milk; if you are using another kind of plant-based milk, it's not a big deal if you use cold eggs. Coconut milk reacts better with room temperature ingredients, and I always recommend baking with it over unsweetened almond milk for example, as it provides a fatty creaminess when butter and oil are missing.
Also, I plan to do a separate post on the importance of using a digital scale when baking, but when fruit and vegetable purees are used in a recipe, a digital scale can come in clutch. I know I have over-measured these ingredients in the past, which increases the moisture content and could negatively impact the final result. I denote the weight in grams below, so if you have one, I would use it. If you don't, there are many to choose from (like this one) and they aren't very expensive.
Lastly, factor in about 20 minutes for the batter to rest before baking, and at least 1 hour for the muffins to cool completely. When you are working with grain-free flours, allowing your baked goods to completely cool is so much more necessary than when you are baking more traditionally. Grain-free baked goods further firm when cooled, allowing them to be better handled. Additionally, they firm even more when refrigerated, and refrigeration acts as a natural binder for most of my recipes. If you don't mind your baked goods cold, I always suggest chilling them overnight. I have even found the flavor is even better the next day!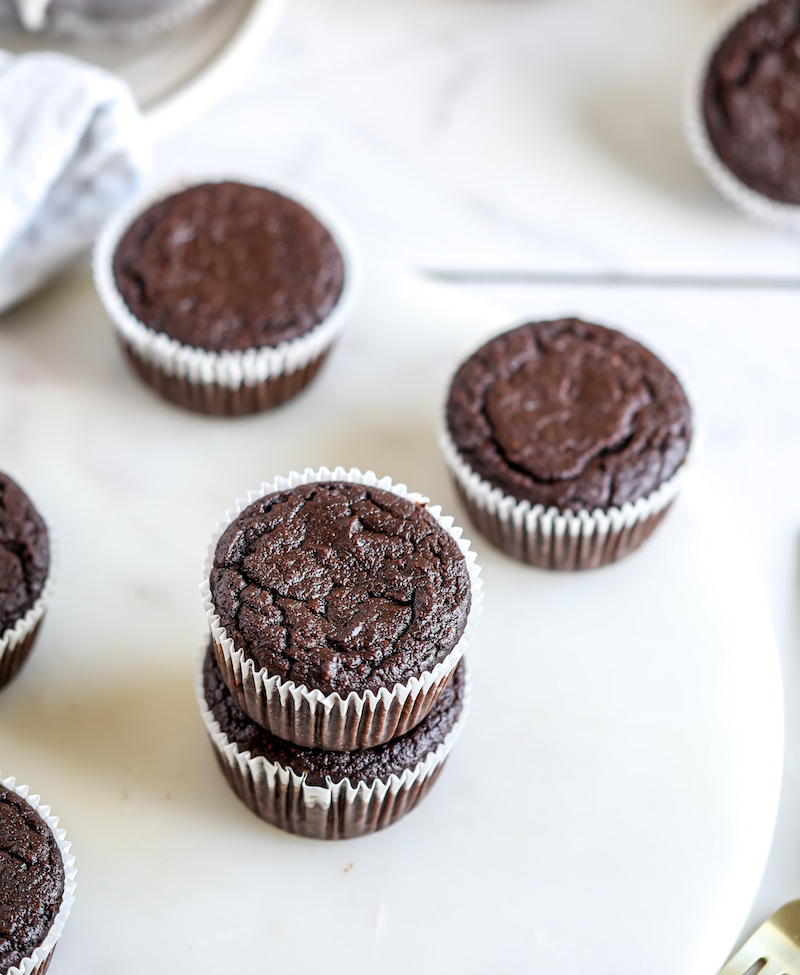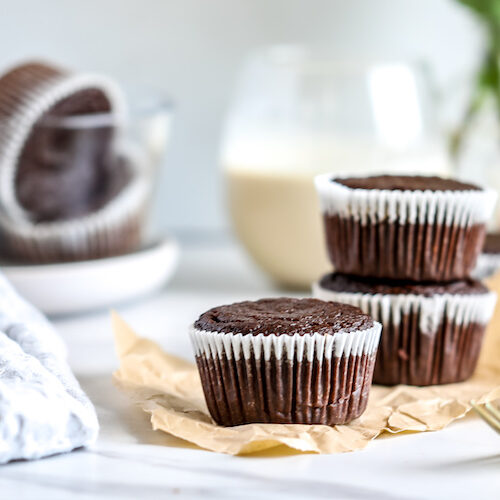 Chocolate Fudge Muffins With Pumpkin
Pure pumpkin adds moisture and nutrition to these grain-free dairy-free fudge muffins. Enjoy one for breakfast or a snack!
Equipment
Hand beater or stand mixer

muffin tin
Ingredients
½

cup

full fat coconut milk or dairy free milk of choice

1

teaspoon

white vinegar

1 ½

cups

almond flour

¾

cup

coconut sugar

½

cup

raw cacao powder

¼

cup

coconut flour

2

tablespoons

tapioca flour

2

teaspoon

baking powder

½

teaspoon

baking soda

¼

teaspoon

sea salt

2

eggs lightly beaten and at room temperature

1

cup

pumpkin puree

260 grams

¼

cup

maple syrup

1

teaspoon

vanilla
Instructions
In a medium mixing bowl, combine the coconut milk and white vinegar. Whisk and set aside for 10 minutes.

In a separate large bowl or bowl of a stand mixer, combine the almond four, coconut sugar, cacao powder, coconut flour, tapioca flour, baking powder, baking soda, and sea salt. Stir to blend.

To the bowl with the coconut milk and vinegar mixture, add in the eggs, pumpkin, maple syrup, and vanilla extract. Whisk until creamy.

Pour the wet ingredients into the bowl with the flour mixture. Beat until a batter is formed. Allow the batter to rest for 20 minutes at room temperature.

Meanwhile, preheat the oven to 350 degrees F. Line a muffin tin with cupcake liners.

After the batter rests, transfer to the muffin tin, filling each cup 2/3 of the way full. Bake for 25 minutes, or until a toothpick inserted comes out clean. If using a digital thermometer, the internal temperature should be between 200 and 205 degrees F.

Allow the muffins to cool slightly in the muffin tin (about 10 minutes) before transferring them to a wire rack to cool completely, about 1 hour.