This time of year is a baker's dream: fall flavors combined with comfort foods. When I recently spied these chai-spiced sweet potato muffins at a nearby coffee shop, I knew I had to healthify them.
These muffins are grain-free, dairy-free, and lower sugar. The sweet potato lends itself to the natural, well, sweetness, and offers a texture that is satisfying and satiating. They pair perfectly with a morning cup of coffee, or top with some nut butter to round out the meal. You're guaranteed to feel cozy from the inside out!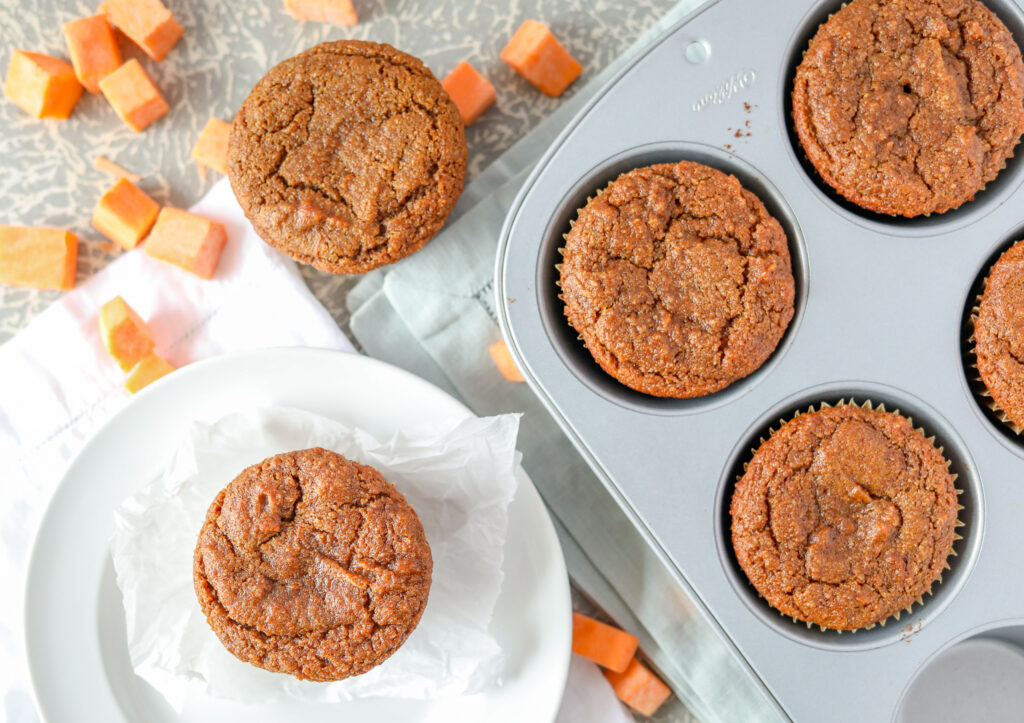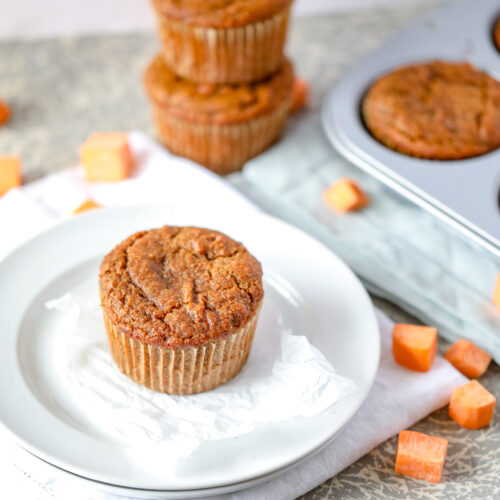 Chai-Spiced Sweet Potato Muffins
Ingredients
1

medium sweet potato

1 3/4

cup

almond flour

1/2

cup

coconut sugar

2

tablespoons

tapioca starch

2

teaspoons

grated ginger

2

teaspoons

cinnamon

1

teaspoon

baking powder

1/2

teaspoon

cardamom

1/2

teaspoon

allspice

1/2

teaspoon

baking soda

1/4

teaspoon

cloves

1/4

teaspoon

sea salt

2

eggs

beaten

1/4

cup

coconut nectar or maple syrup

1

teaspoon

vanilla extract

1/4

cup

melted coconut oil
Instructions
Make the sweet potato. Preheat the oven to 400 degrees. Line a baking sheet with parchment paper. Using a fork, poke holes in the sweet potato and place on the baking sheet. Roast 1 hour or until soft. Allow to slightly cool, then scoop out the flesh of the sweet potato and mash. Decrease the oven temperature to 350 degrees.

Meanwhile, line a jumbo muffin tin with liners.

In a large bowl or stand-up mixer, combine the almond flour, coconut sugar, tapioca starch, grated ginger, cinnamon, baking powder, cardamom, allspice, baking soda, cloves, and sea salt. Stir to blend.

In a separate medium bowl, combine the beaten eggs, vanilla extract, and coconut nectar or maple syrup. Whisk until creamy.

Pour the wet ingredients into the bowl with the flour mixture. While beating on medium speed, incorporate the melted coconut oil, increasing the speed as you need until a batter is formed. Add the mashed sweet potato and beat again on high speed until blended and creamy.

Transfer the batter into the muffin liners, filling them close to the top. Bake for 30 to 33 minutes until an inserted toothpick comes out clean. If using a food thermometer, the internal temperature should be around 200 degrees F. Allow the muffins to cool for about 5 minutes in the tin, before transferring them to a wire rack to cool completely (about 1 hour).
Notes
*You can make these as regular muffins, but be sure to decrease the cook time accordingly (should be about 20-22 minutes).
**Keep the muffins loosely covered in tin foil in the refrigerator for up to
You Might Also Like: