Baking a cake can sometimes feel like a laborious feat. Don't get me wrong – the end result often deserves a pat on the back, but it can take a good chunk out of your time (and patience) as you wait for it to cool so you can then ice and decorate it. But there is something about baking bread that feels more manageable, which is why I wanted to adapt the carrot cake recipe from my cookbook and turn it into something you can bake in time for breakfast on a slow Sunday morning.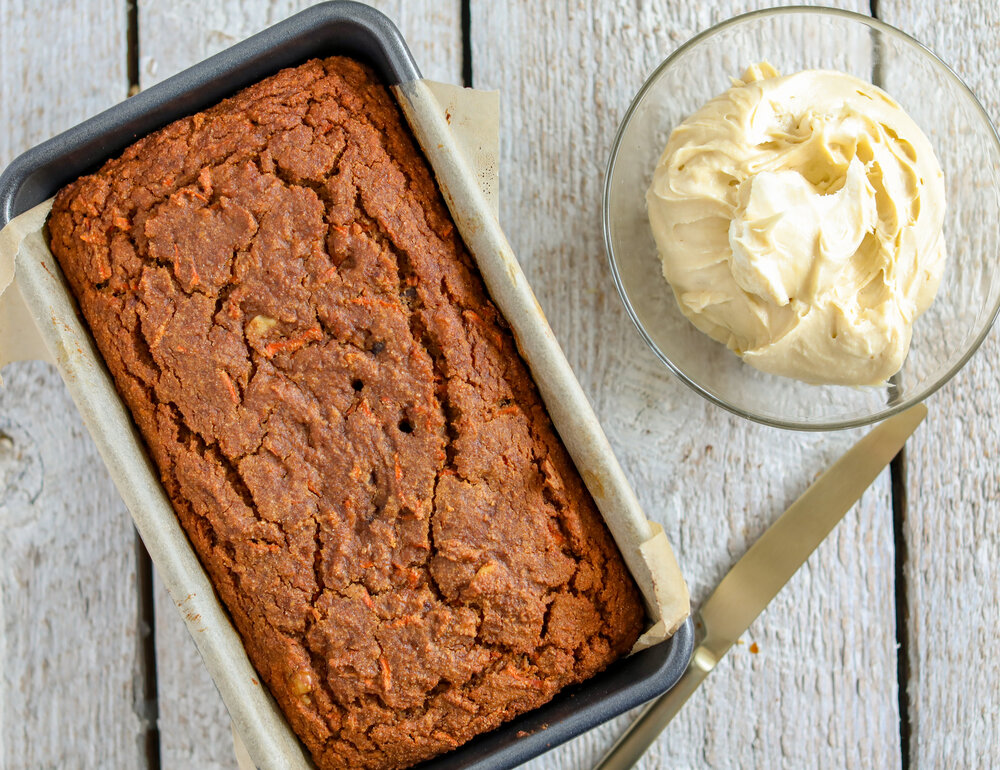 And of course if you want to include the vegan "cream cheese" icing, it pairs perfectly and makes for a delectable spread.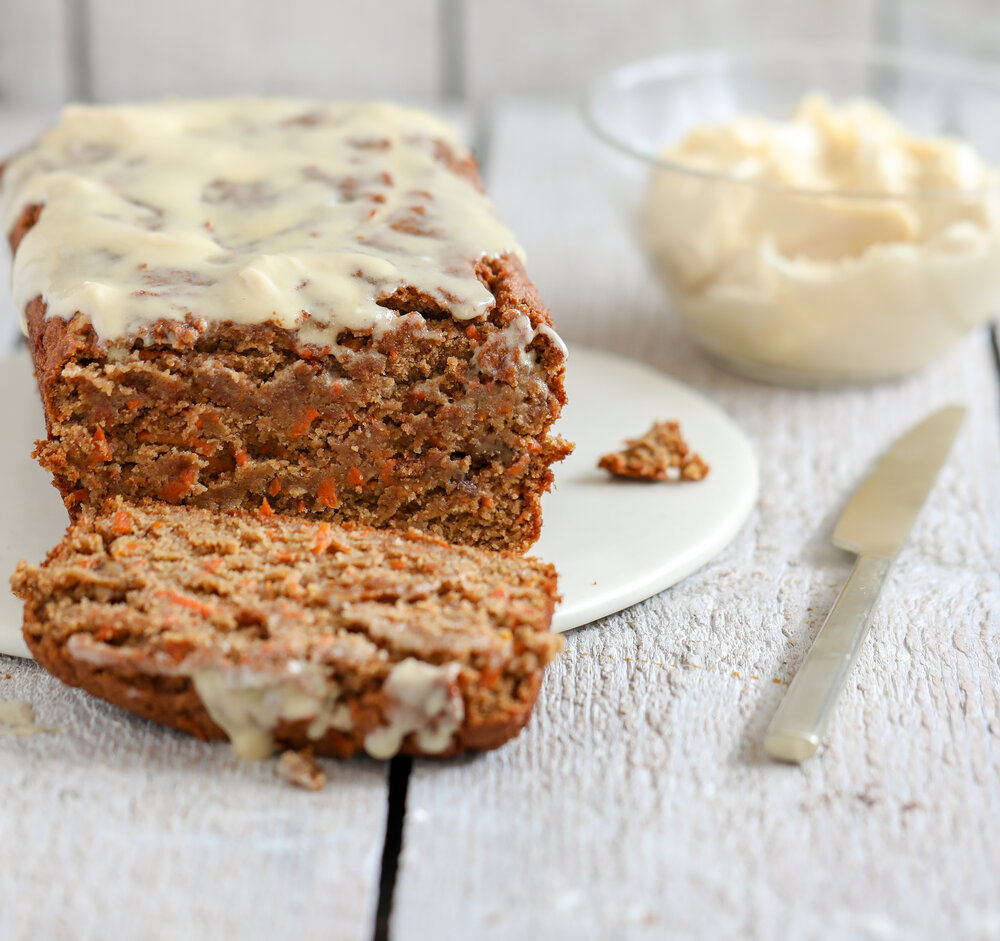 Carrot Cake Bread
Gluten-free, vegan, soy-free, refined sugar free
Ingredients:
For the bread
4 flax eggs (4 tablespoons ground flax plus 8 tablespoons water)

¾ cup full-fat coconut milk or unsweetened almond milk

1 teaspoon apple cider vinegar

1 1/2 cups brown rice flour

1 1/2 cups almond flour

¾ cup coconut sugar

3 tablespoons tapioca flour

3 teaspoons ground cinnamon

1½ teaspoons baking powder

1 teaspoon baking soda

½ teaspoon sea salt

¼ teaspoon ground nutmeg

½ cup unsweetened applesauce

1/4 cup coconut nectar

1 teaspoon vanilla extract

2 1/2 cups grated carrots (about 3 to 4 medium carrots)

½ cup chopped pecans or walnuts
For the vegan cream cheese frosting
1/2 cup coconut oil, room temperature

1/2 cup palm shortening or grass-fed butter, room temperature

⅓ cup vegan cream cheese, room temperature (I suggest Miyokos or Kite Hill brands)

2 tablespoons coconut nectar

1 tablespoon arrowroot starch or tapioca flour
Directions:
Preheat the oven to 350°F. Spray a 9×4 inch bread pan with cooking spray or line with parchment paper.

In a small bowl, prepare the flax eggs by whisking together the ground flax and water. Set aside for at least 10 minutes until thickened.

In a medium bowl, mix the coconut milk and apple cider vinegar. Whisk and set aside.

In a large bowl or stand mixer, mix the brown rice flour, almond flour, coconut sugar, tapioca flour, cinnamon, baking powder, baking soda, salt, and nutmeg. Stir to blend.

To the bowl with the coconut milk and vinegar, add the flax eggs, applesauce, and coconut nectar. Whisk until creamy.

Pour the wet ingredients into the bowl with the flour mixture, and beat until a batter is formed. Fold in the grated carrots and chopped nuts and stir until everything is blended together.

Transfer the batter to the bread pan. Bake for 55 minutes. Cover the top of the bread with tin foil (to prevent burning) and bake for another 20 minutes until a toothpick inserted in the center comes out clean or the internal temperature reaches between 180° and 200°F. Allow the bread to cool in the pan for at least an hour before consuming. If you plan to ice the bread, allow the bread to completely cool for at least two hours.

Make the icing if desired. In a large bowl, combine the coconut oil and palm oil shortening. Beat with a hand mixer or immersion blender with the whisk tool until fluffy, about 1 minute.

Add the vegan cream cheese and beat again until blended. Add the arrowroot starch and coconut nectar and beat again until everything is combined, using a spatula to scrape down the sides as you need to.

Using a spatula, mix the frosting. You can ice the bread immediately or store in an air-tight container at room temperature for up to 10 days to ice individual slices as desired.