I love a cupcake. There is something about a smaller version of cake that you eat with your hands (as opposed to a fork). Sure, it might get a little messy with the frosting getting on your face, but the beautiful thing is it is really hard to eat a cupcake in good company and be judged for there being frosting on your face. In fact, it is really hard to eat a cupcake and not have both a smile and frosting on your face.
As you might have been able to tell by my tone, cupcakes can be an emotional experience. We primarily eat them to celebrate, and I love how in recent years it is the cupcake not the layer cake, that has increasingly become a part of these celebratory moments. From weddings, to birthdays, to bridal and baby showers, it's as if hosts are selecting cupcakes as the dessert. There are many benefits to this: (a) portion size; (b) more flavor variations at one event; (c) they look so pretty on display; and (d) as outlined above, they are simply fun to eat. Now I bet the majority of the time, cupcakes are catered, and that is completely fine. There is a convenience factor there. However, my Gratisfied Empower Bar Cacao baking mix offers the best of both worlds as it makes baking cupcakes more convenient and allows for a healthier option. For a discount off of any Gratisfied baking mix product on the online shop, use the code CUPCAKE15 at checkout to save.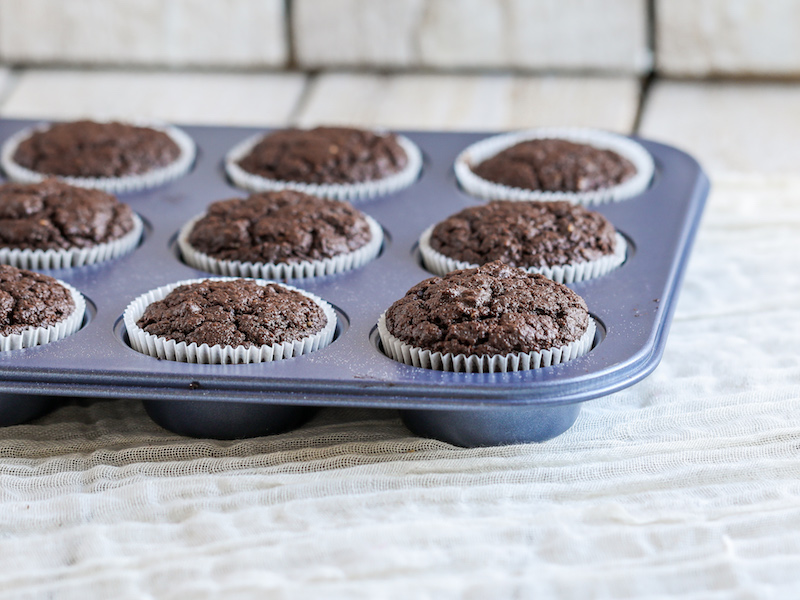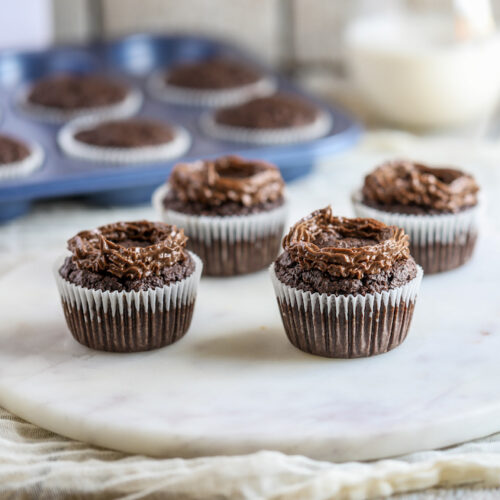 Empower Bar Cacao Chocolate Cupcakes
Grain-free cupcakes using the Empower Bar Cacao baking mix are topped with a delicious homemade chocolate frosting. Enjoy one for a sweet treat, or bake a batch for your next event or dinner. These cupcakes are crowd-pleasers!
Ingredients
For the cupcakes
3

eggs

beaten

1/2

cup

almond milk

1/3

cup

melted coconut oil

1/3

cup

maple syrup or coconut nectar

1

teaspoon

vanilla extract

1

Empower Bar Cacao baking mix pouch

see note

1 1/2

teaspoons

baking powder

1/4

teaspoon

sea salt
For the frosting
1/2

cup

coconut oil

softened to room temperature

1/2

cup

grass-fed butter, vegan butter, or palm oil shortening

softened to room temperature

1/4

cup

raw cacao or cocoa powder

2

tablespoons

arrowroot starch

2

tablespoons

granulated sugar of choice

3

tablespoons

maple syrup coconut nectar
Instructions
Preheat the oven to 350 degrees F. Line a muffin tin with paper liners.

Make the cupcakes. In a large bowl, whisk together the eggs, almond milk, melted coconut oil, maple syrup and vanilla extract until creamy. Add the Empower Bar Cacao baking mix, baking powder, and salt. Use a large spatula to stir everything together until a batter is formed.

Transfer the batter to the muffin tin, filling each liner about ¾ of the way full. Bake for 20 to 22 minutes until a toothpick inserted in the center comes out clean. Allow the cupcakes to completely cool before frosting, about 1-2 hours.

Meanwhile make the frosting. In a large bowl, combine the coconut oil and butter. Use a whisk or hand blender with the whisk attachment to beat until fluffy, about 30 seconds. Add the cacao powder, arrowroot starch, granulated sugar, and maple syrup and whisk again until all ingredients are fully incorporated. Use a spatula to scrape the sides until everything is blended.

Once the cupcakes have fully cooled, frost the cupcakes. You can spoon the frosting on top, or place the frosting in a plastic bag, and cut a tip off of one corner and squeeze to pipe the frosting on to the cupcakes.