My family and I just returned home from a much needed vacation. A bag of Cacao Granola Clusters traveled to Mexico and back again, and while there wasn't much left when I took them out of my carry-on, there were enough Cluster crumbles to incorporate them into an Empower Bar Cacao recipe. I did something similar with this triple chocolate cheesecake, but I wanted something less complicated. After finding a can of pumpkin puree in my pantry, I had an idea.
Of course you can make the basic Cacao Empower Bars (directions are on the back of the bag), and still crumble the Cacao Clusters on top, but given that tomorrow is Valentine's Day, I wanted to amp up the chocolate and make it taste a little more like dessert. Fruit and vegetable purees provide volume and moisture in grain-free and gluten-free baking, and the pumpkin in this recipe lends a little of both. Some chopped dark chocolate melted down with some coconut oil delivers a touch more decadence to a baking mix that already results in brownie-like bars.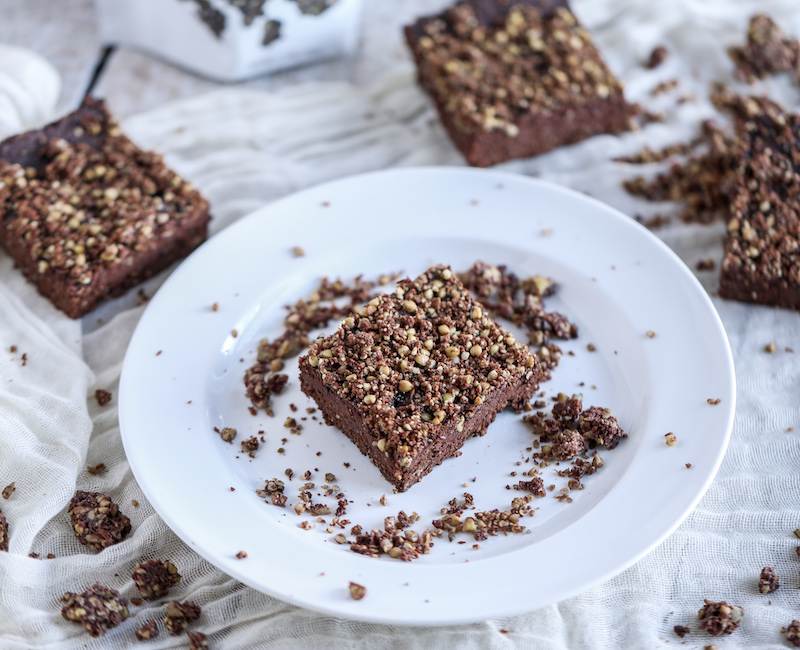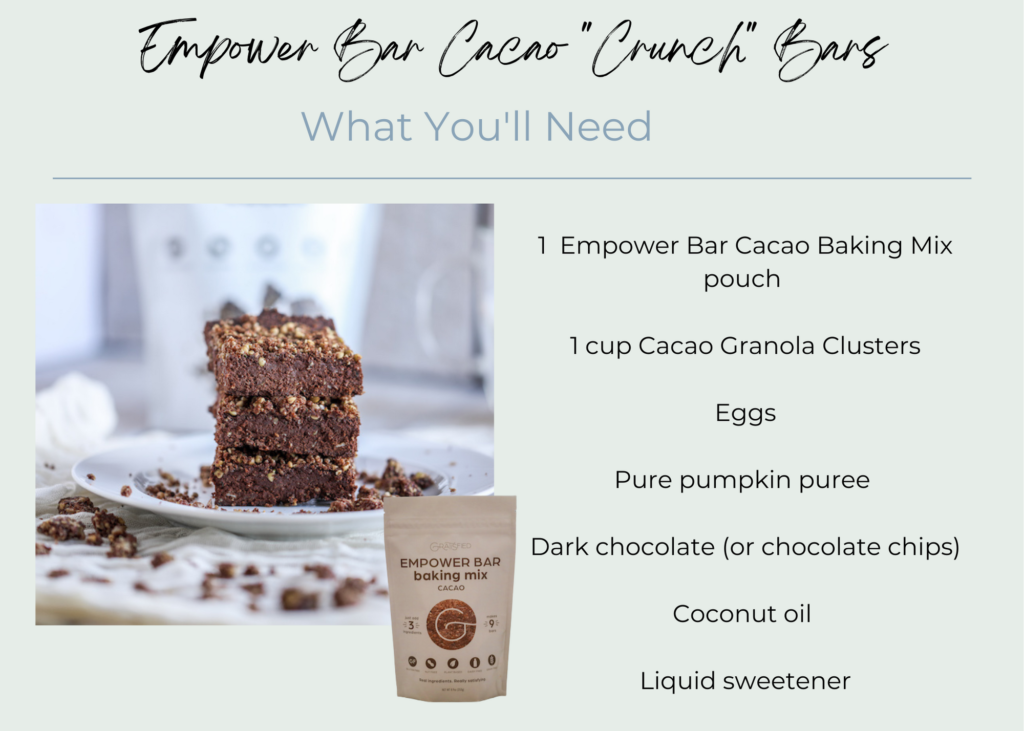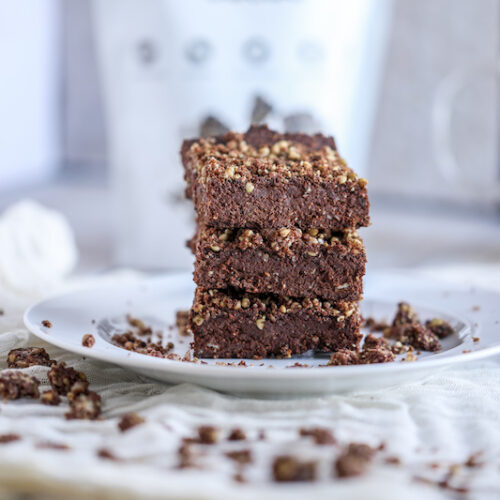 Empower Bar Cacao "Crunch" Bars
The basic Cacao Empower Bars taken up a notch! Pure pumpkin puree adds more volume and moisture, with some chopped dark chocolate added to the mix for a little more decadence. A grain-free, low sugar, healthy on-the-go snack or enjoy one as a dessert.
Equipment
large mixing bowl

8×8 baking pan
Ingredients
1

Empower Bar Cacao baking mix pouch

see note

2

eggs

beaten

1/2

cup

pure pumpkin puree

1/2

cup

chopped dark chocolate or chocolate chips

2

tablespoons

coconut oil

1/4

cup

maple syrup

or liquid sweetener of choice

1

cup

crushed Cacao Granola Clusters

see note
Instructions
Preheat the oven to 350 degrees F. Spray an 8×8 baking pan with cooking spray and line the bottom with parchment paper.

Melt the chocolate. Combine the chopped dark chocolate or chocolate chips with the coconut oil in a small microwaveable safe bowl. Heat for 1 minute, then stir vigorously until melted coconut oil is combined with the chocolate and the mixture is creamy.

In a large mixing bowl, whisk together the eggs, pumpkin puree, melted chocolate, and maple syrup until creamy.

Add the Empower Bar Cacao baking mix and use a large spatula to blend all of the ingredients together until a dough is formed.

Transfer the dough to the baking tin and use your spatula to spread the dough evenly to all sides (dough will be thick!). Top evenly with crushed Cacao Granola Clusters.

Bake for 20 to 25 minutes. Allow to cool in the baking pan for at least 1 hour. Slice into squares and enjoy!