There are many benefits to having a warm meal in the morning, whether it is cold outside or not. Given that you have likely been fasting overnight for 10-12 hours, consuming a warm meal will be less shocking to your system. Think about it: your stomach is a very hot and fiery place. This is why a very cold smoothie first thing can cause digestive distress for some.
There's no doubt breakfast is an important meal. It gives you an energizing start to the morning and fills you up for whatever activities may lay ahead. Whether you share this morning meal with your family in your breakfast nook or take it on-the-go, there's no better way to start the day than with a hearty and satisfying fare.
We spoke to Amanda Huang, a culinary instructor and the founder of Earth Made Kitchen, a pop-up cooking school based in Toronto, Canada. She provided us with three plant-powered, nourishing breakfast meals to kickstart your day. We then chatted with Allison Butler, RD, a registered dietitian about how these nutritious dishes are packed with ingredients that'll leave you feeling energized and invigorated. Get your kitchen tools ready. Here are the three plant-forward breakfast meals you'll want to wake up to.
Jackfruit Potato Hash
(makes 3-4 servings)
This warm delicacy is filled with delicious vegetables and is easy to prep ahead of time. "Rich in antioxidants, jackfruit makes an excellent substitution for shredded meat due to it's subtle sweet flavor and texture. It also contains ~3g protein per cup" says Butler.
Ingredients:
1 onion, diced

2-3 cloves of garlic, minced

3-4 tablespoon olive oil

1 large white potato, diced

1 can of green jackfruit in brine

1 cup vegetable broth

½ tablespoon onion powder

½ tablespoon garlic powder

1-2 tablespoon paprika

Pinch of salt and pepper

¼ cup cashew butter

1-2 tablespoon water

Juice from 1 lemon wedge

Cherry tomatoes, quartered

Parsley, chopped (to garnish)
Directions:
1. Rinse the jackfruit in water and pat dry. Break up the jackfruit using your hands. Set aside.
2. In a pan over high heat, saute the onions and garlic with olive oil. After the onions and garlic have browned slightly, add in the potatoes. Saute all the ingredients until the potatoes are slightly browned on the outside, about 5-7 minutes. Reduce the heat to medium-low, pour in about ½ cup of the vegetable broth, and cover the pan with the lid for about 3-5 minutes.
3. Add in the jackfruit and saute all of the ingredients. Add the remainder of the vegetable broth. You may add more broth if needed, to soften the potatoes further.
4. Add the spices, salt and pepper. You may adjust the spices to your preference. Continue to cook the ingredients until the potatoes have softened on the inside.
5. For the cashew sauce, mix the cashew butter, water, lemon juice, and salt until incorporated. 6. Assemble the dish with the cashew sauce and cherry tomatoes and chopped parsley.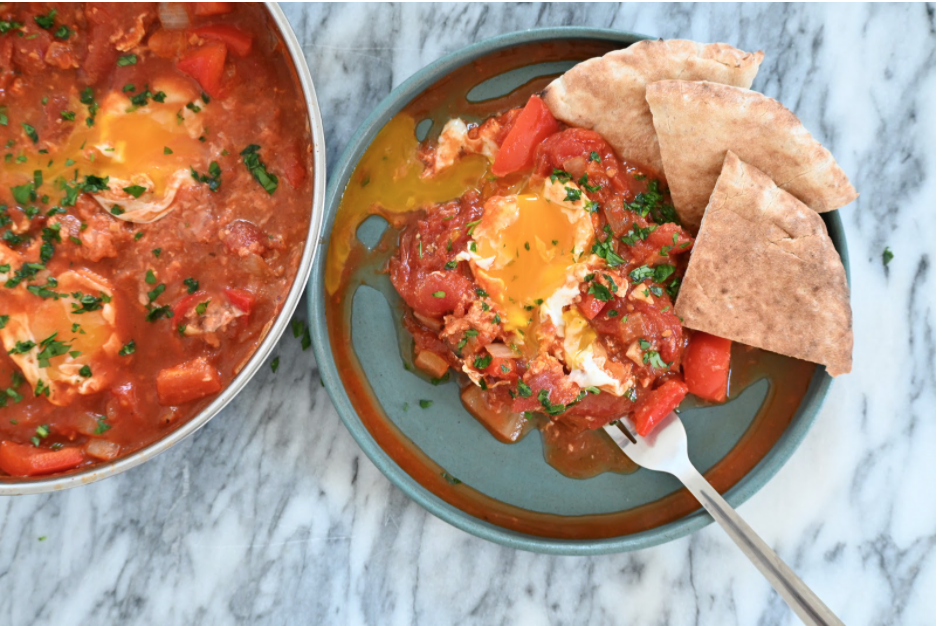 Simple Shakshuka
(makes 5 servings)
"This popular brunch meal is the perfect combo of carbs, fat and protein for a balanced breakfast. Veggies offer a variety of vitamins and minerals while eggs provide protein and fat to keep you satisfied," says Butler. It's perfect for a chilly morning to be paired with a glass of your favorite hot coffee or tea!
Ingredients:
1 onion, diced

2-3 cloves of garlic, minced

3-4 tbsp olive oil

1 red bell pepper, chopped into medium-sized pieces

1 tablespoon paprika

½ tablespoon chili powder

1 tsp garlic powder

1 tsp cumin

1 tsp onion powder

½ tsp red chili flakes (optional)

¼ cup tomato paste

1 can of whole tomatoes

5 eggs

Parsley, chopped (to garnish)
Directions:
1. In a pan over high heat, saute the onions and garlic with olive oil for about 2 minutes. Add in the red bell peppers, and saute for about 2 minutes, then add the spices and stir all of the ingredients. Turn the heat to medium-low.
2. Add in the tomato paste and stir until incorporated. Add in the canned whole tomatoes, and stir. Turn the heat to low, cover with the lid, and simmer on low for 5-7 minutes.
3. Crush the whole tomatoes using the back of a fork. Using the back of a spoon, create wells within the mixture. Crack the eggs into the wells, and cover with a lid. Simmer on low for about 5 minutes, or until the eggs are almost done with the yolk still runny.
4. Garnish with chopped parsley and serve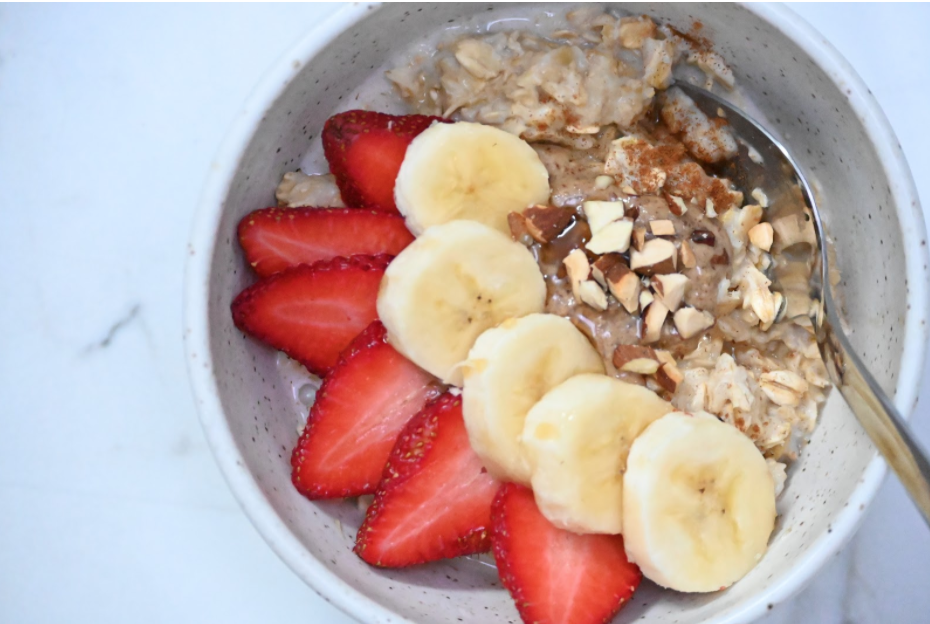 Fruity Almond Bliss Oatmeal
(makes 1 serving)
This hot breakfast meal is so versatile, you can add all your favorite fruits and nuts to satisfy your taste buds. "Oats are loaded with complex carbs and fiber for energy plus almond butter to keep you full for hours," says Butler.
Ingredients:
1 cup almond milk

1 cup gluten-free rolled oats

½ tsp cinnamon

1-2 tablespoon almond butter

Strawberries, chopped

Bananas, chopped

1-2 tbsp maple syrup (optional)

Chopped almonds
Directions:
1. Pour the almond milk and oats in a small pot, and simmer on medium-low, or until the oats soften. Or — cook the oatmeal according to the instructions on the package.
2. Top the oatmeal with cinnamon, fruit, almonds and a drizzle of maple syrup.